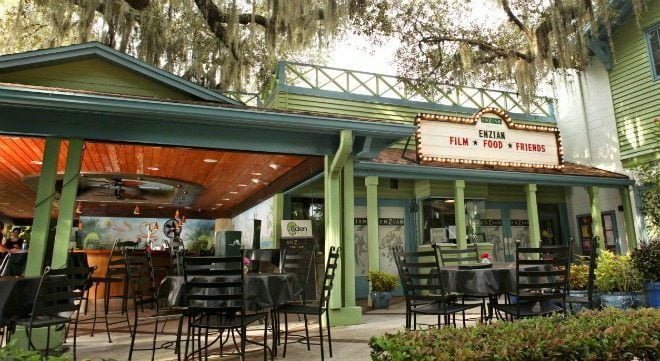 The cozy and eclectic Enzian Theater, one of Orlando's first dine-in theaters, offers one of the best date night experiences around. Besides a series of fabulous independent films, cult classics and zany selections on the outdoor screen on select Wednesday nights, Enzian is also home to the Florida Film Festival each April as well as a handful of other big cinematic events throughout the year.
Perhaps you've never been there or it's been ages since you've gone, but it's time to catch a flick at Enzian again. So, grab your sweetie and use these 9 tips for having a perfect Enzian date night…
1. Buy your tickets online ahead of time, print them at home and you'll bypass the box office and head straight into the theater to pick your seats.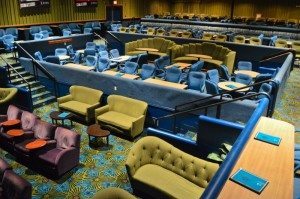 2. Book your table in advance. If you're a member, you can call ahead and reserve your table plus you also get a free large popcorn and about $2.50 off regular tickets. Memberships start at just $60!!
3. Pick a primo seat. There really isn't a bad seat in the house, but Enzian aficionados will tell you that sections B and C, particularly tables 231 and 232, are the most coveted.
4. Arrive early. There are two seatings each night; typically 6:30pm and 9:30pm. I prefer 6:30 for a dinner and a movie date experience. I also suggest you arrive no later than 6pm so you get your preferred table and have time to order your food and drinks. There is always lots of parking but if it's a busy night, there is overflow parking at First Watch across the street and at Park Maitland next door.

5. Grab some shareable nosh. There is a full menu of everything from salads to sandwiches on Enzian's gourmet menu. We love the sharable truffle fries as well as the pizzas, which come in flavor combinations like Pear Prosciutto, Pesto Crab, Rosemary Potato and Ham Brie. This is not your typical theater grub.
6. Order a glass of wine. Sure you can grab a coke but why bother when there are more than 40 different wines by the glass or bottle to choose from. If you order a bottle and it's not finished by the time the credits roll, you can take it with you to Eden Bar (onsite) to enjoy under the stars.
7. Plan to hang out after the movie. Starlit and surrounded by towering oak trees, Eden Bar is an awesome place to visit after your movie. There is a full bar menu but I love the signature cocktails, which include the Berry Lavender, Strawberry Smash and the Cucumber Gin Mojito.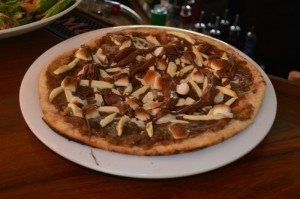 8. Save room for sweets. Finish off the evening with the Banana Chocolate Hazelnut Pizza (shown right), a perfectly decadent dessert for two.
9. Check out all the weekly events. Any night is great, but know that weekends are busier. Enzian features a free, outdoor movie (the Wednesday Pitcher Show) on select Wednesdays. If you're going, be sure to brush up on your trivia for that film because you could win Jell-o shots with every correct answer during the night's movie trivia game. Enzian also hosts Cult Classics at 9:30pm two Tuesdays of each month, as well as Saturday Matinee Classics (2nd Saturday of each month).
Enzian really is one our most special local gems and the programming offers something for everyone. When's the last time you had an Enzian date night? I think it's about time.