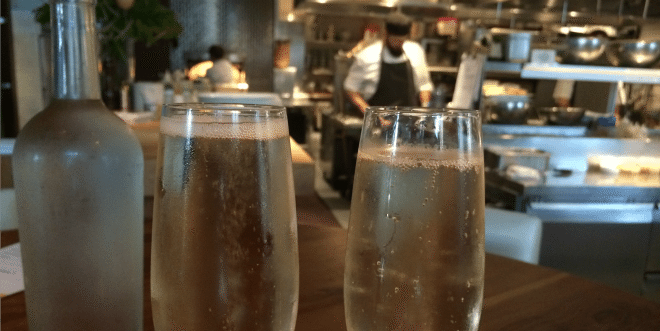 We booked our spot at Luma's Chef Table two months ago and then waited patiently for the day (also our 10-year anniversary) to arrive. We'd heard it was good, "epic" in fact, but only a few details whetted our appetite: seven to nine courses, all crafted from the chef's whimsy and served at a kitchen-side table where chef/owner Brandon McGlamery pours his culinary charm in a painstaking fashion that's simply a joy to witness.
But I'm getting ahead of myself.
Every chef's table experience at Luma on Park begins with sharing your likes, dislikes and any food aversions and allergies with your server, a doting member of Luma's staff who seems to have one purpose in life: to make you feel like a VIP for about two hours.
Then the foodie bonanza ensues. In our case, it began with Truffle Parmesan Popcorn, a savory marriage of salty and aromatic that stayed at our table throughout the meal for our snacking pleasure. I'd kill for that recipe.
The petite courses that followed, many of which steeped in local ingredients, surprised and delighted each in their own way. Flavor pairings were adventurous; ingredient selections were innovative; and the presentations were downright artful. It was an epicurean escapade rivaled only by the next time we're back at Chef Brandon's prized table.
Every chef's table menu is unique and tailored based on guest preferences and what's cooking in the kitchen that day, but on this night our standouts included the Citrus Cured Red Snapper Ceviche, Seminole Pumpkin Soup and Prime Beef Carpaccio.
The Charcoal Roasted Broccolini and Beet Salad was a perfect interlude before we sunk our teeth into the melt-in-your-mouth Wagyu Beef Coulette, which was poached and roasted and served with a Summer Squash Marmalade.
And then there was dessert.
We sipped the last few drops of our champagne whilst enjoying the Dark Chocolate Semifreddoa and trio of pineapple infused desserts, including a decadent pot de crème.
Those considering a trip to this legendary table (and for goodness sakes, who wouldn't!?) will want to bring two things: a sense of culinary adventure and an appetite.
Cost is $75 per person, which is totally worth every penny when you consider that this is far more than a meal; it's one of the best dining experiences in Orlando.
To book, call 407-599-4111 and be sure to ask for the kitchen-side table.