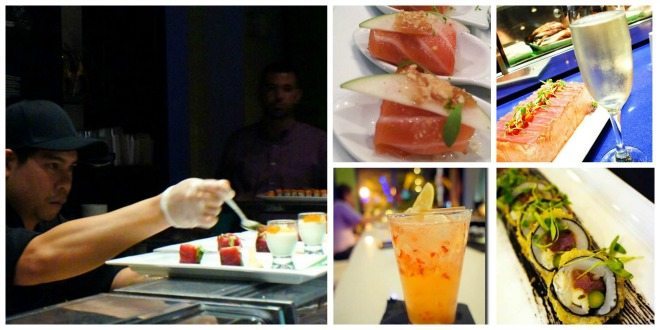 It's time to kick off another Couple at Large giveaway, which will give one lucky couple the chance to experience an unbelievable, unforgettable, all-expense-paid date night. The winner will have just one favor to return: the pair become the Couple at Large and are tasked with reporting back with a short, first-person blog about their experience.
This month, the Couple at Large will head to Shari Sushi Lounge, a chic Thornton Park restaurant known for its inventive fusion cuisine, artful plating and marvelous cocktails. Read all about it here.
The winning couple will be taken on an intimate and interactive tasting journey by Shari's award winning chefs, who will wow them with their spectacular sushi skills. A four-course dinner will be tailor-made while the couple watches on perched at the stylish sushi bar.
In addition, each course will be paired with pre-selected wine, ultra premium sake or a signature sake cocktail.
If you're a sushi lover, this is a dream-come-true kind of dinner you'll never forget.
The winning couple will have their choice of dates between October 31 though November 23, based on availability.
You do not need to be 21 to enter, however, those under 21 will forfeit the alcohol portions of their date night.
TO ENTER: Enter using the Rafflecopter form below and cross your fingers. You and your sweetie can each enter… double your chances. The winner will be chosen—completely at random—on Thursday, October 30 using the random number generator at Random.org. Watch your email that morning; that's how we'll be contacting the winner. We'll also be announcing the winner on Twitter and Facebook.
Good luck!