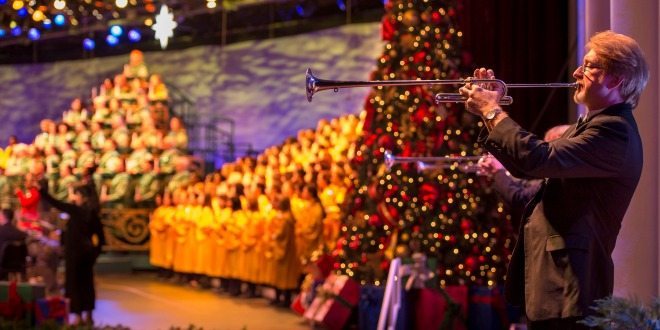 The countdown to Christmas is on and the entire city—from the theme parks to our delightful Main Street districts—has jumped on the holiday bandwagon. Tons of festive fêtes dot the calendar throughout the month of December. Here are a few that are perfect for date night:
12 Bars of Christmas Holiday Promotion
Thornton Park Main Street District
December 1 – 5
Twelve participating bars and restaurants in the Thornton Park District will offer holiday drink specials and one signature holiday cocktail.
More information available at 12BarsOrlando.com
Candlelight Processional
Epcot
Through December 28
Celebrity narrators, including Neil Patrick Harris, recount the biblical story of Christmas accompanied by an orchestra and choir.
Regular Epcot admission rates apply
More information about the Candlelight Processional Dining Packages.
Mount Dora Christmas Lights Tour
Historic Lakeside Inn
Thursdays & Fridays throughout December & January
Mount Dora is transformed into a "City of Light" with the illumination of over 3 million lights. The lights mix with many stories of Christmas past as told by the tour guide on this walking tour.
$5-10
Tree Lighting Celebration and Screening of How the Grinch Stole Christmas
Walt Disney Amphitheater at Lake Eola Park
Friday, December 5
5pm. – Festivities begin
6pm – Tree Lighting Ceremony
The City's annual Tree Lighting Celebration will feature the official lighting of the City's 72-foot Christmas tree, a festive choir performance, TheDailyCity.com Food Truck Bazaar, Gifts 'n' Goodies Christmas Village vendors, a musical from Trinity Lutheran School and a free outdoor viewing of "How the Grinch Stole Christmas."
Free
Twelve Pubs of Christmas Pub Crawl
Ivanhoe Village and Mills 50 Main Street Districts
Saturday, December 6, 8pm
The 3rd annual "Twelve Pubs of Christmas Pub Crawl" will allow participants to take advantage of drink specials throughout the night at their favorite bars as they travel via O-cartz along the two Main Streets. Wristbands are available for purchase at Wally's in Mills 50 and the Thirsty Topher in Ivanhoe Village for $10.
Thornton 2nd Thursday Wine & Art Walk and Holiday Decoration Contest
Glass pick up at Olde Towne Broker, 11 North Summerline Avenue
Thursday, December 11, 6:30pm–9:30pm
Guests will enjoy complimentary wine, beer or cocktails at various locations throughout Thornton Park and vote to name a Thornton Park District business as "Best Dressed for the Holidays."
Event tickets are $10 and purchasable the day of the event.
Holiday Lights Bike Tour
Bikes, Beans & Boardeaux, 3022 Corrine Drive
Saturday, December 13, 7-10pm
Enjoy a leisurely bike ride through the Audubon Park Gardens Main Street District's quiet neighborhoods to admire holiday lights, stopping along the way for caroling followed by hot chocolate, live music and a visit from Santa at Bikes, Beans & Bordeaux.
Free – please bring an unwrapped gift to benefit Parramore Kidz Zone.
Christmas in the Park with Snow
Donnelly Park at 5th Avenue and Donnelly St., Mount Dora
Saturday, December 13, 5-9pm
Snow, Sledding, Santa, Food, Games & Fun!
Free
Grandma Party Bazaar
Stardust Coffee and Video
Sunday, December 14, 10am-6pm
Held once in a year by the Audubon Park Gardens Main Street District in the Stardust Coffee and Video parking lot, the curated Grandma Party Bazaar features the best in locally-produced, handmade arts and crafts available for purchase.
Free admission
A Taste of Church Street
55 West Church Street
Thursday, December 18, 5pm
The Church Street Main Street District invites residents to this free event to experience food and drink specials and other holiday activities along Church Street, including a festive sweater contest.