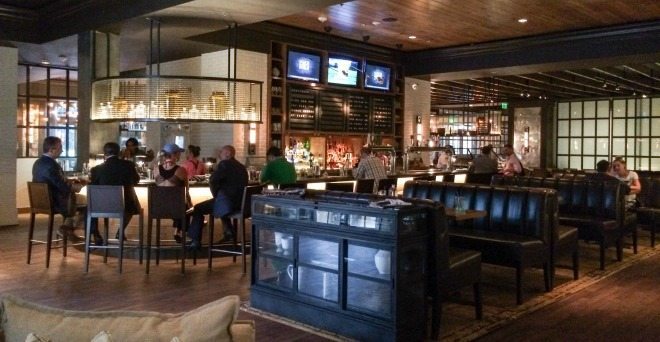 One of the most anticipated restaurant openings of the year, Highball & Harvest quietly opened its doors in October and now delights with an inventive take on culinary cocktails and the farm-to-table movement. A casual dining concept (jeans are totally acceptable attire), this Ritz-Carlton, Grande Lakes Orlando restaurant boasts interactive dining, handcrafted cocktails, and a creative, locally sourced menu of seasonal Low Country and Cajun-inspired cuisine.
At a media preview, I got a behind-the-scenes immersion into the bevy of epicurean elements and design features that have come together to create a dining experience unmatched in the Orlando area.
From the moment you descend the stairs into the space below Ritz-Carlton's lobby, previously occupied by Vineyard Grill, the tiny details—from hand carved ice to carafes made from upcycled wine bottles—will make you swoon.
For starters, the menu is hyper-local, with fare coming from local farms and purveyors as well as the 7,000-square-foot Whisper Creek Farm, located on the Grande Lakes property.
From house-made hot sauce, beef jerkey and pickled veggies to the shrimp and grits sourced from Cape Canaveral waters and the peppers picked at Whisper Creek Farm, Chef Mark Jeffers, Chef de Cuisine for Highball & Harvest, has taken painstaking efforts to draw from the local landscape in nearly everything coming out of the kitchen and from the bar.
The dining room and lounge areas are a kaleidoscope of fabrics and materials ranging from leather to steel to repurposed wood with chocolate, cream and teal hues that pop in the rich yet cozy aesthetic.
Nine signature cocktails, each with their own must-hear story, grace the cocktail menu and serve as an ideal accompaniment to dinner or farm-to-fork bar bites and hand-shucked oysters in the chic lounge area where guests can sit at booths, bar high tops or at the oyster bar.
A fun perk for groups is the interactive cocktail table, where knowledgeable bar chefs muddle ingredients while schooling guests in the art of craft mixology. This table can be reserved in advance by small groups.
"The dishes we create at Highball & Harvest are designed to give restaurant-goers a sense of nostalgia," says Chef Mark. "We are thrilled to showcase our kitchen's extraordinary creativity in one of the first Ritz-Carlton casual dining outlets of its kind."
Kudos to you, Chef Mark and your team. We will be back!
Highball & Harvest
Ritz-Carlton, Grande Lakes Orlando
4012 Central Florida Parkway
Orlando, Florida 32837
(407) 393-4422
Open daily from 6:30am – 10pm
Bar open daily from 11am – midnight