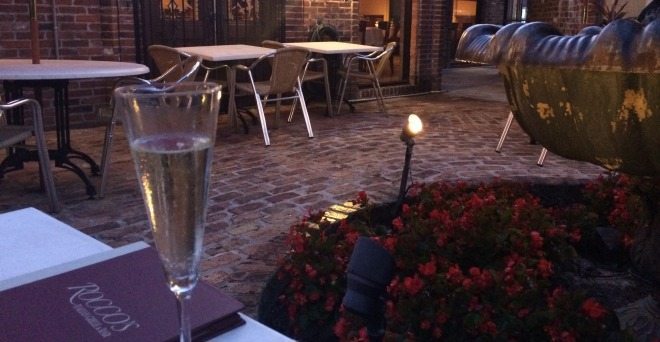 "Sometimes you want to go where everybody knows your name." Remember that line from the theme song for Cheers? Rocco's Italian Grille might be the furthest thing from a Boston bar, but this cozy Italian eatery has the same welcoming vibe and it keeps couples coming back again and again.
That's thanks, at least in part, to chef and owner Rocco Potami, an Italian born restaurateur who exudes such a genuine affection and dotting warmth on his guests that everyone feels like a VIP. Whether you're seated inside the cream hued dining room or outside in the charming, bricked courtyard centered around a bubbling fountain, Rocco makes his rounds from table to table, making sure everyone is happy.
The menu, which pays homage to all of Italy from top to tip, features a slew of signature pasta dishes, fresh catches, and hearty entrees. A daily risotto, several decadent desserts and a handful of salads and antipasto selections round out the delicious menu.
Start a leisurely dinner with a glass of wine while you share the Piatto Assaggini, a colorful selection of appetizers from meats to grilled veggies.
Then, don't be afraid to mix and match pastas and entrees. Rocco and his team of servers are more than happy to pair smaller portions of pastas, trios of appetizers, and half-sized entrees so couples get the chance to explore more the menu.
Take your dessert in to the lounge or just sip a nightcap while you enjoy live music, a newly unveiled perk of this intimate space. Acts from the Red Fox Lounge at the recently closed Mt. Vernon Motor Lodge, have moved over to Rocco's. That list includes the legendary Lorna Lambey accompanied by Michael Moore on piano. Rocco's now has entertainment in the lounge Wednesday through Saturday from 8pm to midnight.
It's easy to see why Rocco's is such a winner for couples. The food is consistently delicious and well priced. The ambiance is romantic and the service is superb. And now the lounge music gives couples a reason to linger. To me, that's a recipe for a perfect date night. Rocco's is now one of our favorite local gems.
Rocco's Italian Grille
400 South Orlando Avenue
Winter Park, Fl 32789
407-644-7770
www.roccositaliangrille.com
Open for dinner Mon – Sat, 5:30pm – 10pm