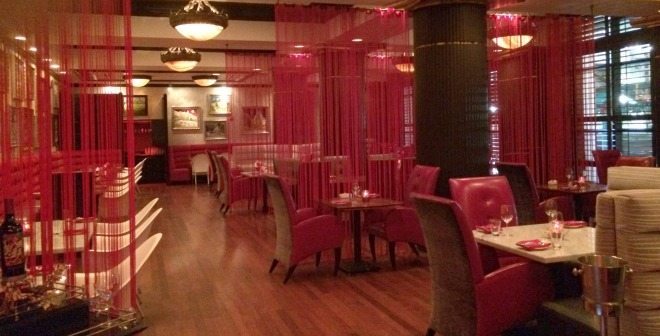 Check out this ultra luxurious date night beginning with a couple's massage at the Grand Bohemian Hotel's Poseidon Spa followed by dinner at The Boheme.
I blog a lot about free and under $30 date night ideas because let's face it, getting a deal is fabulous and not everyone has the budget for a big night out. But there are times when a splurge is warranted and for those nights look no further than the Grand Bohemian Hotel in downtown Orlando.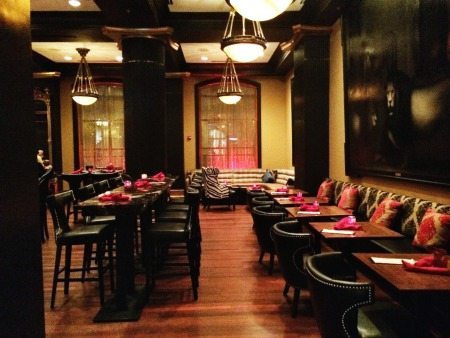 From the moment your car pulls up to the valet outside the 10-story, Four Diamond urban gem, the artistic panache of this quintessential Kessler property begins to unfurl. Dark hues, rich fabrics, bold prints and a slew of original artwork await inside the lobby and adjacent Bosendorfer Lounge, where couples gather for happy hour specials including a bottle of wine and butcher's platter for $50. Bosendorfer's happy hour is offered Mondays through Thursdays from 5:30-7:30pm.
Go no further and you're bound to have a great night, but I'm going to urge you to head up to the 6th floor where Poseidon Spa, a petite boutique space with a handful of treatment rooms, awaits to offer a couple's massage designed to melt your worries away.
Candlelit and drenched in velvet, this sultry space features a full menu of spa offerings including seasonal treatments at special prices. Massages, which start at $65 per person, are delivered by expert therapists skilled in the art of pampering.
Love a frequent spa getaway? Check out the Spa's Wellness Membership Program, which features a treatment, access to the outdoor heated pool and hot tub, $7 valet parking plus a few more perks for $70/month. See image below for more details.
Next is dinner, but if you're worried about being disheveled and covered in massage oil, don't. There is an onsite, private dressing room complete with a locker to house your fancy duds, a full shower, hair dryer and mirror for getting all gussied up before heading downstairs for an epic meal at The Boheme.
Might I be overselling it by using the word 'epic'? I really don't think so. The Boheme has been a date night favorite for years but with the addition of Chef Laurent Hollaender (a genius in the kitchen) and the new Dr. Phillips Center for the Performing Arts directly across the street, the restaurant seems to have hit a new stride. And while the space known for its dark walls and scarlet red drapery hasn't changed much aesthetically, there is a renaissance buzz in the air.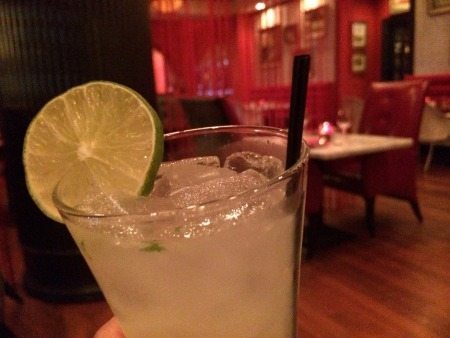 This is the sort of place to start off with cocktails, of which there are many offered. The Klimt Kiss Cucumber Clash was spectacular and I highly recommend it.
I also recommend starting with the Crab Cake. Our server, Samuel, boasted it was the "best in Orlando," and honestly, I'm not sure I can disagree with him. Only sweet morsels of lump crab meat and a few light seasonings were invited to the party and the result is a spectacular appetizer.
From there we enjoyed the Fall Apple & Kale Salad, which was fresh and flavorful. We tasted the octopus, a new item on the menu that's sure to become a fan favorite like the legendary Jumbo Diver Scallops entrée, which is plated with creamy garlic mashed potatoes and buttery asparagus.
Of course, it's not dinner without dessert. I'm still raving about the skillet baked apple pie, an unfussy union of melt-in-your-mouth pie crust and sweet apples served bubbling and topped with a rich vanilla ice cream that slowly liquefied all over the night's sweet finale. Our meal, from beginning to end, was as flawless as the service.
It's quite an indulgence… massages plus a fantastic dinner in a luxurious setting. But sometimes, we're worth it.
Note: Parking is validated (free) when you have treatments at the spa and is $6 when dining at The Boheme or Bosendorfer Lounge for a maximum of 3 hours.
Grand Bohemian Hotel
325 S. Orange Avenue
Orlando, FL 32801
www.grandbohemianhotel.com
Dinner reservations: 407-581-4700
Spa reservations: 407-581-4838