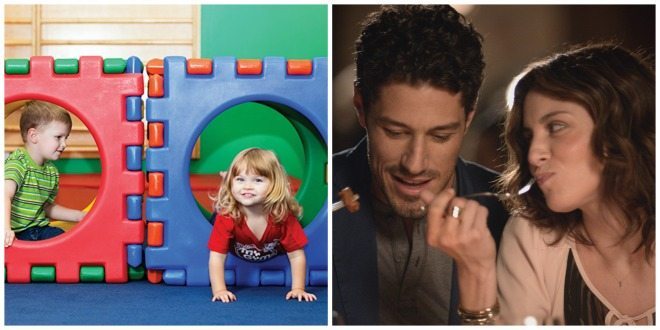 Date nights are great but for parents with kids to consider, snagging a babysitter or some free support from Grandma isn't as easy as it sounds. So, we flipped when we heard that Olive Garden will be offering a FREE evening at My Gym for the kiddos while mom and dad head out for a stellar Olive Garden feast.
On Friday, February 20, parents can enjoy an affordable 4-course Italian meal as part of Olive Garden's second annual Parents' Night Out, a three hour program where your child can participate in structured activities focusing on fitness and fun. Kids will play games, do gymnastics, dance, run relays, sing songs, do puppet shows and arts and crafts… and so much more! They're also given dinner!
Couples can participate in Parents' Night Out by contacting their nearest My Gym location (four local My Gym locations are on board) to confirm participation, obtain event details (such as times) and register.
Space is limited to approximately 30 kids at each of the 148 participating My Gym locations in the U.S. and Canada, and reservations will be taken on a first-come, first-served basis (deposit required). When you pick up your child(ren), your deposit will be refunded as long as you present your Olive Garden receipt.
The average gym will accept children 3 – 10 years of age for Parents' Night Out, however, this will vary by location. Contact your local My Gym for specific ages.
These spaces will sell out so confirm your spot ASAP!
To help parents make the most of their evening, Olive Garden is offering its first-ever Four-Course Festa Italiana starting at $12.99, featuring unlimited breadsticks and choice of homemade soup or famous house salad, and choice of small plate, entrée and decadent Dolicini mini dessert.
For more about the great deals at Olive Garden, visit www.olivegarden.com or connect with Olive Garden on social media at Facebook.com/OliveGarden, Twitter.com/OliveGarden and Instagram.com/OliveGarden.