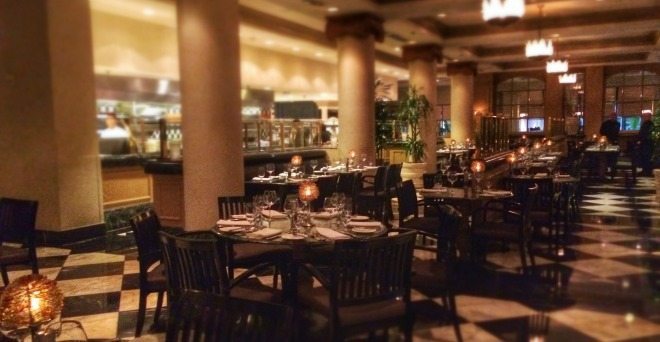 There's something so striking about the towering 31-floor Hyatt Regency Orlando with its regal glass peak set like citadel over International Drive. It's a view you've probably caught from I-4 dozens of times but the impressive elegance of this huge hotel is not something you can fully appreciate until you step inside. And when you do, bubbling fountains, twinkling chandeliers and a vibrant art collection await to create a luxurious and warm aesthetic designed to delight the senses.
There is much to delight the taste buds, too, including two onsite restaurants, Fiorenzo Italian Steakhouse and Urban Tide, the latter of which is currently undergoing a culinary redesign set to unveil this spring. This past weekend, we were invited to check out Fiorenzo Italian Steakhouse and after a meal punctuated by many 'oohs' and 'ahs,' we officially gave this classic meets contemporary Italian restaurant our stamp of approval.
THE SCENE
Black and white checkered floors and candlelit tables immediately give the dining room a bistro feel, although it's huge and can accommodate more than 100 guests. Most diners will get a stellar view of the culinary happenings thanks to the expansive and bright exhibition kitchen that spans the entire back side of the restaurant. Servers certainly set an upscale tone with a doting disposition and strong menu acumen, but the restaurant manages to avoid a snooty or pretentious vibe because everyone pours on the warmth and friendliness.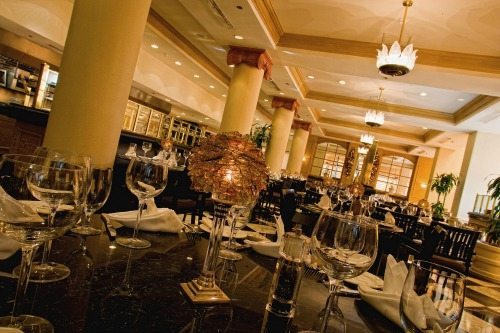 THE DRINKS
A list of about a dozen "Lively Librations" is offered with prices ranging from $10 to $12. I kicked the night off with the Vanilla Ricky, a subtly sweet cocktail made with Van Gogh Vanilla Vodka and Bungalow 23 Ginger Pear Mixer. Bungalow 23, a Winter Park company, can be found in many of Fiorenzo's cocktails, including the enticing Lemon Sapphire, made with Bombay Sapphire gin, St. Germain and Bungalow 23 Blueberry Lemon Drop. Other standouts include the Prickly Pear Martini, Indian Fig Margarita and the Blueberry Manhattan.
THE FOOD
For an appetizer, we enjoyed the Pan Roasted Diver Scallops, sweet and bouncy morels with bit of pepper heat and the perfect amount of seared crunch on the outside. The house salad, a lightly seasoned mound of arugula was a simple yet tasty way to add some greens to our feast before diving into the Black Pepper Pappardelle, a beefy Bolognese enmeshed in a light pasta noodle. Delicious. The 16oz New York Strip, dried 21 days and prepared with only a salt and pepper seasoning, was a fantastic steak and perfectly prepared medium rare.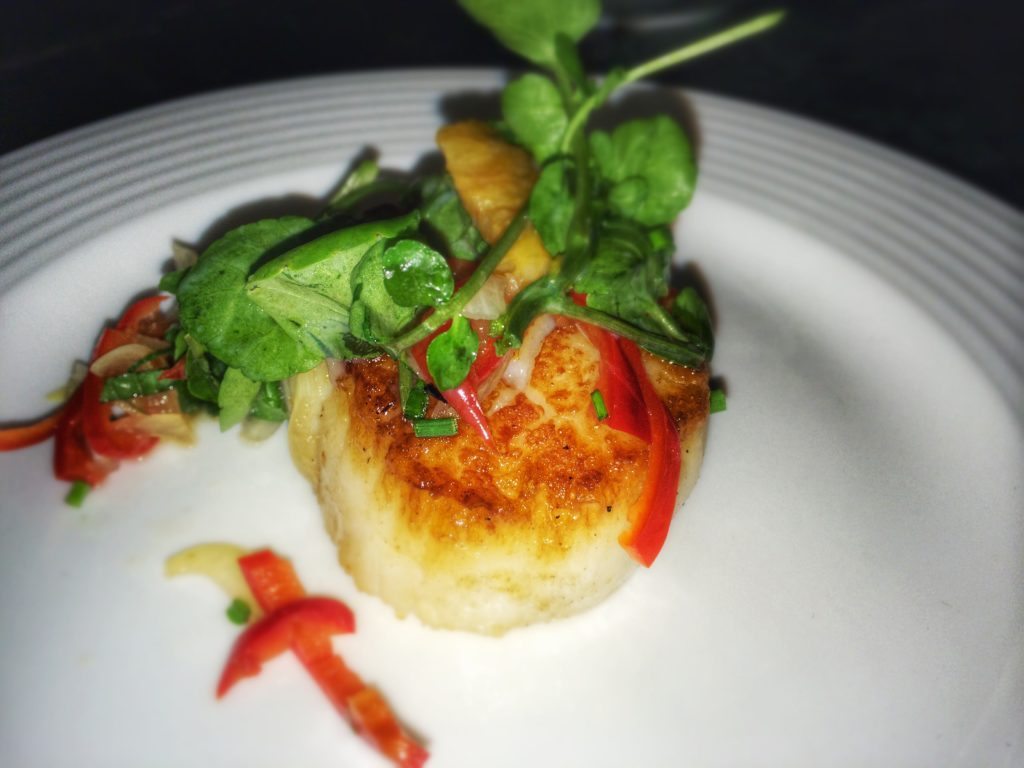 THE CHEF
Will Walters is Chef de Cuisine at Fiorenzo Italian Steakhouse, a position he assumed earlier this year. While he settles into his new role, Chef Will has slowly started to "place his stamp" on the cuisine, which exudes this native Pennsylvanian's dedication to keeping food simple and letting the flavors speak for themselves. As such, Chef Will is sourcing locally or direct from Italy with a fanatic fervor that makes its way onto every plate.
LITTLE EXTRAS
The board of cheese and cured meats was absolutely fantastic. This thoughtfully curated selection of savory bites comes with a choice of 3 cheese and meat items for $18 or 5 items for $25. In addition, the board has a terrific selection of olives and a delicious, warm focaccia bread with a toasted parmesan top that gives you a wonderful crunch with each bite.
THE PRICE TAG
Appetizers range from $12-$17. Salads and soups are priced from $8-$18. Pizzas are $15-$17. Steak and fish entrees are $29 – $56. Pasta dishes are priced from $24 – $28. Wine starts at $8 per glass. See the full menu here. 
NEED-TO-KNOW DETAILS
The restaurant is open Monday – Saturday 6pm – 10pm. Reservations are recommended. The Hyatt validates valet for anyone who dines at Urban Tide or Fiorenzo Italian Steakhouse, and The Spa. It's recommended to valet at the Regency Tower (you'll see signs). Rocks, a fabulous cocktail bar, is conveniently located adjacent to the main lobby, and would be a perfect place to start the evening or enjoy a night cap before heading out.
WINE DINNERS
The Hyatt will soon kick off quarterly Chef's Table events at Urban Tide, Fiorenzo Italian Steakhouse and locations throughout the hotel. The first event is at Urban Tide on Saturday, April 25 and will feature wine expert Juan Pablo Gonzalez from Pascual Toso in Argentina.
INFO
Fiorenzo Italian Steakhouse
9801 International Drive
Orlando, FL 32819
407-345-4570
orlando.regency.hyatt.com/en/hotel/dining/fiorenzo-italian-steakhouse.html