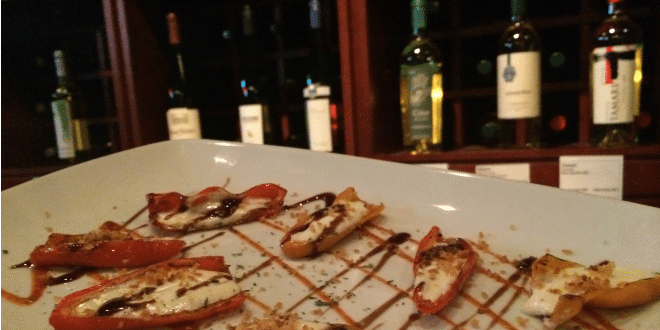 You've probably walked by 136 S. Park Avenue in Winter Park a few times in recent months and wondered, "what the heck is The Parkview and where did Eola Wine Co. go?"
Never fear. Change is good!
Last year a buy-out resulted in new ownership and a name change for Eola Wine Co. (which is still open in downtown Orlando and owned by the original owners), but more important to you is what happened inside the space… more specifically, in the kitchen.
Wine, which was once the leading lady, now plays the role of steadfast sidekick to a slew of new food options on a menu created by Chef AJ Haines, who tool the culinary reigns last August.
"This was once the place for bar bites and small plates before heading somewhere else on Park Avenuue for dinner," says Hanies. "But we realized that we do such a great job showcasing wines from all over the world that we should pair them with an entire meal, not just starters."
So, Hanies set to work creating an entirely new menu. Weeks later he presented it to the new owner, Matt Coltrin, who gave him the green light to keep creating.
You'll still find light bites, flat breads and starters on the lunch and dinner menus (try the Baked Brie or the Pretzels & Beer Cheese… fantastic!) but you'll also find more substantial offerings worthy of an entrée.
"For the main course there are shareable dishes perfect for tapas-style dining, including seven different types of Crostini," Hanies says. You can also order Wellington served two different ways: braised short rib or butter braised mushroom for vegetarians.
Dessert, which are made very simply and pair well with the dozens of wines sold by the glass and bottle, range from a seasonal cobbler to a flourless chocolate torte (both served warm!!) to cheese platters.
Of course, the wine flights are still there—four white flights and four red fights each with four different pours—but there are now beer flights too, which allow you to choose four different 3oz pours from a list of more than a dozen draught beers.
And for those who loved Eola's mimosa flights, fret not… they have remained on the Brunch menu, which also features $5 mimosas and 2-for-1 draught beers during brunch on Saturdays and Sundays from 11am – 3pm. The Brunch menu also features four different egg frittatas, salads, sandwiches and quiche. But you can skip all that and order the Cinnamon Roll Bread Pudding.
The Parkview serves lunch Monday thru Friday 11am – 4pm and dinner daily from 4:30-midnight. In addition, you can snag several popular items from the late night menu on Fridays and Saturdays from midnight until 1am.