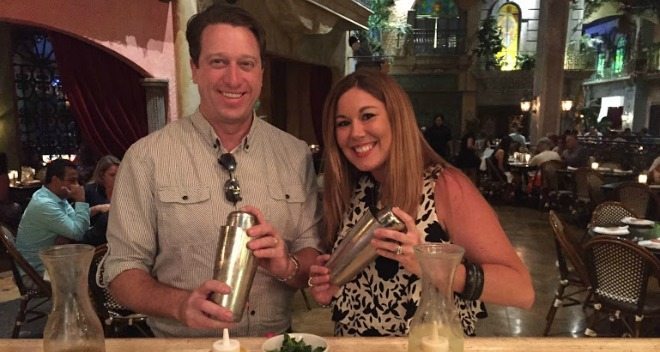 By Brian Wenhold
Brian and his wife, Melissa, were the winners of our April Couple at Large Giveaway. Here's what they had to say about their date night at Cuba Libre Restaurant and Rum Bar…
Point Orlando is not the first destination we typically head to, but we had a wonderful evening at Cuba Libre Restaurant and Rum Bar tasting an amazing array of beautifully prepared food. The menu is crafted to reflect contemporary Cuban cuisine by two time James Beard award winning chef Guillermo Pernot.
After being warmly greeted and taken to our table we were given a quick lesson on how to prepare the classic mojito. A station was set up with freshly pressed sugar cane, lime juice, and Cuban mint near our table so we could go back to try other variations of mojito throughout our meal. After making our first round we returned to our table to enjoy some pressed Cuban bread with a delicious mango cinnamon butter.
We ordered the 15 Tastes of Cuba experience which started with a basket of plantain and Malanga chips and a trio of dips; black bean hummus, salsa and Haitian eggplant salad. If you order this chef's tasting menu be sure to pace yourself and not fill up too much on the dips before you get to the entrée or dessert. My wife is a pescetarian (vegetarian + seafood) and was easily accommodated by substituting meat dishes for seafood options.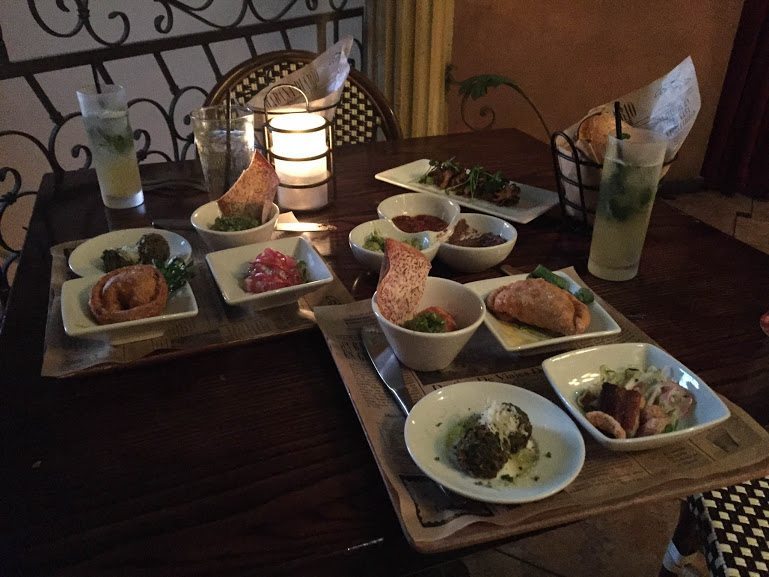 Shortly after the dips were served, our appetizers arrived at the table. There were four small appetizers for each of us along with grilled baby octopus marinated in truffle and citrus. We both got the shrimp ceviche and spinach and manchego buñuelos. The manchego cheese and spinach puffs stuffed with goat cheese-ranch sauce were little bites of heaven. I also had an empanada stuffed with chicken, corn and jack cheese as well as a wonderful little crispy pork belly dish. The vegetarian and seafood options included Malanga fritters made with crispy taro, and a tuna ceviche.
After our appetizers we headed back to the bar to make another round of mojitos. This time we tried passion fruit and pineapple before returning to our table as our entrees arrived. Entrees were served with white rice, black beans and maduros (fried sweet plantains). We both had the mahi-mahi which was served over black rice and squid-lobster flavored asopado. I really enjoyed my grilled skirt steak and pulled pork dish. My wife's options included shrimp con mojo and a rice and seafood entrée.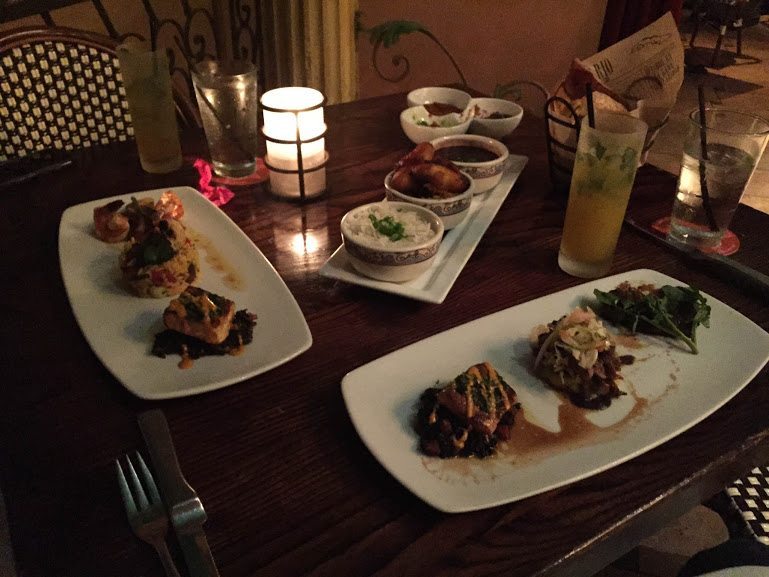 Done with our entrees, we headed back to the bar to make coconut mojitos before selecting our desserts. There were 8 different desserts served in small cups from which we could each make two selections. The 15 tastes of Cuba is a LOT of food so be sure to take your time and come hungry. I would highly recommend the chef's selection to get a great sampling of the menu at Cuba Libre. For $39.95 it's a great value for quality and amount of food you get.
After dessert we got couple of café cubanos before heading downstairs as the restaurant transitioned over to a nightclub. The switch starts at 10pm but doesn't get going until about 11pm. At our table we had a bottle of Chardonnay waiting for us and a great view of the dance floor and DJ booth. There are three different areas playing different music. In addition to the main dance floor, there was a DJ outside on the patio and another in a smaller room upstairs. The crowd was great and the DJs kept the dance floor moving.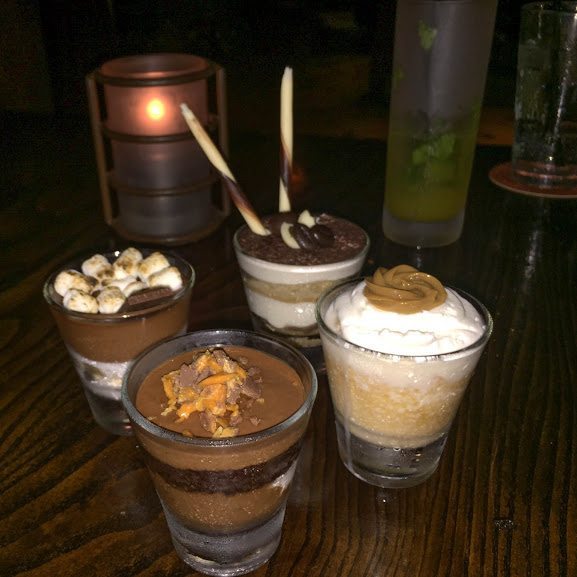 The service from all of the staff at Cuba Libre was fantastic and we had an amazing date night. Thank you to Orlando Date Night and everyone at Cuba Libre for a wonderful night out on the town.