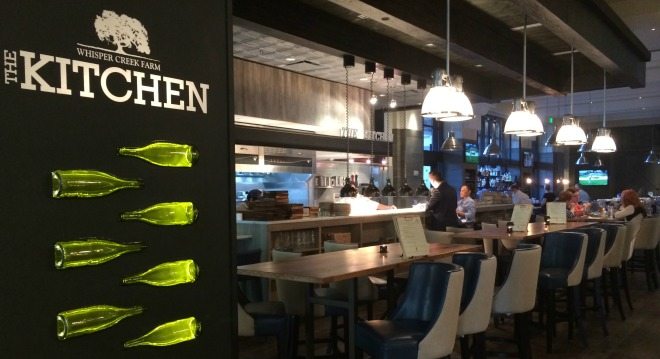 The culmination of lots of creative gourmands as well as chefs and brewmasters with an unwavering passion for local sourcing, Whisper Creek Farm: The Kitchen and The Brewery opened last month at JW Marriott Orlando, Grande Lakes with a farm-to-fork experience like no other.
Featuring beer from The Brewery at Grande Lakes, an in-house, first-of-its-kind nano- brewery producing house-made brews on tap and served throughout the resort, this lobby restaurant is an ideal place to casually enjoy lots of fun drinks and dishes all made with a hyper-local flare. The Brewery will produce 28 gallons of beer weekly including five styles of beer created each season.
Designed as a fun gathering space, The Kitchen features lots of communal seating including long tables, high tops overlooking the open kitchen, cozy sofas and a huge outdoor seating area.
A menu filled with lots of small plates, sandwiches, flatbreads and charcuterie/cheese boards adds to the laid back vibe of this dining space where everything coming from the kitchen has at least one seasonal ingredient from the 7,000-square-foot on-site garden at Whisper Creek Farm.
That includes farm fresh eggs brought over daily from the farm's recently added chicken coop.
The Brewery's seasonal beers are also bolstered by these onsite provisions with everything from Whisper Creek's peppers to lemon grass to honey finding its way into the brewing process.
The apiary on the Grande Lakes' 500-acre property produces honey not only for the beer but it's also used in the food and in spa services at The Ritz-Calrton Spa next door. You'll also find a chunk of sweet honeycomb served with one of The Kitchen's charcuterie boards.
Located just off the main JW Marriott lobby, The Kitchen is open in the evening from 5pm to 11pm, with the bar open until midnight.