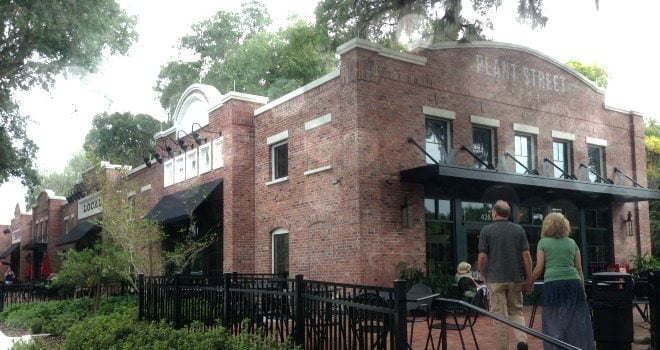 Updated April 2019 – Surprised to learn that Orlando is one of America's epicenters of craft brewing? This guide to our local brew scene is sure to convince you that Central Florida has jumped on the beer bandwagon.
PS – Don't forget to pick up your free Central Florida Ale Trail map at participating breweries. Once you've received stamps at each brewery, redeem your map for a commemorative growler.
Orlando Brewing
First opening its doors at the turn of the century, Orlando Brewing specializes in organic ales and lagers brewed in accordance with the German Purity Law of 1516. Orlando Brewing consistently serves only the finest combinations of 'Fresh from Florida' and certified organic water, hops, yeast and malted barley at its onsite 24-tap taproom and beer garden that also features daily specials and two stages with weekly live music by local and touring bands. Stop in for a free tour Monday – Saturday at 6pm. Taproom hours are Monday through Thursday 3 – 10 p.m., Friday and Saturday 1 p.m – midnight and Sunday 1 – 6 p.m. 1301 Atlanta Ave. Orlando, FL, www.orlandobrewing.com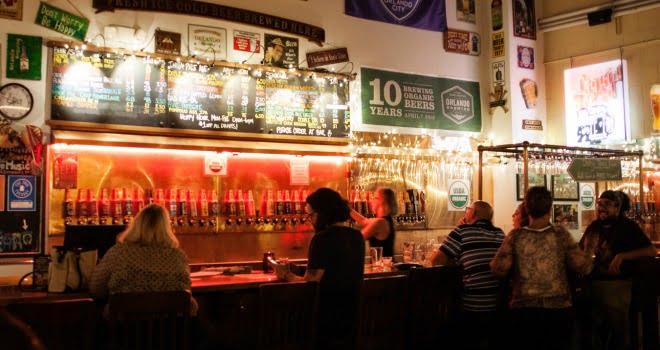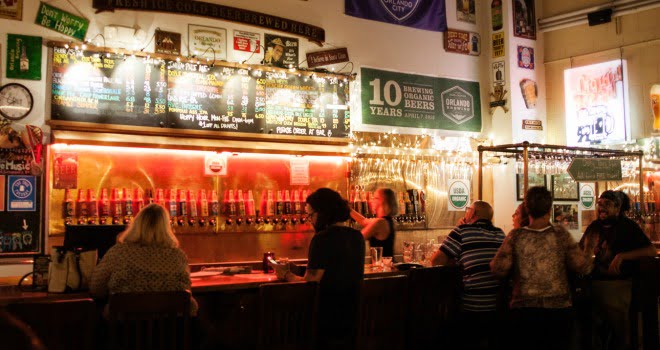 Cask & Larder
A "Southern Public House," Cask & Larder is a congenial neighborhood gathering spot where made-on-site beers flow freely and the kitchen, now the home of The Ravenous Pig, is always bustling. New limited edition microbrews incorporate fresh, local ingredients and are created from the imagination of brewmaster Larry Foor, who holds a degree in brewing technology from the prestigious Siebel Institute in Chicago. After Cask & Larder moved its restaurant location to the Orlando International Airport in 2017, The Ravenous Pig picked up the restaurant space and has maintained the brewery operations. After sipping your craft brew, stick around for a delectable meal or indulge in light bites and $3 beers during happy hour from 3 – 6 p.m. 565 West Fairbanks Avenue, Winter Park, FL, www.caskandlarder.com/brewery/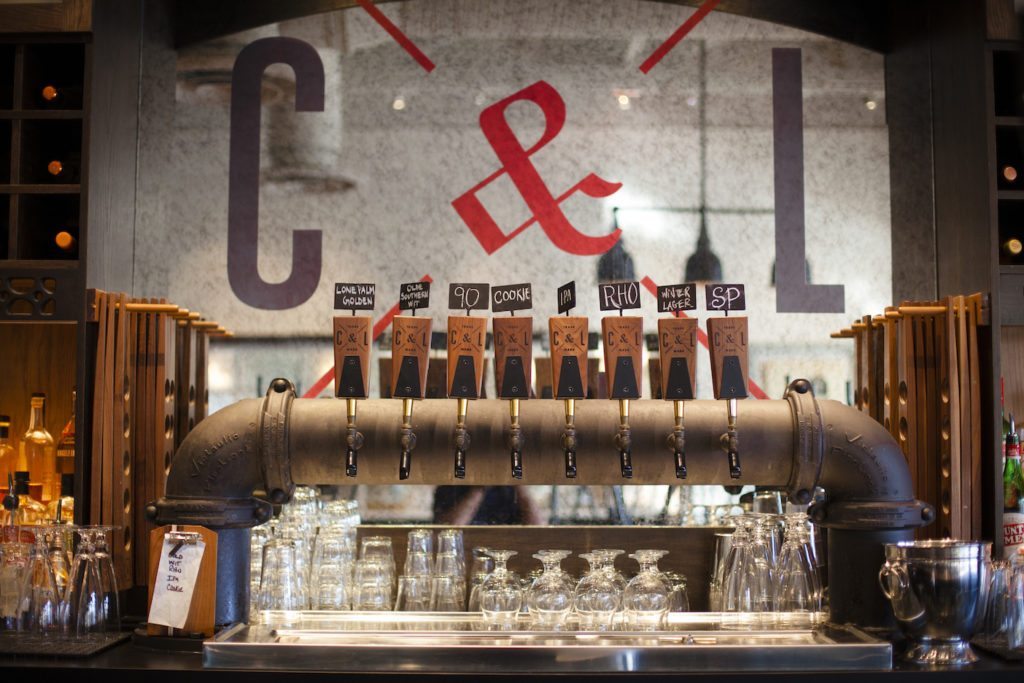 Big River Grille & Brewing Works
A family-friendly microbrewery and restaurant serving up award-winning beers and fresh twists on American pub favorites, Big River Grille & Brewing Works brings craft beer to Walt Disney World. Enjoy a cool indoor dining area or relax on the waterfront outdoor patio and sample one of the handcrafted ales and lagers brewed on the premises. Favorites include the Rocket Red Ale and the seasonal Sweet Magnolia American Brown Ale—and a beer sampler lets you try them all. You can even watch the onsite brewmaster craft six specialty beers through floor-to-ceiling glass windows. Big River Grille & Brewing Works is open for lunch and dinner from 11 a.m. – 11 p.m. Disney's BoardWalk at Walt Disney World® Resort, https://disneyworld.disney.go.com/dining/boardwalk/big-river-grille-and-brewing-works/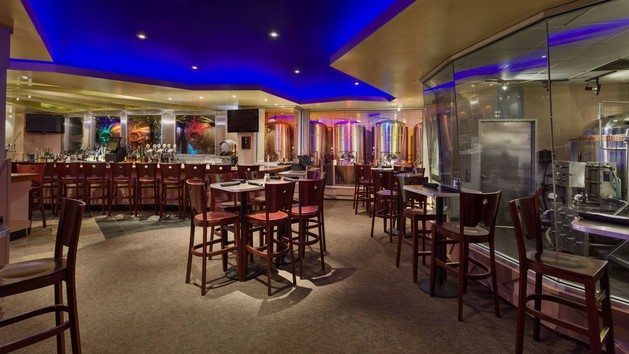 Hourglass Brewing
This 10-barrel production brewery in downtown Longwood features a state-of-the-art taproom and is known for crafting more than 70 unique, specialty beers throughout the year. Hourglass Brewing offers a few flagship ales available year-round and large format bottle releases every few months. Everything from Bourbon Barrel Belgian Quads and Wine Barrel Saisons to extremely Rare Sour Ales and Fruit Lambics can be found on tap. Taproom hours are Monday through Thursday 11 a.m. – 11 p.m., Friday and Saturday 11 a.m. – 1 a.m and Sunday 12 p.m. – 10 p.m. 480 S. Ronald Reagan Blvd., Longwood, FL, www.hourglassbrewing.com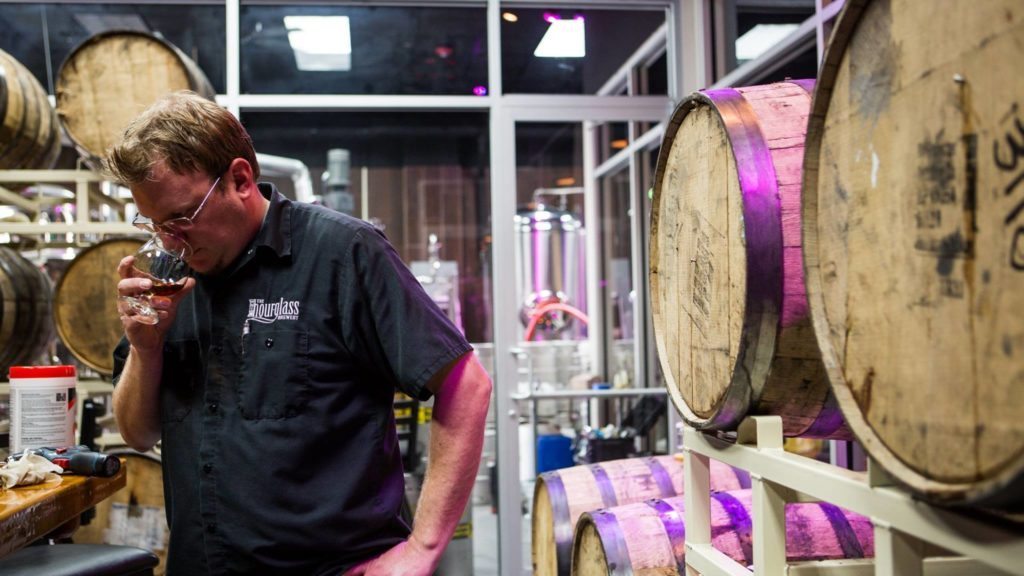 Crooked Can Brewing Company
Crooked Can Brewing Company is an upstart craft brewery built inside the Plant St. Market in historic downtown Winter Garden. Brewing quality craft beer by an award-winning, experienced brewmaster, Nolan Clark, the Brewery has an onsite tap and tasting room featuring 4 flagship brands in addition to many other limited edition, seasonal and specialty batches including High Stepper American IPA, McSwagger's Own American Amber/Red Ale, American Pale Ale and Belgian Golden Strong Ale. The outdoor patio is dog-friendly and the taproom also offers beer to-go. Taproom hours are Sunday – Thursday 11 a.m. – 11 p.m. and Friday and Saturday 11 a.m. – 1 a.m. 426 W. Plant Street, Winter Garden, FL, www.crookedcan.com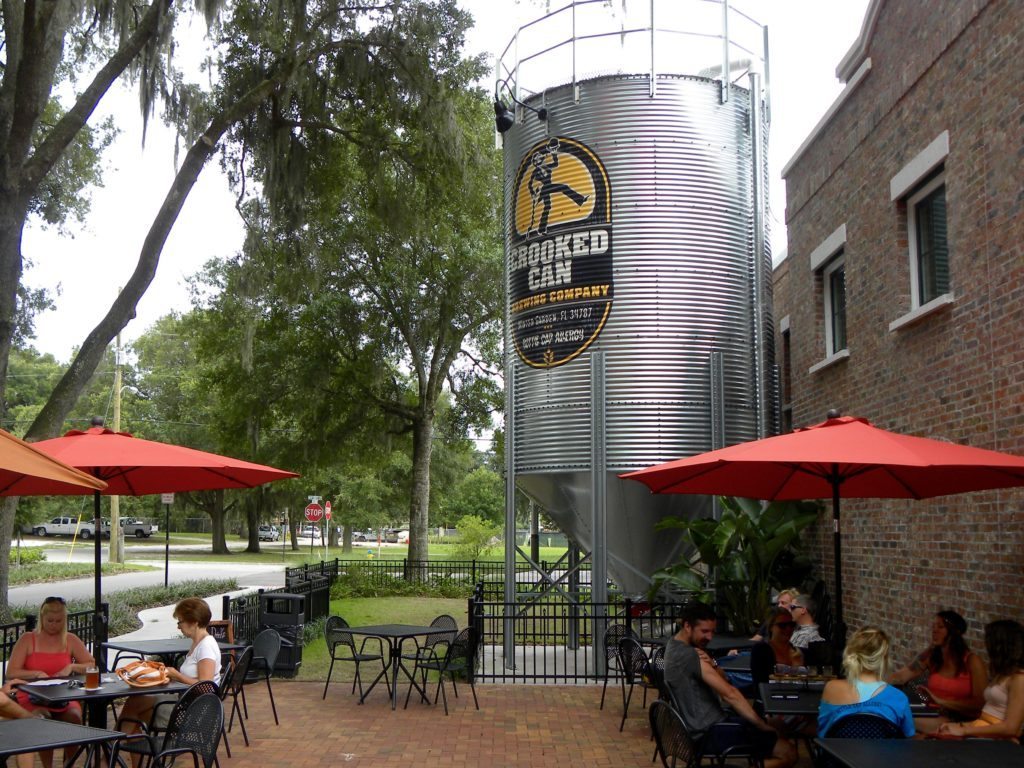 Orange County Brewers
One of Orlando's newest breweries, Orange County Brewers is Orlando's first and only craft brewery. Under the guidance of brewmaster Amanda Roberts, the brewery serves up a variety of signature craft brews (which have quite catchy names) and select guest taps. You'll find everything from Ales to IPAs and Hefeweizens to Porters in the lineup. Current offerings include The Go-To Blonde Ale, Dankster of Love Double IPA, Perculator Stout and more. If you're hungry, pizza, wings, salad and sandwiches are available (check out this post from our friends at Tasty Chomps for food details and photos). Taproom hours are Sunday – Thursday from 11:30 a.m. – midnight and Friday – Saturday from 11:30 a.m – 1:00 a.m.
1117 International Parkway, Lake Mary www.theocbrewers.com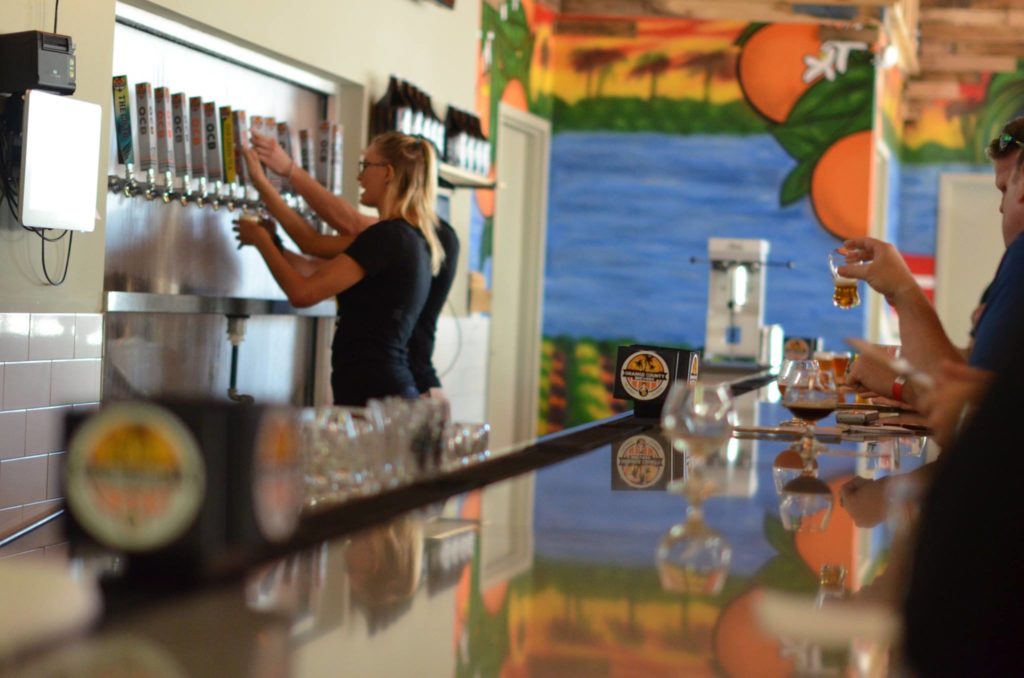 The Bear and Peacock
A unique addition to the Winter Park beer scene, The Bear and Peacock is Central Florida's first and only brewstillery – a brewery and distillery in one. Outside, you'll find a spacious courtyard, perfect for sipping craft brews on warm Florida afternoons, and inside you'll find plush sofas and a spacious bar, with peekaboo views into the distillery. Taproom hours are Monday – Thursday from 4 p.m. – 11 p.m., Friday from 4 p.m. – midnight, Saturday from 11 a.m. – midnight and Sunday from 11 a.m. – 11 p.m. 1288 North Orange Ave, Winter Park, FL, www.facebook.com/bearandpeacockwp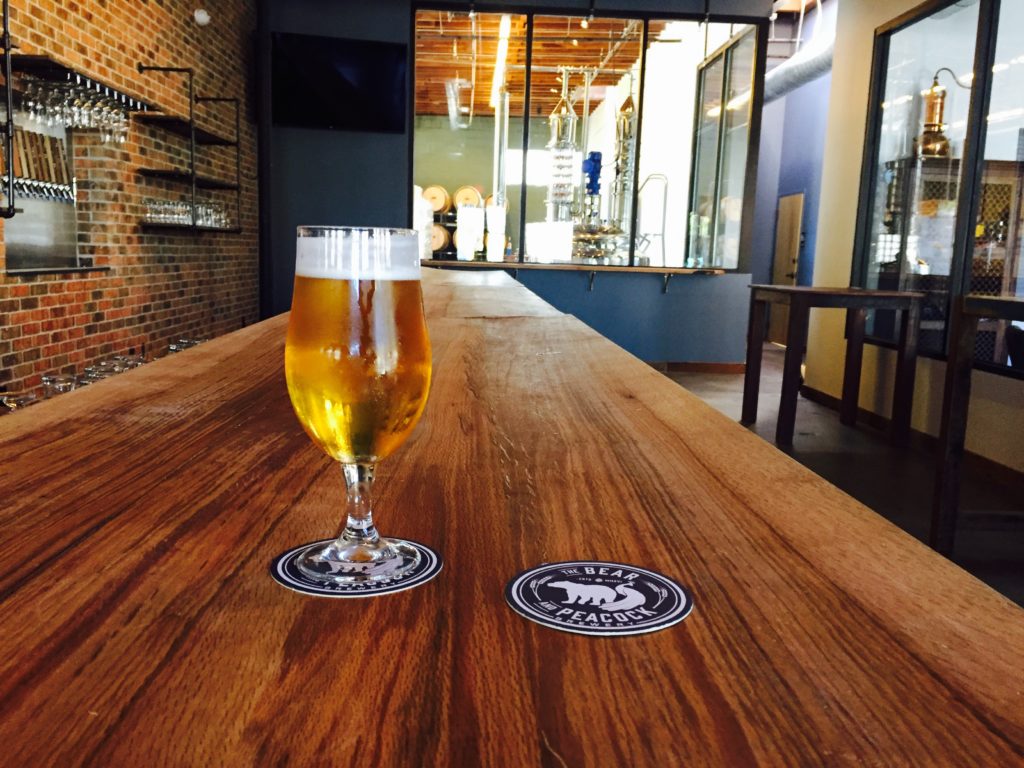 Broken Strings Brewery
No matter your taste preference, you'll find something to love here. Broken Strings specializes in hop-forward brews, and the colorful space–just a stone's throw from the Orlando City Stadium–is an ideal place to spend the afternoon whether you're pre-gaming before a soccer match or passing a Saturday afternoon among friends. Taproom hours are Tuesday – Wednesday from 3 p.m. – 9 p.m., Thursday from 3 p.m. – 10 p.m., Friday from 1 p.m. – 11 p.m., Saturday from 12 p.m. – 11 p.m. and Sunday from 12 p.m. – 9 p.m. 1012 W Church Street, Orlando, FL, brokencauldrontaproom.com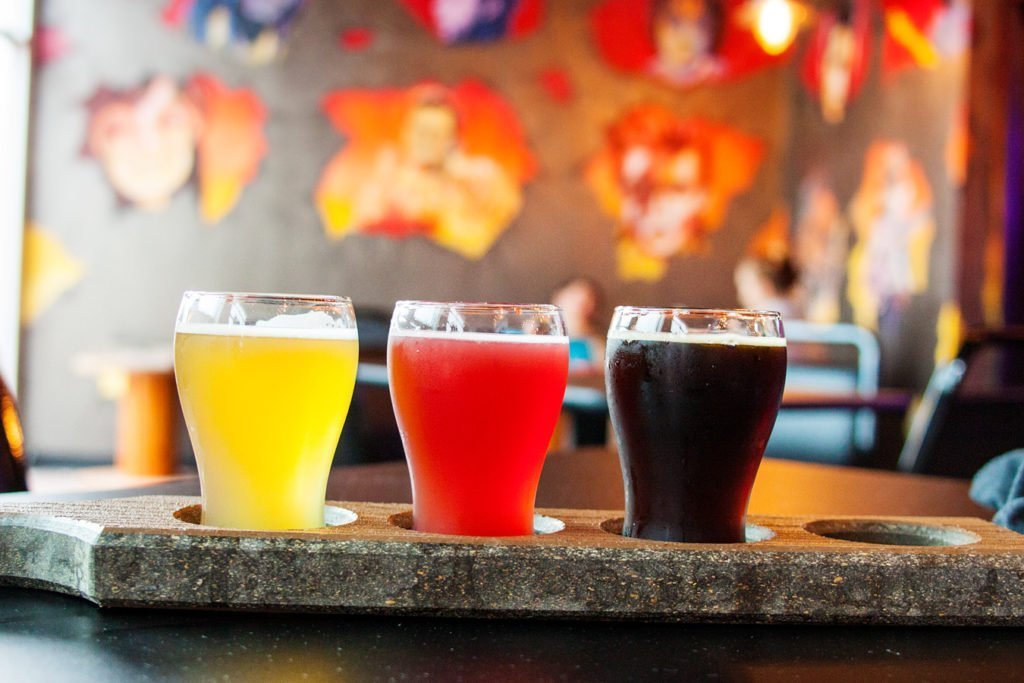 Ten 10 Brewing Company
Ten 10 Brewing Company has been a mainstay in Orlando's Mills 50 District since opening in the summer of 2015. Beer lovers will find an assortment of craft brews on tap, including Ales, Stoutes, Porters, IPAs and Hard Cider. The brewery also serves wine by the glass from Quantum Leap Winery, also located in the Mills 50 District. Whatever you do, don't leave without trying the Croque "Goddamn" sandwich made with Vermont cheddar, black forest ham, house mustard, poached egg and beer cheese on a Challah bread (you can thank us later.) Taproom hours are Sunday-Thursday from 11:30 a.m. – 10 p.m. and Friday and Saturday from 11:30 a.m. – 1 a.m. 1010 Virginia Drive, Orlando, FL, www.ten10brewingcompany.com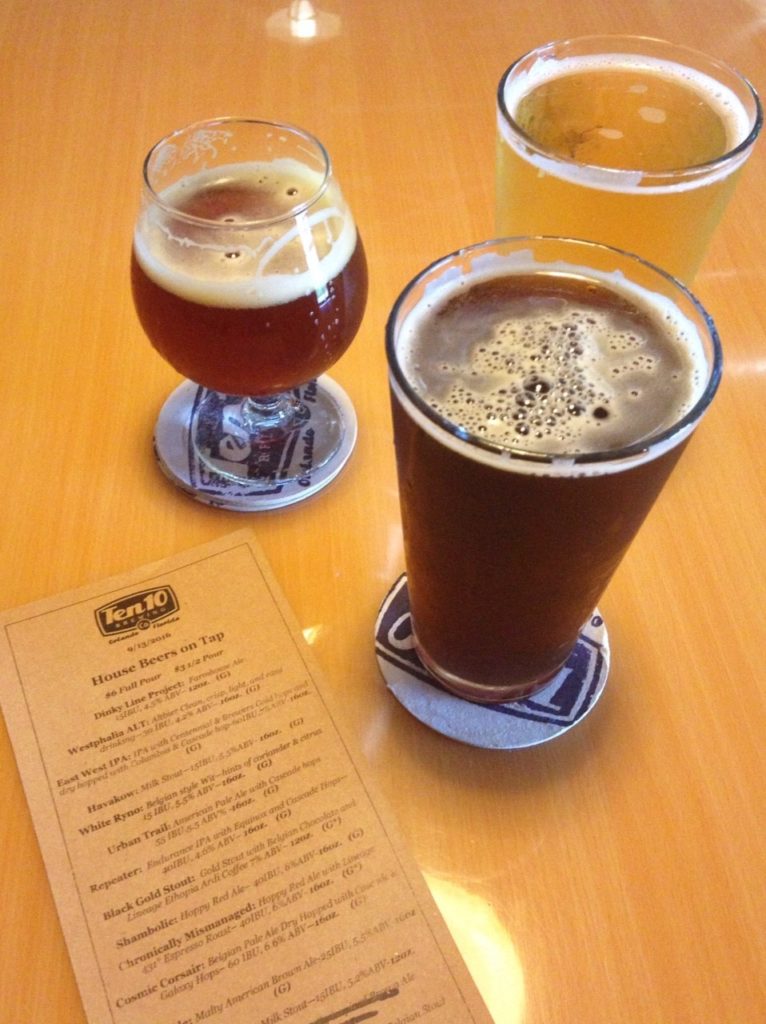 Whisper Creek Farm: The Brewery
The first Marriott property to launch a nano-brewery, Whisper Creek Farm: The Brewery (inside the JW Marriott) is led by a local cicerone-certified brewmaster. Producing 28 gallons of beer weekly including five styles of beer created each season—Dark, Wheat/Light, Amber, IPA and a seasonally inspired Special Brew made from the freshest farm ingredients. For an in depth look behind the scenes, sign up for the Farm to Foam experience which includes a visit to the brewery with brewmaster Aaron Libera followed by a beer and bites sampling. Food is served daily from 5 – 11 p.m. and the bar is open until midnight. 4040 Central Florida Parkway, Orlando, FL, www.grandelakes.com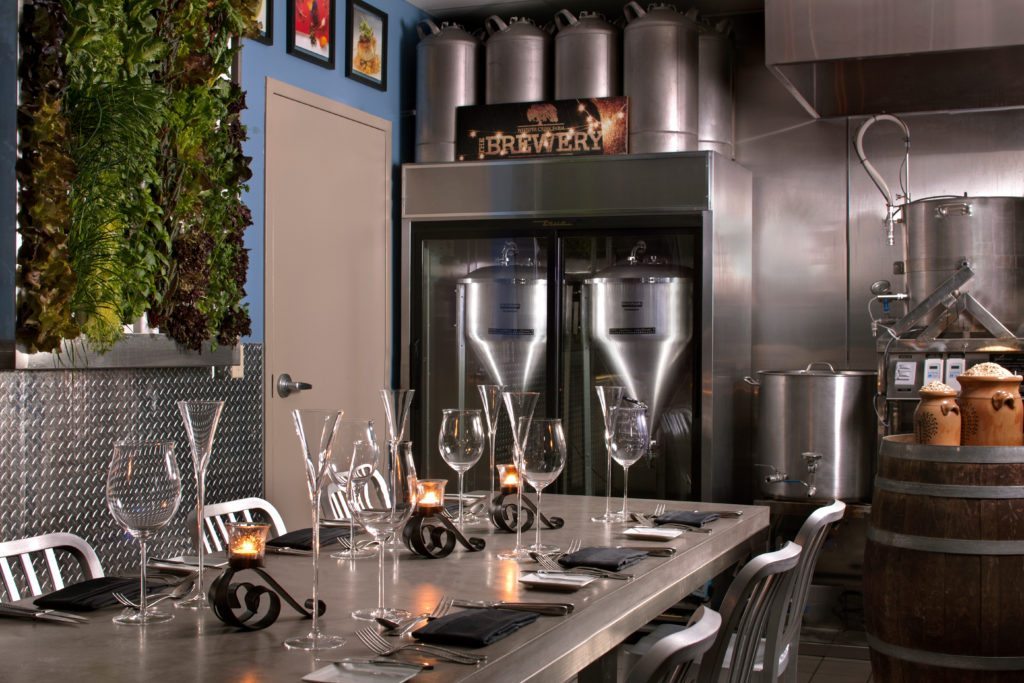 Bowigens Beer Company
Outside of Orlando in Casselberry, beer buffs can expect a variety of guest microbrew taps along with a selection of Bowigens' own beers including its famous Toasted Almond Brown Ale, 7-Layer Milk Stout, Green 18 Cream Ale and Lost Anchor IPA. The knowledgeable and attentive staff are friendly and eager to provide suggestions based on your taste preferences. Nightly specials vary but on Wednesday nights bartenders run a select brew through their Randall, infusing the beer with unique flavors and aromas. Taproom hours are Monday – Thursday from 5 – 10 p.m., Friday 3 p.m. – midnight, Saturday 12 p.m. – midnight and Sunday 12 p.m. – 8 p.m. 1014 Highway 436, Casselberry, FL, www.bowigens.com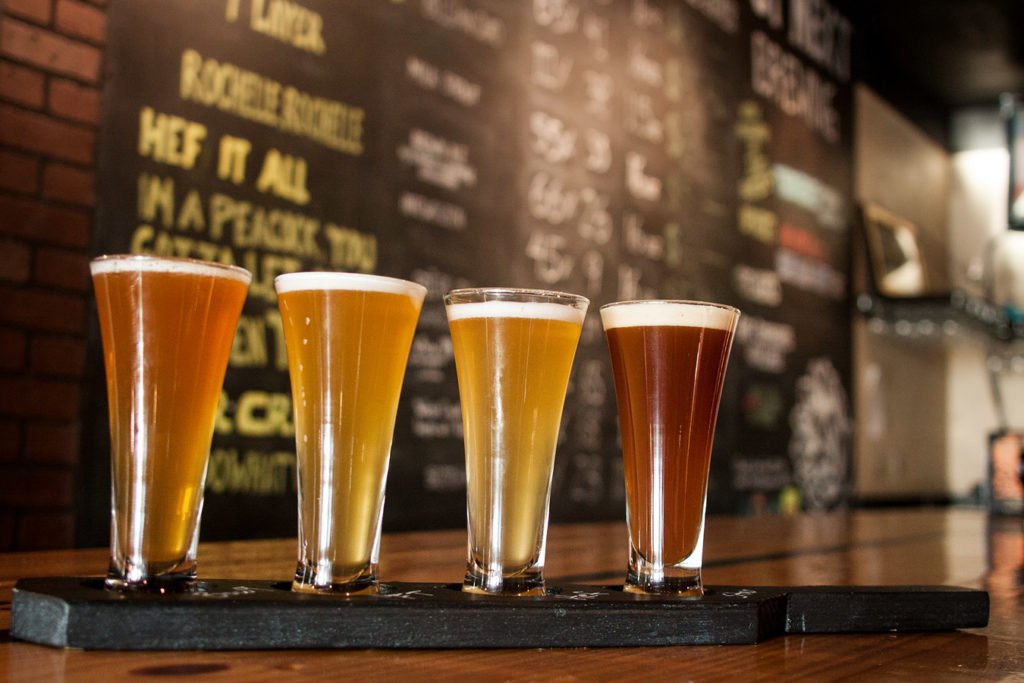 More breweries to explore…
Ellipsis Brewing: 7500 TPC Blvd Suite #8, Orlando
Playalinda Brewing Company: 305 S Washington Ave, Titusville
Redlight Redlight Beer Parlour & Brewery: 2810 Corrine Drive, Orlando
Dead Lizard Brewing Company: 4507 36th St, Orlando
Ivanhoe Park Brewing Co.: 1300 Alden Road, Orlando
Sideward Brewing: 210 N Bumby Ave, Orlando
Deadly Sins Brewing: 750 Jackson Ave, Winter Park
Central 28 Beer Company: 290 Springview Commerce Drive #1, DeBary
Persimmon Hollow Brewing Company: 111 W Georgia Ave, DeLand
Rockpit Brewing: 10 W Illiana St, Orlando
Sanford Brewing Company: 400 S Sanford Ave, Sanford
Inner Compass Brewing Company: 300 E 2nd St, Sanford
Wop's Hops Brewing Company: 419 S Sanford Ave, Sanford
Deviant Wolfe: 121 W 1st St, Sanford
Suncreek Brewery: 790 W Minneola Ave, Clermont
Tactical Brewing: 4882 New Broad St, Orlando
Toll Road Brewing: 101 W McKey St, Ocoee
Wolf Branch Brewing: 119 N Bay St, Eustis
Oviedo Brewing Co: 1280 Oviedo Mall Boulevard #1095, Oviedo
Go on a Brew Tour!
Hop On! takes beer enthusiasts on tours of Orlando's beer scene, featuring afternoon and all-day tours starting at $35/person.