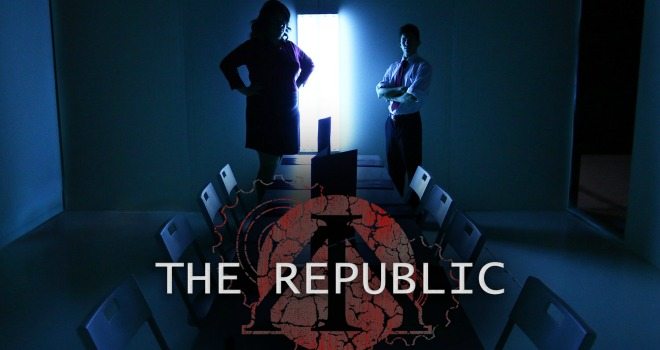 If your idea of a fun night is starting a revolution to overthrow oppressive societal forces, then you'll certainly love Orlando's hottest new date night experience The Republic.
Combining live theater with an interactive, real-life role-playing game, this reality-bending adventure performance immerses attendees into a fantasy world they can touch and explore. Following its debut at the Orlando Fringe Festival where it won a "Best Show" award in the "bring-your-own-venue" category, The Republic delivers five high-intensity performances a week through July 25.
Upon arrival you immediately become part of the show. Attendees are cast into one of three factions (the Republic, the Office and the Labyrinth) and are instructed to find an envelope containing their character information hidden somewhere in the waiting room. Soon after reading the prompt hinting at your unique role and story line, you're led out of the room into darkness. Then things start to get even weirder. 
Like a cross between one of Universal Studios' Halloween Horror Nights haunted houses and The Hunger Games, the set is housed within an 18,000-square-foot maze of uniquely designed spaces. You (and your date, depending on your roles) are led throughout the 90-minute experience by a cast of exceptional improv performers.
As you explore your role and meet new characters, you're empowered to find your own way through the unfolding plot. Adventures include missions to solve mysteries, spy details and covert scavenger hunts. It's up to you to decide which side of the brewing revolution to join.
Intended for ages 18 and up only, the experience includes strong language and moments of violence and sensuality. Be advised, you will be touched and possibly kidnapped.
No two performances play the same way. You're encouraged to come back again to unlock new pieces of the story and shape the narrative in an entirely different way.
The Republic takes place on Thursdays, Fridays and Saturdays in Ivanhoe Village at 1427 Alden Rd, Orlando. Tickets and more information are available at www.TheRepublicGame.com.