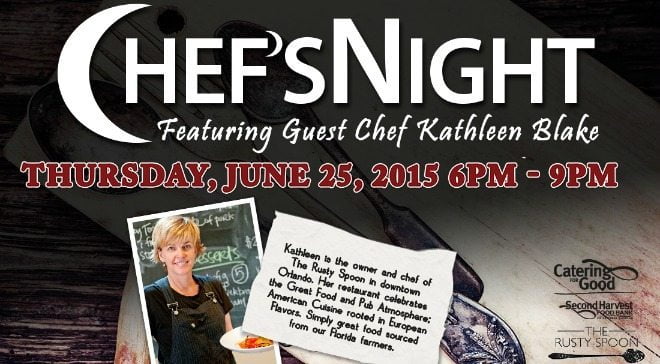 As part of its Catering for Good Program, Second Harvest Food Bank of Central Florida is hosting Chef's Night on Thursday, June 25.
The Chef's Night series brings local top chefs into Second Harvest's Community Kitchen to celebrate delicious food and raise money for a good cause.
Chef Kathleen Blake, 2015 James Beard award nominee and owner of The Rusty Spoon in downtown Orlando, will be this month's chef. Guests will enjoy a four-course dinner featuring a locally sourced pub-style menu of American cuisine rooted in European flavors.
All proceeds benefit Second Harvest's Culinary Training Program, which provides students with the skills and inspiration they need to obtain an entry-level position in a food service establishment.
TICKETS
Tickets are $75 per person and include four-courses and wine. Purchase tickets at www.foodbankcentralflorida.org or call 407-514-1048 for more information.
MENU
Passed Appetizer: Amuse-bouche
First Course: Charred squid and octopus with Frog Song organic watermelon two ways with house pickled peppers and arugula
Second Course: Sweet corn, chorizo and local oyster mushrooms with fettuccine paprikash
Third Course: Lake Meadow roasted poussin with butternut squash skordalia and natural jus
Dessert: Peach cobbler with muse butter pecan gelato
Thursday, June 25, 2015, 6-9pm
Second Harvest Food Bank of Central Florida
411 Mercy Drive, Orlando
foodbankcentralflorida.org