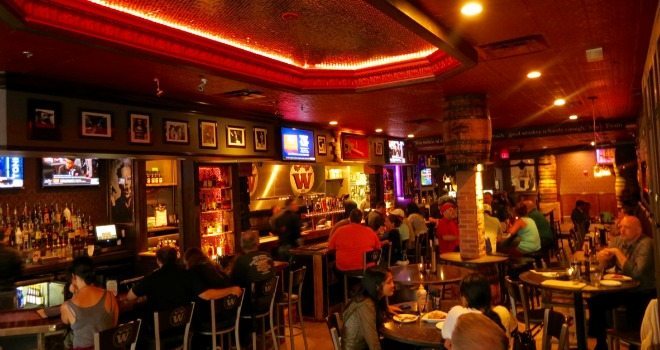 The small space that used to be occupied by Cricketer Arms is now a rustic, lively rock 'n' roll restaurant thanks to the creators of The Whiskey. Owned and operated by local Chef Steven Flowers, Katie Walton and Mike Lassahn, who share a combined 50+ years of restaurant experience, The Whiskey aims to gain local notoriety for gourmet burgers and craft cocktails. At a recent preview tasting, it was clear that the bar and the kitchen are destined to succeed in both categories.
The menu showcases several unique burgers made with 70% brisket flown in daily from Texas. There's also a ground lamb burger with goat cheese spread and The Salty Pear, which features poached bourbon pears, bacon and creamy brie.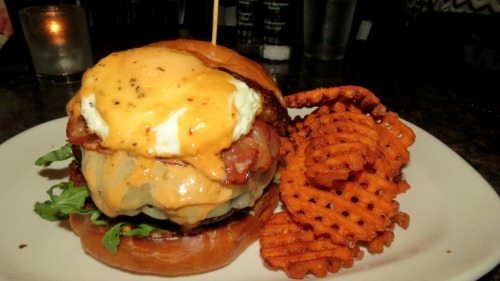 Chef Steven offers 12 sandwiches and burgers on the menu but of particular note is the Vanderbilt Burger, clearly an offering for his well-healed clients. Made with wagyu beef, lobster, foie gras and black truffle gouda, this over-the-top burger is served with a split of Moet Champagne. Price tag: $100.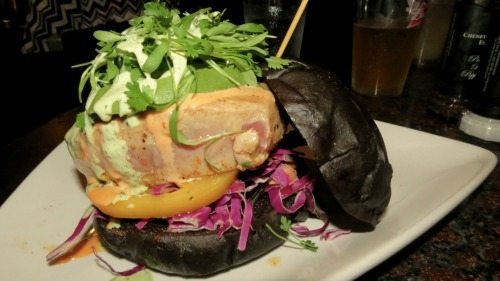 Here's another feature we loved: all sauces and dressings are made in house. The sides and appetizers are fun too, including sweet potato waffle fries, parmesan truffle fries, Whiskey wings and fried pickles.
I highly recommend the Fried Green Tomatoes, which come with smoked provolone (imported from Italy), crispy bourbon bacon strips that marinate for 48 hours, and topped with a delicious creamy chipotle tomato sauce.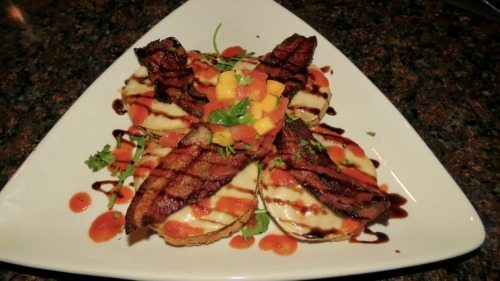 If you are a shrimp lover, the Banging Shrimp Appetizer or the Shrimp and Grits (served over pepper polenta cakes with a crisp pork belly, smoked gouda and a bourbon beurre blanc sauce) are a must!
There are some healthier menu options as well—Fire Grilled Salmon, for example—but let's not kid ourselves; The Whiskey is about fun food and boozy cocktails. You can leave your diet at home for one night.
As expected, The Whiskey has an impressive craft cocktail menu. There are 20 different signature cocktails; 90 percent are whiskey based but they have gin and vodka and rum, too.
Stick with the whiskey, though. At any given time the bar boasts over 100 different whiskeys and they are adding new options on a weekly basis. They don't do flights (yet?) but bartenders will do half-ounce taster pours of some of their higher-end bottles. These are priced between $1.50 to $16.50 each and change all the time based on availability.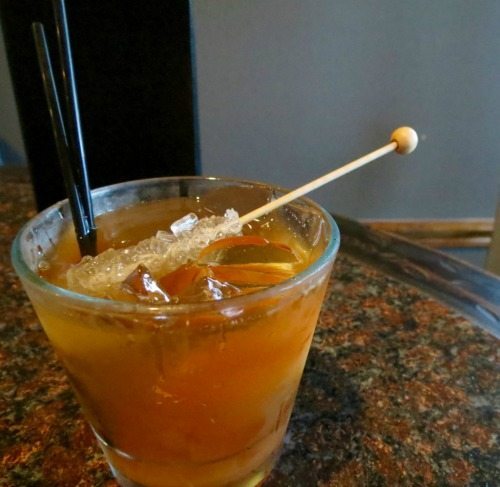 Not a whiskey fan? You're still welcome here and the 20 taps of draft beer and decent wine list are there to prove it.
For date night, we suggest grabbing two of the 23 seats at the bar. Not only will you get to see many of the bottles featured in the restaurant's enormous whiskey collection, but it will give you the opportunity to pepper the bartenders with questions as they pour and mix. It'll be quite an education.
Or check it out during happy hour, every Monday through Friday from 4-7pm. Specials include half off all wells, domestic bottles, drafts and select call drinks and appetizers.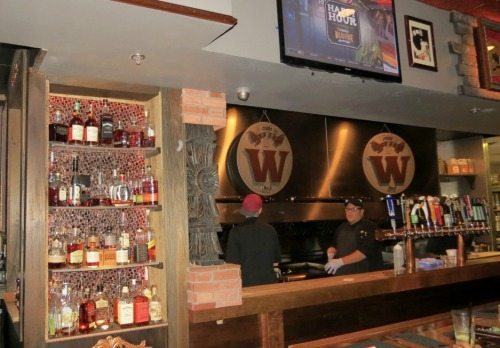 Oh, and they also have nightly live entertainment starting at 7pm – 2am. As a word of warning, it gets loud so choose your seat carefully depending if you'd rather have background music or be in the center of the action.
The Whiskey
7563 W Sand Lake Rd, Orlando
Located in the Bay Hill Fountains Plaza
407-930-6517
downatthewhiskey.com
Open Monday – Sunday, 11am – 2am