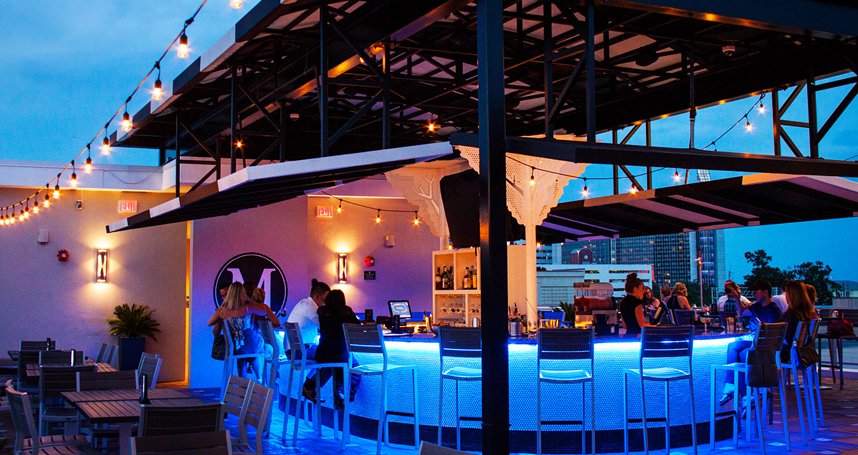 The Sky's the Limit at These Rooftop Roosts
Updated June 2018
We are fortunate to live in a desirable climate allowing maximum use of time outdoors. Plan date night just right to take advantage of our pleasant year-round weather and enjoy the setting sun over Orlando as you gaze into that special someone's eyes. These rooftop bars & restaurants in Orlando invite you to nibble and toast your way through date night while enjoying spectacular, starlit views.
Rooftop Restaurants
The Whole Enchilada
Rooftop dining meets tacos at The Whole Enchilada in Winter Garden. You can expect to find Mexican-inspired eats and fresh margaritas at this newly opened restaurant on Plant Street in Winter Garden. Climb to the rooftop bar to find a covered brick patio bar with plenty of seating and an outdoor area with lawn games. There's also open-air seating with large wooden benches for friendly gatherings and double dates. Hanging string lights set against an open sky are the closest thing to a ceiling, and lush greenery adorns the outdoor walls.
If you or your date are feeling courageous, try The Ex-Wife challenge. Challengers will need to devour six pounds of Mexican rice, beans, cheese, salsa, guacamole, lettuce, sour cream, choice of meat, and a "healthy" portion of chips to take home bragging rights, a free meal, and free t-shirt.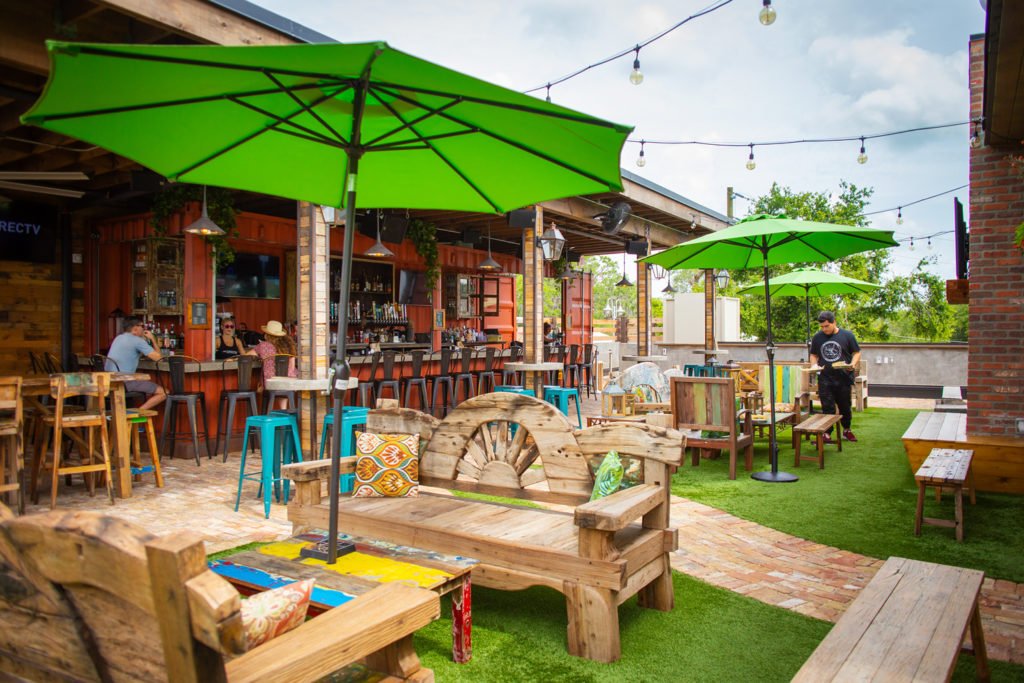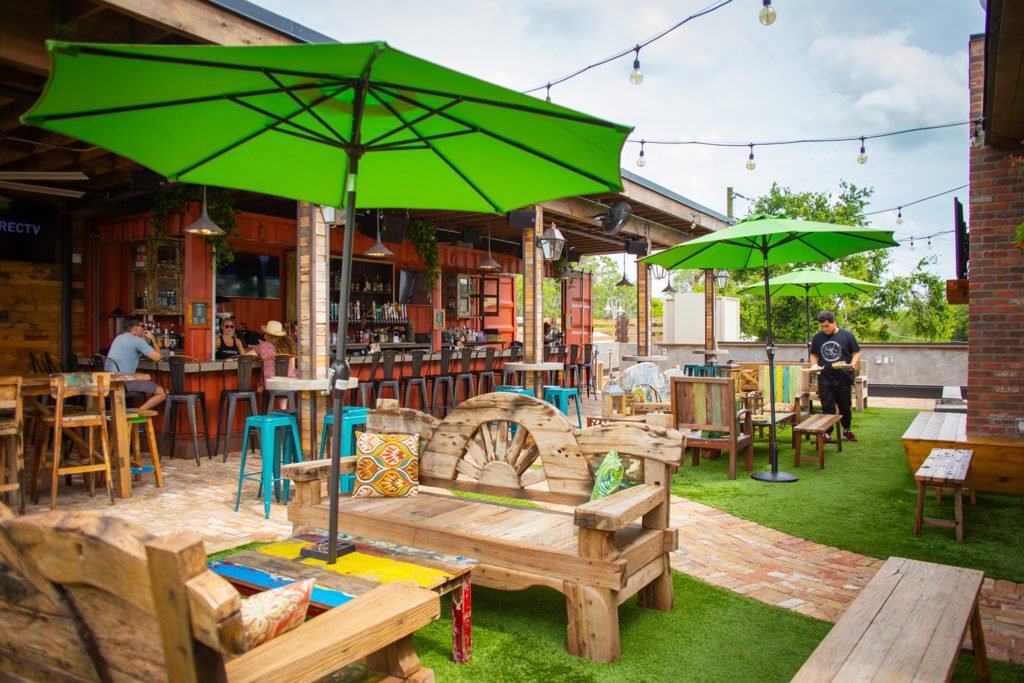 Capa at Four Seasons
Capa is a sky-high steakhouse located on the 17th floor of the Four Seasons Resort Orlando. After a scrumptious dinner of fancy fare, step out onto the rooftop bar for breathtaking panoramic views of Walt Disney World Resort. Time it perfectly and you could end your romantic evening with the nightly Disney fireworks illuminating the atmosphere. Plus, enjoy live music from 6pm – 9pm on Wednesdays, Thursdays, and Saturdays. Happy hour is Sunday – Thursday from 5pm – 7pm.
Eleven – Reunion Resort
CLOSED
Choose a seat poolside at this oasis in the sky for dinner and drinks. Eleven is known for its stunning views of magical firework displays. This upscale steakhouse at Reunion Resort adds a modern twist to old favorites. Included on the menu are 11 hot ingredients and 11 spice blends to ensure seasonal tastes to savor. These items are sourced locally from farms and vendors. For lush libations, choose from traditional drinks, cocktails with a contemporary curve, wine, beer, dessert drinks, and even cigars. Bonus: self-parking is complimentary with a dinner reservation.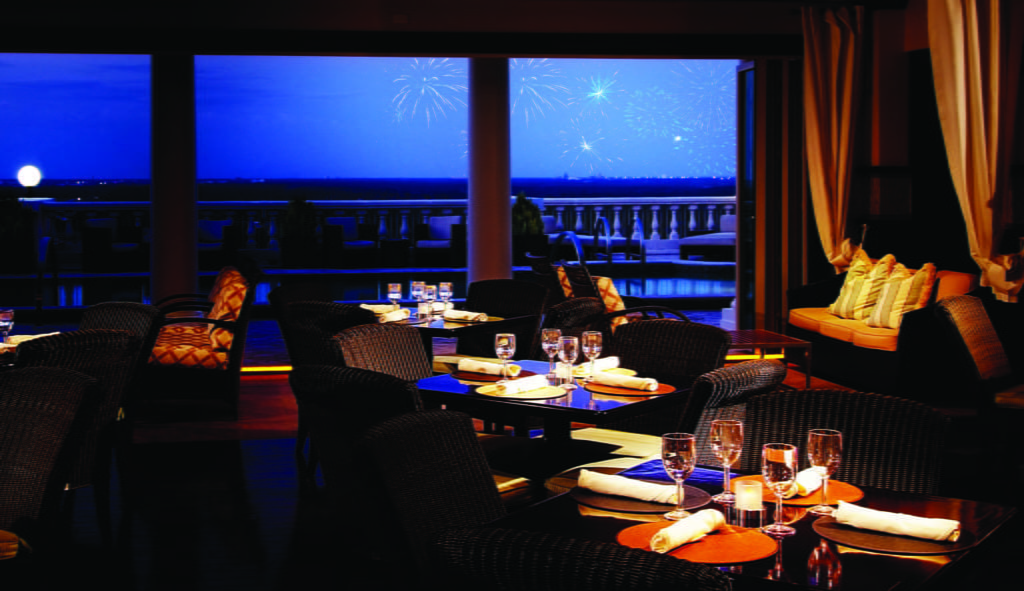 California Grill
California Grill sits perfectly perched atop the 15th floor of Walt Disney World's Contemporary Resort for peering at the Seven Seas Lagoon and Magic Kingdom. Of course, gracing this swanky establishment with your presence during the sunset and darker evening hours is a must. You'll benefit from the charming view of Magic Kingdom's fireworks display over Cinderella's Castle. On the menu, expect to find a blend of international dishes and California cuisine. Devour items like ravioli, sushi, flatbreads, Angus beef filet, and Yellowfin Tuna.
The Zagat Review says, "Fit for foodies, this upscale Californian on the 15th floor of Disney's Contemporary Resort renders top-notch seasonal fare (plus sushi) in a sleek setting with a spectacular view you cannot beat for the fireworks; an excellent wine list and servers who make sure you're well taken care of extend the appeal – just book early, mind the dress code, and be ready for a steep bill."
Tip: If you don't have a reservation, check in with the concierge downstairs to see if bar/lounge seating is available. Reservations aren't required for the lounge and the views are still top notch. You can order from the entire menu while seated at the bar.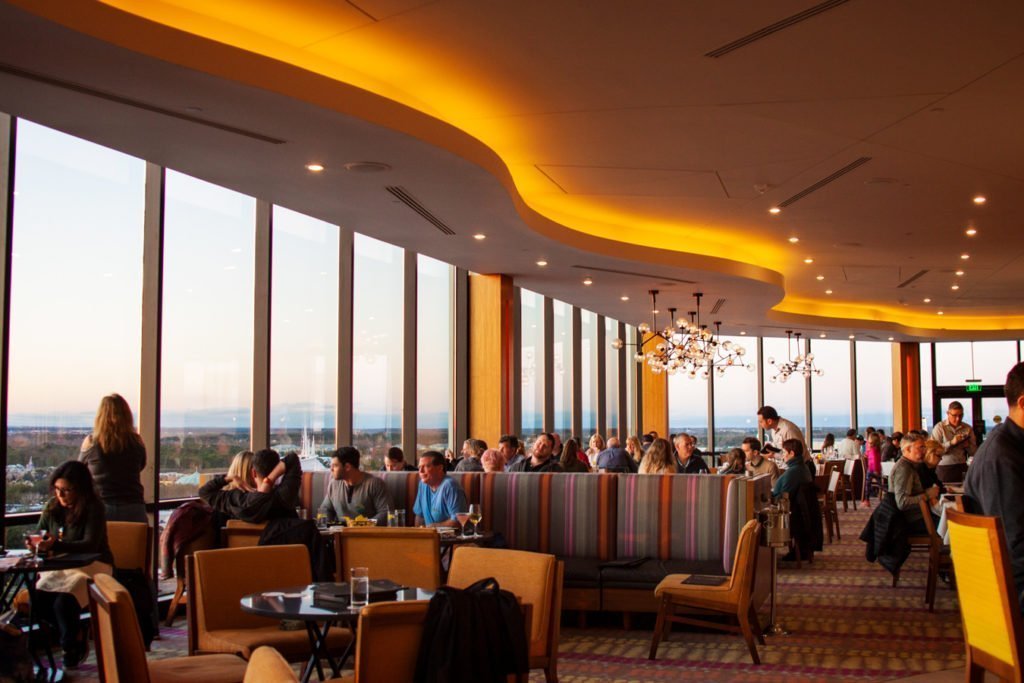 Disney Springs Rooftop Recesses
Coca-Cola Store
We are all familiar with the company encouraging everyone to connect by sharing a Coke. The massive Coca-Cola Store at Disney Springs is complete with a rooftop beverage bar. Every evening, guests can choose from a menu of specialty adult beverages. During the day, try a Coca-Cola from around the world, cool off on hot Florida days with a frozen beverage, or come up with your own concoction from the Coca-Cola Freestyle. Arrive ready to bond on this laid back platform that cultivates interpersonal connections.
Paddlefish
Head aboard the iconic steamboat at Disney Springs for waterfront dining that feels a world away at Paddlefish. This seafoodie's paradise serves up delicious catches from the east coast to the west coast and everywhere in between. You won't want to miss the opportunity for a romantic dinner on the top deck with delightful starters and chilled and raw seafood options from the Sunset Rooftop Menu. There are ample beverage choices to pair with your tasty morsels. Watch the sunset and then hang around for the live rooftop music every Friday and Saturday from 9pm – midnight. You'll want to make reservations in advance.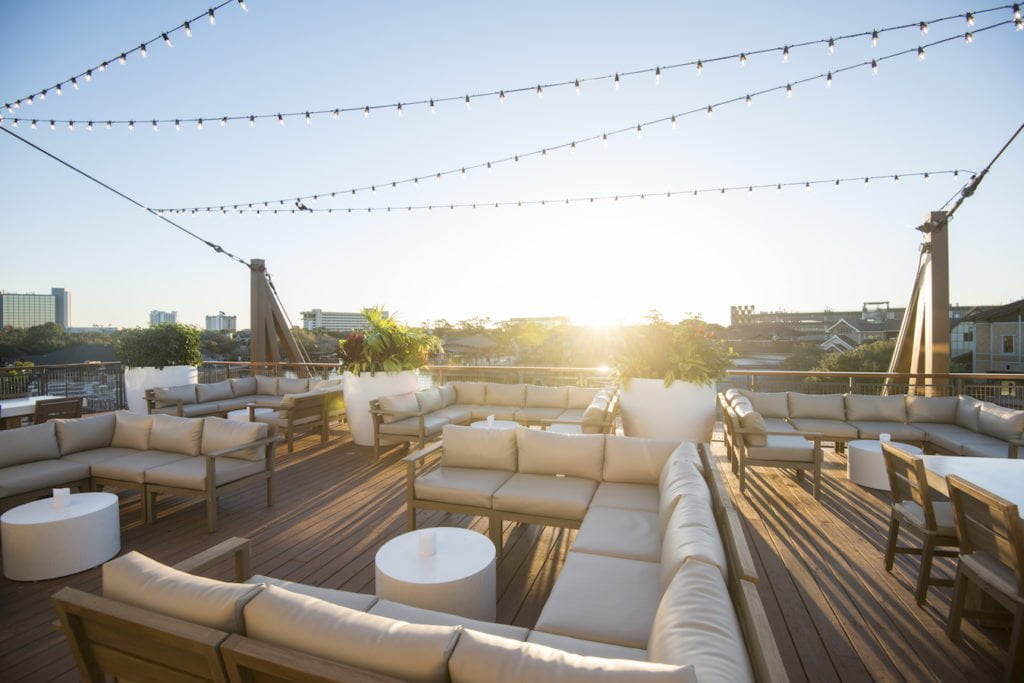 STK Orlando
Dining in a dance club atmosphere with savory dishes and an eye-pleasing view?! STK Orlando, located in The Landing at Disney Springs, is fabulously chic with an adult tone. There is a live DJ spinning tunes from today and yesteryear for guests seated in the two-story restaurant. Walk out from the second floor dining area to a rooftop terrace. The neon and Italian lights give this space a big city feel. Expect steakhouse fare and delicious adult beverage offerings. STK is open daily for dinner with Social Hour from 4 pm – 6:30 pm. Brunch is served on Saturdays and Sundays. Reservations are highly recommended.
Morimoto Asia
There's no dining experience quite like feasting from a menu designed by a world-renowned Iron Chef! Morimoto Asia is Japanese Chef Masaharu Morimoto's first pan-Asian eatery that is part of the Patina Group. Delight in exceptional dishes from sushi to traditional Japanese favorites like Peking duck. Aside from the jaw-dropping lighting, decorations, and ambiance, patrons can eat omakase at the second floor sushi bar or kick back on the second floor rooftop patio. Delve into an intoxicating drink menu that includes saketinis, housemade chuhai cocktails, draft beer, wine, and even whisky flights. For any couple who appreciates Asian cuisine, this is a must.
Rooftop Refreshments
Hanson's Shoe Repair
Retreat to an intimate space with your favorite person at Hanson's Shoe Repair. Not only is this bar a true speakeasy, it's rich in history. "Hanson Shoe Repair Shop" was opened in this building in 1894 with the first electric sign in Orlando. The building is thought to be the oldest building in downtown Orlando still standing. To obtain the password, which changes daily, check Twitter (@hansonsshoeshop) or call/text (407) 476-9446.
Andrianna L. from New Smyrna Beach says on yelp, "Cozy spot in downtown Orlando. The bartenders really know their stuff. I'm a Mezcal gal and the bartender whipped up an off menu drink that I'm still dreaming about months later."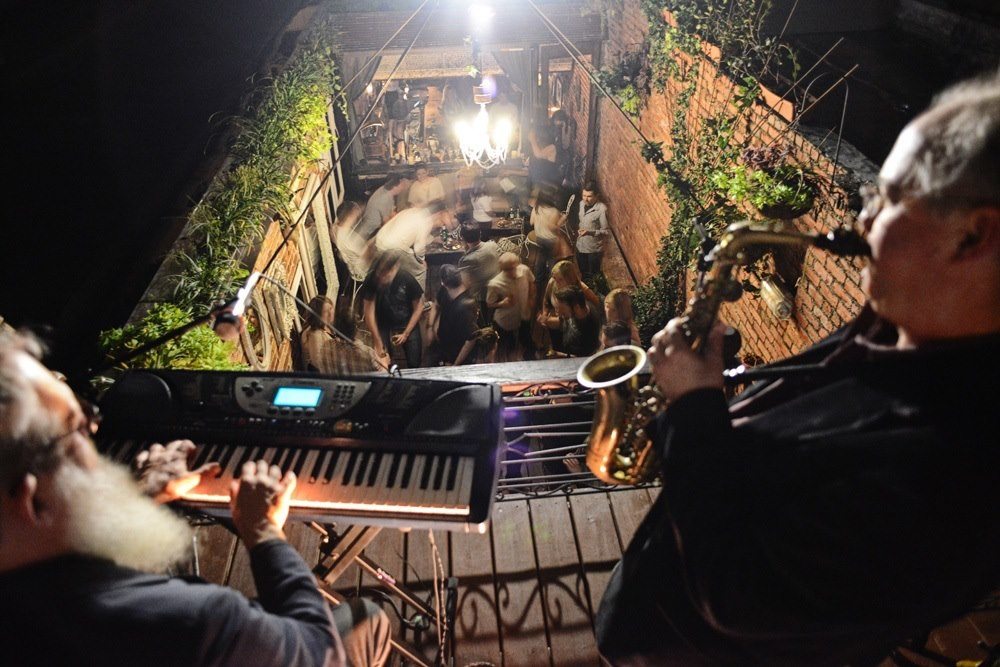 M Lounge
Take a gander at reviews online and you'll notice the many that mention the unrivaled views this posh lounge offers. Located in Ivanhoe Village, M Lounge is designed to give you a unique and unforgettable experience. Arrive at the rooftop bar via a glass elevator to find a plethora of drinks and a few bites to keep hunger at bay. Bottomless wine and sangria is offered every Wednesday from 7pm – 11pm for $15/person.
If you head out for the evening and the weather happens to be less than desirable, there's no need to change your plans. M Bar sits on the first floor filled with classic cars and nostalgic arcade games. Note that while M Bar is a partner to M Lounge, the Bar's hours do vary from the Lounge's.
One80 Skytop Lounge
After an entertaining evening at the Amway Center, head to the top to end your evening on a high note at One80 Skytop Lounge. You won't want to miss the stunning views of Orlando's skyline while sipping a drink with your sweetie. This is a chic establishment and stylish dress is required for entry. One80 is open Monday and Thursday – Saturday from 10pm – 2:30am. There is a cover charge for entry so plan ahead and have cash.