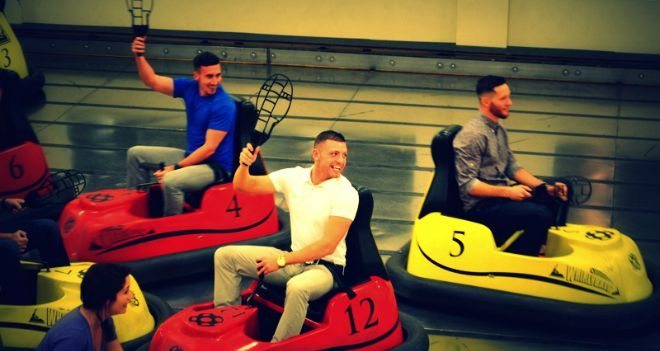 By: Erica Thomas
My husband and I are quite competitive so what better way to fan the flame of our love than a little bit of friendly rivalry at WhirlyDome.
Located on International Drive,WhirlyDome is home to Whirlyball – a motorized sport that brings basketball, hockey, and jai-alai together on an electrically charged court all while riding in a whirlybug (similar to a bumper car).
The goal is for your team of five players to score as many points as possible in 1o minutes by hitting the plexiglass backboard with a whiffle ball. Sound like a blow out of adventurous fun? It is!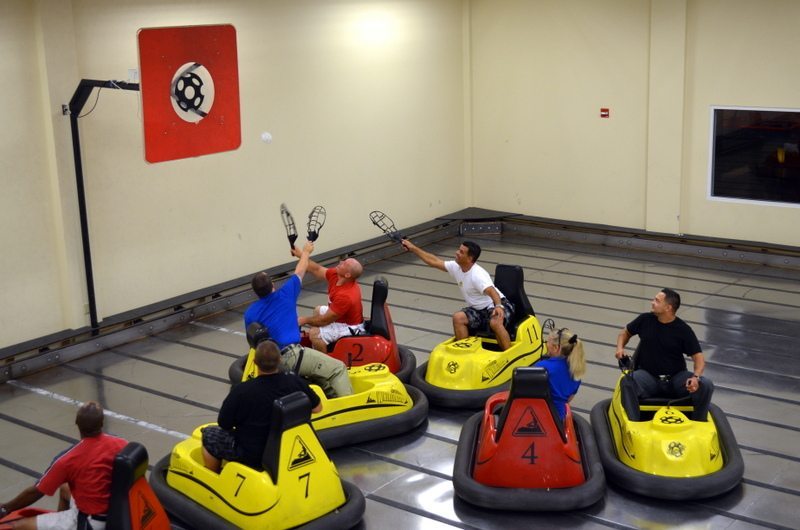 On a recent visit, we were greeted with a smile at the front desk as we got our Whirlyball tickets and game tokens. It is $8/person per game for Whirlyball or laser tag. Three packages are available allowing savings on multiple tickets.
• Package A is 20 tickets for $135 (15% savings)
• Package B is 10 tickets for $70 (13% savings)
• Package C is 5 tickets for $36 (10% savings)
Our venture was waiting! A game was in progress so we wandered around exploring the dome and found there is so much more to do than just Whirlyball and laser tag, including: a full service pub, arcade games, air hockey, billiards, bowling, and Laser Frenzy.
Laser Frenzy? Yes! Feel like a Mission Impossible secret agent by twisting, slithering, and crawling through the darkened corridor to narrowly miss the laser beams. You must make it down the corridor and back without breaking any of the beams as you go. Easier said than done. You can play one mission for $3 or two missions for $5 per person.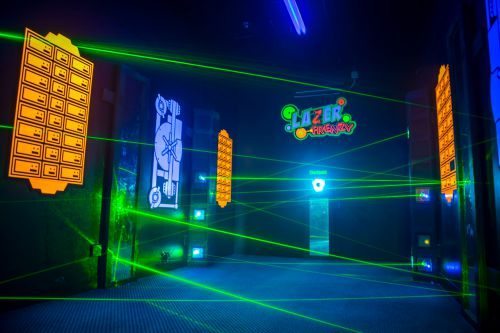 While playing games, we found a group who needed 2 more players for their whirlyball game. We were stoked! As we got buckled in and situated in the whirlybug, the referee explained the rules of the game. We were then given a minute to get acclimated with our whirlybug before the game began. Then the referee threw the ball on the court and we all headed for it like kids after candy from a busted piñata.
For the next 10 minutes, we scrambled from one end of the court to the next chasing after, passing, and shooting the whiffle ball. I couldn't keep from laughing the entire game at how ridiculous I am sure we looked but it was such a blast.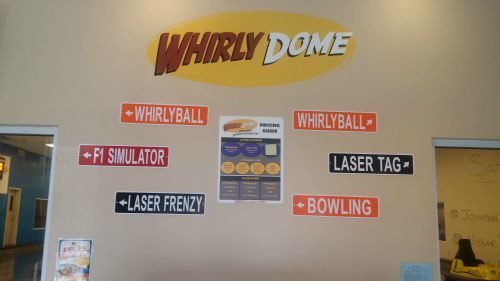 As my losing team headed off the court with our heads high and smiles on our faces, my love and I decided to spend some time at the bar for a refreshing drink. Bloodhound Brew Pub & Eatery is on the first floor of the WhirlyDome. We were welcomed by C.J. as we took our seats.
If you are looking for a good place to throw back a few cold ones and chow down while enjoying some entertainment, this is an excellent locale. There is a full menu of pub-style foods to tickle your taste buds along with your drink. Besides the plethora of beer available on tap, CJ will happily whip up a specialty drink for you all while tossing and flipping shakers and bottles. Just when we thought we had seen all of his tricks, he pulled out one last act: breathing fire! Be sure to ask for C.J., the fire breathing bartender, when you stop by.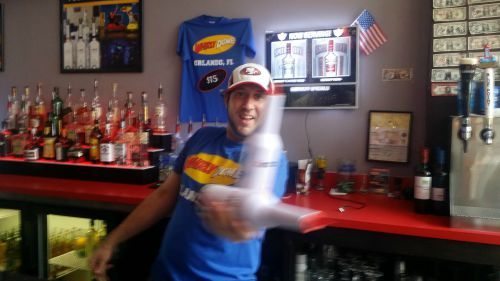 If you haven't tried it yet, what are you waiting for?! This is a fantastic date for any sized group. Everyone is bound to have a good time while adding to those notable moments.
Monday: Closed
Tuesday-Thursday: 4pm – 10pm
Friday: 4pm – 12am
Saturday: 11am – 12am
Sunday: 11am – 10pm
WhirlyDome
6464 International Drive
Orlando, FL 32819
(407) 212-3030
whirlydome.com