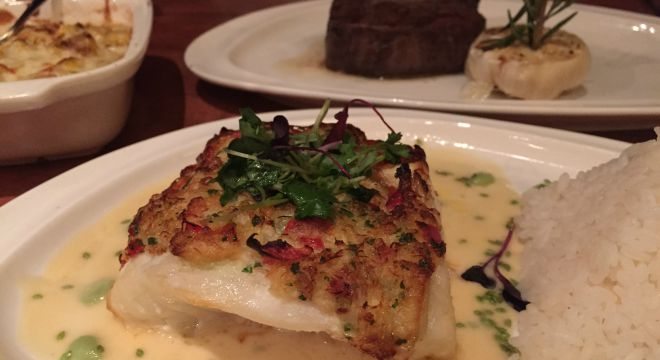 It's been 13 years since MoonFish opened on Orlando's Restaurant Row. And while some might consider 13 to be an unlucky number, the team at MoonFish couldn't disagree more. Thanks to a refreshed décor and a slew of new menu items, the restaurant has hit a new stride. If it's been a while since your last visit or you've never been, it's time to hand your taste buds over to MoonFish. Here are 6 reasons why: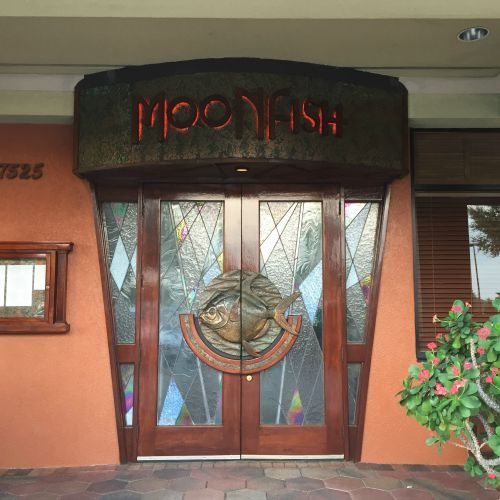 1. A+ Happy Hour
Served daily from 4:30pm-6:30pm at the bar and lounge, this happy hour offering is a five-star feast at unbelievable prices. Come hungry because more than 20 sushi rolls and appetizers are available at half price, including Volcano Rolls, Tuna Tacos, King Pao Meatballs and Oysters in the Half Shell, all priced from $3 to $9 per selection. Wash this gourmet nosh down with $4 martinis, craft beer and house wine in addition to $6 Grey Goose cocktails and $7 pours of select wines.
2. Sharable Small Plates
Consider forgoing the entrée portion of your meal in favor of several amply-sized appetizer selections. These perfectly shareable dishes give guests the chance to journey through the menu's many eclectic offerings, an ideal experience for couples on date night. Definitely order the Colossal Lump Blue Crab, which is layered with avocado and tomatoes and served with crispy green wontons ($17). Daily ceviches, Tuna Tatake and Garlic Parmesan Grilled Oysters are all stellar options as well. There are nearly 30 different smalls plates and salads to choose from.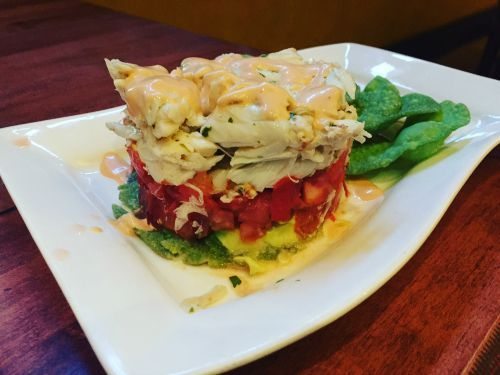 3. Stellar Steaks
A huge focus for MoonFish is its fresh seafood flown in daily from all over the world. Yes, this is a terrific seafood restaurant, but the aromas coming from the grill will immediately tell you that it's so much more. The beef, which comes from an anti-biotic free ranch in California (Harris Ranch), is aged on premises for four to six weeks and then hand-cut on site.
Before it hits the 1,200-degree heat over a flame created with oak and citrus wood, the meat is seasoned overnight with a proprietary blend of spices that's so secret, not even management knows it. The result is a delicious steak that pulls the smoke of the grill and the seasoning right through to the center of the meat. Steak prices start at $32 for an 8oz sirloin all the way up to a $120 Tomahawk ribeye for two. If you're s steak lover, these will be worth every penny.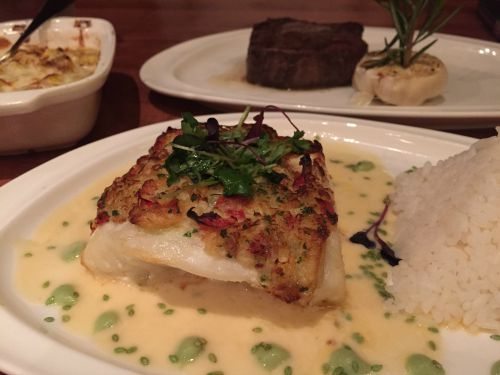 4. Crafty Cocktails
MoonFish features 12 signature cocktails and martinis on its cocktail menu, each as tempting as the next. We tried the American Mule (Tito's Handmade Vodka, freshly squeezed limeade, Canton Ginger Liqueur, ginger beer and mint: $11) and it was superb. Not a drinker? Two mocktails and two ice cream floats are offered as well.
5. A Local Focus
We're told that MoonFish is the only restaurant group in Central Florida that is endorsed by the Fresh From Florida campaign, a honor given because of all the local farmers the restaurant supports. On any given day you can enjoy provisions from Peace River Farms in Ft. Meade, Falcon Farms in Doral and M&M Farms in Apopka.
6. Happy Endings
Dinner without dessert is incomplete in our books, but I'll gladly pass if the restaurant doesn't have anything warm and gooey on the menu. Luckily, MoonFish offers a Deep Dish Apple Crumb Pie ($10.95), a mammoth ensemble of sweet and savory served with a side of salty caramel ice cream from Southern Craft Creamery in Marianna, Fl.
It was the perfect end to a perfect meal, one that we hope to repeat again soon.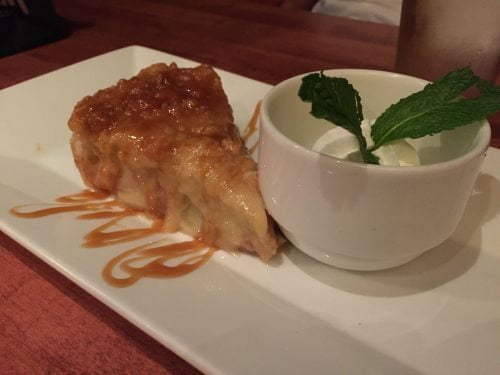 MoonFish
7525 W. Sand Lake Road, Orlando
407-363-7262
moonfishrestaurant.com
Sun-Thurs: 5pm-10:30pm
Fri-Sat: 5pm-11pm