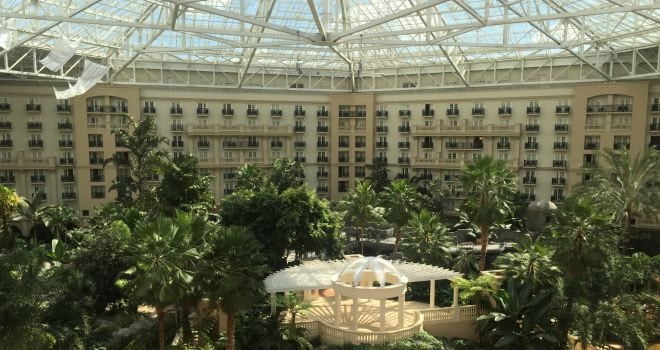 Teresa and her husband were the winners of our August Couple at Large Giveaway. Read about their experience and see their pics below: 
Thank you so much for our Couple at Large date night. My husband and I had an amazing time at the Gaylord Palms Resort. Upon check-in we were greeted with warm hospitality from the staff. Our oversized King room overlooked the mesmerizing atrium where we watched a beautiful wedding.
We then went to our appointments at the Relache Spa. My husband was treated to a 50-minute massage and I was pampered with a pedicure. The staff was amazing and treated us like royalty.
We had dinner reservations at The Old Hickory Steakhouse. The staff was very attentive. The manager visited our table twice and my husband told him that it was the best steak that he has ever had. He thanked us and went to tell the chefs our compliments.
The next morning we walked around the atrium and visited all of the animal habitats. The alligator exhibit was our favorite. Then we visited our private cabana at the adult pool where we planned our next visit to the resort, which will include our children.
Thank you again,
Teresa and Tim Fowler