By Samantha Rosenthal
Headed out for date night but looking to bring your pooch along? Orlando has a ton of dog-friendly dining options for those couples who'll gladly opt for this furry third wheel. In this three-part series, we'll break down Orlando, district by district, with all the places you can bring your dog along on date night.
AUDUBON PARK GARDEN DISTRICT
This little neighborhood is located right on the fringes of Downtown Orlando, bounded by the Leu Gardens to the west and the Blue Jacket Park to the east. It is known for its craft vintage shops, unique restaurants, community-focused bars and other amazing local services.
Ice cream, antiques, vinyls and craft beer rule supreme in The Garden District, and many of them also provide options for pet-friendly date options for you, too.
The Audubon Community Market
1842 E. Winter Park Road
Orlando, FL 32803
The Audubon Community Market happens every Monday from 6pm to 9pm in the Stardust /Shag'd parking lot or inside Stardust if it's raining. Vendors range from local food growers and gardeners that sell their food products to locals who sell their handmade soaps and jewelry. The event is pet-friendly — someone even once brought a pig to the community market.
Sushi Lola's
2902 Corrine Drive
Orlando, FL 32803
A local Japanese and Korean restaurant that features a variety of sushi options, bento boxes and noodle dishes (like ramen). They also have fried green tea ice cream that is definitely worth a try (also available not fried). Dogs are allowed outside but not inside the establishment.
Redlight Redlight Beer Parlor
2810 Corrine Drive
Orlando, FL 32803
Since 2005, Redlight Redlight has been one of the go-to craft beer places in Orlando. Moving to its current location on Corrine Drive in 2012, Redlight Redlight now features 26 rotating drafts, more than 250-plus bottled beer selections and hosts special events to keep patrons coming back throughout the year. In 2014, they opened a small brew-system, which is located on the second floor of the bar. They even offer their Redlight Redlight Citizenship & Educational Course, which allows for bar-goers that are not-so familiar with craft beer become more educated on the different types of craft beer and their tastes. Dogs, as long as they're not too large, are allowed inside and outside the establishment. Dogs must be on a leash.
Bikes, Beans & Bordeaux
3022 Corrine Drive
Orlando, FL 32803
Bikes, Beans & Bordeaux, or more commonly known as B3 Cafe, is founded and owned by two UCF graduates who are both active members of the local cycling community. The store promotes a healthy, active lifestyle with weekly running and biking groups that meet up at the cafe, along with Curtis Earth Trivia hosted Mondays. Dogs are allowed on the patio area outside.
East End Market
3201 Corrine Drive
Orlando, FL 32803
This neighborhood market serves as growing hub for local farmers, food artisans and craft makers. The venue offers the chance for community members to attend events and classes to increase their food knowledge and understanding. Merchants that call East End Market home range from Tickled Pink Brides, a full-service wedding planning company, to Houndstooth Sauce Company, a restaurant company that specializes in BBQ sauces, glazes, rubs, sandwiches, salads and much more. A lot of people bring their dogs with them in the courtyard and garden area, but they're not allowed in the market hall.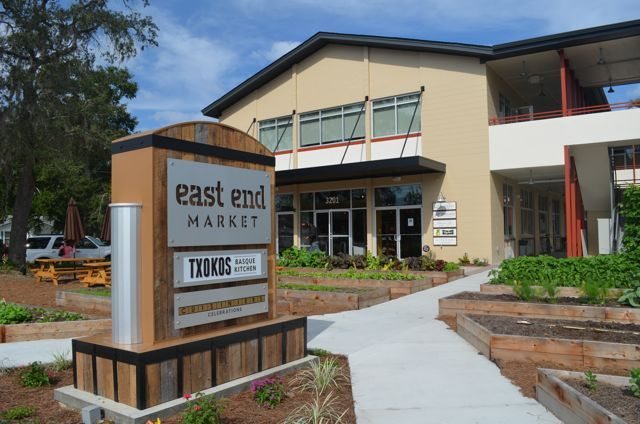 Stardust Video & Coffee
1842 Winter Park Road
Orlando, FL 32803
Stardust is a venue that has a rich history with Orlando, dating back to 1970. It has the best of all worlds: food, drinks, entertainment and much more. During any night of the week, there might be a poetry reading or a live band or a comedy night or burlesque show. Dogs are allowed on the outside patio.
BALDWIN PARK
Located right next to the Orlando Fashion Square Mall, Baldwin Park is one of the ultra-chić places to live, dine and have fun in Orlando. It was designed to be a livable and walkable neighborhood, where restaurants, grocery stores, retail shops and more are all just within a five to 10 minute walk away. The neighborhood was built on the site of a former naval training center and now features plenty of housing choices, schools, parks, shops and more.
With the cool breeze off the lake at just about any place that has outdoor seating, Baldwin Park has plenty of date night options — many of those being pet friendly.
CaddyShanks
4882 New Broad St.
Orlando, FL 32814
CaddyShanks has everything you could want in a sports bar: pool tables, ping pong tables, lots of big-screen televisions and dozens of beers to choose from. What makes it unique are the two state-of-the-art virtual golf simulators that they have that allow you to play real golf but indoors. They also have two virtual racing simulators that allow you fulfill your need for speed. Dogs are allowed on the patio areas.

Gators Dockside
4982 New Broad St.
Orlando, FL 32814
With 15 wing sauce flavors, it's a sports-themed restaurant that is a great place to watch a foot-ball game or any sports game for that matter. Dogs are allowed on the patio.
The Smiling Bison
745 Bennet Road
Orlando, FL 32803
With live music featured all month on select nights, Smiling Bison focuses on crafting food that is not only delicious but locally sourced. They're known for their dinner and late night menu items, including poutine, their duck lovers pizza and their 10 oz. Colorado bison ribeye. They recently started doing brunch on Sundays from 11 a.m. to 3 p.m. Dogs are allowed on the patio.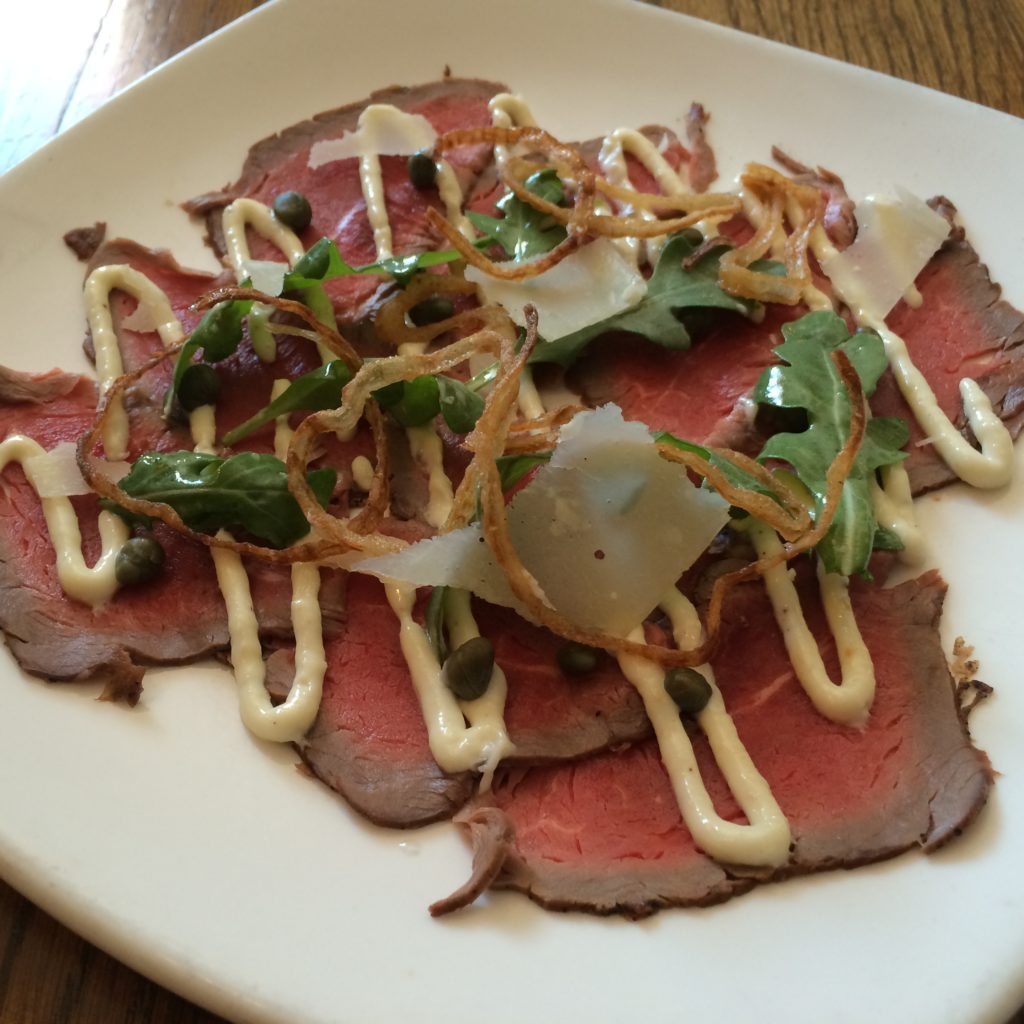 La Bella Luna
4886 New Broad St.
Orlando, FL 32814
This family-owned Italian restaurant has one of the best pizzas in Orlando — and it has the credentials to back it up! Their New York-style pizza has been voted "Best Pizza in Town" by the Orlando Sentinel three years in a row. The menu also has all the other Italian classics, including bruschetta and tiramisu. Dogs are allowed on the outside dining area.
Colibri Mexican Cuisine
4963 New Broad St.
Orlando, FL 32814
With amazing drink specials every day of the week on margaritas, beers or sangria, this Mexican cuisine restaurant is the place to go to for great happy hour drinks and a good meal. The menu features traditional Mexican dishes, like flautas, tostadas, enchiladas and ceviche. You can bring your dog to sit on the patio, which is a great date option being that the restaurant overlooks Lake Baldwin.
COLLEGE PARK
Just west of Interstate 4, College Park is one of the oldest neighborhoods in Orlando but has been given a modern, sometimes retro, facelift. With Edgewater Drive being the main roadway and artery of this neighborhood, everything is located just blocks from each other. It is a neighborhood that fuses an urban feel with a small town vibe.
It has a huge art, real estate and restaurant presence with many merchants belonging to those industries in College Park. Many of the area's dining and entertainment establishments allow you to bring your dog along.
K Restaurant & Wine Bar
1710 Edgewater Drive
Orlando, FL 32804
Owner and Chef Kevin Fonzo received his culinary education at The Culinary Institute of America in Hyde Park, New York, and he then went on to be a part of the opening team of the Peabody Hotel. Later opening K Restaurant, he offers his culinary experience and influence to all of Orlando and has earned a very loyal fan base. The last Friday of every month they have "Friday Night Flights" from 6pm to 8pm, when you can sample six different seasonal wines for $20. Dogs are allowed on the outside seating area, plus they have dog bowls for water for your furry friends.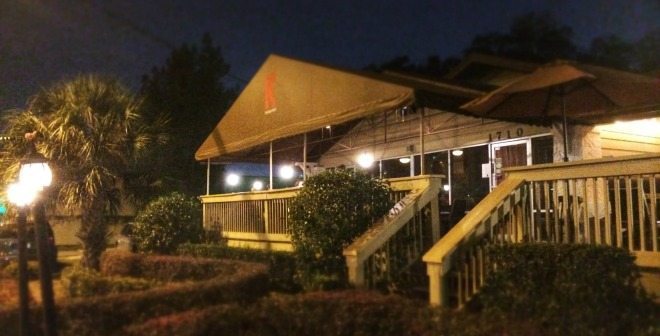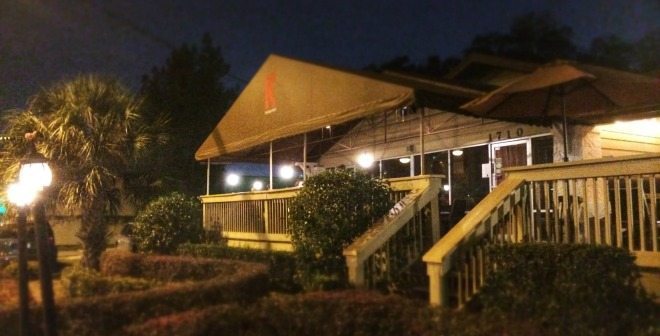 Ollie's Public House
3400 Edgewater Drive
Orlando, FL 32804
Ollie's offers a casual restaurant and bar atmosphere with live music on various nights throughout the month. This bar is known for its drink choices: cocktails, draft beers, "dirty" shots, wine and their "all day, everyday $2 Yuenglings." Dogs are allowed on the patio but must be on a leash.
The Tap Room at Dubsdread
549 W. Par St.
Orlando, FL 32804
The Tap Room has a rich history. With the golf course opening in 1924, it became the go-to golf course for service men stationed in Orlando. Nowadays you can shoot on the green or just hang out for lunch at Tap Room. From brunch to lunch to late night, Tap Room serves it all. Dogs are allowed on the outside porch, which is close to the golf course so you'll have a great view overlooking Dubsdread's green.
Shakers American Cafe
1308 Edgewater Drive
Orlando, FL 32804
With rotating daily specials, this little restaurant offers all the fixings for breakfast and lunch. They serve up homemade specialties, including salads, soups, sandwiches and even quiches. There are three tables outside where couples can bring their dogs, and they even put out water bowls for your thirsty pooch.
Outpost Neighborhood Kitchen
2603 Edgewater Drive
Orlando, FL 32804
Outpost is one of the many places touting a farm-to-table, made-from-scratch comfort food. They serve eight craft beers on tap and eight wines on tap, and that's just part of the drink list they offer. Outpost only serves lunch and dinner, but Sundays the restaurant has brunch featuring bottomless mimosas for $14. Dogs are allowed on the outside seating area, and owners can request a to-go container to put water in for them to drink. The staff also warns that cuddles will be given in abundance. The staff here loves dogs.
Infusion Tea
1600 Edgewater Drive
Orlando, FL 32804
This is such a wonderful tea house in Orlando! They offer every type of variety you can think of, including an extensive tea variety black teas, oolongs, custom hand-blended teas, green teas, mates, red teas, white teas and herbals. In addition, they have a great menu full of health conscious foods to choose from. They offer outside seating where dogs are welcome.
Grafitti Junktion
2401 Edgewater Drive
Orlando, FL 32804
If you're looking for a burger that will fill you up, Graffiti Junction is the place to go. With loca-tions all across Orlando, there choices of burgers will make your mouth water. They also offer daily drink and meal special, like their bottomless mimosas and bloody marys on Saturdays and Sundays. Dogs are allowed in the outdoor seating area.
Stay tuned for "The Guide to Dog Friendly Dining in Orlando: Part Two," which will cover downtown, Mills 50 and Ivanhoe Village.