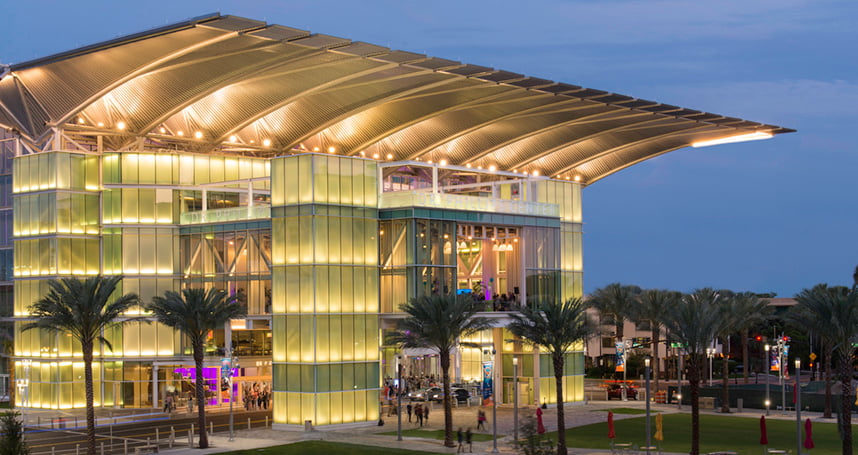 UPDATED FEBRUARY 2019
It's hard to believe that it's been several years since the Dr. Phillips Center first flung open its doors and gave Orlando a spectacular new place to experience the performing arts. It is such a wonderful addition to downtown Orlando.
Maybe you've been to several shows or perhaps you've yet to step foot inside the gargantuan space. Either way, we want you to have the best experience possible when you set aside the time and money to go to the Dr. Phillips Center. So, here are our 10 tips for making your Dr. Phillips date night absolutely perfect: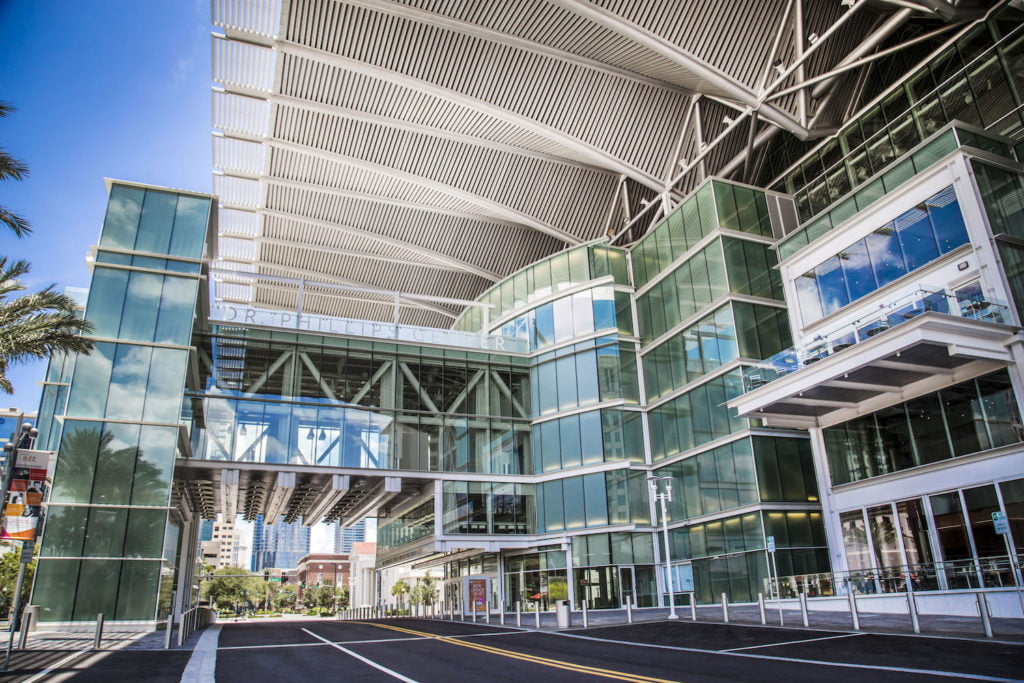 1. Save on Valet
Valet is offered beginning 2 hours before most shows, which means you can pull directly up to the main entrance and toss someone your keys. Know that you'll have quite a queue to deal with after the show (unless you purchase premium valet), so plan to hang out for a cocktail inside Dr. Phillips rather than race to the door. The Ravago Terrace Bar inside stays open for about 60 minutes after each show.
You can pre-purchase your valet pass when you buy your tickets, which translates into a slight savings. Prices are as follows:
Premium Valet (priority parking location and delivery): $33 in advance and $38 at the curb
Standard Valet: $24 in advance and $27 at the curb
Accessibility Valet: $12 in advance and $14 at the curb
2. HOT TIP: Valet at the Grand Bohemian Hotel or Kres Chophouse
If you have drinks at Bosendorfer Lounge or dinner at Boheme, valet fees at the Grand Bohemian Hotel are $8 for three hours or less. If you're needing to park for more than three hours, the fee is $15, which applies whether you eat or drink inside the hotel or not. In most cases, you'll need more than three hours to see a show, so the $15 option is best.
At Kres Chophouse you can valet for $12 – $25, but if you go inside and have dinner or even just a drink, you'll get a bit of a discount. Kres is open until 12am Monday-Saturday and 11pm on Sunday, so if you don't have time to eat before the show, this is an ideal place to dine afterward. You don't have to dine before the show to get the valet discount.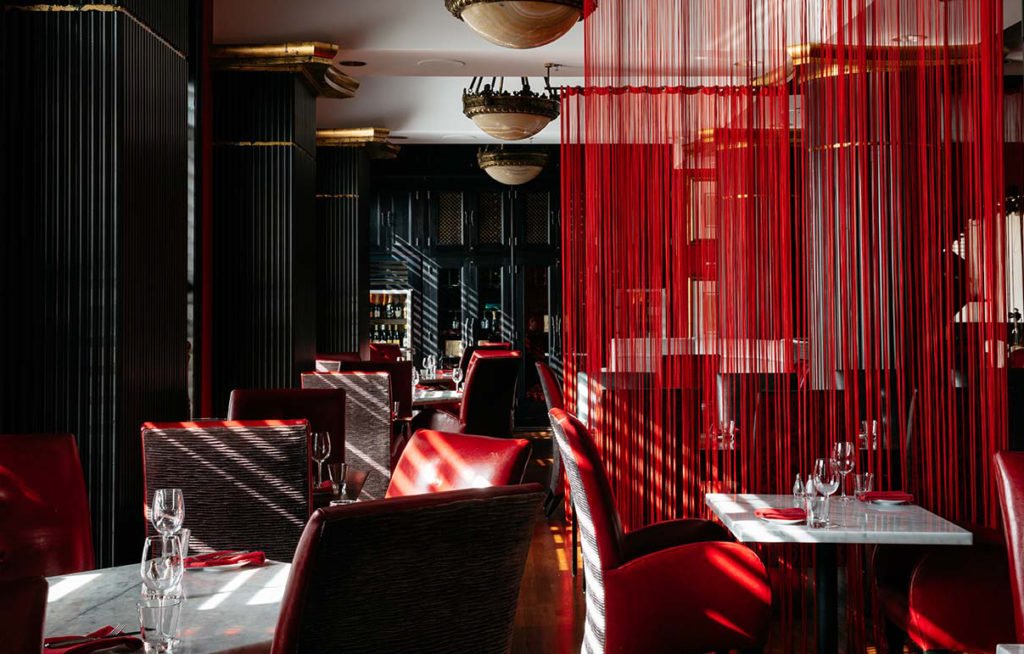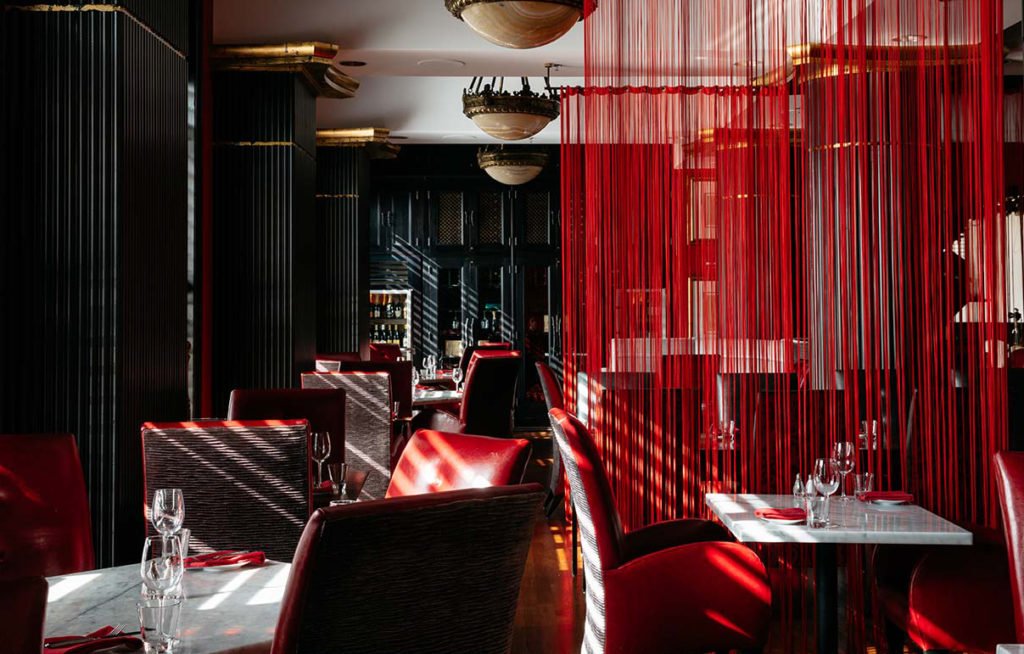 Best Nearby Parking
The best and closest lot is the City Commons lot (460 Boone Avenue), located a short stroll away. Fees are typically $12 per car. Directions to this garage can be found at www.cityoforlando.net/blog/directions-to-city-commons-parking-garage/.
DoveCote also has free garage parking and complimentary valet if you plan on dining there before or after.
3. Arrive on Time
If you're late, you'll likely have to miss the first ten minutes of the show, never mind that you'll arrive stressed out and you'll probably annoy your fellow attendees as you find your way to your seat. Plus, staff members will typically wait for an opportune moment to let you into the theater as to not disturb other attendees.
Unlike a lot of performing arts venues, the lobby at the Dr. Phillips Center opens 2 hours before the show and doors open to the theater 30 minutes before the curtain ascends.
So, plan on arriving about 45 to 60 minutes before the show starts.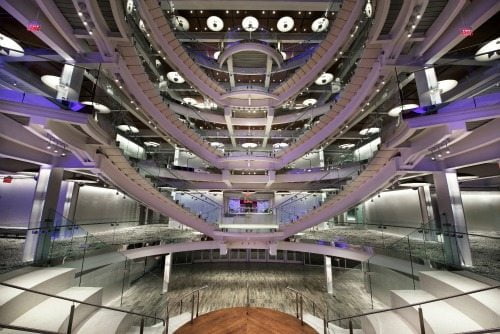 4. Pre-order your intermission drinks and snacks!!
Intermission is usually 20 minutes long, which is barely enough time to pee. Save time and stress by pre-ordering your intermission fare at any bar located inside the Dr. Phillips Center. Staff will deliver your order to the closest theater exit to your seat. No line, no fuss. Brilliant! By the way, you can bring your beverages back to your seat but not your food purchases.
5. Four Best Bets for Dining Nearby
The Boheme
Inside The Grand Bohemian Hotel
325 S Orange Avenue, Orlando
Distance: .1 mile (3-minute walk)
DoveCote
390 N Orange Ave, Orlando
Distance: .9 mile (17-minute walk)
Kres Chophouse
17 W Church Street, Orlando
Distance: .3 mile (5-minute walk)
Artisan's Table
22 E Pine Street, Orlando
Distance: .3 mile (5-minute walk)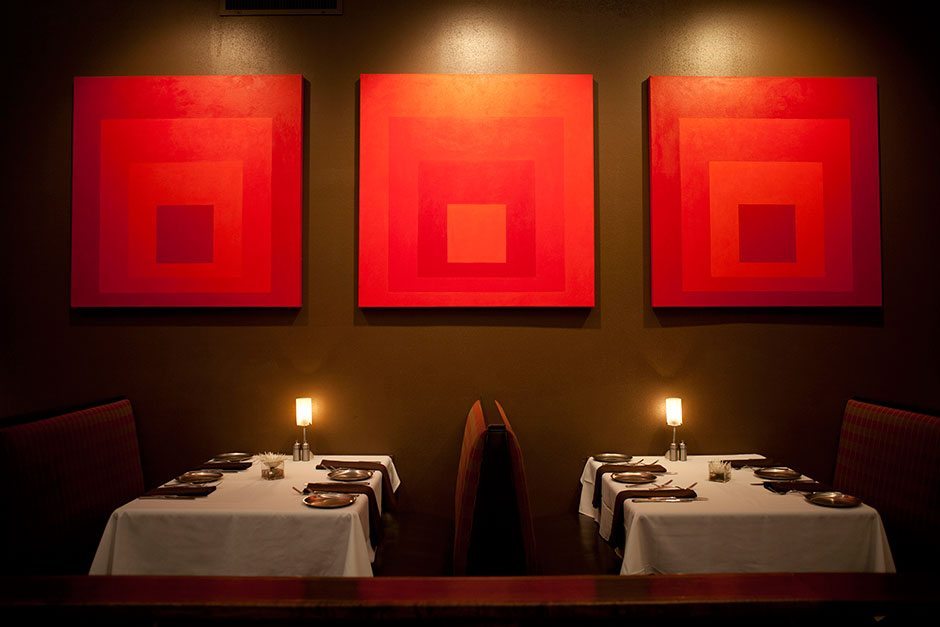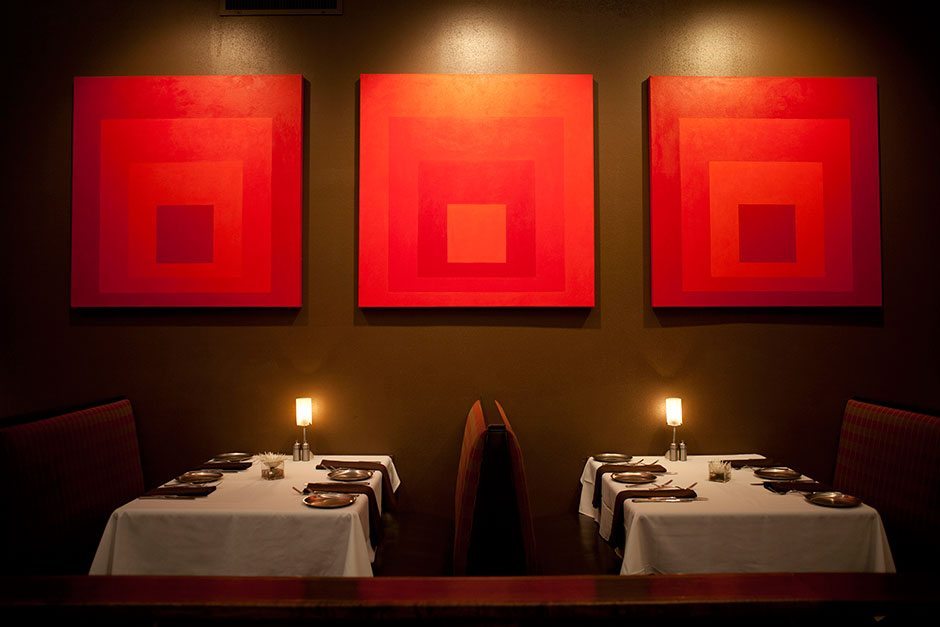 6. Dine On Site
There are a ton of great restaurants in the area, but if time isn't on your side, know that there are a multitude of varied food options inside the Dr. Phillips Center. Of course, you can order wine, beer, cocktails and snacks like chocolate covered almonds and cookies. But there's so much more, including cheese boards, Thai wraps, seasonal fruit skewers, and hummus with pita chips.
There isn't an on-site restaurant, but dotted across Dr. Phillips Center's five tiers are permanent concession facilities and eight portable food and drink stands. That list includes Craft 2 (on the second tier), where you'll find local craft beers, as well as wine, cocktails, and coffee. Foxtail Coffee is now the official coffee partner for the Dr. Phillips Center.
Dr. Phillips Center offers three varieties of beer ($6-$7), six different wines by the glass ($8-$10) and specialty cocktails priced at $11 each. Cash and charge are accepted at all locations.
7. Purchase a souvenir cup
For $6-$10, you can purchase a snazzy souvenir cup during the Broadway series, which will give you $1 off every cocktail you purchase at any show going forward. You just need to remember to bring it with you to each show you attend.
8. Snag the Best Seats
Whether you're in the 2,700-seat Walt Disney Theater or the 300-seat Alexis & Jim Pugh Theater, there really isn't a bad seat in the house. Orchestra seats, on the lower level, are the most expensive but some would argue that they don't have the best views. Seats in the Mezzanine, the second level, not only give much more expansive views of all the action on the stage but they are cheaper—though not as cheap as the balcony seats, which are the least expensive but still offer great views.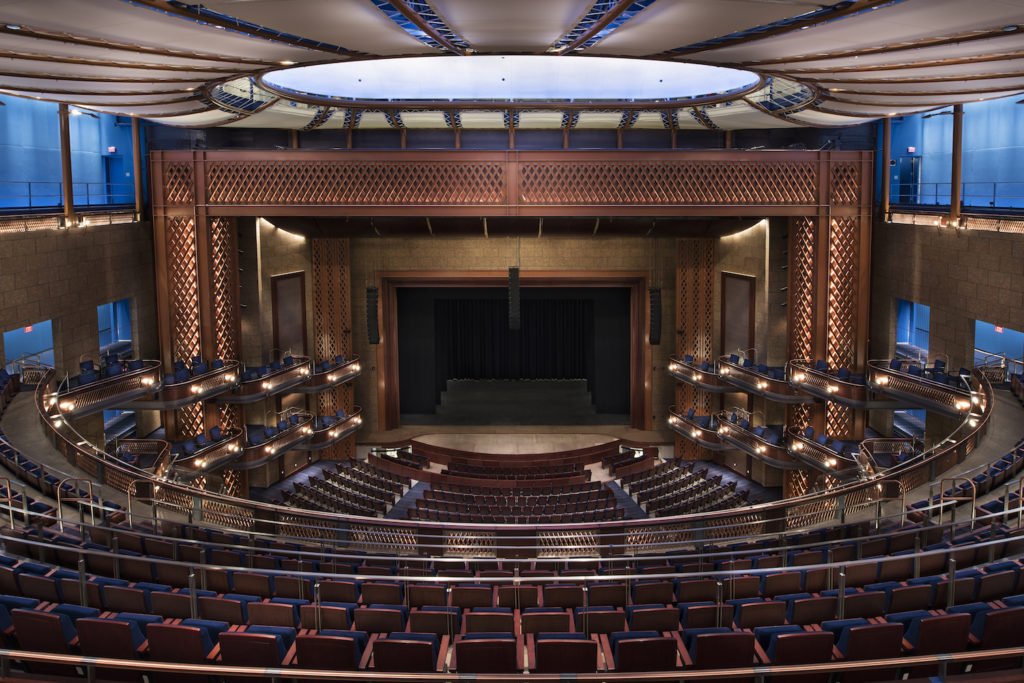 9. Score a Deal
The least expensive tickets are usually matinee shows but if you're looking for an even better deal be sure to watch Dr. Phillips Center's Facebook, Twitter and Instagram accounts for announcements about discounts for students and military. Also, if you've got a group of ten or more interested in a show, you'll be eligible for a group discount. More about that at www.drphillipscenter.org/explore/plan-your-visit/group-tickets.stml.
10. Consider Becoming a Member
Membership has its privileges at the Dr. Phillips Center. Depending on which level you purchase, the following perks could apply:
• Members-only access to pre-sale tickets
• Complimentary parking vouchers
• Email notification of special events
• Membership card
• Invitations to pre-show receptions
• Artist meet & greets
• Recognition through digital signage within the Dr. Phillips Center, on the website and in most show programs
Memberships start at $95 a year. More details at www.drphillipscenter.org/get-involved/become-a-member/.
Images, with the exception of restaurant photos, have been provided by Dr. Phillips Center. Feature image by Steve Williams Photography.