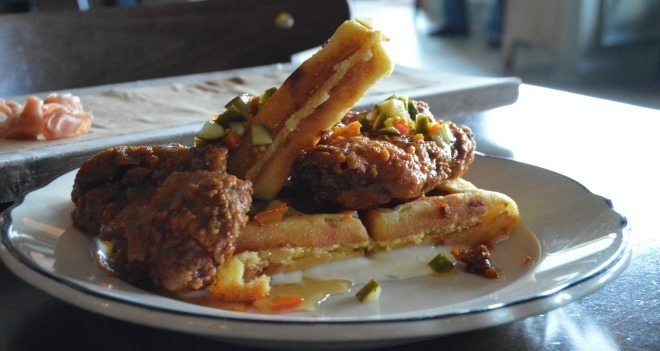 UPDATE: Cask & Larder relocated to the Orlando International Airport in late 2016. While there's not a set brunch menu, you can catch breakfast daily. Check out the menu here.
Cask & Larder, the sister venture of Ravenous Pig and Swine & Sons, knows exactly what it means to serve up good ol' country comfort food. This Winter Park restaurant has been serving southern-sourced seasonal dishes paired with on-site brewed craft beers for the past couple of years now, making a name for itself on the Orlando dining scene as being the go-to "Southern public house" for good food, drinks and company.
Cask & Larder serves a southern-style brunch on Sundays from 10:30am – 3pm, which features many breakfast and lunch dishes with a tasty twist. Being a farm-to-table fresh restaurant, the menu changes on a weekly basis with minor changes to menu items throughout the week depending on the fresh ingredients available to the chef.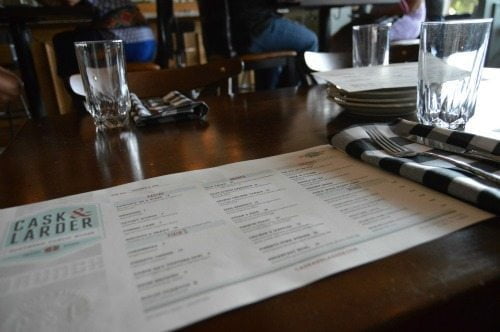 Cask & Larder's kitchen and dining room have the feel of a plantation-style home with white-finished wood frames, touches of brick here and there, and mason jars filled with an assortment of pickled things and jams.
Menus used for each day are dated, so you know that your entire meal is fresh and seasonal. The food items on the brunch menu are divided into three categories: a pastry section, a shared appetizer section and the main brunch menu items. The menu is very reflective of the season and many, if not most, of the ingredients used are locally sourced and organic.
The most popular pastry menu item is the "Bakeshop on a Board," which features a little bit of each of the pastry menu items. On this particular day, the board featured the gibassier, funnel cake and palmier & pumpkin spice napoleon pastries.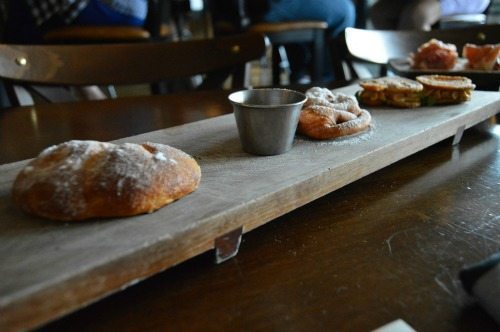 The gibassier has an anise and orange flavor, but the anise stands out more than anything and reminded me of many Italian cookies I've eaten growing up. The funnel cake was baked excellently and was very soft, but be warned that the spiced chocolate-espresso sauce surely gives it a kick. My favorite out of the three was the napoleon. I may be a little biased because I love anything and everything pumpkin spice – guilty as charged. The filling in between the two cookies is really what makes it. It's very rich and has a true pumpkin flavor.
Maybe you don't want to start off with something sweet, or you just want to share a bunch of small things amongst your party. Cask & Larder's "Fixin's" section is made just for that. We tried the pimento cheese spread, which was honestly one of my favorite things I had from their brunch menu. It had such a distinct and bold taste to it. And if the pimento cheese spread wasn't enough on its own, they put a layer of their ham jelly on top of the spread. Spread that on the small baked bread crackers they serve it with, and it is perfection.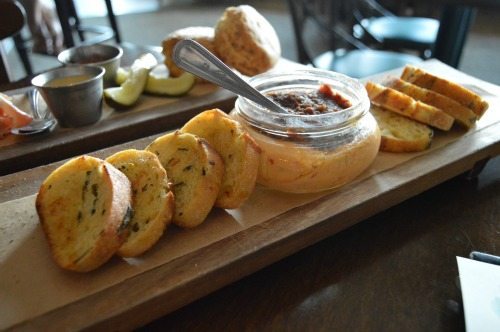 The manager also told us that many people come in for brunch and request the country ham platter (on the dinner menu), which is an all-around favorite at the restaurant. The platter features three different smoked and cured hams served with two of their cheddar and chive biscuits plus a side of pepper jelly and ale mustard. I was hesitant at first about spreading the pepper jelly and ale mustard together onto the biscuit and then sandwiching ham in between it, but it ended up being a great result. The two side spreads really complement the ham and the biscuits were well-baked and stayed intact when you broke them in half.
Moving onto the main menu items, there is so much variety, but every menu item has some hint of southern cooking to it.
If you're a salad person, the kale salad is great. The kale is very crispy and fresh, and all the other ingredients in the salad just add to it – beets for color, almond granola for some crunch and pears for a hint of sweetness. But what makes the salad is the bacon vinaigrette – it is exactly what you'd expect and more.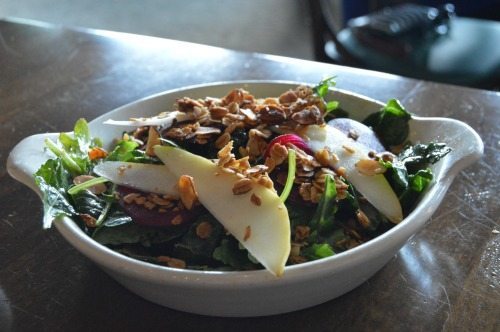 A staple on the menu, and my favorite main brunch item, is the chicken & waffles. Starting off, the chicken they use, Bell & Evans, is what makes it so darn good – it is some of the best organic and antibiotic-free, locally sourced chicken you can get. And it shows because that was some of the most moist and tend chicken I've ever eaten. The chicken is made in the Nashville hot style, where is it breaded in cayenne pepper. It seemed to also have a hint of sweetness to it and wasn't at all overly spicy. But for me what makes this dish is the fact the waffles are made out of cornbread – yes, cornbread. As if chicken and waffles couldn't get more country, it just did. Drizzled with smoked honey, the waffles are made to an airy perfection and paired with the chicken. No wonder it's a staple for their brunch.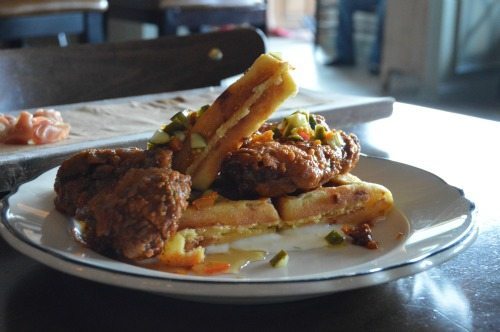 We also tried the smoked chicken tamale, eggs benedict, and their steak & eggs. The smoked chicken tamale was good. The tomato soffrito that the tamale is doused in tastes so fresh and rich it overpowers the chicken and tamale itself a bit, but the masa mix they used for making the tamale was really good. It had a nice soft texture and you could taste the cornmeal. The presentation of this dish was probably my favorite out of all the dishes with the corn husk spread gently across the plate.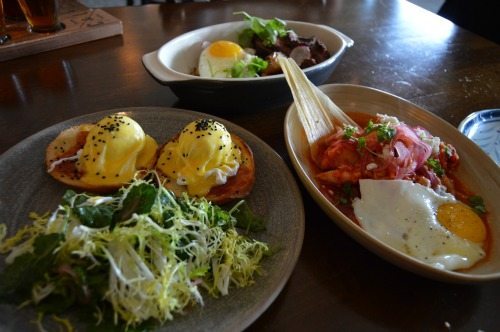 The steak & eggs dish was very flavorful, especially the steak. The hanger steak was so tender that you don't need a knife to cut it. Chefs let the steak marinate in brown butter for at least 24 hours before preparing to be cooked and plated. I loved the fingerling potatoes; they were seasoned just right and were different from how a lot of places serve steak & eggs (either with hash browns or home fries).
The last thing we tried was the eggs Benedict, which I was the most excited about because not only am I a sucker for brunch but a sucker for eggs bennies. I loved Cask & Larder's twist on the traditional eggs Benedict. Instead of using Canadian bacon or ham, they used salumi which gave it a bolder flavor. Their English muffins are made in-house and the dish came with a little arugula salad on the side, which could be placed on top of the eggs benedict if you prefer or eaten by itself.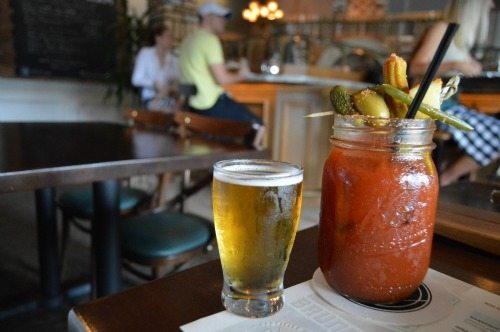 Along with having a great food menu, Cask & Larder offers a variety of cocktails (5), wines and craft beer (many brewed from their own on-site brewery and casks). We tried the Public House Bloody Larry, and it was great! I'm not a huge fan of Bloody Mary drinks but you can tell their house Bloody Mary mix is made with fresh tomatoes and I loved that they used pepper-infused Deep Eddy Vodka.
We also tried flights of the craft beers they had on tap at the moment. Their choices range from a blonde ale to a German-style lager to an amber ale to seasonal brews on tap. The beer menu usually features two standard craft brews that they always have, a more porter-style beer, a higher ABV craft beer and seasonal brews, too.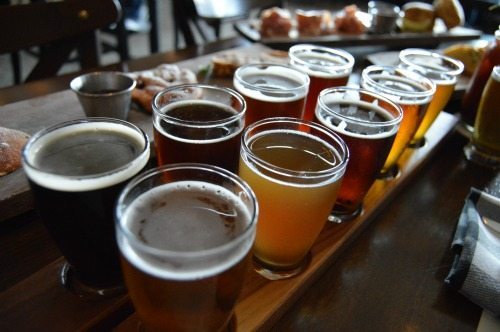 My overall brunch experience was nothing short of fabulous. Shout out to our waiter, Paul, who did a terrific job and was very informative and knowledgeable of not just Cask & Larder's menu but its sister ventures also.
While there are many brunch options in Orlando, if you want something that's more than just your typical sit-down brunch place, then Cask & Larder is a best bet.
Cask & Larder
565 West Fairbanks Avenue, Winter Park,
321-280-4200
caskandlarder.com