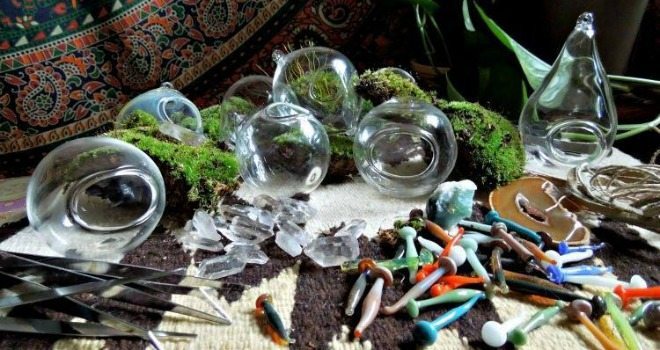 By Erica Thomas
Sure, you can do the typical dinner and a movie for your next date night. Or you can interact with your sweetie and leave your date night with a one-of-a-kind memento in hand! Several savvy companies in Orlando are offering unique, interactive workshops that give you the opportunity to experience a do-it-yourself, hands-on date night designed to get your creativity flowing.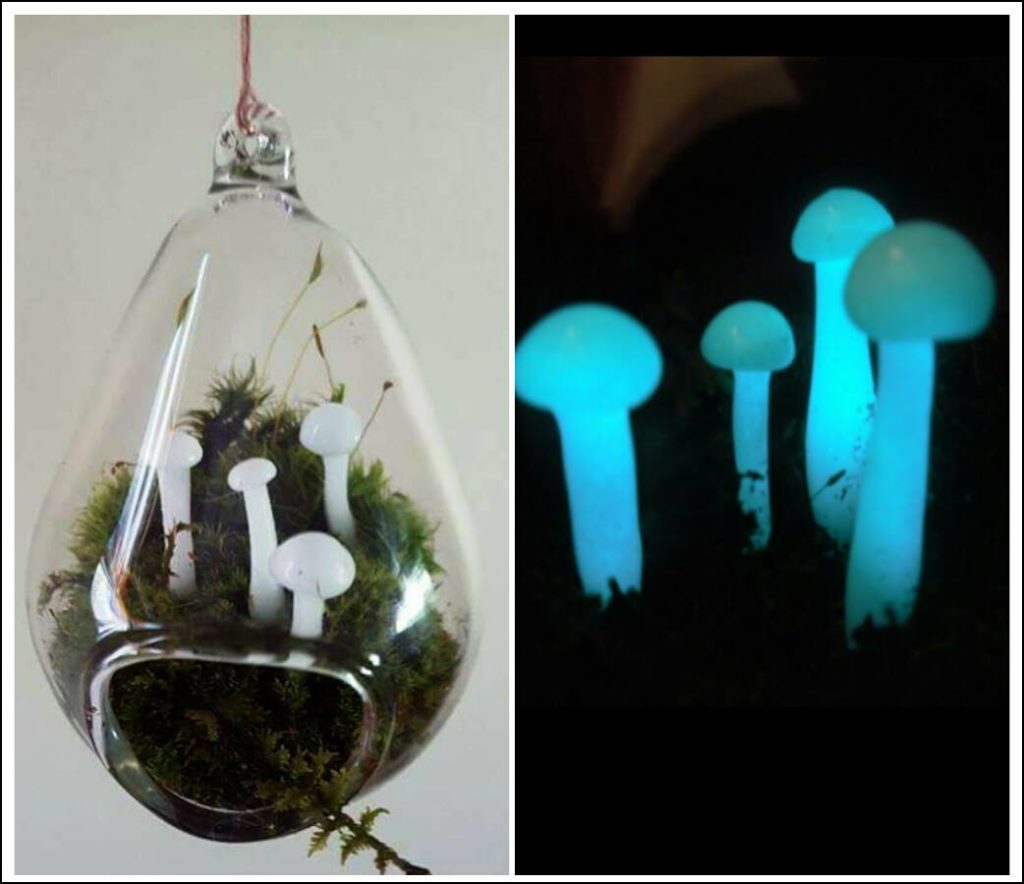 Artsy Academy Terrarium Workshops
Participants in Artsy Academy's Terrarium Workshops create and learn how to take care of a serene, miniature garden in hand-blown glass. Participants can choose moss, hemp, glass glow-in-the-dark mushrooms, quartz crystal and other natural accents to craft their living artwork. In addition, Artsy Academy donates a portion of their proceeds to the nonprofit organization Trees, Water & People. Classes meet in the dining room of local restaurants allowing participants to sip and nibble while learning about these extraordinary gardens. The average class consists of 10-15 people and lasts 90 minutes.
Classes are $30 per person unless you bring your own container for your sustainable garden, in which case, you will receive a 50% discount for recycling and reusing. (Psst! Special savings for Orlando Date Night Guide readers: book a private event and receive 20% discount per person! Private events can be held at any venue including your home, art galleries, restaurants, etc…). A complete list of events can be found at artsy.academy/artsy-academy-event-calendars/artsy-orlando-events/. You can register for a class by clicking the event on the calendar.
Crealde's Date Night Ceramics Class
Crealde School of Art in Winter Park offers Date Night Ceramics Workshop the first Friday of every month. You and your date will sculpt a custom pottery piece from clay under the direction of Vadim and Meredith Malkin. Expect to get messy during this fun filled date night! Snacks are provided so feel free to arrive with your wine in hand. Workshops are from 7pm-9pm in Studio 4 and cost $90 per couple. The next two classes are November 6th and December 4th. You can register online at www.crealde.org or by phone at (407) 671-1886.
Hide Shop's Belt Workshop
Have you ever wanted to try your hand at making your very own leather belt? Now you can at Hide Shop! When you and your sweetheart arrive, you can expect to grab a glass of wine, whiskey, or beer and nosh on a seasonal appetizer from The Outpost before getting started. Once attendees arrive, Ed Ratanun, Hide Shop's founder, walks participants through picking a belt color and buckle. You are then shown how to mark your leather for measuring and cutting before finishing the edges. Voila! You leave with a personalized belt made entirely by you. Sessions are held on the 1st and 3rd Wednesday of each month at 6:30pm and cost $60 per person. Attendees should allot at least 2 hours for the experience. Sessions consist of 6 people and have been filling up quickly. To reserve your spot, email Ed at ed@hideshoporlando.com. Group events can be booked any day of the week.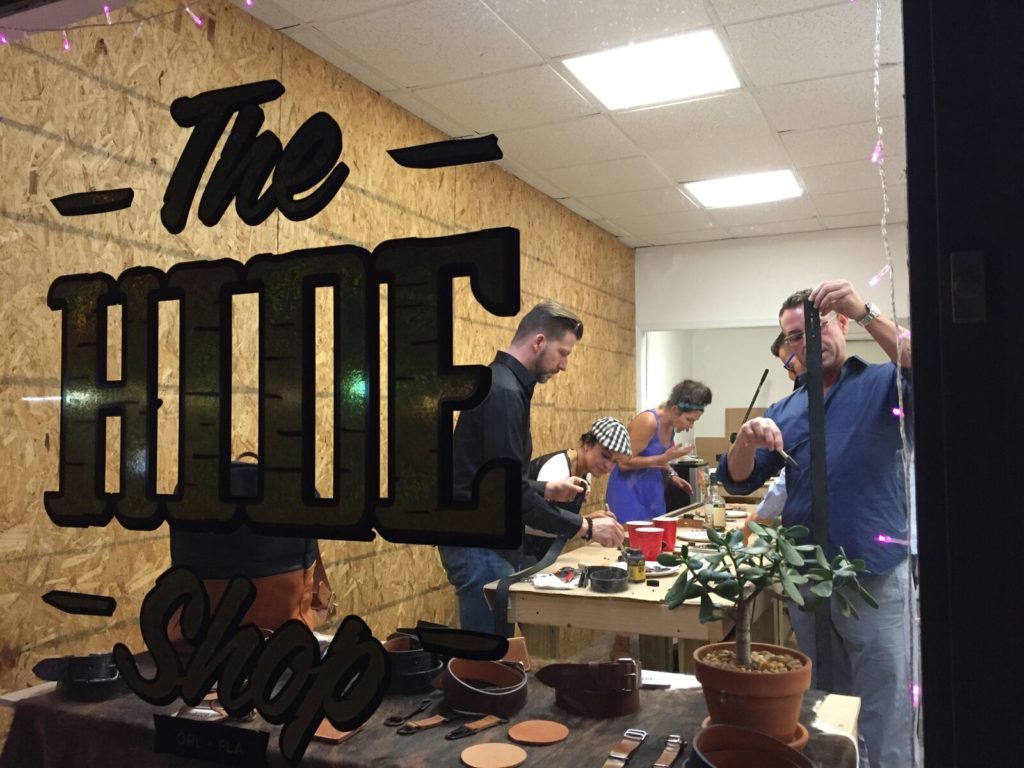 International Hot Glass Date Night Workshop
On the fourth Friday of every month, the team at International Hot Glass offers a date night workshop designed for couples to create their own, original glass blown piece. During this unique experience, you and your date will each pick your color of glass then work with a professional glass artist to create a fiery ball. Once you each have a glowing ball of glass, the two pieces are merged together to create a masterfully crafted heart shaped paperweight. The glass will need to cure and is available for pick up the next day. The date night experience is $99 per couple and includes light refreshments. Guests are welcome to bring their own wine to enjoy. Only one couple can work in the studio at a time so it is suggested to allot 2 hours for the date. Be sure to wear closed-toed shoes and dress comfortably.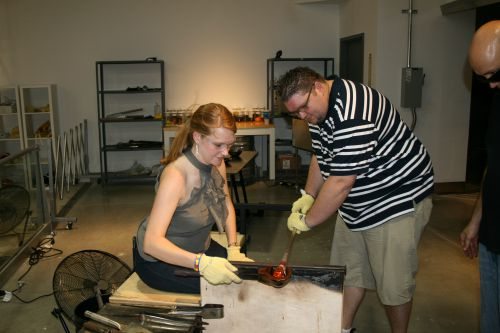 Naked Bar Soap Company DIY Soap Class
Most of us appreciate a calming and therapeutic experience, which is what you will find at Naked Bar Soap Co. During the BYOB (Blend Your Own Bar) sessions, guests will create 1 ½ pounds of completely natural bar soap to enjoy at home. After learning a little history about the company and soap-making process, guests are given all the supplies needed to make a beautiful fragrant soap. Herbs, botanicals and essential oils are just a few of the choices participants can use. All ingredients are eco-friendly and non-GMO. Sessions typically last 60-90 minutes and cost $40 per person. This includes non-alcoholic drinks for guests to sip. The soap will need to cure for at least 4 weeks before it is ready to pick up. Check out this link for details on upcoming BYOB sessions: www.nakedbarsoapco.com/collections/byob-sessions.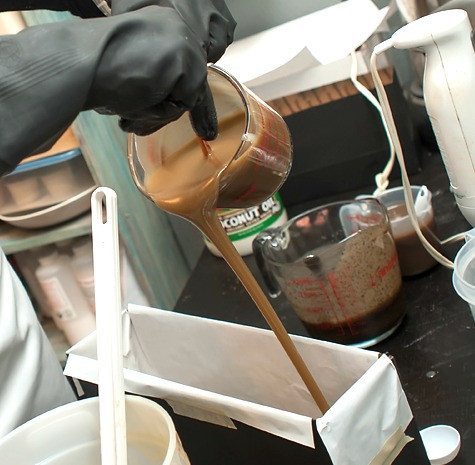 Wondermade Marshmallow Workshops
Appease your sweet tooth with a Marshmallow Workshop at Wondermade. At this workshop, you and your main squeeze will take a tour of the Wondermade kitchen, learn about the history of the business, engage in a Q&A session, and make your very own marshmallows; all while enjoying complimentary drinks and snacks. Sessions take place on the first Friday of every month and always sell out. The workshop tickets are $15 per person.
Four more ideas…
You can also make chocolate during Farris and Foster's Chocolate Date Night, you can learn how to make craft cocktails at The Courtesy and The Woods and you can learn to make sushi at Dragonfly Robato Grill & Sushi. Also check out Super Awesome Cool Pottery.