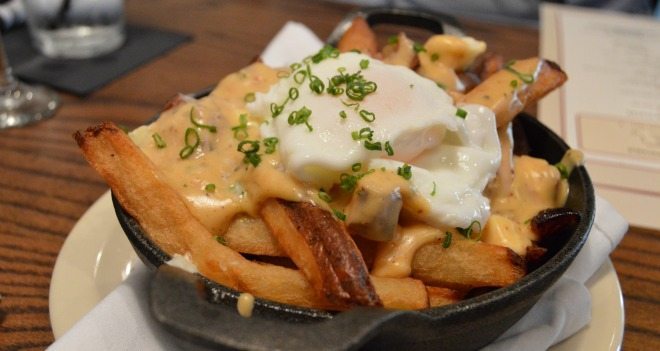 UPDATE: Restaurant CLOSED 2018
Getting its name from the area of Downtown Orlando it resides in, North Quarter Tavern is a neighborhood pub and restaurant that you can go to for a good drink, a quick bite or to enjoy a full meal.
Located off of bustling Orange Avenue, the place has a down-to-earth feel — especially for brunch. Equipped with TVs to enjoy Sunday football while you munch, and featuring a large selection of wines and craft beers, a full liquor bar and generous-sized food menu selections, North Quarter Tavern is a great brunch option if you're near downtown and want a classy breakfast meal with a cozy, neighborhood feel.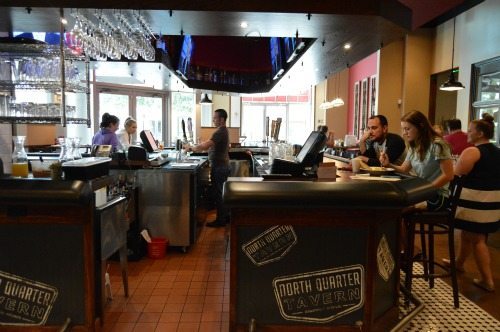 The Tavern's kitchen is a scratch kitchen, and everything on the brunch menu is made in house (including house-cured meats and some cheeses). The only exception is the brioche for the French toast and the rye bread that come with the corned beef hash, which are both made using bread from Olde Hearth Bread Company.
The brunch menu is broken up into "Smalls & Shares," "Burgers & Sandwiches" and "Main Plates," with their brunch drink specials being single or double mimosas, bottomless mimosas, or their house Bloody Mary. They also have a variety of beers and cocktails available that pair well with brunch, including a good selection of Cigar City Brewing beers.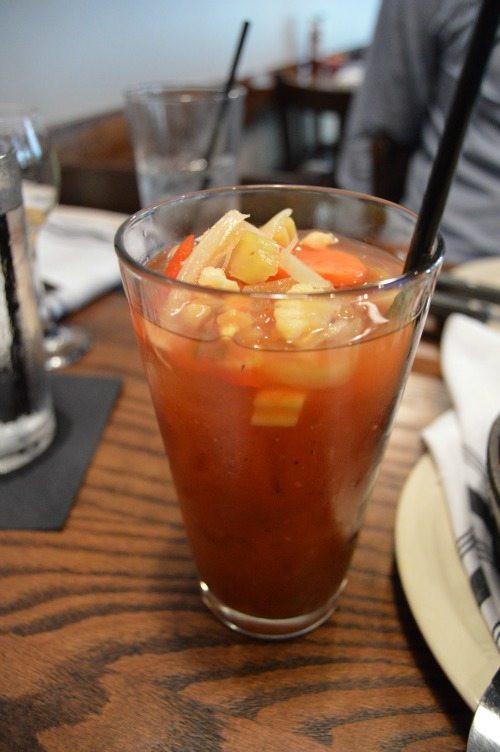 The house Bloody Mary ($5) is for those who like a "kick" start in the morning. North Quarter Tavern makes their own mix, and you can taste the pepper and hot sauce that is used in it—it is definitely a bit spicier than most Bloody Mary's I've had in the past. Bartenders add their own panache to the drink with the pickled vegetable garnish (giardiniera) they use, which is a nice touch.
The staff often suggests their Solerno spritz to guests who want to drink during brunch but want something a little bit stronger and more of a cocktail. It's their take on a aperol spritz, which is a traditional Italian aperitif—a drink to have before a meal. Their cocktail has aperol, Solerno cordial (a full proof, blood orange liqueur), champagne and an orange twist. It tasted very fresh and full of orange—almost like an adult version of a Sunkist, which I really liked.
For food, I'd suggest getting a couple of their shareable menu options, especially if you're with a group.
We first tried the breakfast poutine ($10)—and it was amazing. We were given a smaller portion, so it is normally double the size of the one pictured below. Made with fries cut by hand in the kitchen, they are topped with North Quarter Tavern's homemade sausage gravy, cheese curds, bacon and normally a fried egg. The chef put a pouched egg on top of ours, which I believe made it that much better. And once you take your first bite, you won't be able to stop.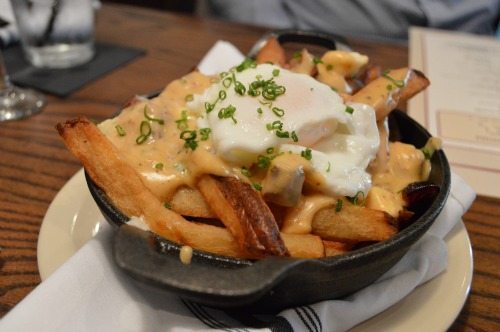 The brunch pizza ($11) is another popular menu item off of the "Smalls & Shares" section. The great part about the brunch pizza is that it's always on the menu but there will be small changes to the toppings every week or so. This week the pizza featured a béchamel sauce, cheddar cheese, bacon, caramelized onion, arugula sprinkled on top and a fried egg (again, our egg was cooked sunny-side up). Despite the pizza being thin, it was so rich and every bite full of flavor. I can see why it's such a favorite.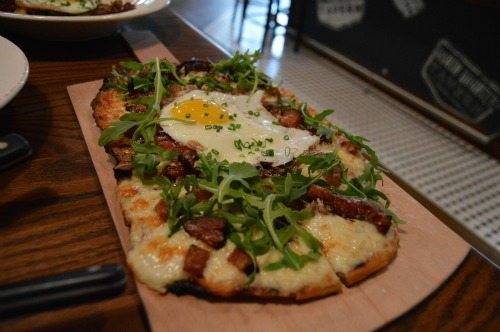 Off of the "Main Plates" section, we tried North Quarter Tavern's corned beef hash ($13). The manager told us the restaurant's process for making their corn beef, how they use a 14-day curing process. The same 14-day cured corn beef is also used on their Reuben sandwich. You can tell that they take the time to make their beef well because it is so tender and shredded so finely.
Got a sweet tooth? North Quarter Tavern's French toast ($12) is definitely the way to go. Made from brioche bread, the French toast is drizzled with Vermont maple syrup, garnished with fresh berries, sprinkled with powdered sugar and topped with a scoop of vanilla ice cream. Taking a bite, it was so sweet and decadent but I could taste something very unique about the actual French toast, what it was dipped in prior to making it. When I asked Ian Hollman, the chef de cuisine of North Quarter Tavern, he mentioned that the bread is coated in an egg custard that has nutmeg, ground vanilla bean, cinnamon, and a hint of lemon and orange zest—and that was what I was tasting, the zest. We received a smaller portion (below picture); normally, the French toast comes with two full slices.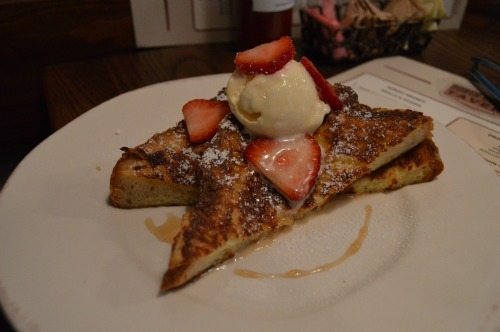 Last, but definitely not least, we tried the biscuits and gravy ($14), which was my favorite thing on the menu just behind their breakfast poutine. The biscuits are made in house every Sunday just a few hours before the restaurant opens for brunch. The biscuits are then covered in the restaurant's signature black pepper sausage gravy. The dish is garnished with house-cured bacon and topped with a fried egg. The sausage gravy is what made this; it was so thick and bold with flavor.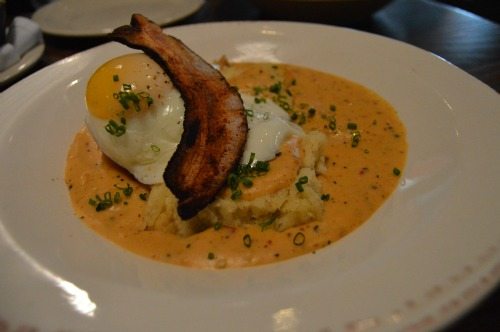 If you're looking for a brunch that has quality food in a relaxed setting, then North Tavern Quarter's brunch should be next on your list of places to try. Their mixture of comfort food and their takes on traditional brunch dishes makes this place not only full of flavor and freshness, but an affordable place you can go with friends to enjoy a fabulous Sunday funday!
Sunday Brunch at North Quarter Tavern is served every Sunday from 11am – 3pm.