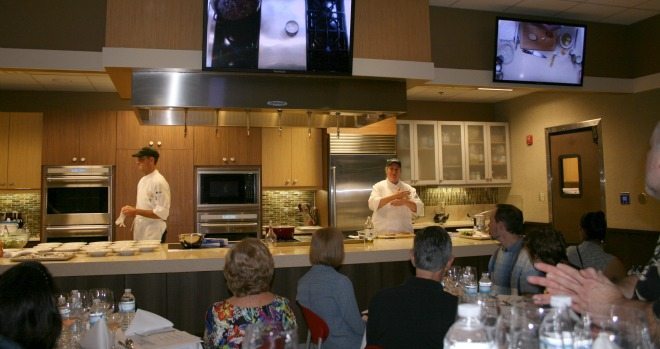 By Erica Thomas
Turn up the heat on your next date night by attending one of the classes offered at Publix Aprons Cooking School. It is fun, educational, and you just might learn a new trick or two to try in your own kitchen at home.
Nestled in the back corner of the Marketplace at Dr. Phillips, this cooking school for home cooks features a state-of-the-art kitchen and trained chefs that are eager to share their expertise with every student who walks through their doors.
You can expect to find two styles of classes offered through the school: hands-on and demonstration. Both classes are a completely different type of experience. The hands-on classes are more educational and allow you to actually try the techniques being taught. The demonstration classes are more of an entertainment experience. Think of it as dinner and a show!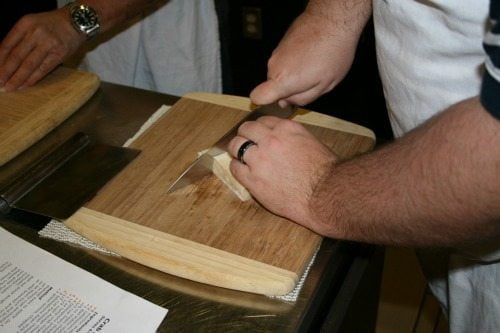 Hands-On
The hands-on classes allow you to step into the hot seat and become a chef for an evening. For those of you who, like me, don't consider yourself a culinary artist, there is no need to fret. The trained chefs are close by guiding you through every step.
When we arrived for our cooking class, we signed in, grabbed an apron and recipe booklet. We had two chefs to escort our group through the cooking experience. Since it is a group affair, everyone took turns completing various tasks. Not only did I learn a few new tricks, like how to dice an onion without chasing it all over the cutting board, but I found a few new gadgets that would make life in the kitchen so much easier!
At the end of the evening, everyone sat down together to enjoy our hard work. We participated in the "Seafood Differently" class, which included mouth-watering crab rangoon pizza, seafood lasagna, sautéed kale, crab fritters, and mango crème brulee. It was all delicious and appreciated all the more since we put in the labor to prepare it.
Tip: If you typically eat dinner earlier in the evening as I do, you will want to grab a snack before the class to keep your hunger at bay.
Demonstration
Expect to feel as if you are watching a live cooking show with a generous dash of comedy sprinkled throughout the evening during the demonstration class. The chefs, who are very informative and entertaining, make the evening such a treat. During our "Autumn in Paris" class, I was laughing so hard that tears leaked from my eyes.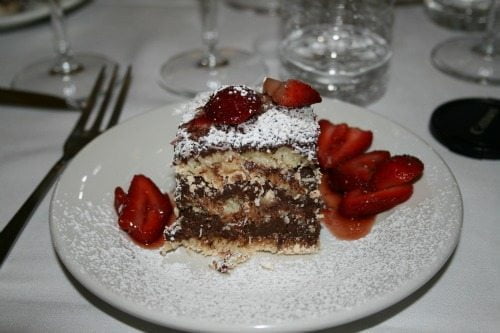 For each course, the chefs demonstrate how to prepare each dish we would later feast on. A different wine was appropriately paired and described with each serving. Television monitors are stationed throughout the dining area allowing the audience an up-close view of the preparation process. We were promised an evening of good food and a good time by Resident Chef Robert Stackhouse; and he did not disappoint. Our menu for the evening consisted of greens with black olive vinaigrette and marinated goat cheese croutons, lamb stew, wine braised chicken, pancetta and rutabaga gratin, and a triple layer chocolate macaroon cake. Yum-o!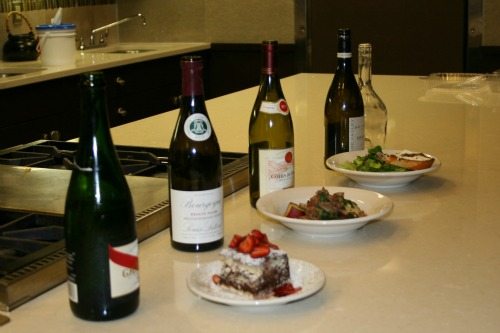 You will leave both classes with many leftovers and the recipes to that evening's dishes. Attendees are also given a special insider discount of 20% off all cookware and utensils at Publix. For those foodies who enjoy learning about superb food while preparing it, this is the perfect solution to a date night. You'll share many laughs with your main squeeze while enjoying some meaningful (and mouthwatering) moments.
Here are a list of upcoming cooking classes: http://ww2.publix.com/aprons/schools/Orlando/Calendar.do. Cost is typically $40-$55 per person, per class.
Orlando Publix Aprons Cooking School
The Marketplace at Dr. Phillips
7524 Dr. Phillips Blvd.
Orlando, Florida 32819
407-226-9796