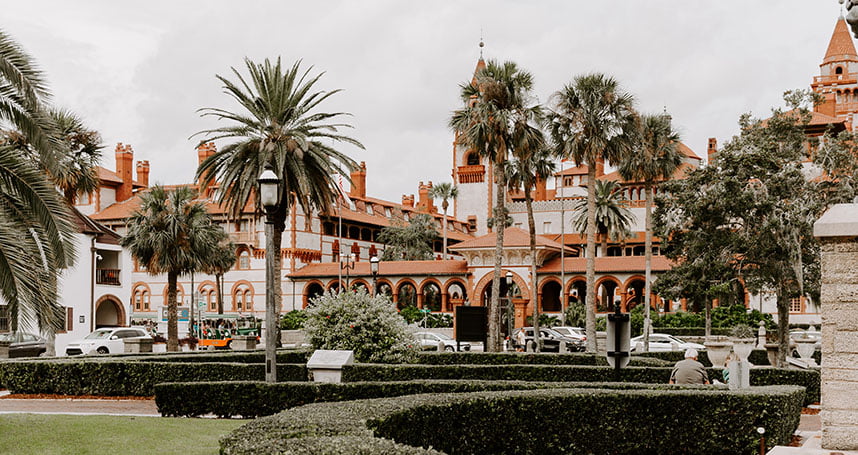 Dotted with Spanish colonial architecture and dripping with old world charm, St. Augustine is an easy, 90-minute drive from Orlando up Interstates 4 and 95. America's oldest city is one rooted in farm-to-fork fare, craft cocktails and a destination that's far more than tourist traps and gift shops. Argue if you must, but St. Augustine is by far Florida's most romantic city where sultry restaurants, starlit courtyards, meandering horse-drawn carriage rides and more than two dozen inns and bed & breakfasts make it an ideal respite for couples.
STAY
Begin your weekend stay at a local favorite and one of the most sought-after accommodations in St. Augustine: Casa de Suenos. This bed and breakfast's owners (who also own the St. Francis Inn) have a penchant for spoiling guests with oodles of freebies. Rooms are spacious and lovingly adorned with a contemporary yet cozy aesthetic and each inn offers not only a full breakfast included with the overnight rate but also an Evening Social Hour (5-6pm daily) featuring house made appetizers and wine/beer; Evening Desserts, offered nightly from 8-9:30pm; and free use of beach chairs and towels for those headed to nearby St. Augustine Beach.
Once settled into your comfy accommodations, set out exploring the city by foot. Wander through the bricked streets, most notably Aviles Street, the oldest street in the city and a quieter cousin to St. George Street. Here you'll find Gaufre's & Goods, a quaint little family-owned eatery and home to the best pierogies in the city.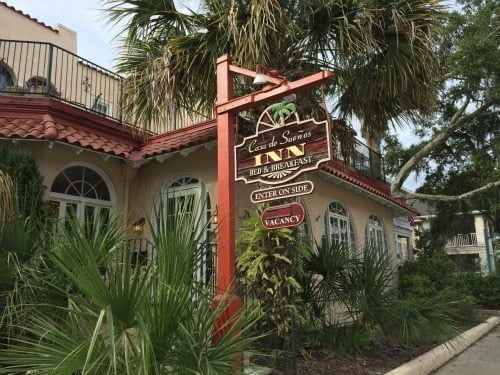 PLAY
TOURS
To really peel back the layers of the city's many local landmarks etc., consider buying a St. Augustine Self Guided Walking Tour, which is available in print or mobile versions for $9.95 at citywalkingguide.com/staugustine.
Of course, if you'd rather sit back and have the city's illustrious past and enchanting points of interest dolled out via a guided tour, there are plenty of those to choose from. Both Old Town Trolley Tours and Ripley's Red Train Tours offer hop-on-hop-off tours to all of the most notable area must-sees. Tickets to each start at $25 a person when booked online.
Those who'd rather get off the beaten path or see a specific side of St. Augustine (the haunted side or the foodie side, for example) might consider a guided walking tour. St. Augustine Historic Tours (staugustinehistorictours.com) and St. Augustine City Walks (staugcitywalks.com) both offer pub tours, food & wine tours, paranormal tours and scavenger hunts.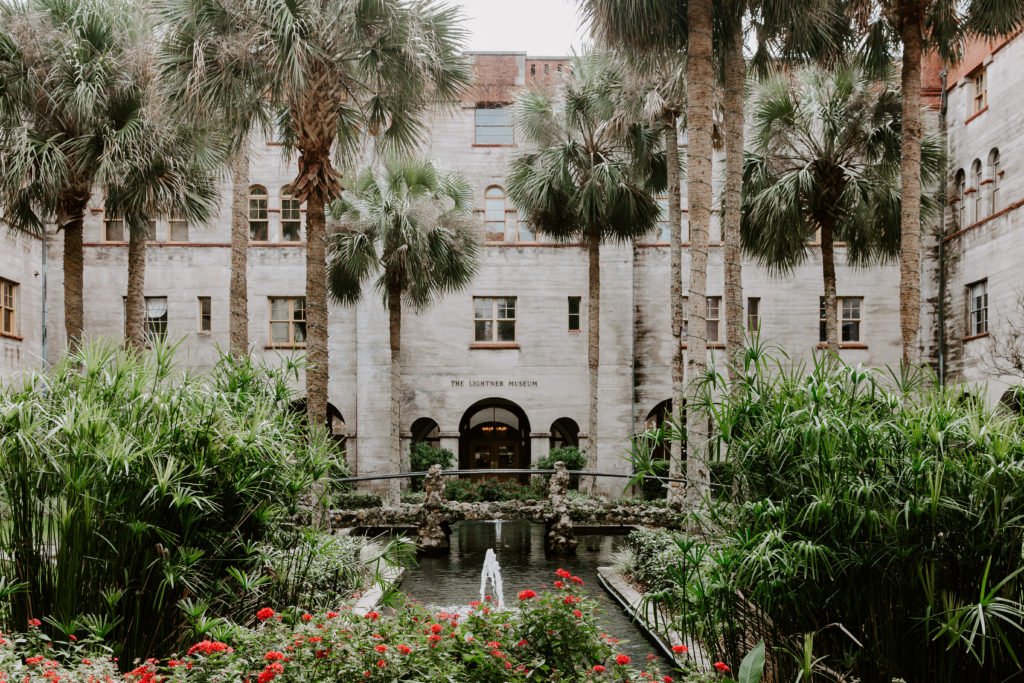 But there's nothing like touring the city on a horse-drawn carriage ride. Best enjoyed at night when you can snuggle under a blanket and watch the city slowly drift by, these tours are pricey ($125 for 45 minutes) but offer the most romantic experience of any tour. Those looking to hire a carriage can do so on Avenida Menedez, the waterfront street on St. Augustine's east side.
MUST-SEE ST. AUGUSTINE SIGHTS
Definitely spend an hour or so wandering around Castillo de san Marcos, a 17th century fort that once served as the city's first line of defense against invaders. Set on 20.5 acres, the monument is one of only two fortifications in the world built out of a semi-rare form of limestone called coquina, which didn't shatter under cannon ball fire. Admission is $15, which gives you entry for 7 consecutive days.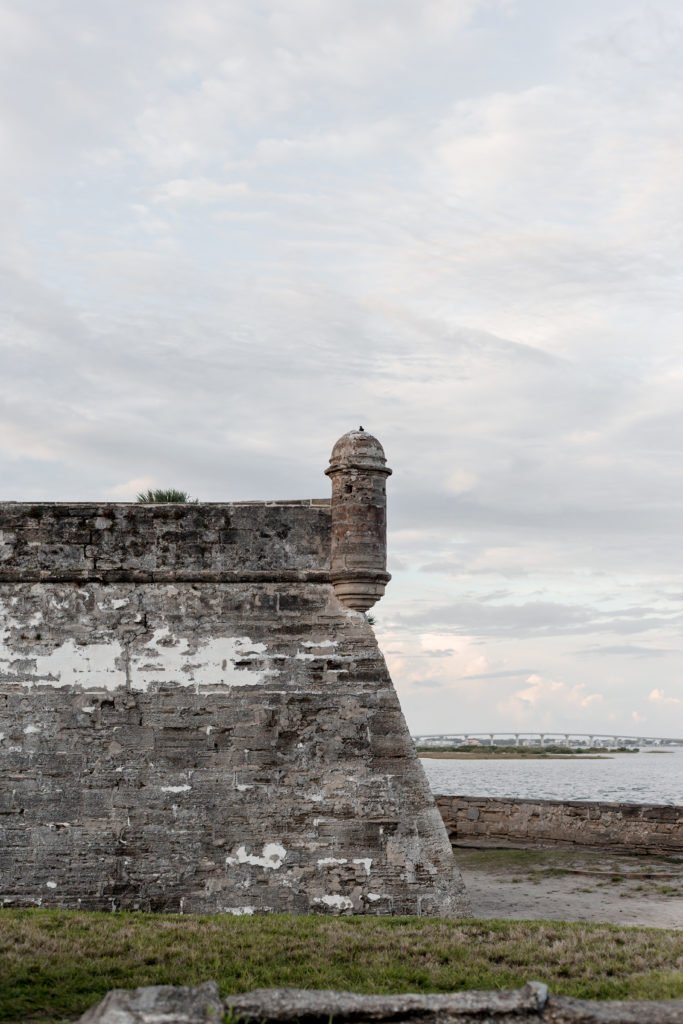 Even if you're not a huge history buff, the historical tour of Flagler College is such a fascinating way to spend an hour. Once the Hotel Ponce de Leon, built by railroad magnate Henry M. Flagler in 1888, this National Historic Landmark is one of the finest examples of architecture, design and human ingenuity in the U.S. today. Guided tours, which take place daily at 10am and 2pm, are $12 per person.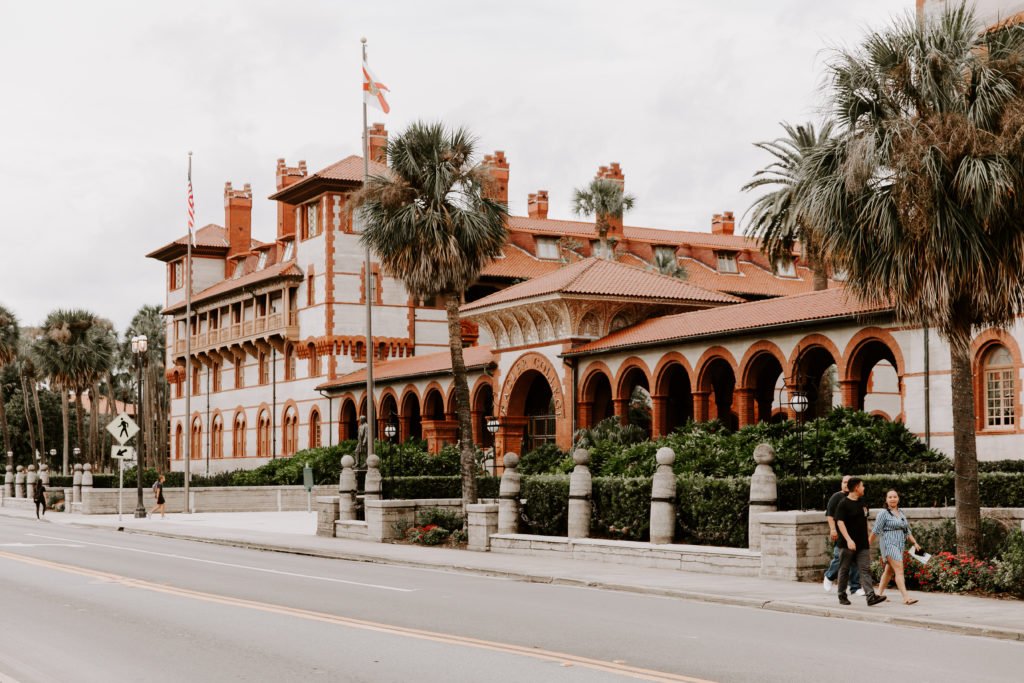 Don't miss:
– Climbing all 219 steps to the top of the St. Augustine Lighthouse
– Kissing next to St. Augustine's love tree, an act that is rumored to seal your love forever
– Exploring the swashbuckling past of St. Augustine's famous pirates at the St. Augustine Pirate & Treasure Museum
– Devouring sweet treats at the Whetstone Chocolate Factory
EAT & DRINK
There are plenty of great restaurants in St. Augustine, so narrowing down to just a few for lunch and dinner will be a challenge. Consider starting with the most buzz worthy, The Ice Plant, where prohibition-style cocktails and elevated pub grub are served inside a converted warehouse space, once St. Augustine's ice factory (circa 1927). Ice still takes center stage today with ice tools still lining the walls and bartenders crafting drinks chilled with six different styles of ice.
St. Augustine Distillery, located inside the same building, offers free tours every thirty minutes daily. Visit staugustinedistillery.com for more details.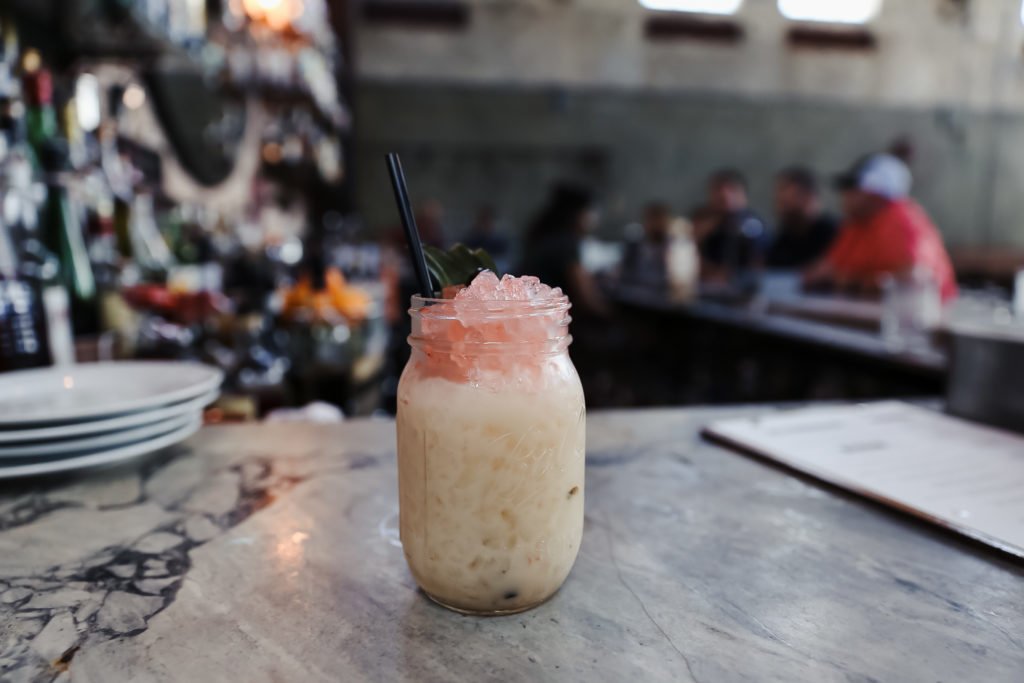 Michael's Tasting Room, which features artful Mediterranean-inspired seasonal cuisine, is a secluded spot featuring over 70 different Spanish wines.
The Floridian, run by husband-and wife team Jeff McNally and Genie Kepner, have won over locals with its commitment to native Florida ingredients (like Datil peppers) and unfussy yet delicious cuisine.
Coffee aficionados will find Kookaburra Coffee is a St. Augustine must-stop, serving a variety of espresso drinks, tea, specialty coffee and Aussie pies. The popular coffeee shop has multiple locations throughout St. Augustine, but be sure to visit the Cathedral Place location in downtown St. Augustine.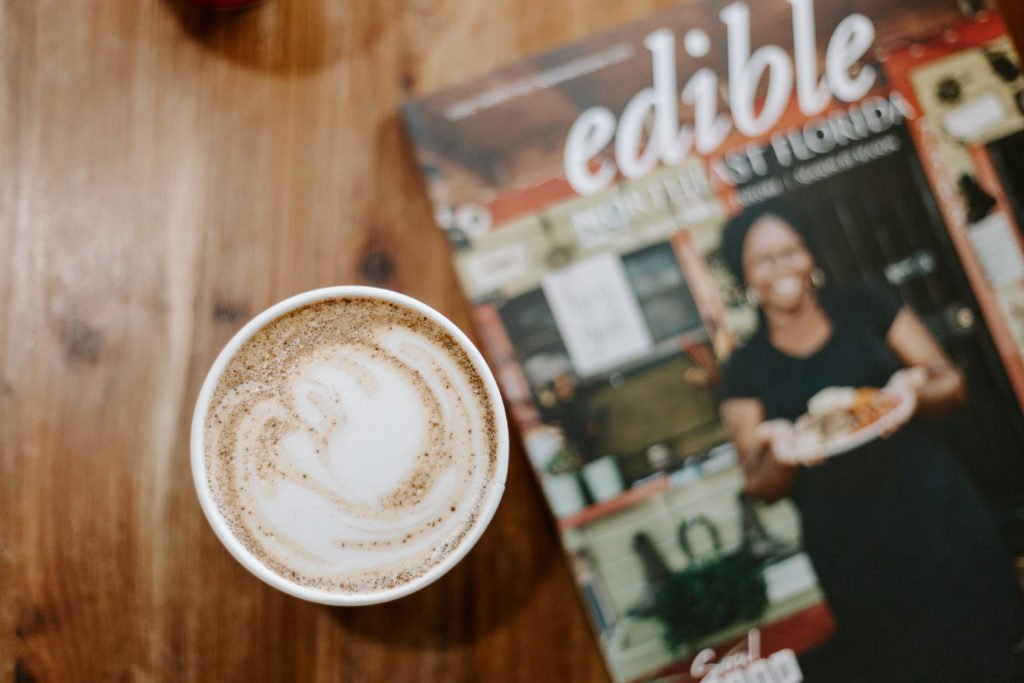 Only open for lunch, Café Alcazar at the Lightner Museum is a special spot for a midday repast. Set inside a former indoor swimming pool built by Flagler, the posh and peaceful space is the perfect place to enjoy delicious sandwiches and salads away from St. Augustine's crowds.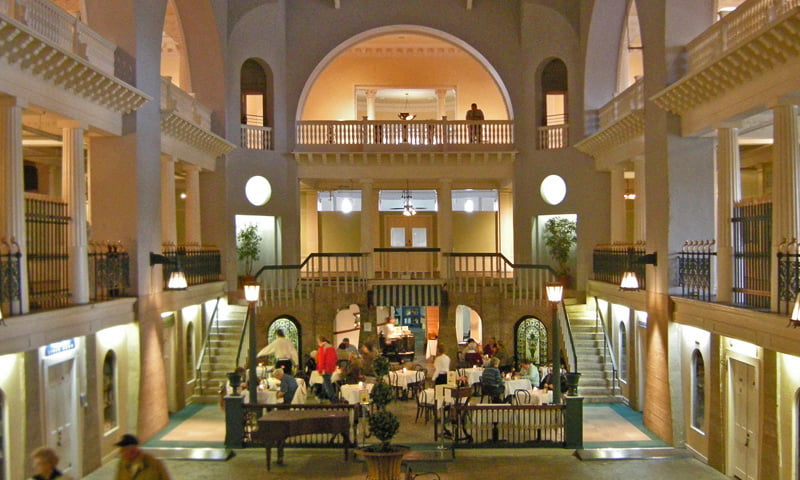 Desserts
In between meals, be sure to slurp an artisanal ice pop from The Hyppo, savor a coffee from Crucial Coffee, and snack on a traditionally made empanada from the Spanish Bakery off St. George Street.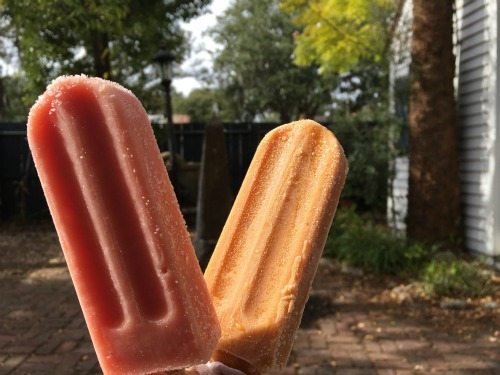 Ice cream lovers will rejoice upon entering Mayday Ice Cream, where everything is homemade, from the ice cream to the waffle cones and even sprinkles! Their many flavors are inventive and delicious, but we'd highly recomment Coffee & Donuts and Parent Trap (peanut butter swirled ice cream with chunks of Oreo cookies).