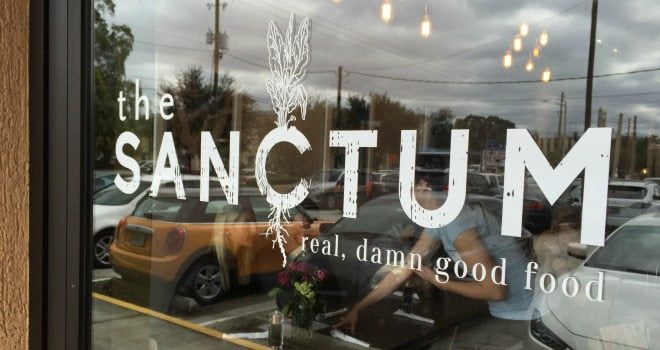 The Sanctum, a new Orlando vegan restaurant, is now open in the Mills 50 District.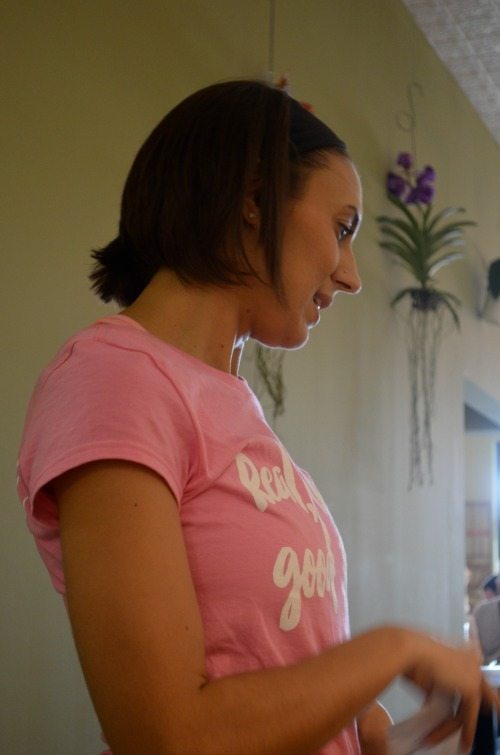 I'm not an aficionado when it comes to vegan cuisine, but I know this: I've yet to dine at an Orlando vegan restaurant and think, "I can't wait to come back here. I must eat this food again!."
That was until we went to The Sanctum. The brainchild of husband and wife team Chelsie (Dipaolo) Savage and Jamie Savage, this vegan cafe opened (softly) this past weekend with an offering of select menu items.
We ordered:
Toasted Caesar salad (daily greens, roasted rosemary potatoes, slivered onion, quinoa, sunflower sprouts & pepitas)
Kappage Krunch Slaw (shredded kale, red & purple cabbages, mint, cilantro, carrot, beet & finely chopped red onion, topped with shelled edamame, grape tomatoes, dried cherries, sunflower greens, avocado, slivered almonds & tossed in ginger-miso dressing)
Mo'Rockin Bowl (daily greens topped with Moroccan spicy harissa roasted beets, cauliflower & onion mixed with fresh cilantro, parsley, raisins and toasted chick peas, and finished with cumin-tahini dressing and candied walnuts)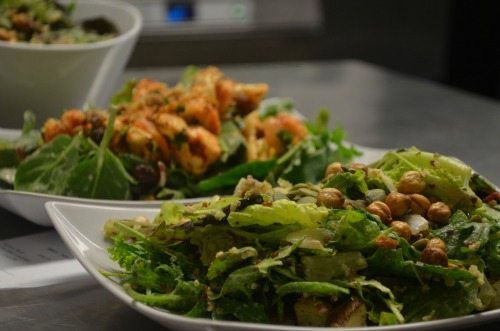 Every bite packed an unexpected crunch or flavorful zing. The layering of textures was incredible. The marriage of different ingredients was spectacular. I ate like a hungry pack of wolves, shoveling every bite into my mouth as though the plate would be plucked away before I was through.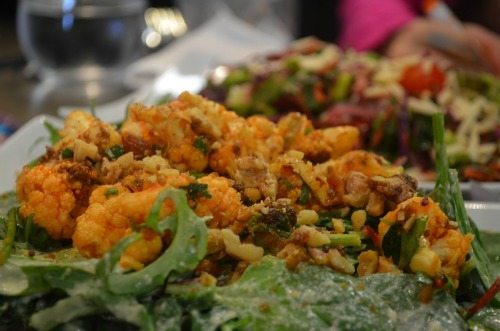 The restaurant's motto, which you can find written on the wall, the door, and the t-shirts, is Real, Damn Good Food. After our meal, I could not agree more.
Wading amidst the crowds, a packed house of friends and family eager to support this wonderful venture, Chelsie Savage gracefully floated from table to table, receiving nothing but genuine praise.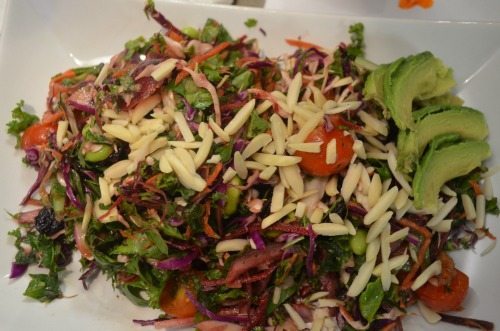 "All of our ingredients are non-GMO, most are organic, locally sourced when available and everything is prepared from scratch, with love," Savage says on her website.
The Sanctum has been a dream, then an idea, then a force to be reckoned with for more than three years. As a Holistic Health Coach, Savage has taught cooking classes, pantry overhauls and a 12-week series in vegan cuisine and nutrition since 2011. A dedicated vegan, mainly because she believes veggies just taste better than meat, Savage (also a yoga instructor) could convince anyone that vegan cuisine is the bomb. And now she's got the restaurant to prove it.
The Sanctum is open for breakfast starting daily at 8am when dishes like a breakfast burrito, Açai bowl and loaded oats are served. There's also a delicious Pineapple Ginger Mimosa that's truly out of this world. Don't miss it.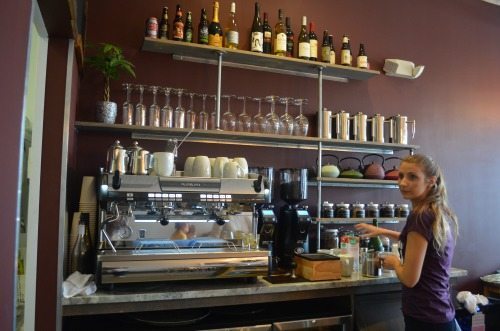 For lunch and dinner, take your pick from 13 different salads (available in full and half sized portions) and grain bowls. And if you're worried this fare won't be hearty enough to fill you up, think again.  The Sanctum is all about leaving you full and happy.
In a hurry? Pop in for a cold-pressed juice, smoothie, or Sanctum Shots of ginger, turmeric or lemon. On a cold day, enjoy a hot tea, wellness toddy, coffee or house made chai.
Here's the thing, you don't have to be a vegan to love this place. I'm certainly not. You just need to be someone who appreciates clean, well-made eats, thoughtfully prepared, with love.
The Sanctum
715 N Fern Creek Ave Orlando, FL 32803
407-757-0346
thesanctumcafe.com
Hours: M-Th: 8am-8pm; F-Sa: 8am-9pm; Sun: 8am-2pm