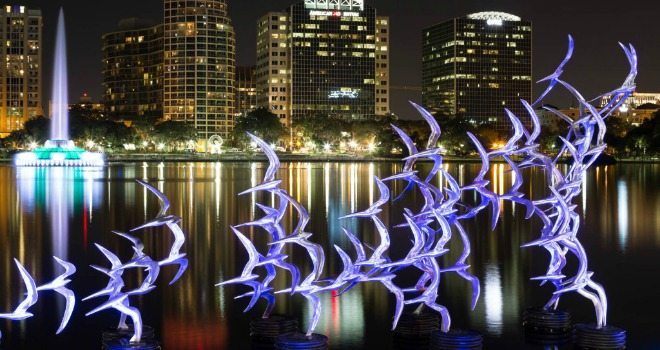 Experience Orlando's spectacular downtown art installations during the See Art Orlando Self-Guided Walking Tour
Wander through downtown Orlando, especially near Lake Eola Park, and you're bound to be astounded by the bevy of gargantuan art installations now permanently placed around the city.
You can thank See Art Orlando for this initiative. An Orlando-based non-profit with a mission to enhance the aesthetic experience and cultural image of downtown Orlando, the program's Public Sculpture Community Project has secured eight iconic works of art, including the flying birds piece you may have noticed as you drive along Robinson St..
Supported by private philanthropy, See Art Orlando selected the eight works from 180 submissions from 16 countries and 36 states. The collection consists of art crafted from a variety of mediums ranging from stainless steel to limestone, with features including kinetic energy and LED lights.
The best way to appreciate the collection is on a self-guided walking tour. See Art Orlando has made this very easy for you by creating an downloadable walking guide with a map. Simply print it out and head to each installation in any order you wish. As you arrive, you'll be able to read about each piece of art and its creator via the descriptions in the guide.
Download the walking tour guide here.
Not every date night needs to be expensive. In fact, this date (day or night) won't cost you a penny but will give you the opportunity to appreciate our city in a whole new light.
Of course, feel free to enjoy some bites and sips along the way. You'll find loads of great restaurants and bars (especially on Central Blvd) to slip into along the route.