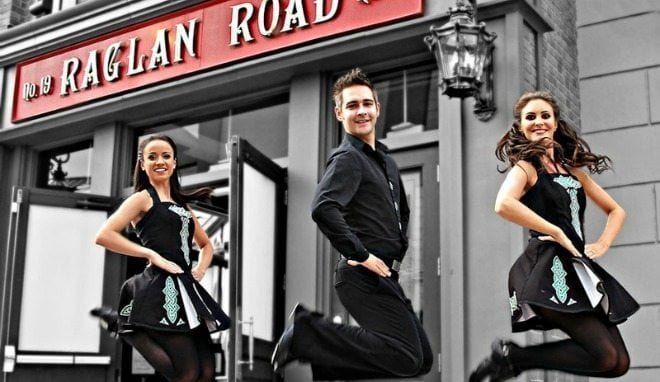 **UPDATED FOR 2019**
Time for corned beef and cabbage, Guinness draft beers and Irish whiskey this St. Patrick's Day in Orlando (March 17)!
This St. Patrick's Day in Orlando, plan to visit one of our many local Irish pubs or bars.
1640 E. Buena Vista Drive
Lake Buena Vista, FL 32830
This authentic Irish pub (no green beer here!) is a staple of Disney Springs. The interior was constructed using mahogany and aged walnut woods from old churches and bars in Ireland and then shipped to Orlando. Raglan Road doesn't just honor the holiday with a one-day fete; they party for an entire weekend! From March 15 – March 17, 2019, The Mighty St. Patrick's Festival will celebrate with Irish food, craft beer, cocktails, live music and performances by Irish dancers. Musicians and dancers will perform on the indoor and outdoor stages from 3pm-1am March 15 and 11am-1am March 16 and 17. A $10 cover charge will apply on March 17 only to guests 18 and up.
Here's the 2019 entertainment lineup:
Young Dubliners: Known for their hearty rock and Irish-infused live performances.
Ben Gunnery: The Irish superstar is a pro in multiple instruments and has been touring since the age of 14.
Brist: All-female duo performing an exciting mix of country, folk and Irish traditional music.
The Byrne Brothers: Irish music family from Donegal. They are Luca, 14 (button accordion); Finn, 12 (banjo, mandolin and whistle); Dempsey, 9, (whistle and bodhran); and father, Tommy (guitar, Uilleann pipes, fiddle, whistles, bagpipes and bodhran).
The Raglan Roots Coalition: This edgy house band is known for its soul-rockin' Celtic bluegrass with hip-swingin', knee-shakin' funky roots beats.
Reel Republic – Trio hailing from the four corners of Ireland.
Trad Gad: Three musicians from Kerry, Dublin charm audiences with their vibrant performance.
MACA: Three Irish sister-musician-songwriters are known as "Ireland's next big thing."
High Road: Three Irish musicians from Galway, Kilkenny, and Glasgow perform traditional Irish tunes.
The Raglan Road Irish Dancers – Plucked from the cast and stages of the world's greatest Irish dance shows.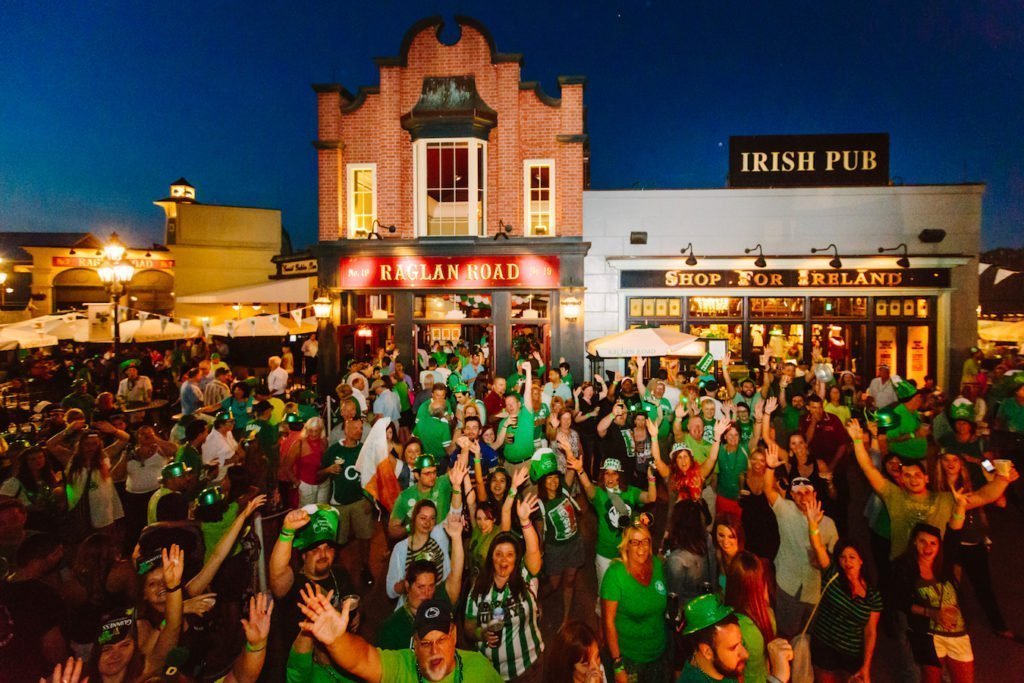 544 W. Fairbanks Ave.
Winter Park, FL 32789
This traditional Irish tavern is located just a block from Park Avenue and the heart of downtown Winter Park. It has a hearty food menu, great beers on tap, and live music every weekend. Every year before St. Patrick's Day, they host the Fiddler's Green 5K. It is also a great place to stop by after the Winter Park St. Patrick's Day Parade. On the actual holiday every year, the bar opens early (9am!) and has food and entertainment all day long!  2019 performers include Beemo, Scottish bagpiper Jamie Kelly, and more!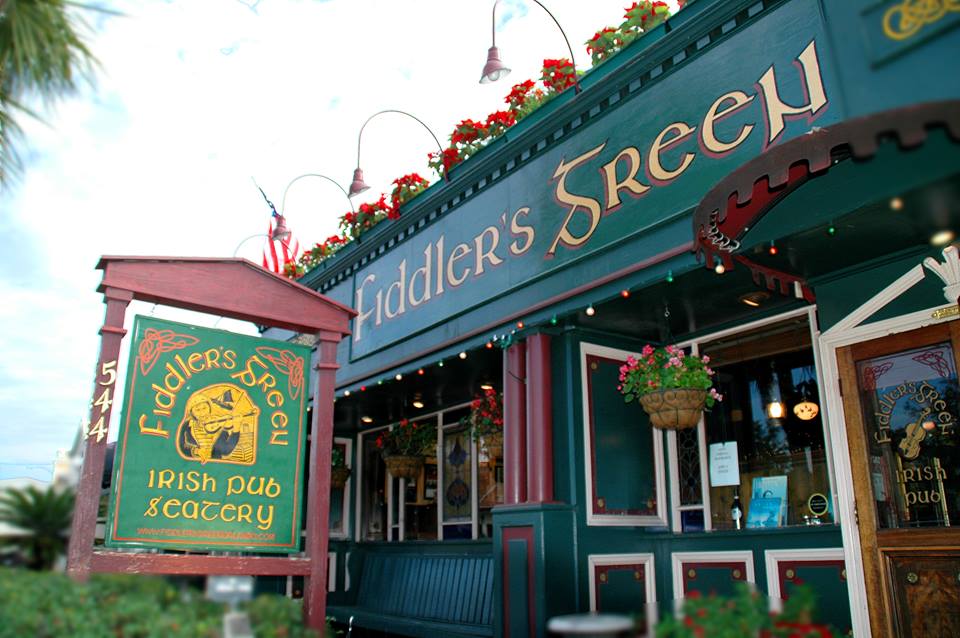 55 N. Orange Ave.
Orlando, FL 32803
Located in the heart of downtown Orlando near Wall Street, this local Irish pub has been going strong for more than 10 years. Want to indulge in the Irish liquor of choice instead of beer? Turns out that Lizzy McCormack's is also one of the best whiskey bars in Orlando, offering more than 150 different types of whiskey. For St. Patrick's Day they turn the back of their pub into a beer garden, offering Guinness, Irish whiskey, and their world famous pudding shots.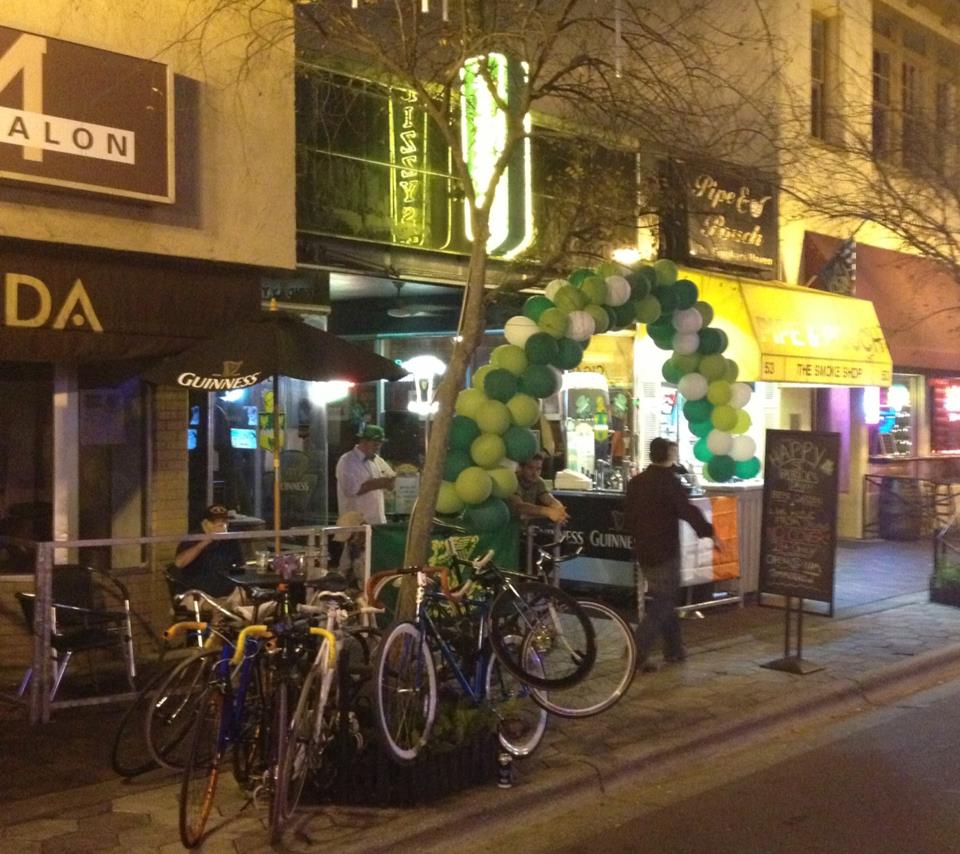 More Irish Pubs in Orlando
Here are some other Irish bars, pubs, and restaurants to check out this St. Patrick's Day in Orlando and beyond!
Liam Fitzpatrick's Irish Restaurant & Pub
Colonial Town Park
951 Market Promenade Ave.
Lake Mary, FL 32746
Finnegan's Bar & Grill at Universal Studios
1000 Universal Blvd.
Orlando, FL 32819
O'Shucks Pub & Billiards
7467 International Drive
Orlando, FL 32819
The Lucky Leprechaun
7032 International Drive
Orlando, Florida 32819
An Tobar
600 N. Lake Destiny Road
Maitland, Florida 32751
Claddagh Cottage Irish Pub
2421 Curry Ford Rd
Orlando, Florida 32806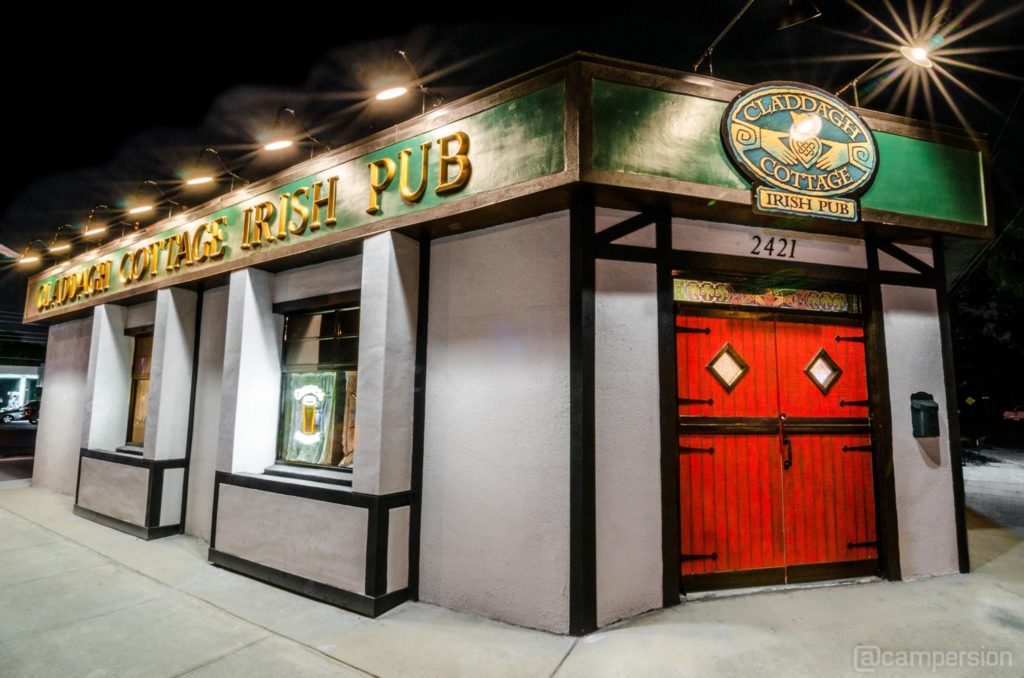 Even More Ways to Celebrate
Boxi Park St. Patty's Weekend Celebration: Celebrate from March 14-17 with food and drink specials and an outdoor celebration.
St. Patrick's Day 2019 Block Party: Get festive at Wall St. Plaza for St. Patricks Day with live music, food and drink specials, giveaways and more.
Crooked Can Brewery 4th Annual Celtic Festival: Celebrate from March 15-17 at this free festival featuring Irish food, live music, and more.
Mills 50 District St. Patty's Day Pub Crawl: Over fifteen different bars and restaurants in the area will have food/drink specials on Saturday, March 16 beginning at 4pm. Purchase a wrist band for $5 at Dirty Laundry or Ten 10 Brewing to participate.
St. Patrick's Day Block Party in Thornton Park: Party in Thornton Park with all day drink specials, DJs, games, and more. This kicks off at 11am on March 17 and lasts until 7pm.
2nd Annual St. Patrick's Day Crawl Orlando: Explore some of Downtown Orlando's most popular bars on Saturday, March 16 with 5 free drinks plus drink specials.
St. Patrick's Day Party at Howl at the Moon: Head to this dueling piano bar for games and giveaways, green beer, car bombs, and more on Saturday, March 16 from 7pm-2am.
Pat O'Brien's St. Patrick's Day Celebration: Head to Universal CityWalk for an all-day Irish celebration including live music. Event is free from 2pm-7pm, with 21+ $12 admission from 7pm-2am.
Baldwin Park St. Patrick's Festival: Celebrate on Saturday, March 16 with this free block party!  From 12pm-6pm, a portion of New Broad Street will be closed off so attendees can enjoy live music, vendors, and more with drinks in hand.
Canvas Restaurant & Market: Live music by Mike Daly and Irish Duo, as well as special drink and food offerings on Sunday, March 17. Food specials include a St. Patrick's Day Burger and Loaded Shepherd's Pie. Drink specials include $5 Jameson cocktails and $5 Guinness pints. Specialty cocktails (available Friday, March 15 to Friday, March 17): Irish Delight ($8) with Crown Vanilla, Guinness and Baileys; The Lady Luck Shot ($5) with Baileys, Crown Royal and a Green Colored Sugar Rim.
American Kitchen Bar & Grill: Enjoy a special St. Patrick's Day menu with green beer, Irish Beef Bacon Pot Pie, and more!
Park Pizza & Brewing Company: Specialty "Reuben" Pizza: Corned Beef, Garlic Cream, Sauerkraut, Swiss Cheese, Caraway Mustard Drizzle ($14/$19) available March 15 -17.
Tapa Toro Orlando: Enjoy $5 Alhabmbra beers all day.
Taverna Opa: $5 Kefi martinis all day.
Soco Thornton Park: Enjoy a St. Patrick's Day brunch with Jameson Whiskey drink specials from 11am-3pm.  To reserve a table in advance, call 407-849-1800.