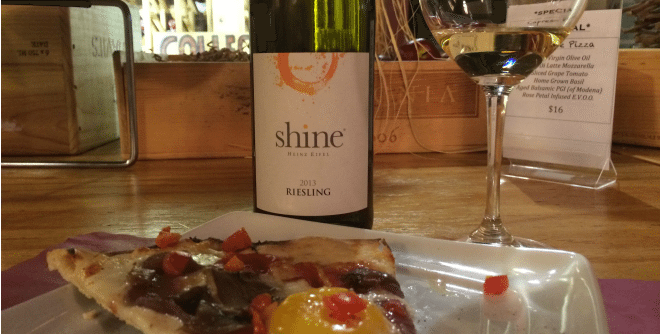 Enjoy an affordable night out at The Wine Barn in Winter Park
Located along an unassuming strip of Fairbanks Avenue in Winter Park, The Wine Barn is, first and foremost, a boutique wine store with a highly curated selection of wines from across the globe. Their motto: "If It's Not Great, We Don't Sell It!"
But as you wander through the space perusing hundreds of interesting wines you'll also discover that The Wine Barn doubles as a quaint little restaurant where a few dozen people can enjoy a lovely selection of chef-inspired dishes.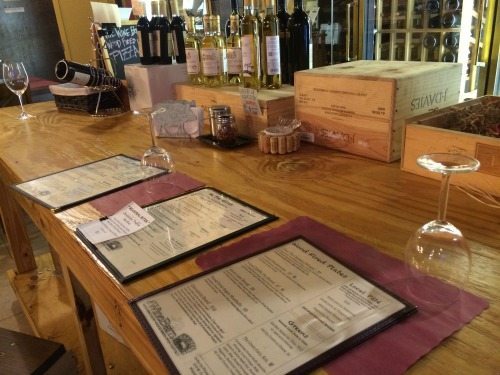 For a snacking sort of meal, there is a Charcuterie Board ($18) piled with savory meats, cheeses and breads. A huge Garden Salad for Two ($12), four varieties of pâté and Wood Fired Angus Meatballs ($8) also dot the small plates menu.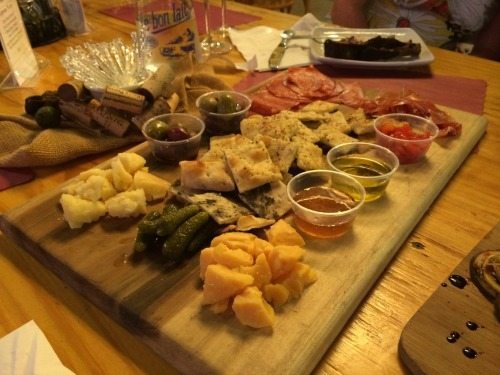 But it's the wood-fired pizzas you'll be aiming for.
There are 12 different styles of gourmet pizzas and usually one or two more offered as a special. Peek through the window and outside you'll see chefs standing over two wood-fired ovens where these progressive 14-inch pizzas are speedily baked. We opted for The Piemonte pizza ($16), an Asiago-based pizza toped with ham, butter glazed mushrooms, caramelized onions and two farmer's eggs. Oh, and did I mention it was drizzled with white truffle oil? Amazing!
Other tempting selections include the Dr. Pesto pizza ($14) made with a pesto base and topped with angus meatballs, house made rosemary ricotta and blistered cherry tomatoes, and The Bacon Mojito ($14) made with pork belly, peaches, goat cheese, mint and a balsamic rum glaze.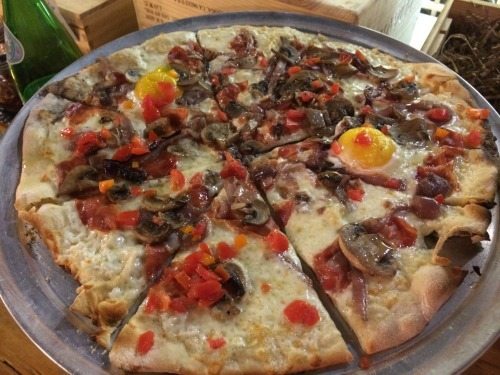 Are you getting the picture that these are not your average pizzas? Move over mozzarella and pepperoni… chefs here play with things like lobster, chorizo, sopressata and pineapple.
And if pizza is not your thing (lord knows why!) you'll be happy to discover that there are always a few entrée specials available in addition to a great selection of desserts, including Cake in a Jar ($8) and artisan chocolate truffles ($5).
Oh my… and of course there is the wine!! Choose from any bottle in the store to enjoy with your meal and the server will uncork it for you at no extra cost. Retail priced wine (starting at $9) with zero corkage fee. That's amazing.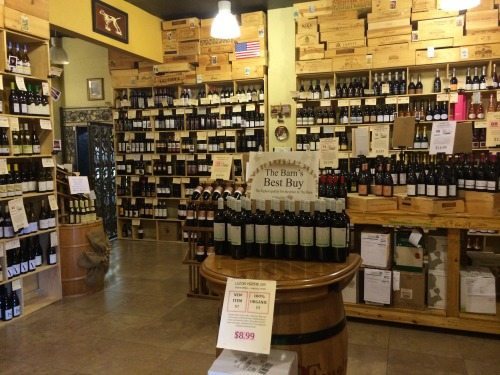 During our last visit, we opted for a bottle of Riesling ($11), which was served chilled, and a $16 pizza. Our bill was just $34 with tax and tip! Knowing how much we love affordable date nights, this was such a delightful find!
To be on the safe side, you're going to want to make a reservation for dinner, which is served Tuesday thru Saturday from 4pm – 9pm. You can also call for take-out and grab the wine and pizza to go: 407-599-9463.
The Wine Barn
959 W. Fairbanks Avenue, Winter Park
Main Line: 407-599-9463
Dinner Reservation: 407-599-9464
www.thewinebarn.net