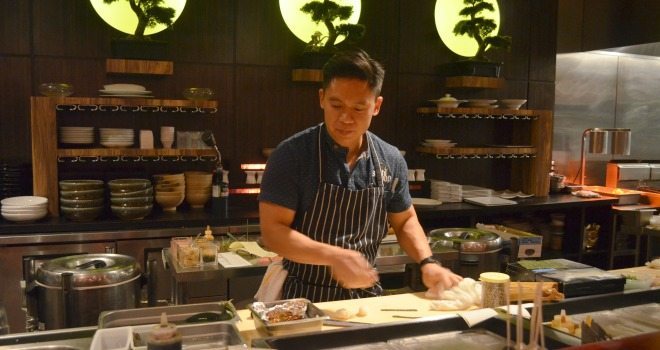 Hand your palate over to the chef for an Orlando Omakase feast that will astound you
The exact translation of Omakase is debatable. Some say it means "chefs choice," while others will argue that the Japanese phrase means "I'll leave it up to you." What cannot be argued, however, is that Omakase dining is an absolutely fabulous culinary experience, especially for sushi lovers.
I recently enjoyed the Omakase experience at Sushi Pop in Oviedo with a friend. Normally I'd be out with my husband, but Marc's not a fan of "surprise sushi" and thought the experience might push the culinary envelope a little too far for him. It's a shame because nothing my friend and I ate was shocking or odious. In fact, all eight dishes were supremely delicious.
You see, the last thing a good chef wants to do is offend you. A chef's job is to delight and surprise, to draw out oohs and ahs, to leave you wanting more.
Chef Chau, Sushi Pop's revered culinary star and owner, did this and more during our visit. Plate after beautifully designed plate arrived at our table until we literally could not eat another bite. It was one of my top meals of 2016 thus far. Take a look at the images and dish descriptions below.
Sushi Pop Chef's Omakase multi-course tasting menu, which is created personally by Chef Chau, is available Thursday, Friday, and Saturday only by pre-order. Cost is $125/per person (2 person minimum) with the option to add the wine pairing for $55/person.
Once you're hooked on Omakase style dining, you're bound to want to explore all of Orlando's Omakase offerings. Here are four more terrific restaurants that offer this dining experience:
Shari Sushi Lounge
621 E Central Blvd., Orlando (Thornton Park)
$75/person, includes five courses; $25 additional for wine/sake pairing
24 hours notice is preferred
sharisushilounge.com
Seito Sushi
4898 New Broad Street, Orlando (Baldwin Park)
$85/person, includes six courses; sake/wine pairing additional $30/person
Two to three days notice is required
seitosushi.com/
Kabooki Sushi
3122 E Colonial Dr, Orlando
Market price, includes chef's choice of six courses
Three days notice is preferred; call for details: 407-228-3839
kabookisushi.com
Dragonfly Robata Grill & Sushi
7972 Via Dellagio Way, Orlando (Sand Lake area)
Starts at $55/person for 7+ tapas-style dishes; additional sake sampler starts at $18 for two people
No advance notice necessary
dragonflyrestaurants.com/orlando-florida