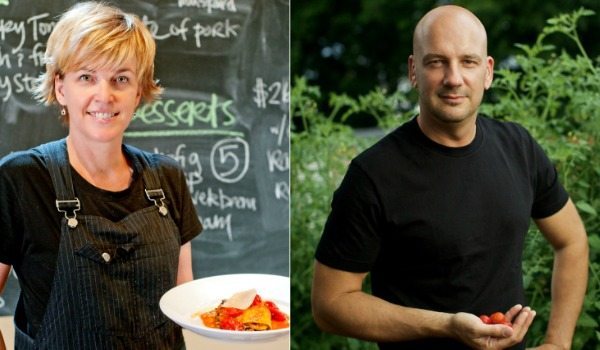 Two culinary superstars in Orlando–The Rusty Spoon and K Restaurant & Wine Bar–will celebrate big anniversaries in April!
To mark the momentous occasions, each will host a series of delicious events.
The festivities kick off on Saturday, April 2 at 6:30pm when Chef Kevin Fonzo will join Chef Blake for the 5 & 15 Anniversary Mash-Up at The Rusty Spoon on Church Street. This special anniversary party with a family-style dinner will feature the farmers that introduced them to each other, Jim Wood of Palmetto Creek Farm. The menu will be four courses of seasonal favorites and two wine pairings. Cost is $55 per person (+ tax/gratuity). Reservations required: 407-530-1837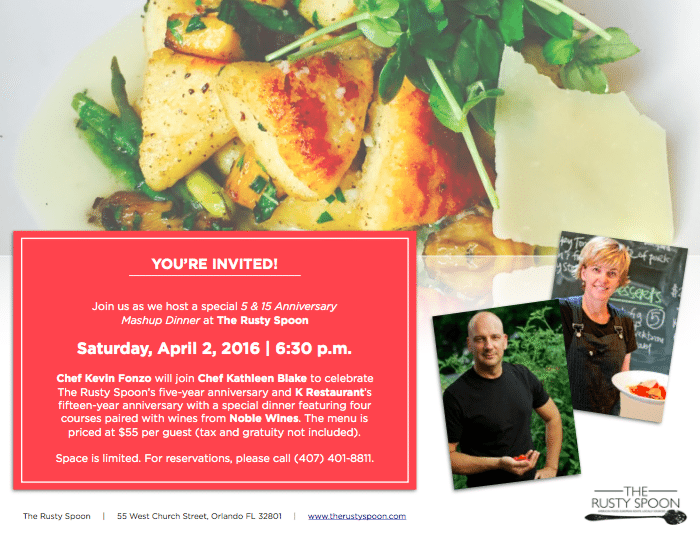 K Restaurant & Wine Bar
After 15 years at the helm of K Restaurant, Chef Kevin Fonzo has not only been a relentless supporter of Orlando's farm-to-table movement but he's also helped to sprout Orlando's Edible Schoolyard program, most notably at Orlando Junior Academy where he volunteers to teach kids about gardening and cooking. Along the way, Chef Fonzo has created his own foundation–The Kevin Fonzo Foundation–which continues to expand on his mission to teach Orlando kids about healthy food.
On Sunday, April 24 at 2pm, Chef Fonzo will celebrate the anniversary of K's opening with a huge backyard party at K Restaurant. Joined by famed Orlando chefs, including James and Julie Petrakis, Greg Richie, Jamie McFadden, Kathleen Blake, and Henry and Michele Salgado, this casual, family-friendly fete will feature food stations, wine, and live music in a picturesque outdoor setting. Tickets are $115 per person (kids 12 and under are free) with $15 from each ticket going toward The Kevin Fonzo Foundation. Only 100 tickets are available. Reserve your spot by calling 407-872-2332.
Additionally, K Restaurant will commemorate its 15-year anniversary every Friday in April starting April 8 with K Goes Pop, which will feature five premium champagnes available by the glass.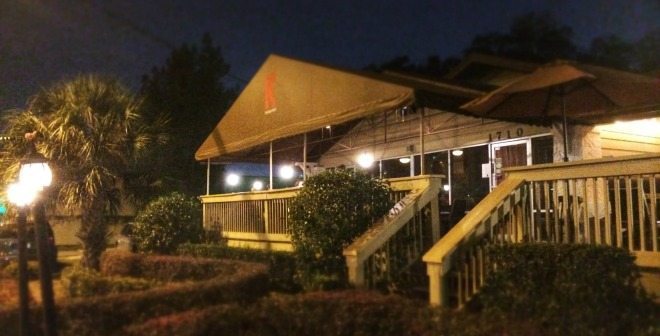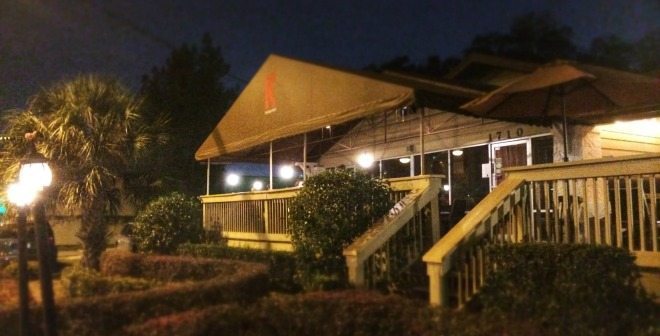 The Rusty Spoon
In April 2011, William and Chef Kathleen Blake opened The Rusty Spoon with an aim to showcase Central Florida's best local provisions. Five years and three James Beard nominations later, the restaurant has become a mainstay in downtown Orlando and serves as a shining example of chef and farmer collaboration.
On Friday April 22 (Earth Day), Chef Blake will be joined by Chef Melissa Kelly for a collaborative dinner that celebrates not only local farmers and artisans, but also friendship. Chef Blake was Chef Kelly's opening Chef de Cuisine of Primo in 2003 and the two have remained culinary confidants ever since. This special dinner takes place at 6:30pm at The Rusty Spoon (55 West Church Street, Orlando). Cost is $125/person. For reservations call: 407-401-8811.
Chef Blake will also host Throwback Thursday on April 21 beginning at 5pm when artisan butchers Penny Barend and Melissa Khoury of Cleveland-based Saucisson will collaborate with Chef Blake for a nose-to-tail dinner. Barend and Khoury worked with Chef Blake during her time at Primo and Penny was instrumental in opening The Rusty Spoon as Chef de Cuisine. The chefs will be presenting a variety of dishes where locally-sourced and handcrafted is highlighted. This special dinner takes place at The Rusty Spoon (55 West Church Street, Orlando). For reservations call: 407-401-8811.
Congratulations Chef F0nzo and Chef Blake on your anniversaries. All the best on many more wonderful years to come!