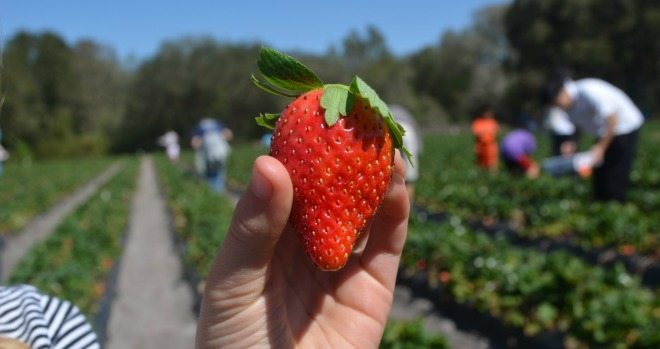 Updated February 2019
Strawberry season, which runs from mid-December until mid-April (at the latest), is well under way in Central Florida. There are a handful of farms in the area that offer u-pick, but our favorite has always been Oak Haven Farms & Winery in Sorrento.
Besides having a wonderfully maintained field, Oak Haven offers a general store and restaurant with lunch items, fresh strawberry milkshakes and desserts. They also have clean, indoor bathrooms, lots of shaded picnic tables, a park for kids and free wagon rides.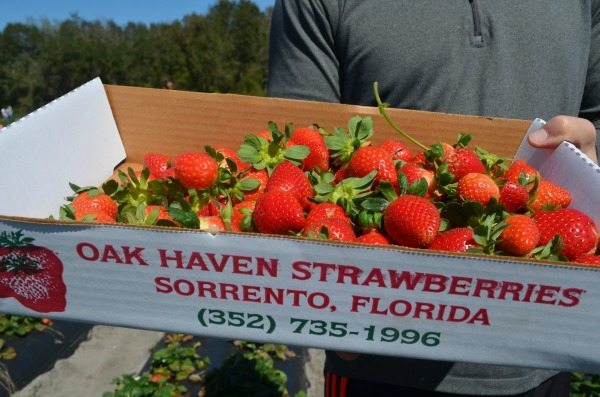 In addition, the farm produces wine made from locally produced fruit and grapes. You can purchase bottles on site or just sample a few sips during a tasting. You can try up to five wines for only $1.  If you find one you want to take home, the $1 will go toward the price of the bottle.
Normal picking hours for strawberry season are Fridays from 12pm – 5pm, 9am until 5pm Saturdays and 11am until 5pm on Sundays, but be sure to call before you go because hours can change due to picking availability and weather conditions. Call 352-735-1996 to hear a recorded message.
Oak Haven Farms & Winery
32418 Avington Road
Sorrento, FL 32776
352-735-1996
berriesandwines.com
Additional Options for Strawberry Picking Near Orlando
Check out our Guide to Strawberries in Orlando for more ideas!