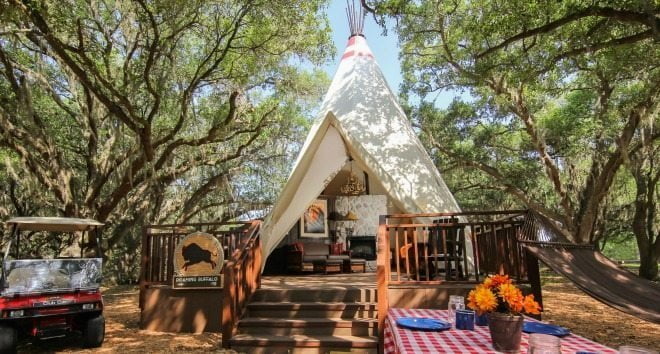 New Luxe Teepees take glamping at Westgate River Ranch to a whole new level!
By Gabrielle Cash-Kara
Howdy, y'all. Last year we explored "glamping" at the Westgate River Ranch Resort. This year the folks at the Resort delved deeper into the world of glamorous camping with their new Luxe Teepee accommodations.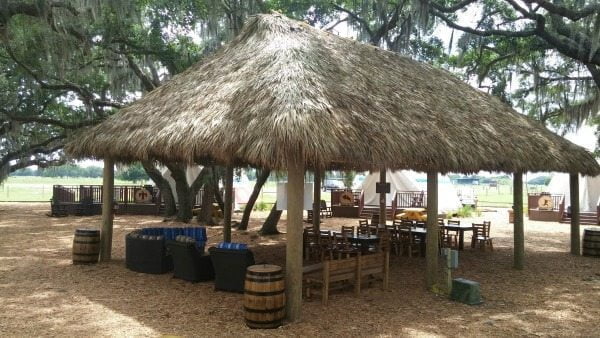 Westgate River Ranch is a 1,700-acre dude ranch surrounded by 400,000 acres of Florida wetland. It is centrally located between the Atlantic and Gulf beaches, in Polk County, Florida, approximately one hour South of Orlando.
Each year Westgate River Ranch seems to be expanding and upping their camping game. This year they are introducing their Luxe Teepees, and we do mean luxurious.
Set in the private, golf-cart-only Takoda Village, ten elegant teepees bear monikers like Leaping Panther, Jumping Horse, and Roaming Buffalo. The surrounding village includes a fire pit (lit nightly by a concierge); a large Chickee Hut with comfy seating, built by members of the Seminole Indian tribe; and various picnic spots; along with cozy hammocks spread throughout the area.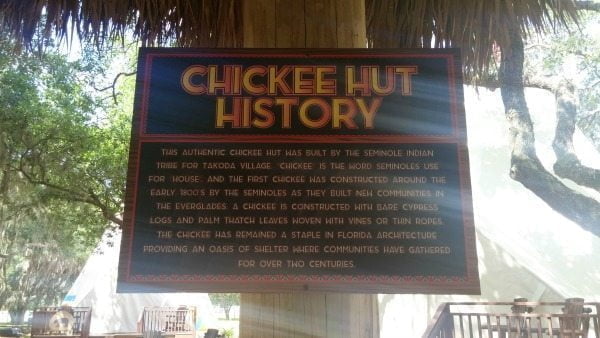 The pampering begins right at check in. You enter a private room within the reception area to meet with your concierge (ours was Laila.) Here, you are presented with a welcome basket of treats, snacks, wristbands, golf cart key, and your own personal s'mores kit. From there, you follow your concierge in your car to your designated parking area. The staff then loads your luggage into a golf cart, which you will use to enter Takoda Village.
The private village is fully fenced, and a key code is required to enter and leave via golf cart. (Golf cart rental is included in your room rate.) This village is a true discreet retreat within the larger resort.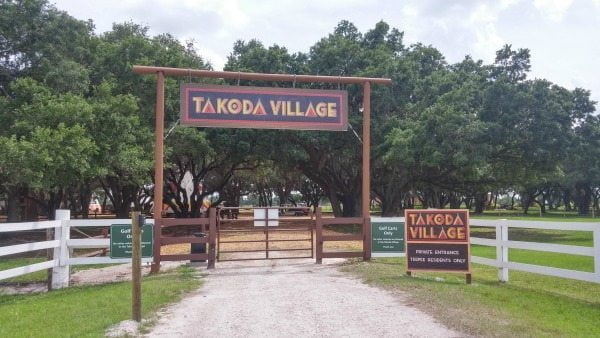 The luxury experience continues once you arrive at your 651 sq. ft. teepee. Outside, you have your own grill, picnic table, and multiple rocking chairs on a raised front porch. Upon entering you are met with the lovely cool air that can only be accomplished in the state of Florida with air conditioning. The sitting area contains a large pull-out sofa and a plush chair along with two side chairs and a massive stone fireplace, which provides a sense of privacy in the open floor plan of the teepee.
Behind the dual-sided fireplace is a small kitchen and dining room, fully equipped with a microwave, mini fridge, and coffee maker. The king size bed is a REAL bed. Yep, that's right. A real bed, not an air mattress, as one would expect on a camping trip. The bathroom was just as impressive with a large claw foot tub with shower and all the other "necessities."
There is plenty of storage space in the bedroom and bathroom to not have to live out of your suitcase. You've got room to fully unpack and totally chill. Oh, and don't forget to plug in your phone or iPad for a charge, as there are no fewer than 10 outlets in each teepee. The wifi password and pin code for the gate are included in your welcome basket.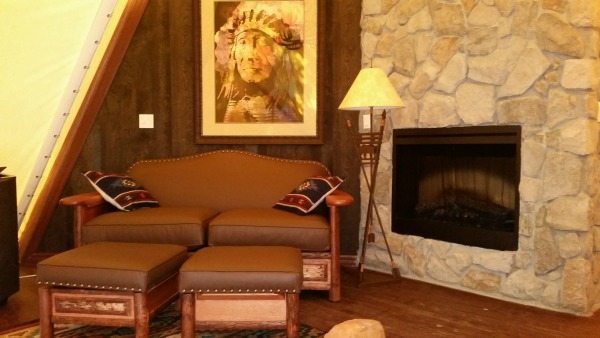 To make your stay even more relaxing and enjoyable, your personal concierge can book all your activities for you before you arrive. Or if you are a more "go with the flow" kind of person, they can make arrangements for you as the desire hits. Luxe Teepee guests receive full access to complimentary resort activities, VIP rodeo tickets and seating, a morning coffee/pastry service, and an afternoon snack. Other meals can be purchased at the smokehouse restaurant or prepared on your own grill.
The rodeo is not to be missed. If the bull riding doesn't put you on the edge of your seat, then the trick riding and barrel racing will. Kids can even participate in the calf chase where they try to snag a ribbon tied to a running calf. It is pretty entertaining whether you have kids or not.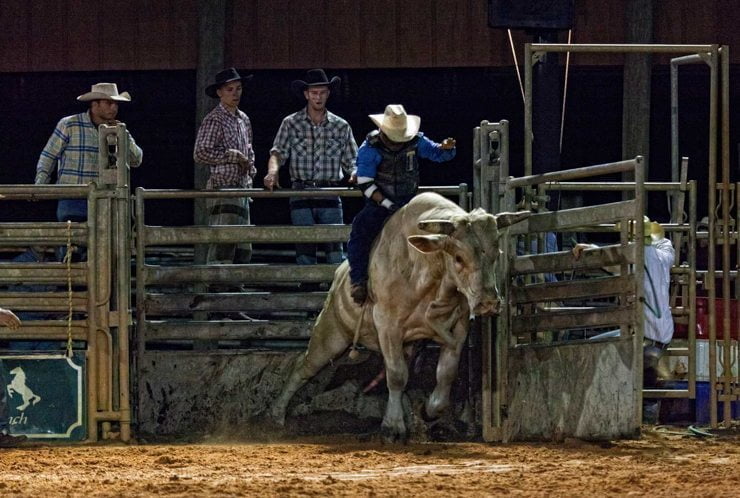 Westgate River Ranch offers recreational activities for everyone, including horseback riding, swimming, mini golf, a petting zoo, fishing, nature hikes, trap and skeet shooting, archery, and a full-service marina complete with boating and fishing, as well as airboat and swamp buggy rides. AND since this is all included in your Luxe Teepee rate, I would suggest doing as much as you can.
If you are a high maintenance gal who wants to impress your significant other by going camping and "roughing" it, this place is for you. I can't recommend these Teepees and the Westgate River Ranch enough. You will both get what you want here!
Westgate River Ranch and Resort has many new exciting additions planned for the years ahead, including adding a new restaurant, providing cabins in Florida styles that are in line with your deepest cowgirl/cowboy fantasies, more rail car lodging, and much, much more. Makes us want to keep coming back for more of that good ol' country hospitality! You won't find a nicer group of people to make your stay a memorable one.
Overnight all-inclusive rates for the Luxe Teepees start at $450 per night, based on double occupancy (two night minimum). The Luxe Teepees join a variety of accommodations currently offered at Westgate River Ranch Resort & Rodeo, including glamping tents, cabins and lodge suites.
For more information, visit www.westgateriverranch.com.