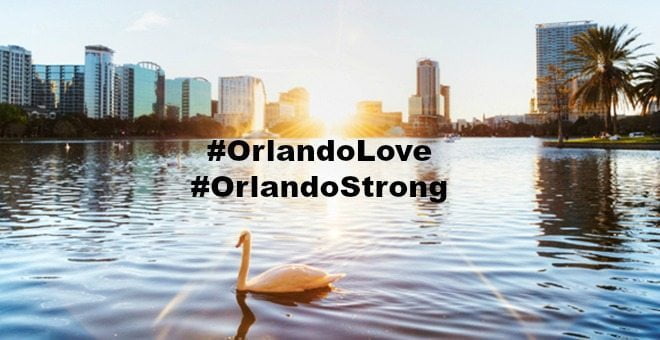 I woke up feeling very angry and conflicted this morning. My editorial calendar states I'd be posting about summer getaways, Orlando dining deals and fun things to do this weekend.
But that feels neither appropriate nor relevant at the moment.
My first instinct is to stay silent this week. I mean, who wants to read about fun things to do on date night while our city is in the midst of mourning the biggest gun tragedy this country has ever seen?
But is it better to set adrift in anger, righteousness and helplessness?
No. I don't think so. This might be a website about date night but what it's really about is love. And there is SO much love in this city.
Like Mayor Buddy Dyer, I don't want Orlando to be defined by an act of hate. So, I set to work this morning on a list of things that show the world just how strong and love-filled this city is. #OrlandoLove #OrlandoStrong
I'd love for you to add to this. Please leave your additions in the comment section and help me spread some love around Orlando today!
1. Hundreds, maybe thousands of people stood in line yesterday to donate blood. One Blood is now saying they have their needs met. Thank you to everyone who came out to donate. UPDATE: WFTV reports that more than 35,000 units of blood were donated yesterday!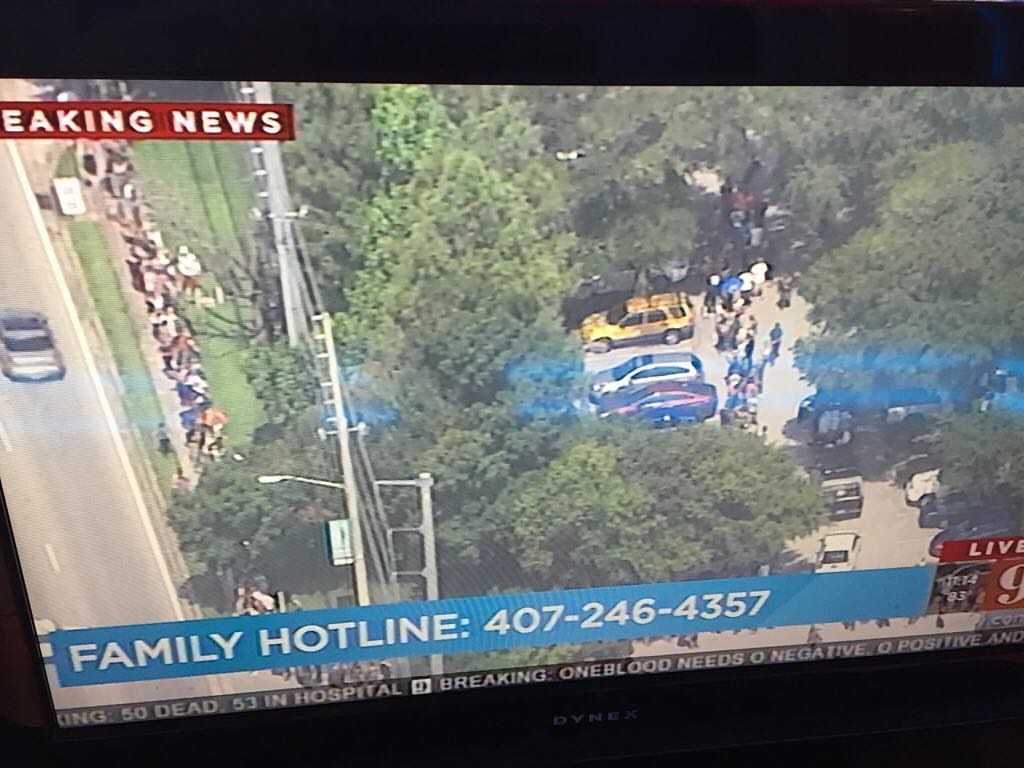 2. Free counseling is being offered all over the city! According to The Bungalower, The GLBT Center and Zebra Coalition are offering counseling services for those who need it. The community can call the Zebra Coalition hotline at 407-228-1446 or 407-822-5036, and counselors will be on site at The Center at 946 N Mills Ave and at the First Unitarian Church at 1901 E Robinson St throughout the day and week. NEW: Free Counseling is also offer through Neighborhood Center for Families. More details at 4cflorida.org/parents/neighborhood-centers-for-families-ncf/.
3. Vigils are currently planned for today at Rollins College's Knowles Memorial Chapel (11:30am – 12:30pm) and Sunday, June 19th at Lake Eola Park. NEW: There will be a second vigil at Lake Eola on Saturday, June 18th at 7pm. There will also be a vigil on Monday, June 13th on the lawn in front of the Dr. Phillips Center from 7-10pm. NEW: #OrlandoStrong March on Monday, June 13 at 5pm, Lake Eola Park.
NEW: UCF's We Will Remember Candlelight Vigil: Tues 6/14 at 7PM
NEW: First Baptist Orlando (3000 South John Young Parkway, Orlando) on Tuesday, June 14, 7pm
I will continue to add details about upcoming vigils as they become known to me.
Beyond our immediate, heartfelt response to the Pulse Nightclub shooting, here is more evidence that Orlando is a great city filled with love…
4. We've got Fleet Farming, a pedal-powered initiative that transforms unproductive, wasteful lawns into community-driven urban farm plots.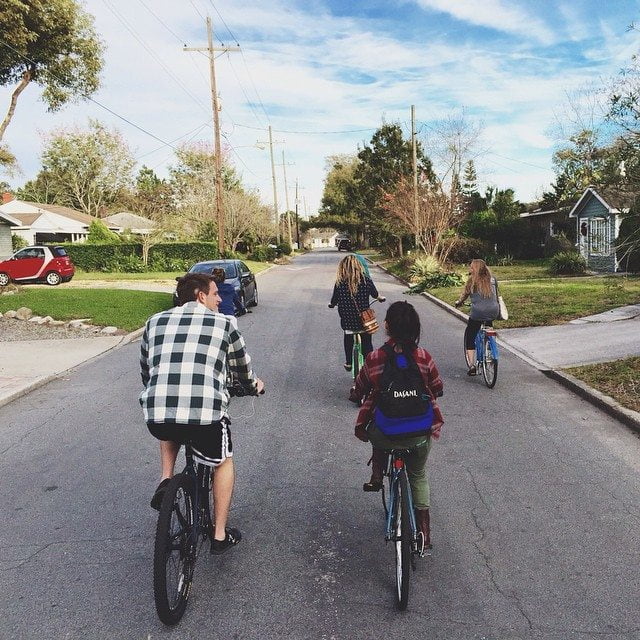 5. We've got Give Kids the World, a 79-acre, nonprofit resort in Central Florida that provides weeklong, cost-free vacations to children with life-threatening illnesses and their families. Since 1986, more than 146,000 children and families have had their dreams fulfilled here.
6. We've got the Audubon Park Community Market, an all-local food hub for Orlandoans to support local farmers, fish mongers and food artisans.
7. We've got ReThink Homelessness, an Orlando non-profit dedicated to reducing veterans homelessness in our community. One video created by the campaign, "Cardboard Stories," has spread the message of Rethink Homelessness around the world, garnering nearly 5 million YouTube views.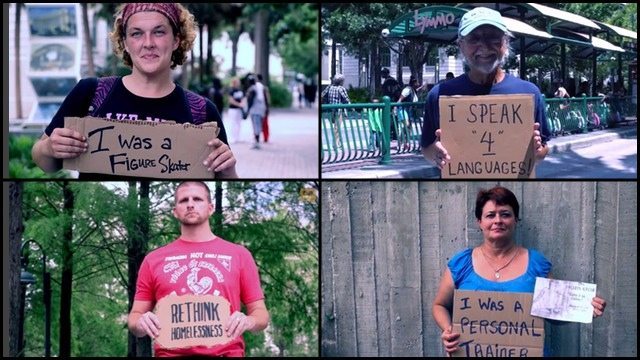 8. We've got food heroes like Kevin Fonzo, whose foundation is using the school garden and kitchen classroom as a catalyst to encourage kids to understand and cook healthy meals. Thanks to Emeril Lagasse, The Kevin Fonzo Foundaton and the Edible Education Experience, the Emeril Lagasse Foundation Kitchen House and Culinary Garden will open later this year
9. We've got the Dr. Phillips Center, which not only brings amazing arts and cultural performances to our city but its collaborative education initiative, titled Project WoW (funded by PNC), provides hands-on-lesson plans and mentoring for teachers of low to moderate income preschool children. **Locals are invited to leave memorial items on the lawn in front of the Dr. Phillips Center during this period of mourning.
10. We've got the Orlando Magic Youth Foundation, who over the past 26 years has supported more than 500 local agencies, given more than $21 million and has positively impacted more than two million children
11. We've got yogis gathering outside in Lake Eola Park every Sunday to create a collective urban zen.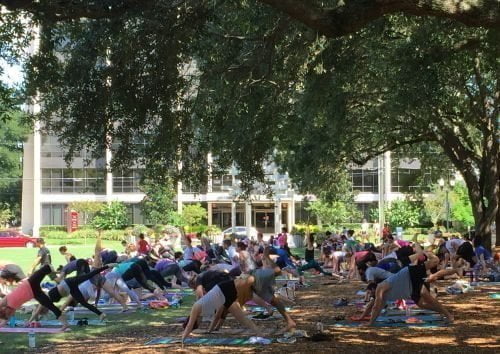 12. We've got local chefs, food writers, farmers and entrepreneurs joining together for Sunshine Plate, an initiative designed to promote awareness of the bounty of Central Florida's fields, oceans and kitchens and support local food issues to affect positive change.
13. We've got Universal Orlando partnering with Second Harvest Food Bank of Central Florida to create "Bites, Camera, Action!," a mobile nutrition program and food pantry for middle-school children in need.
14. And, of course, we've got one of the biggest and best organized food truck scenes in the country! Thank you Daily City Food Truck Bazaar and all the Orlando locals who support these bootstrappy food-preneurs each week!
15. We've got a professor at Rollins College who has been bringing students to the Dominican Republic for that last 20 years to help eradicate water-related diseases caused by lack of access to potable water and sanitation.
16. We've got the Mills 50 Dumpster Art Project turning eyesores into works of art.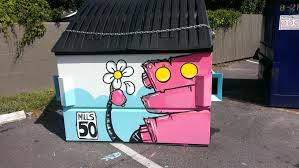 17. We've got citizens like Chris Castro, whose IDEAS for Us organization is addressing environmental issues with tangible solutions, like Fleet Farming and Tail-Gate Recycling
18. We have the Conductor Crawl, a monthly event designed to bring Orlandoans together to use our wonderful new public transportation system, SunRail.
19. You can see free art all around downtown Orlando thanks to the spectacular public art installations around Lake Eola brought to the city by See Art Orlando
20. We've got The Orlando Fringe Festival, the longest running Fringe Festival in the United States. For 25 years this festival has brought the community together to inspire creative excellence through the arts.
21. We've got everyday citizens like Alejandro Musa who donates his time to teach kids in tough neighborhoods how to skateboard. The Getaboard Foundation's outreach program partners with organizations like New Image Youth Center of Parramore and Coalition for the Homeless of Central Florida. Boys and girls receive skateboarding lessons along with other creative activities, like art workshops, for 6 weeks and then they get to keep their skateboard.
22. We've got Jeff Sonksen, who has installed hundreds of incredible fence paintings along the Seminole Wekiva trail just so he can share art with the world and make a person's day. Thank you, Jeff, for your Paint the Trail movement!!
23. We've got hundreds of thousands of locals in the hospitality industry showing the more than 50 million Orlando tourists a good time every year. We could not be the tourism powerhouse we are without our tourism workers. Thank you!
24. We've got Sarah Dewitz, a 16-year old who founded Just 1 Book, a nonprofit that 's distributed over 500,000 books to underprivileged children.
25. We've got a mobile farmer's market called the Fresh Stop, which makes regularly scheduled stops in 16 Orlando-area neighborhood known to be food deserts.
26. We've got iDignity, a non-for-profit organization based in Orange County that assists the disadvantaged in Central Florida in navigating the complexities of obtaining their personal identification, such as birth certificates, Florida ID cards and Social Security cards.
27. We've got incredible downtown chefs that could have made their home anywhere but decided to help Orlando become the amazing food town it is today. These chefs donate thousands of dollars and hours each year to cook at critical Orlando fundraisers like Taste of the Nation, Chef's Gala and Gourmet Soirée.
28. We've got local neighborhoods, like Ivanhoe Village, Mills 50, Audubon Park and College Park that are flourishing because Orlandoans are choosing to support local businesses.
29. Yes, we've got theme parks, but we've also got hundreds of miles of trails and hundreds of acres of green space. This is the real Orlando!
30. Most of all, we've got millions and millions of good people living here and one shooter won't ever turn us into the hateful person he was.
We are not a tragedy!
We are ground zero for love and, hopefully, change!
Let this list goes on and on! Please leave your additions in the comment section and help me spread some love around Orlando today!