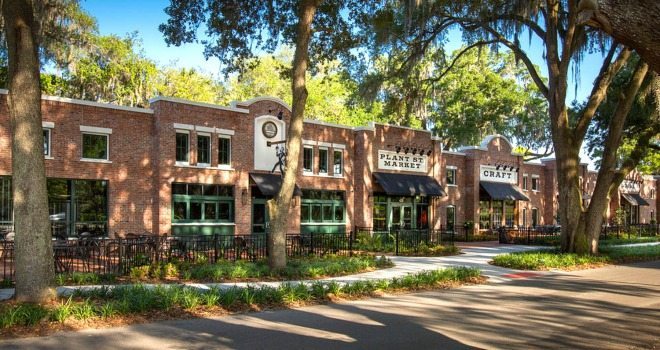 Winter Garden was incorporated as a town in 1903. Today, the beautiful architecture of Plant Street (the main drag) still exudes small town charm, but its restaurants and shops boast big time fun!
The area sets the stage for plenty of daytime dates thanks to the West Orange Trail, Lake Apopka and a Saturday morning farmer's market bustling with acoustic music, food trucks, produce stands and miscellaneous vendors. And the quaint, brick-lined street also paves the way for a cool, easily walkable PUB CRAWL!
Stop One: Moon Cricket Grille
Begin at Moon Cricket Grille, situated within a 1912 building near the corner of Plant Street and Main Street. In 2010 and 2011, Moon Cricket was recognized by Orlando Magazine as the "Best Beer Selection!" It stocks 99 bottle varieties (queue the music for 99 Bottles of Beer on the Wall); drink all 99 to earn your way onto a name placard! Take a seat at an outdoor table or inside the saloon-style pub, adorned with wood trimmings made from local trees, stained glass from a nearby Oakland church, bar top built from bowling lanes and light fixtures and brass railings from the former Rosie O'Grady's on Church Street. Enjoy the "best burger in Winter Garden" as you listen to a live band. As cool as this place is, remember to cash out because you're crawling… [closing time: 11:59 pm]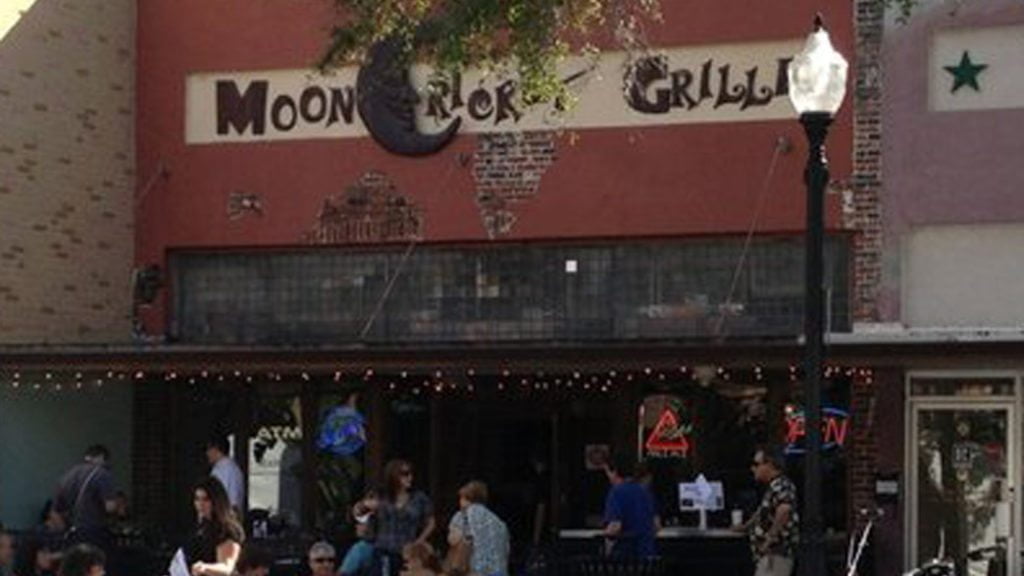 Step Two: The Attic Door
Wander two doors down to The Attic Door, aka "the swankiest little wine bar and live music venue around!" Early birds can enjoy happy hour (4-7 pm) with half-price house wine and $2 off all others by the glass, plus $1 off select brews. People watch from the patio or settle into a cozy couch. Pair "sofa snacks" with craft beers (draft & bottles) − like the Meyer Lemon Lager or Vanilla Porter − or, red, white and dessert wines. [closing time: 11 pm]
Cross to the pedestrian-friendly median, which is actually part of the West Orange Trail. Toss a coin into the fountain or rock on the bench swing.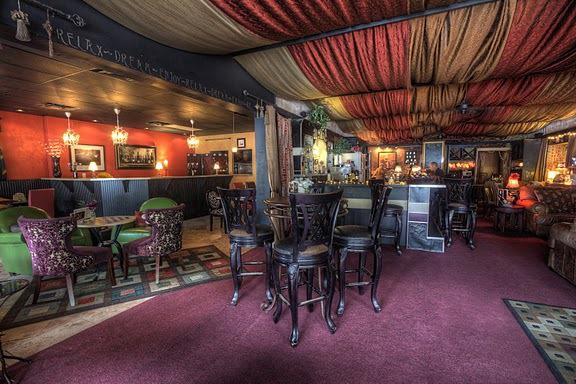 Stop Three: The Tasting Room
Continue to the other side of Plant to The Tasting Room, on the corner of Boyd Street. You'll notice this one address offers two experiences. The Chef's Table (in back) serves up incredible three-course prix-fixe dinners with wine pairings with intimate seating − ideal for special occasions.
For a crawl, grab an outdoor space or indoor high top table in the The Tasting Room (in front) for small plates, local musicians and an extensive selection of craft cocktails, beer and wine. Try the Fig Mule (Figenza fig vodka, lime & Stoli Ginger Beer), the Barrel Aged Seelbach (Dickle Rye, Old Forester, Madeira, Vanilla & Pepper Shrub, Benedictine, Angostura Bitters, sparkling wine) or Dress Blues (Jarhead Honeycomb Gin, Homemade Blueberry Lemon Citrate, Pomegranate Simple Syrup, fresh lemon, soda). Cheers to a good time and a good cause because $1 from each Dress Blues purchase is donated to the Wounded Warrior Project. [closing time 11:30 pm]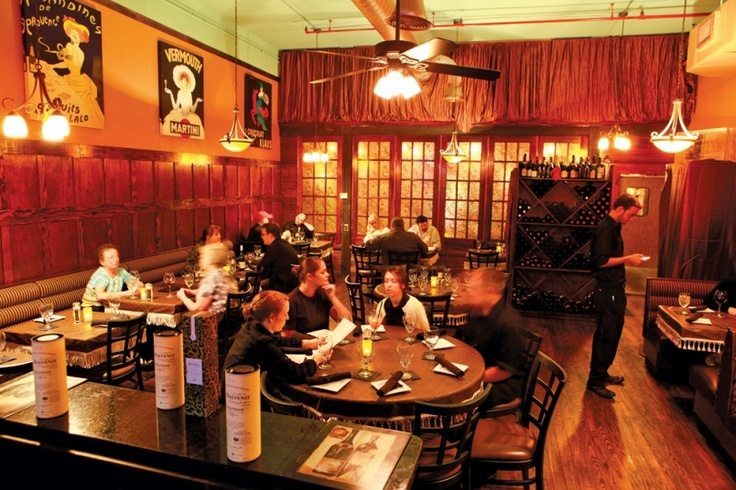 Step Four: Urban Flats
Venture back to the south side of Plant and keep crawling west to Urban Flats Restaurant & Wine Bar. Sure, this is technically a chain restaurant, but they have a full bar including some seasonal beers and a huge wine list. Grab a quick drink and flatbread. [closing time 11 pm]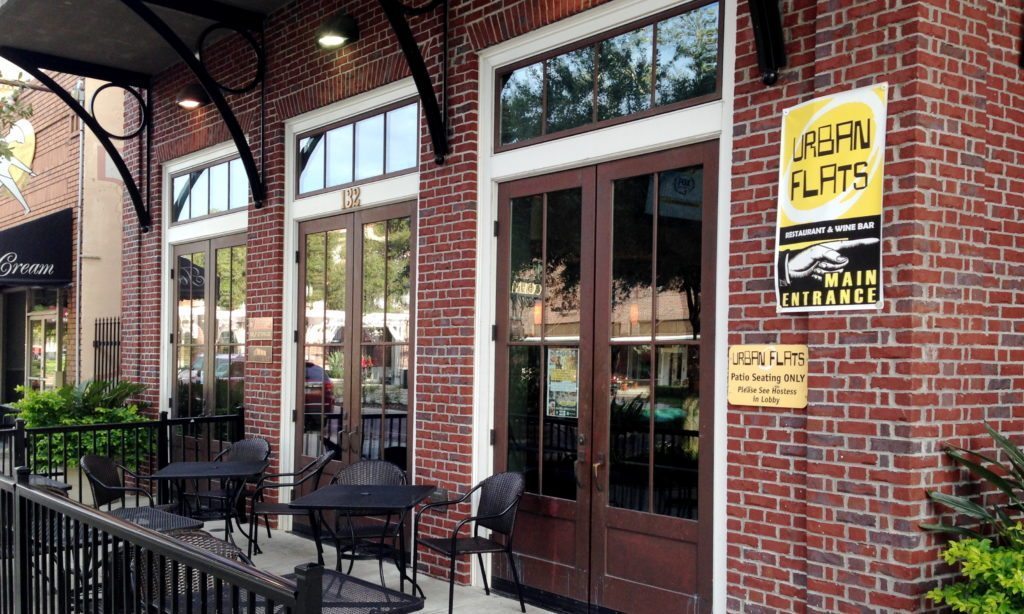 Stop Five: Al Fresco
Wander down a side corridor to Al Fresco, a modern Mediterranean spot with an open air dining experience. Take a stool at the bar to sip on house-infused cocktails, such as the Watermelon Splash (Bacardi Rum infused with watermelon, house-made mint simple syrup with club soda) or WG Margarita (Florida orange infused Camarena Tequila, orange juice, sweet & sour with sugar and salt rim). [closing time 10 pm]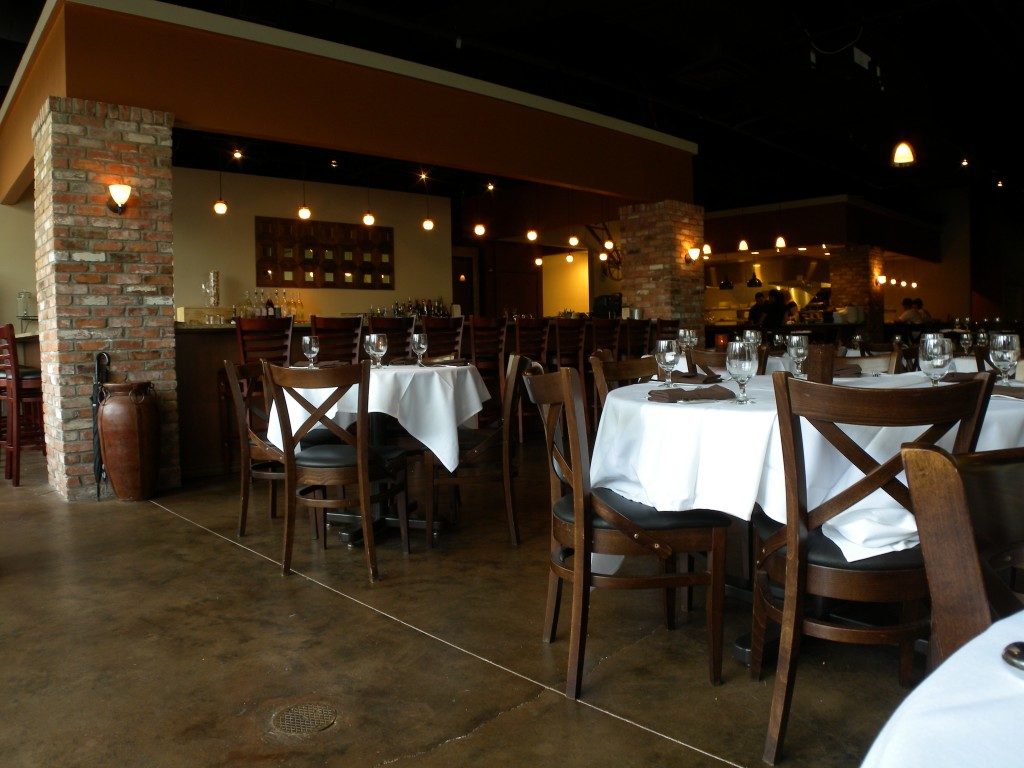 Stop Six: Pilars Martini Bar
Back on Plant, beside the historic Garden Theatre, Pilars Martini Bar is a colorful late-night venue bringing martinis, mixology and music to life. Pilars' piano often features talent from the stage next door or other distinguished entertainers (with a touch of crowd participation). You could order wine or beer but you should, of course, order a martini! Start with the Perfect Pear (Grey Goose La Poire, Grapefruit & Lime, Pear Nectar, Pear Bitters, pear slice). Finish with a Pie'Tini, such as the Pilars Have S'more (Kahlua, Godiva White Chocolate, Three Olives Chocolate, toasted marshmallow & brown sugar, graham cracker rim). [closing time: 2 am]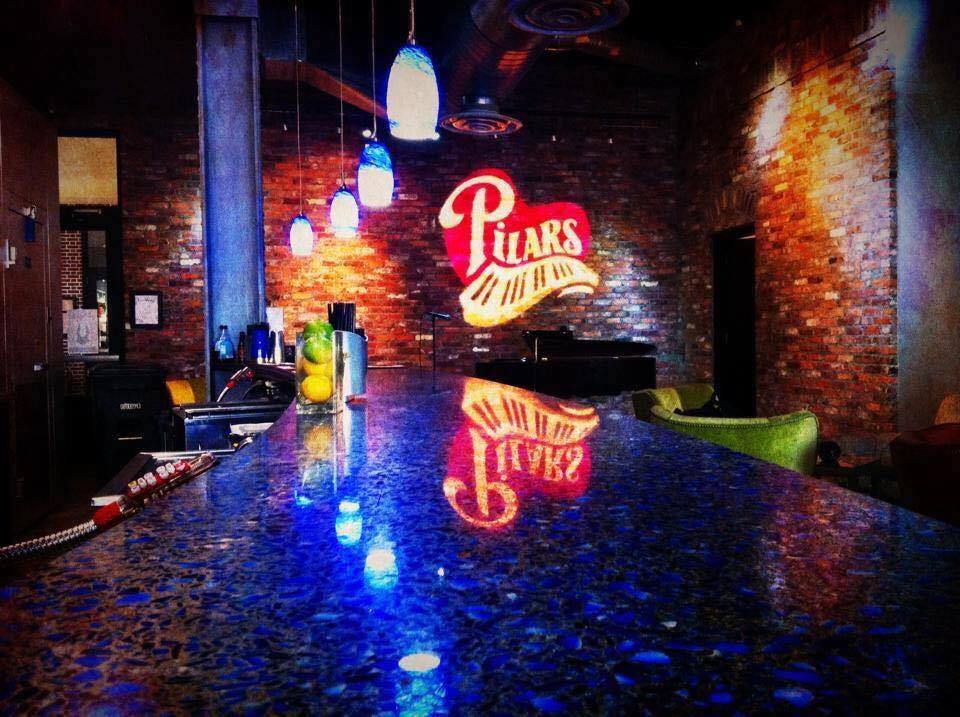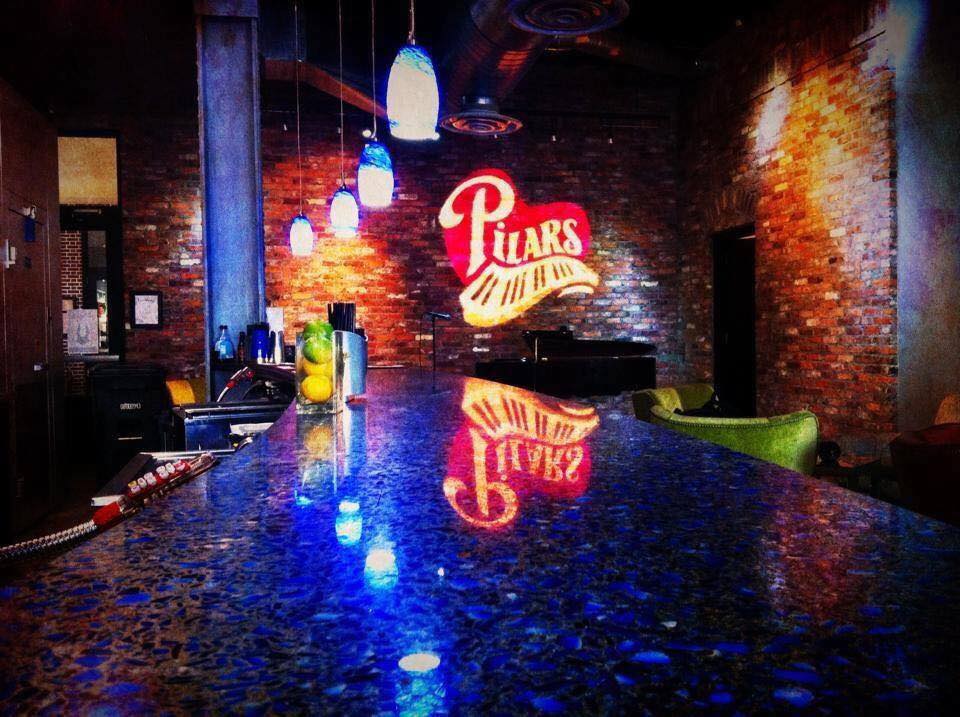 Step Seven: Crooked Can Brewing Company
And, finally, located just past City Hall, enjoy your final (and arguably your most tasty) round at Crooked Can Brewing Company, a craft brewery located inside an artisan food market, with four flagship brands in addition to other limited edition, seasonal and specialty batches. So many choices… amber, cider, IPA, stout, etc.
No need to choose; order a flight to try four brews. You'll notice "Mc Swagger" everywhere, from the logo to the beer names. So who's the dapper looking dude? He is the "interpretation of the alter ego feeling you get when you pour that first beer on Friday evening and get that special twinkle. The only difference is that the Crooked Can Guy, aka Mc Swagger, feels that way 24/7. He is the perfect fit for our laid back, free spirit attitude, representing our way of thinking." [closing time: 2 am]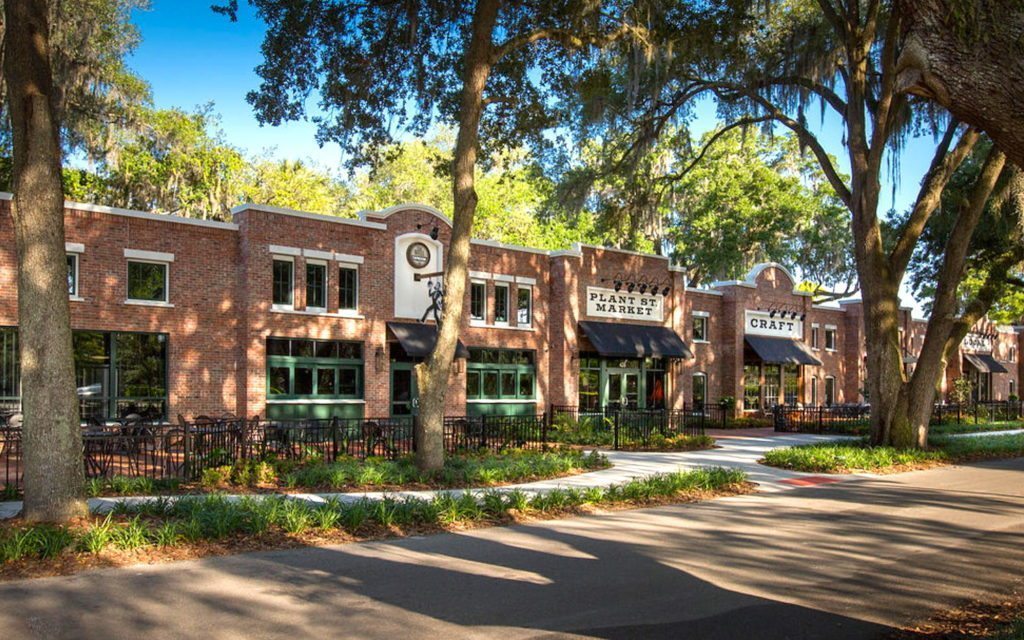 Bonus bar for dive bar lovers only…
On the corner of Plant and Main (across from Moon Cricket where you started), find Tony's Bar, a locals tavern (and liquor store) full of smoke, pool tables, a juke box and strong liquor drinks.
Be sure to drink responsibly, enjoy fully and Uber home!
Photo credits: