If a mimosa, stuffed French toast and Eggs Benedict brunch is feeling so last weekend to you, it's time to give your breakfast plans a reboot with the Beer & BBQ Brunch.
Served every Saturday at Baldwin Park's Osprey Tavern from 10:30am – 2:30pm, this weekly carnivorous feast takes a welcome detour from all the pancakes and eggs usually offered and instead replaces them with a mammoth offering of deliciously smoked BBQ fare that easily rivals anything you'd find in the South.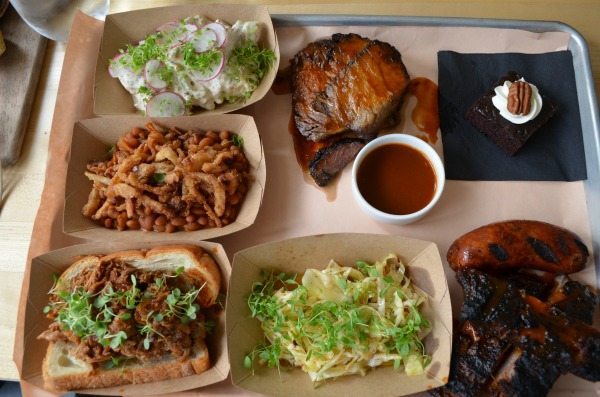 For $20, you'll be served a tray dotted with individual portions of:
brisket
sausage
pulled pork
ribs
cole slaw
potato salad
baked beans
dessert
YES! Just $20 and it's totally shareable. There is more than enough for two people. Plus, when you order the BBQ Feast, you get $2 off draft beers ($4 each with the brunch).
Of course, if waffles and eggs and pastries are your thing, you can get that too. Osprey offers a full brunch menu on Saturdays and Sundays. The waffle, topped with strawberries and a dark/white chocolate crumble, was out of this world. I also thought the Party Trolley was a fun and unique touch. Your server will wheel over a collection of several pastry options, which you can order a la carte ($5 each) or 4 for $15. The Everything Bagel Buns, stuffed with an herb and onion cream cheese, will have us back again and again. They were so good!
For more information, visit ospreytavern.com/saturday-bbq-beer-brunch/.