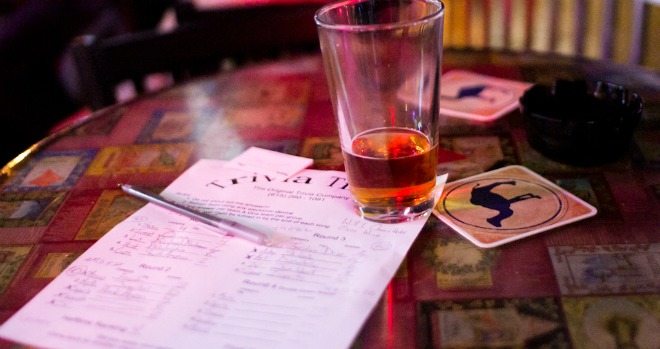 Updated February 2019
Looking for a date night that involves some mental stimulation and some friendly competition? Orlando is home to a wide variety of restaurants, pubs, bars and lounges hosting trivia. Here's where to play bar trivia in Orlando every day of the week!
Earth Trivia
Orlando's most established trivia team, Earth Trivia sends its trivia aficionados to locations across the city each week. Games are usually played in two or three rounds, each with ten questions and varying topics from sports to history to current events. These games are expertly prepared and wonderfully hosted. Earth Trivia was voted as "Best Trivia in Orlando" in the Orlando Weekly's Best of Orlando 2016 reader's poll.
LOCATIONS
Bikes, Beans & Bordeaux (3022 Corrine Dr., Orlando): Mondays at 6:30pm
Garp and Fuss (348 N Park Avenue, Winter Park): Tuesdays at 4:30pm
ACE Cafe (100 W Livingston St, Orlando): Tuesdays at 7pm
Sideshow (19 N. Orange Ave., Orlando): Wednesdays at 7:30pm and 9:15pm
Johnny's Other Side (2631 S. Ferncreek Ave., Orlando): Thursdays 8pm
The Copper Rocket Pub (106 Lake Ave, Maitland): Fridays at 7pm
Full list of Earth Trivia locations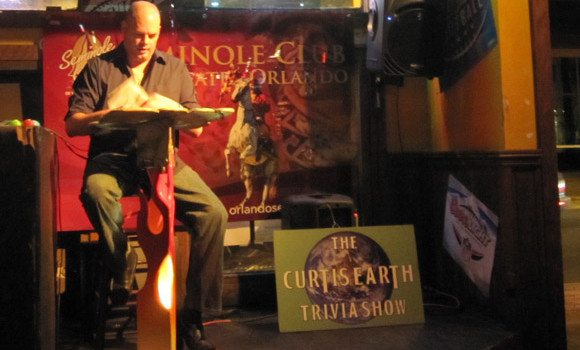 Tasty Trivia
Tasty Trivia has been around since 2011, providing fun trivia entertainment to many local Orlandoans. The locations they host at range from East Orlando to Winter Springs to Downtown to Lake Nona. They have also expanded to parts of Tampa. The company was started by UCF students and has boomed within the last couple years.
LOCATIONS
Topgolf Orlando (9295 Universal Blvd, Orlando): Mondays at 8pm
Graffiti Junktion Lake Nona (9344 Narcoossee Rd, Orlando): Tuesdays at 7pm
Market on Magnolia (150 S Magnolia Ave, Orlando): Tuesdays at 7pm
The Brass Tap (1632 N Mills Avenue, Orlando): Wednesdays at 7:30pm
Full list of Tasty Trivia locations.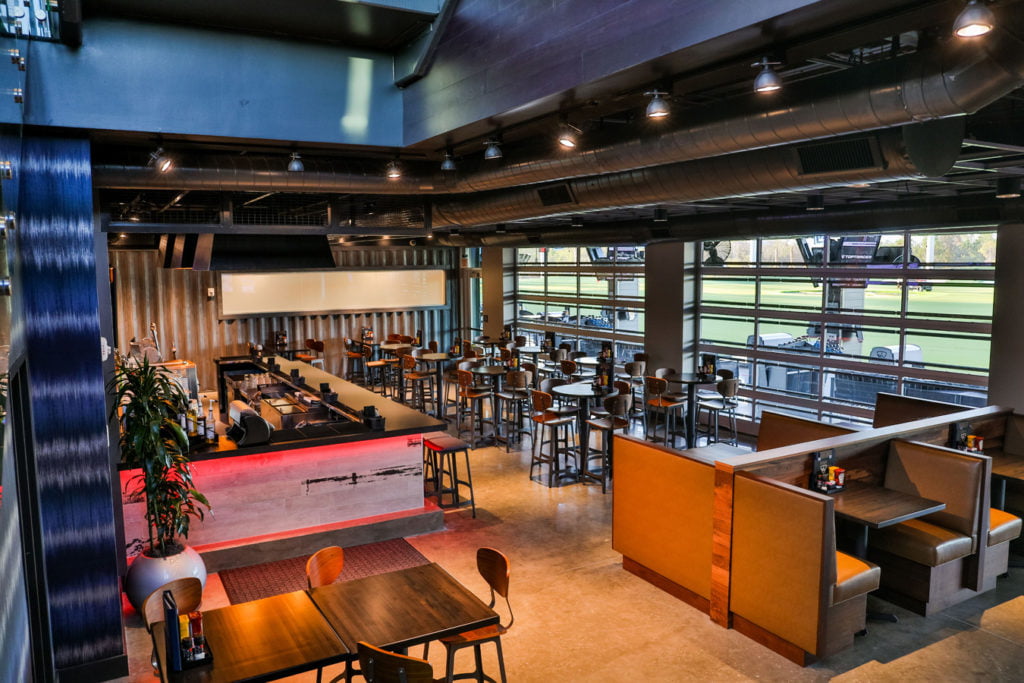 Trivia Nation
Steve Howard started Trivia Nation in 2004 and has since expanded his trivia night to more than 120 shows per week all over Central Florida, Tampa Bay and Northeast Florida. Trivia Nation hosts a general trivia night, but they also have specialized nights, including: 80s & 90s trivia night, celebrity gossip trivia, and even 1950s-1970s trivia night.
LOCATIONS
Liam Fitzpatrick's (951 Market Promenade Ave. Lake Mary): Monday at 7:30pm
Crooked Can Brewing Company (426 W Plant St, Winter Garden): Tuesdays at 7:30pm
World of Beer Downtown Orlando (431 E Central Blvd, Suite B, Orlando): Tuesdays at 8pm (80s/90s), Wednesdays at 8pm (Trash Mag)
Roque Pub (3076 Curry Ford Rd, Orlando): Wednesdays at 7:30pm)
World of Beer UCF (3402 Technological Ave Suit 202, Orlando): Thursdays at 7:30pm (80s/90s)
Full list of Trivia Nation locations.
ALSO TRY: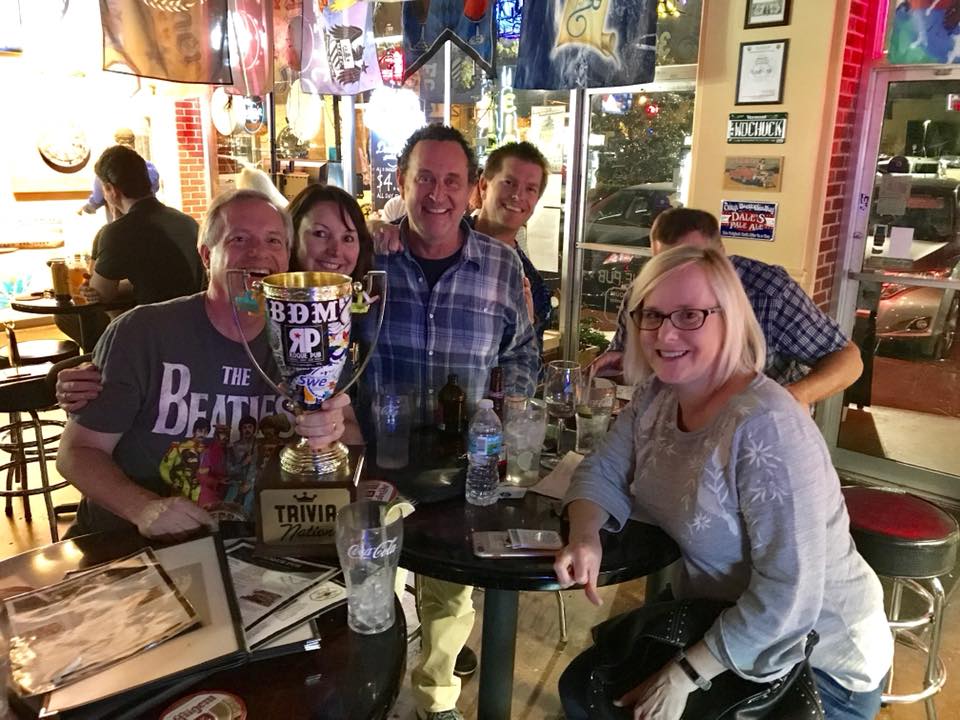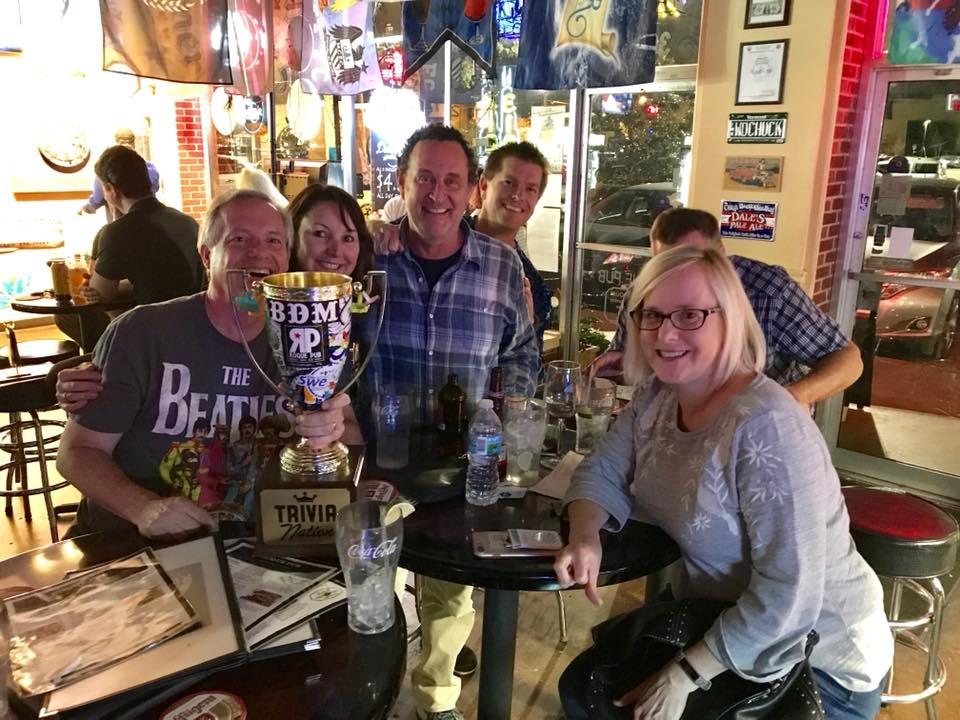 Nerdgasm Trivia
Looking for a nerdy night out? Nerdgasm Trivia hosts regular trivia nights at local bars dripping in comic and nerd culture. While there is a general nerd trivia night, most events are focused on a specific theme, such as Jurassic Park, Harry Potter, Lord of the Rings, Star Wars and more! Celebrate your fandom and stretch your knowledge by joining in on this unique spin on trivia night.
LOCATIONS
The Geek Easy (114 S Semoran Blvd Ste 6, Winter Park): Wednesdays at 8pm
Player 1 Video Game Bar (8562 Palm Pkwy, Orlando): Every other Tuesday at 9pm
Full list of Nerdgasm Trivia events
ALSO TRY:
MissingLink Entertainment hosts a Geek Trivia night at The Cloak & Blaster (875 Woodbury Rd, Suite 108, Orlando) every Thursday at 9pm for more nerdy fun.
DoveCote Restaurant
The last Monday of each month starting February 24 is DoveCote's monthly Trivia night! Trivia takes place from 6:30-8pm and consists of a fun night of drinking, eating, bar games, raffles, and trivia! Attendees can partake in three 30 minute trivia sessions, and each session's winner will receive a $25 Dovecote gift card.
Hourglass Brewing
Drink and think every Wednesday at 8pm at Hourglass Brewing during the weekly trivia night hosted by Manuel Dadee. This brewery in Longwood is known for its excellent lineup of sour beers and funky atmosphere, frequently hosting themed art shows and comedy nights. Plus, it's connected to a taco shop, Wako Taco, for a complete date night of tacos, trivia and craft beer. Check out their Facebook page for upcoming trivia nights.
Feature image credit: sundayassemblyla.org
Trivnow Smartphone Trivia
This new Smartphone Trivia app is a total game-changer for classic trivia nights. Here's how it works: players at participating locations can log into the app for two 1-hour games every Tuesday night at 7:00 and 8:00 pm. Winners receive cash rewards via PayPal at the end of each round. There are currently 5 local locations to play, with more coming soon: City Limits Taproom in Deland, Decker's Lake House Grill in Lake Helen, Nice n' Easy Oyster Bar in Orange City, Artisan Lounge in Deland, and Dizzy D's Bar in Deltona. Be sure to check out their official website and their Facebook for more details.
Á La Cart
Every Tuesday from 6-7pm, Top Shelf Trivia hosts two rounds of trivia – a perfect way to kill time while you wait for rush hour to end! There are fun prizes for winners, as well as random giveaways throughout the event. Á La Cart also offers discounts on Blue Point drafts during trivia (they sponsor the event!). We always recommend arriving early, as Á La Cart gets pretty crowded. Check out the event Facebook page for details and updates.
The Parkview
Every Tuesday at 8pm at The Parkview (836 S Park Ave, Winter Park) is trivia night. It's been about a year since this cozy wine bar launched their weekly trivia night, and since then it's morphed into a lively weeknight event. While you're playing, sip something from the extensive wine and craft beer list, and enjoy bites from the full food menu. Trivia is played in four rounds ranging in topics from science and pop culture to music and history. The winning team earns bragging rights plus a prize pack and gift card. Bonus: select wines and beer on tap are on special for $5 during trivia.