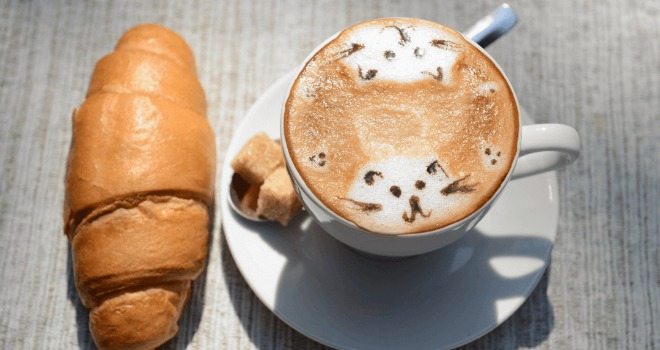 Orlando has plenty of doggone delicious dining establishments for Fido-friendly date nights (see our dog-friendly guide, part 1 & part 2), plus fun dog parks. Cat lovin' companions: there's no need to hiss because we've found a litter of date spots that are the cat's meow!
ORLANDO
Orlando Cat Café (Clermont)
Why opt for dinner and a show when you can have coffee and a cat?!? The Orlando Cat Café is a cozy coffeehouse with comfortable furniture offering Axum coffee (a Winter Garden company), tea and pastries. Sip hot yumminess as 12 to 15 cute kitties roam freely in the Cat Play Area. You can make reservations for the Cat Play Area to guarantee a purr-fect visit. If you see one that you just can't live without, you can adopt your new fuzzy friend through South Lake Animal League. FYI, patrons cannot bring their own cat to the café, and the café has a separate entrance to meet health and food safety compliance guidelines.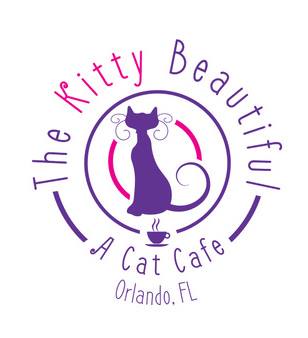 The Kitty Beautiful (coming soon to Orlando)
Though an opening date has yet to be set, similar to Orlando Cat Café, The Kitty Beautiful plans to serve coffee & tea, organic juices and pastries & snacks with opportunities to mingle with cats (available for adoption). Though membership fees may apply, The Kitty Beautiful will also host cat yoga (yup, that's downward dog to the beat of cat purrs), "mewvie nights," local musician performances and more.
BOGO Cat Adoptions (Orlando)
Are you ready to take your relationship to the next level by expanding your family? Good news… All year long Orange County Animal Services is allowing adopters to adopt two felines for the price of one! A purr-fect BOGO deal for you and your date. As with humans, kitties and cats tend to do well in pairs.
BEYOND ORLANDO
Rumor has it that cats hate the water. But it seems like Florida cats are really beach bums… so head to the shoreline.
Ernest Hemingway Home and Museum (Key West)
As if you need another excuse to venture to amazing Key West… between sunset cruises and umbrella drinks, squeeze in a visit to this museum. Cat fanatics who also admire Hemingway will find the writer's former home to be the cat's meow! The limestone house, filled with original furnishings, is home to approximately 50 polydactyl (six-toed) cats (cats normally have five front toes and four back toes). Hemingway was given a white six-toed cat by a ship captain and some of the cats who live on the museum grounds are descendants of that original cat, named Snow White.
Dominique's Circus Cats (Key West)
After visiting the Ernest Hemingway Home & Museum, head to Mallory Square for the Sunset Celebration, a nightly art festival to meet Dominique LeFort and his troupe of trained house cats. Watch this local direct his furry performers across tightropes and through flaming hoops!
Big Cat Rescue (Tampa)
Day trip to the west coast with a stop at one of the largest accredited sanctuaries in the world dedicated to big cats. The Big Cat Rescue is home to 80+ lions, tigers, bobcats, cougars and other species, most of whom have been abandoned, abused, orphaned, saved from being turned into fur coats or retired from performing acts. In Orlando, you can view big cats at the Central Florida Zoo and Gatorland.
Big Cat Habitat and Gulf Coast Sanctuary (Sarasota)
Sarasota is a great weekend getaway for couples to spend sun-kissed days on the beach and at area attractions, like Mote Marine Laboratory & Aquarium and the Ringling Museum. Also stop at the Big Cat Habitat and Gulf Coast Sanctuary, a non-profit safe haven for big cats, bears and native wildlife offering visitors demonstrations with these majestic animals.
Jonah's Cat's Art Gallery (New Smyrna Beach)
After some fun in the sun at one of Central Florida's best beaches, stroll the shops on Flagler Avenue. Pop into this whimsical gallery where artist Samuel Ruder says his works are "bringing art to life and life to art." The space is filled with colorful cat (and other animal) paintings.
EVENTS
Dr. Seuss-Unorthodox Taxidermy Exhibit (Disney Springs)
October 22-November 6 | Pop Gallery
Dr. Seuss is most famed for The Cat in the Hat children's book. Come celebrate this cat-lovin' author by viewing this exhibit of Dr. Seuss unorthodox taxidermy, 17 rare pieces including cats! The October 22nd opening reception will include refreshments and hors d'oeuvres. Then, stay at Disney Springs to try our DIY Pub Crawl. Find more Seuss-inspired happenings in Seuss Landing at Universal's Islands of Adventure.
Florida Panther Festival (Naples)
November 5 | Naples Zoo at Caribbean Gardens
Plan a beach getaway for cat naps on the sand and a visit to this annual event. Along with regular zoo activities, this festival focuses on the endangered Florida panther. Today, there are less than 100 Florida panthers left in the wild! Enjoy outdoor exhibits, guided nature walks on the Gordon River Greenway and expert-led talks.
Feature image credit: Orlando Cat Cafe