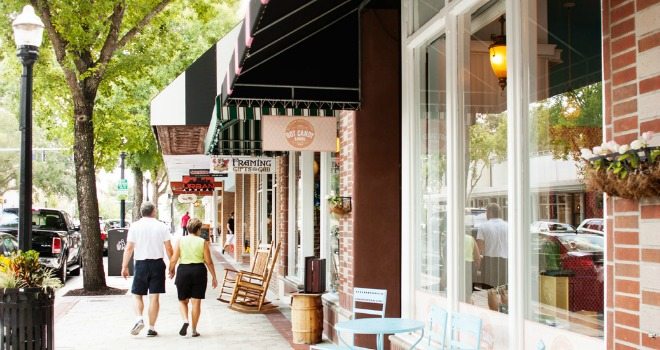 Lakeland may be the last place you think of when it comes to art and foodie-fare, but this walkable downtown is full of surprises. From art installations to street festivals, craft beer to top-notch restaurants, and the only drive-in movie theatre remaining in Polk County, a visit to Lakeland is well worth the one hour drive from Orlando. Don't believe us? Check out our list of 20 reasons below!
Harry's Seafood Bar & Grille
This New Orleans style restaurant in the heart of downtown is ideal for date night. The menu includes classics like Jambalaya, Po'Boys, and Shrimp-N-Grits. Try the French Market Pasta (super creamy parmesan basil sauce, spinach, shrimp, chicken, AND bacon) accompanied by a signature cocktail. The Southern Mule–a Moscow mule made with whiskey–has never let me down. Harry's is popular with locals, so arrive early since they don't take reservations.
First Fridays
On the first Friday of every month from 6-9pm, the streets around Munn Park transform into a FREE local festival with a new theme each month. There are a variety of vendors to visit and activities to partake in, and when paired with dinner and drinks you really can't beat First Fridays for date night. Free parking is available at numerous garages, lots, and on the street. Here's a list of upcoming First Friday events.
Munn Park
Although it's small in size, this centrally located park offers up shady resting spots, bike racks, and paved trails. Whether you stop to read a book or are passing through for a more scenic way to get from point A to B, Munn Park is a pretty fixture which contrasts nicely with the surrounding buildings.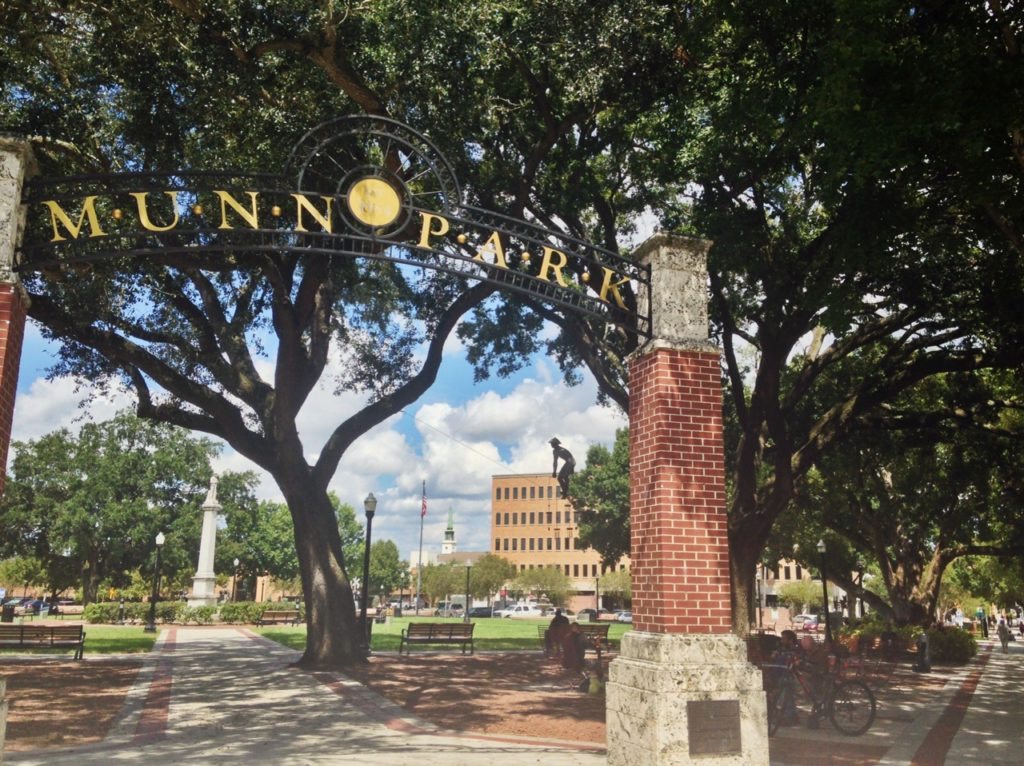 Polk Museum of Art
Located near picturesque Lake Morton, the Polk Museum of Art features a variety of artwork among exhibitions and the museum's personal collection. The best part? Admission to the museum is always free. Check the website for current exhibitions.
Lakeland Brewing Company
Situated on Lake Mirror, this is a craft brewery with a stellar view. Pull up a seat on the outdoor patio facing Lake Mirror or grab a spot at the bar and enjoy the mix of modern and antique decor. In addition to their beer menu, there are also a variety of ciders and wines available along with food. The Belly Buster grilled cheese is a melty masterpiece with four types of cheese and maple syrup drizzled on top. The taproom is closed Mondays and Tuesdays.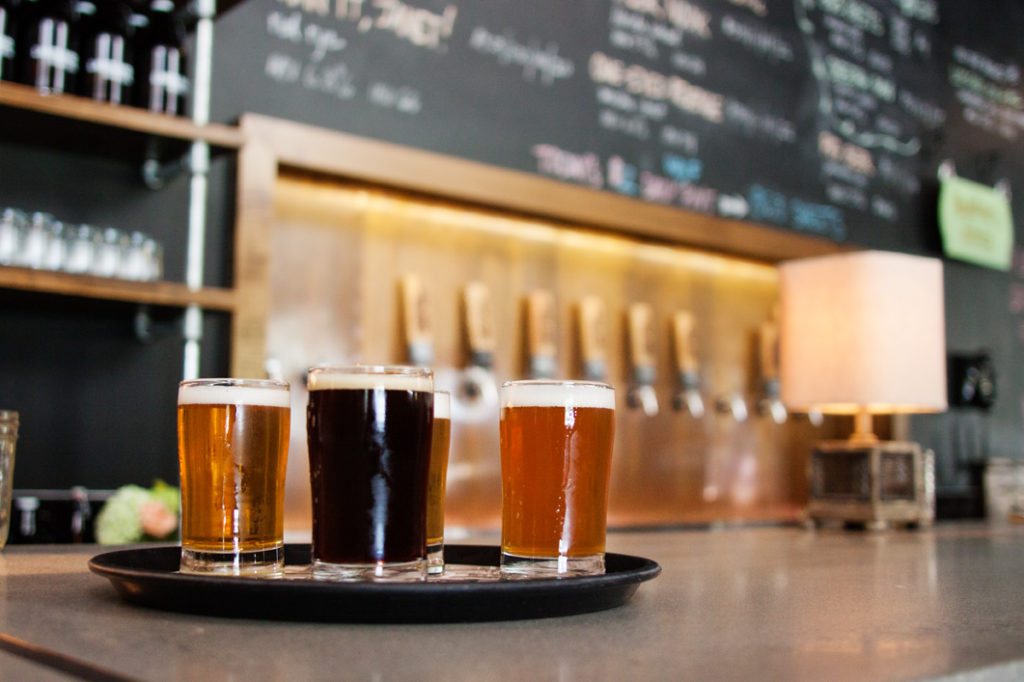 Art Installations
One surprising feature of downtown Lakeland is the abundance of art. There are many butterfly and swan sculptures in addition to numerous art installations (like zoo animals painted on trees). In some cases, art is even brought into the building construction process, like the colorful Lakeland mural outside the future site of Posto9, a Brazilian gastropub opening in December. How much art can you find while wandering downtown's streets?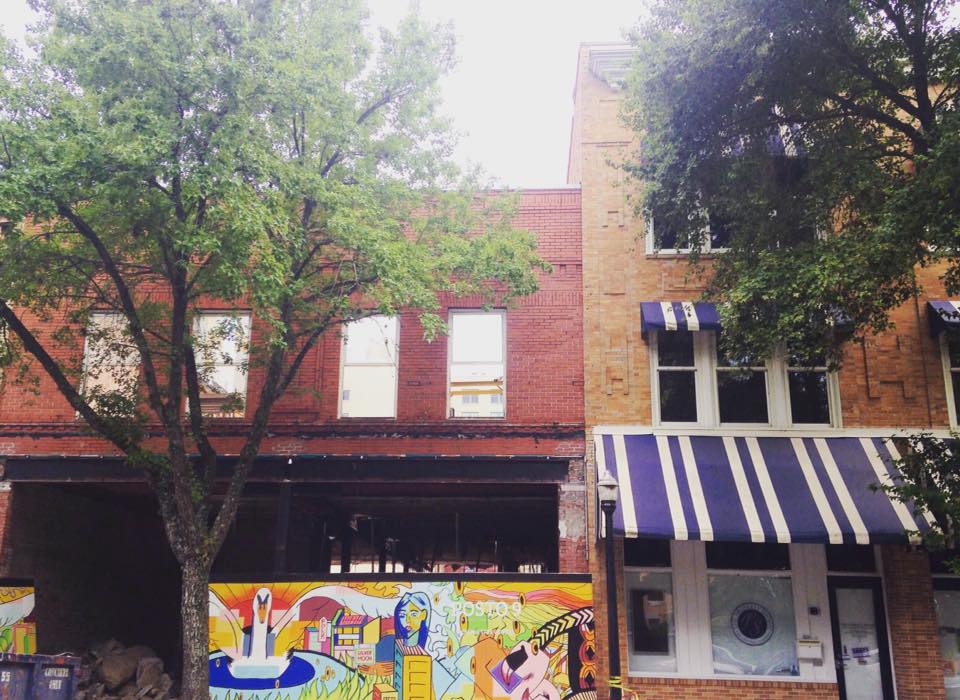 Lake Morton
Swans are the local celebrities in Lakeland, and there's no better place to spot them than along the banks of Lake Morton. Pack a picnic lunch, walk or ride around the lake, and then check out some of the nearby things to do like Florida Southern College and the Polk Museum of Art.
Swan City Cycles
If you prefer to explore new places by bicycle, Lakeland has a bike share program where you can rent a bike for just $3/hour. Bikes are available at 7 locations throughout downtown including Munn Park, The Lakeland Center, and the Polk Museum of Art. Check the Zagster website for a map of bike share locations.
Lake Mirror & Hollis Gardens

Need to walk off those breakfast or lunch calories? Make your way to Lake Mirror for a stroll along the water. As you make your way around the lake, stop for a walk through Hollis Gardens. There is no fee to enter and while inside you'll see several sculptures along with water fountains and colorful, well-maintained flower beds. Just don't visit on a Monday as the gardens are closed.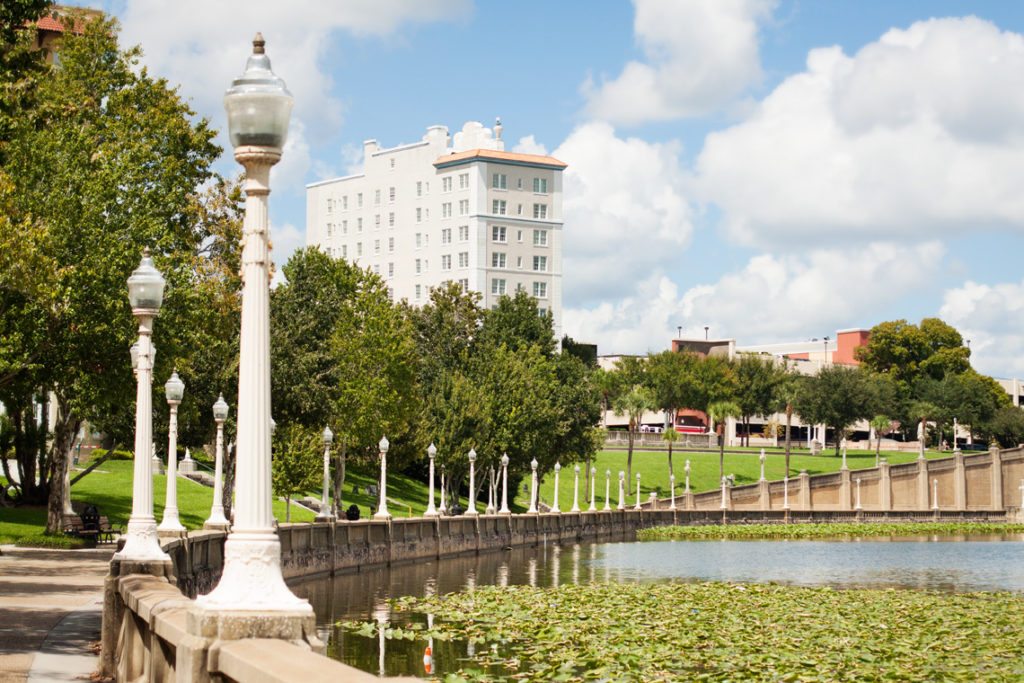 Weekly Downtown Lakeland Farmers Curb Market
This market takes place every Saturday from 8am-2pm with the exception of August when the market is closed. More than 50 vendors participate offering up everything from farm fresh produce, to jewelry, art, plants, and herbs. Parking is available all over downtown and is free on Saturdays. More info here.
Concord Coffee
You may have to remind yourself you're not in Orlando when you walk into this modern, minimalist craft coffee shop in the heart of Dixieland. Less than 5 minutes from downtown Lakeland, Concord Coffee serves up classic and customizable brews in a friendly and inviting atmosphere. Succulent terrariums, large windows, and wood details all add to the atmosphere. Choose your espresso, sip your drink, and swear off Starbucks for good.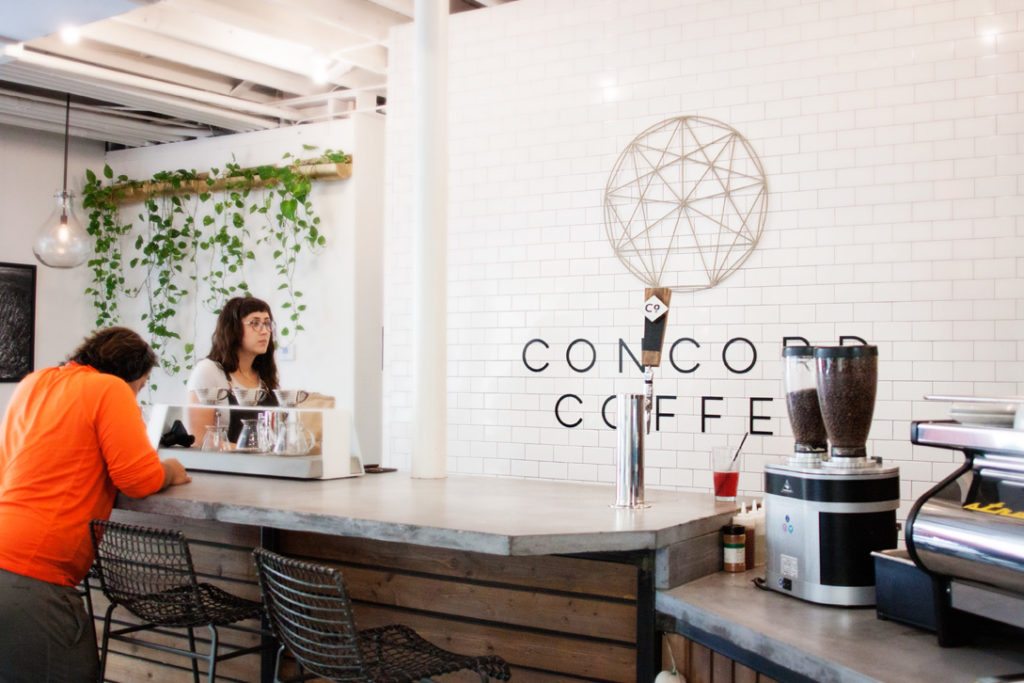 Dixieland Selfie Wall
Located in an alleyway in historic Dixieland, this angel-wing selfie wall was done by artist Aaron Corbitt. If you're short like me, have no fear…there's a mini step stool in front of the mural to help you out in the height department. To find the selfie wall, exit Concord Coffee and turn left down the alleyway. The mural will be on your left before you reach Belmar Street.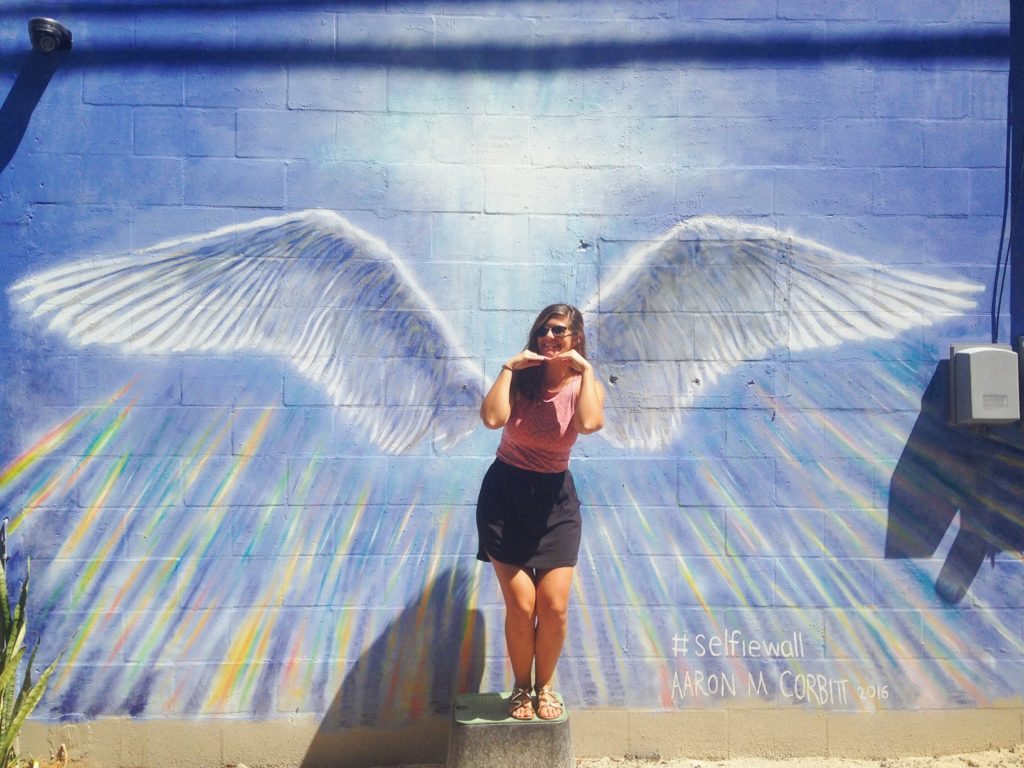 Palace Pizza
Whether for weekday lunch or a Friday night dinner, Palace Pizza is always popular with locals looking for pizza by the slice or a full pie. It's a great option for dinner if you're in town for First Fridays, or just need your afternoon carb-fix.
Thursday Squared Food Truck Rally
On the second Thursday of each month from 6 – 9pm, 20+ food trucks are stationed around Munn Park for this community food truck meet up. Locals and visitors from nearby areas stop in to sample foods while enjoying the local scenery. We recommend arriving early to snag a parking space and do some more exploring around town.
Silver Moon Drive-In
For old-fashioned fun, head 10 minutes out of historic downtown to Polk county's last remaining drive-in movie theater. $5 will get you in the gates to enjoy 2 movies. Snacks and food are available at the snack bar (including breakfast food). Check the website to see what's currently screening.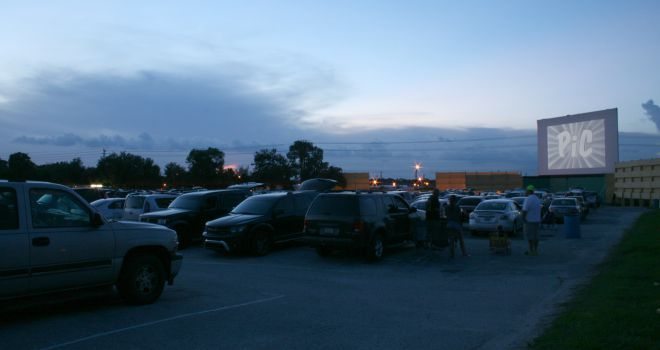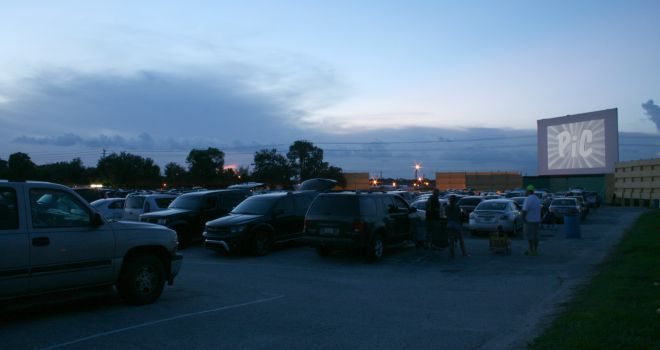 Polk Theatre
Built as a movie palace in 1928, the Polk Theatre still stands today and has been restored to its former glory. It operates today as a non-profit showcasing independent films and the performing arts. Check the calendar of events to stop in for a flick, or walk by to admire the historical architecture.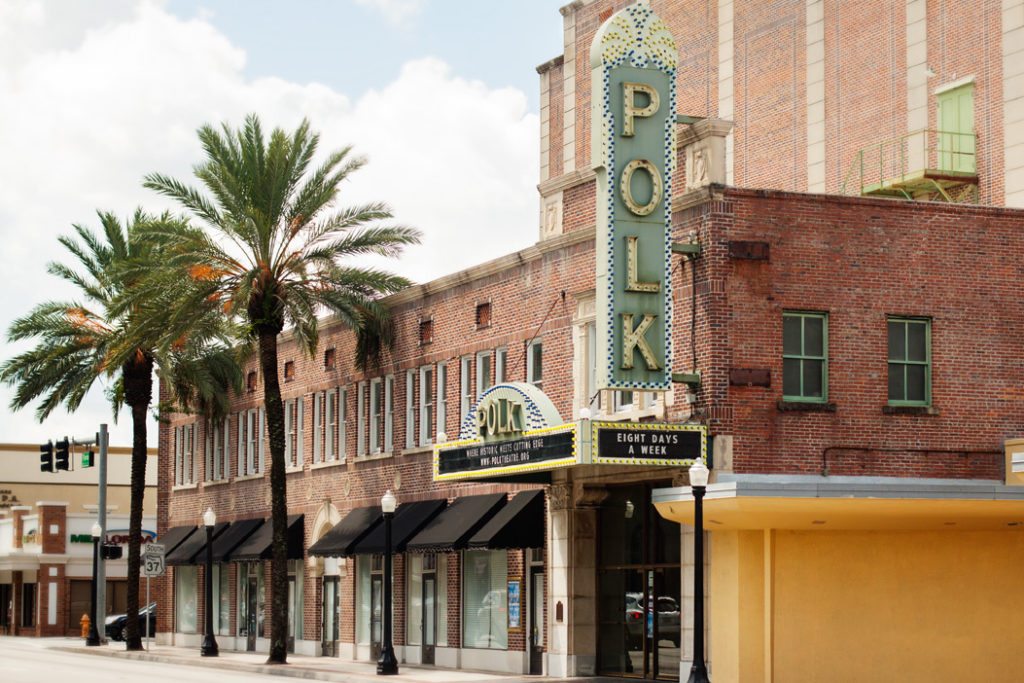 The Chop Shop
Part bar, part burger joint, The Chop Shop is a staple of Kentucky Ave. Inside you'll find beer and hot rod decor, a large bar, and plenty of seating in a diner atmosphere. The burgers are a main draw and you have 14 (!!!) to choose from. A chocolate malt milkshake is the perfect compliment but if you're in the mood for an adult beverage, don't miss the housemade sangria served in a mason jar.
Black and Brew Coffee House & Bistro
Black & Brew just celebrated its 10-year anniversary with exciting renovations. Located across the street from Munn Park, it's part coffee house part bustling bistro. Menu items include a delicious line up of sandwiches (hello spicy thai peanut panini), soups, and plenty of coffee. Stay for lunch or get your coffee to go and explore a nearby park.
Sun n' Fun
A major draw for aviation enthusiasts, the Sun n' Fun International Fly-in and Expo takes place every year (typically the first week of April) in Lakeland. The event includes an air show, exhibitors, hot air balloon launch, and more. For full details, visit the Sun n' Fun website.
Frank Lloyd Wright Architecture
Florida Southern College is home to 13 structures by Frank Lloyd Wright. Choose from 4 different tour options ranging from self-guided (just buy the accompanying map) to an in-depth, 2.5-hour tour for $35. Reservations are recommended for several tours and can be booked online in advance.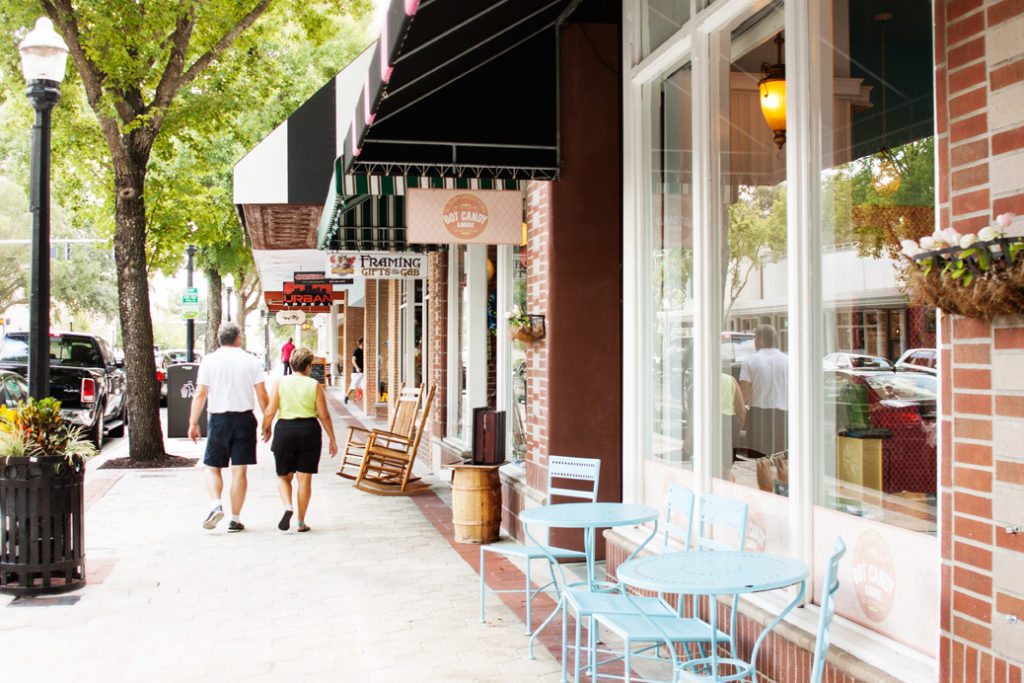 Visit www.downtownlakelandfl.com for more details.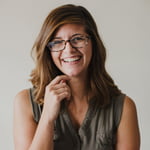 About the Author/Photographer:
Stephanie Patterson is the managing editor of Orlando Date Night Guide. She's a talented professional food and travel photographer and writer with a passion for creativity, the beach and great eats. When she's not taking photos or writing, you can find her exploring the state for her Florida travel blog, Travel Taste Click. Find her online at www.spattersonphotography.com and www.traveltasteclick.com.
Photo credit: Stephanie Patterson