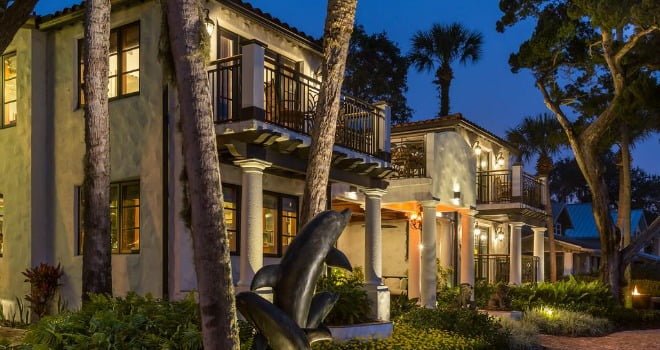 Staycations are a great way to experience vacation pleasures without depleting your bank account or PTO stash. Orlando has some of the best resorts packed with awesome amenities but, for a change of pace, try a different kind of getaway with a local bed-and-breakfast stay. B&B's offer a beautifully unique escape and often at a lower rate than larger mainstream hotels. So, forgo the continental breakfast and savor a home-cooked meal at one of these close-to-home B&Bs…
Originally opened in 1927, this inn was once one of the most technologically advanced hotels of its day! Today, it balances historic ambiance, from antique sinks to the original Otis elevator, with modern comforts just off a vibrant pedestrian-friendly strip. And, in true bed-and-breakfast fashion, your stay includes a full morning meal served by the innkeeper.
The Edgewater is located just 25 minutes from downtown Orlando so take advantage of an early start to enjoy the area's outdoor adventures. Rent a bike to pedal along the West Orange Trail, a 22-mile multi-purpose path that winds pass preserved fields and stunning homes. Take a short detour off the paved route to Newton Park for views of Lake Apopka, then head back to Plant Street for a perfect date night: dinner at the Chef's Table at Edgewater, a show at the historic Garden Theatre and a DIY pub crawl with a stop at a tasty local brewery.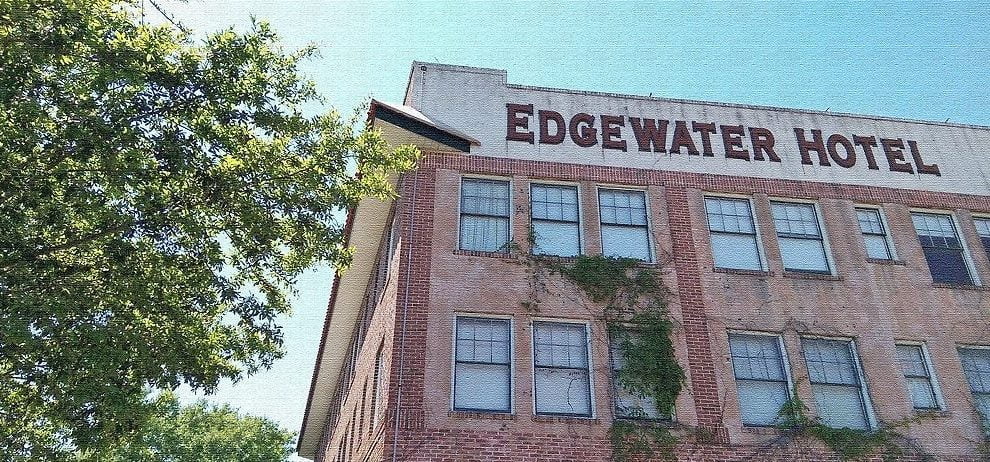 Four historic buildings, each of a different era, comprise this distinctive downtown bed-and-breakfast retreat which presents a complimentary carafe to welcome guests – cheers! Fall asleep by the fire in the parlor of the Norment Parry Inn, or curl up on a tuxedo chair with a Raymond Chandler novel in your apartment at The Wellborn Suites. Savor a cup of coffee in the living room as the morning sun filters through a cobalt blue glass window, and sip wine on the veranda of the I. W. Phillips House. From the abundant front porch of the Dr. Phillips House, refresh yourself with fresh air after a leisurely stroll around the lake.
Tucked privately away in an intimate garden setting, The Courtyard at Lake Lucerne is centrally located in downtown Orlando making this staycation most convenient for a classic date night, especially since downtown has something for every Orlandoan ─ hit the dance floor, relax at a wine lounge or snag stool seating at a sports bar. Take a short walk to Historic Church Street Station to dine at the Rusty Spoon, one of "the best farm-to-table" restaurants with James Beard Award nominee Kathleen Blake running the freshly-stocked kitchen. Then catch a show at the Dr. Phillips Center for the Performing Arts, followed by drinks at Bösendorfer Lounge located within the Grand Bohemian hotel.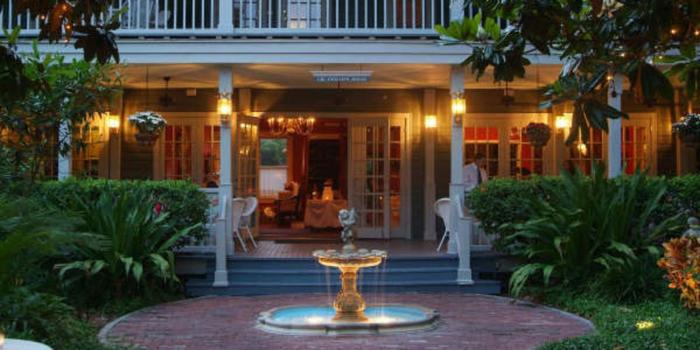 Thurston House
851 Lake Avenue, Maitland, FL 32751
Located amidst eight acres overlooking picturesque Lake Eulalia, this bed-and-breakfast is a hidden gem. Built in 1885 and completely restored in 1991, it has the charm of a period Queen Anne Victorian Farmhouse with a wraparound porch lined with rocking chairs to bird watch. Wander the walking paths and gardens filled with camellia bushes, citrus trees, mature oak trees and tall bamboo. Breakfast typically includes fancy egg offerings, high-quality jams and more.
Spend the day exploring the Art & History Museums of Maitland, located on two adjacent lakeside campuses that were founded in 1937 to celebrate innovation, nature and multiple art forms. In 2014, the Maitland Art Center, one of the five centers, became the first National Historic Landmark in Orlando's tri-county area. Dine at Antonio's (upstairs) restaurant to feast on great Italian food, fresh seafood and certified Black Angus beef. Then, finish off with a nightcap at Eden Bar, a tranquil outdoor space at Enzian Theatre.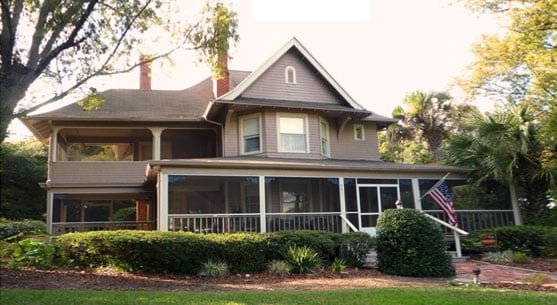 Mount Dora has several quaint B&B options but this one may take the cake as owner Jim Tuttle has been a gourmet chef for over 20 years so you know breakfast will be amazing; plus his wife, Ana, brings some 'Filipino' recipes to the table. Nosh on Savory Three Cheese Souffle, Raspberry-Stuffed French Toast, Vanilla Bean Citrus Soup and Polynesian Soup.
This four-room inn is just a short walk to the Historic Downtown Village. Spend the day shopping the boutiques, participating in local arts & cultural events, chugging hefeweizen liters at The Bavarian Haus or boating the chain of lakes.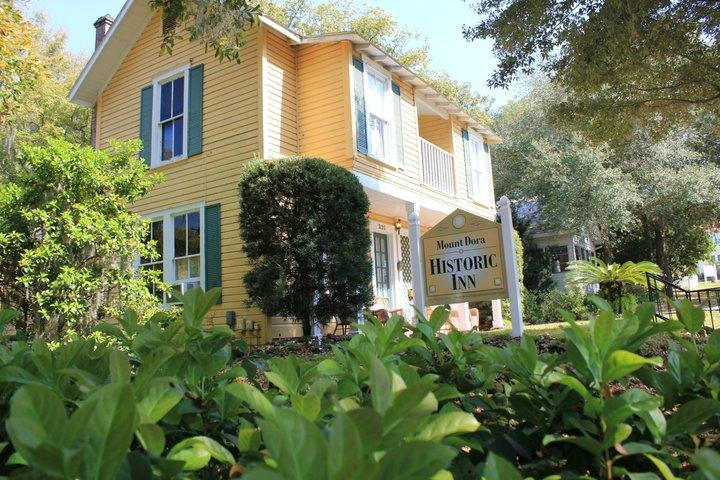 Black Dolphin Inn
916 S Riverside Drive, New Smyrna Beach, FL 32168
This pet-friendly, bay-front retreat was once the grand home of a corporate pioneer and, today, claims to cater to a wonderful mix of smart, stylish, accomplished and unique people as it did famously in the 1950s. Enjoy the easy flow of sultry air and stylish hospitality through mid-century modern interiors, courtyards and a dock. Fourteen luxurious rooms, each individually designed with vintage furniture, fine art, eclectic accents and spa baths, are matched by fun recreational amenities like beach essentials, surf board rentals, bikes, a fire pit and cornhole.
The coastline awaits with 13 miles of white sandy beaches ready for your sunbathing and watersport desires. Spa and zen out at the Spa At Riverview and then hop along historic Flagler Avenue and Canal Street. Get all the details for planning a Flagler Avenue date night here.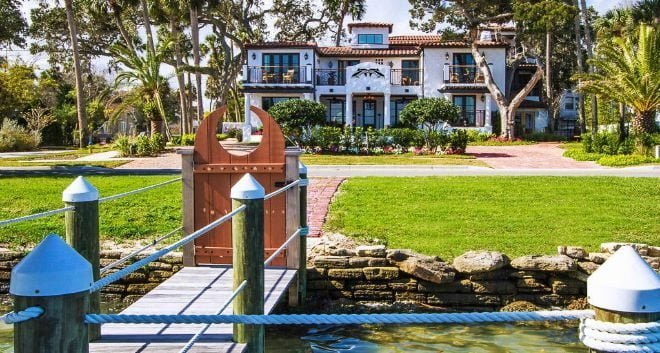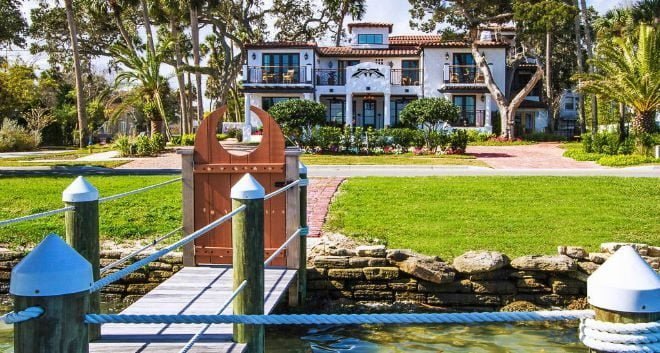 Port d'Hiver is a piece of paradise discreetly located on the half mile barrier island between the Atlantic Ocean and the Indian River Lagoon. Picture a romantic island with impressive accommodations inclusive of custom-made linens, views of the Atlantic Ocean from expansive porches, a heated spa pool, swaying palms, intimate courtyards, wandering brick paths and a flowering bougainvillea.
Enjoy a two-course breakfast in the elegant dining room and garden courtyard. Pamper yourself with complimentary wine, evening appetizers, fresh baked cookies 24 hours a day and concierge services. Maintain relaxation with a day at a spa. Or amp recreation up by mountain biking on three trails in Sebastian Inlet State Park or with a trip to the Kennedy Space Center.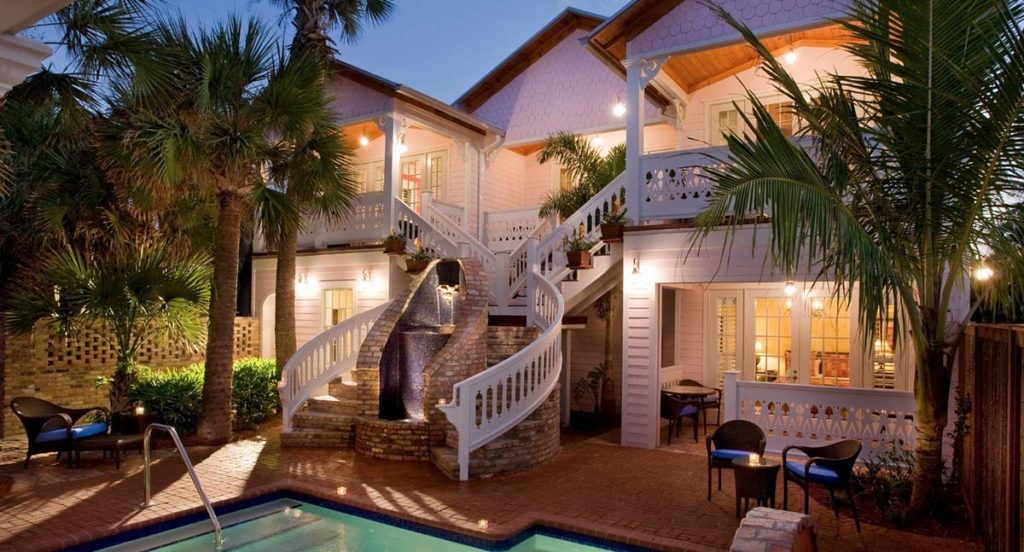 PHOTO CREDITS