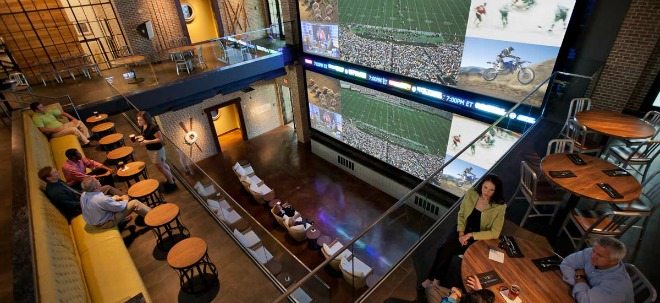 During football season, your significant other may be married to the television for both NFL and college football games. So, if you need a new game plan with more date night fantasies and less fantasy football, we recommend these victorious football-lovin' experiences.
Best Sports Bars for Football Lovers
Dewey's Indoor Golf & Sports Grill (off Restaurant Row)
Don't let the 'golf' name sack your game day plans because this bar has the NFL Ticket… every game, every Sunday. But expect to see a lot of Pittsburgh jerseys because this place welcomes Steeler diehards. When Steelers score more than 35 points, all fans wearing Steelers gear get a FREE Rolling Rock or Iron City Beer.
This "Vegas-style bar and lounge" is outfitted with more than 70 TVs (including a 25-foot big screen), an ample menu and drink specials to keep you well-hydrated from kickoff to the final seconds. In between games, challenge yourself on an interactive football simulator as a QB or kicker. Throw to receivers all over the field and hone your precision with every release. Or split the uprights with field goal kicking in five different simulated stadiums.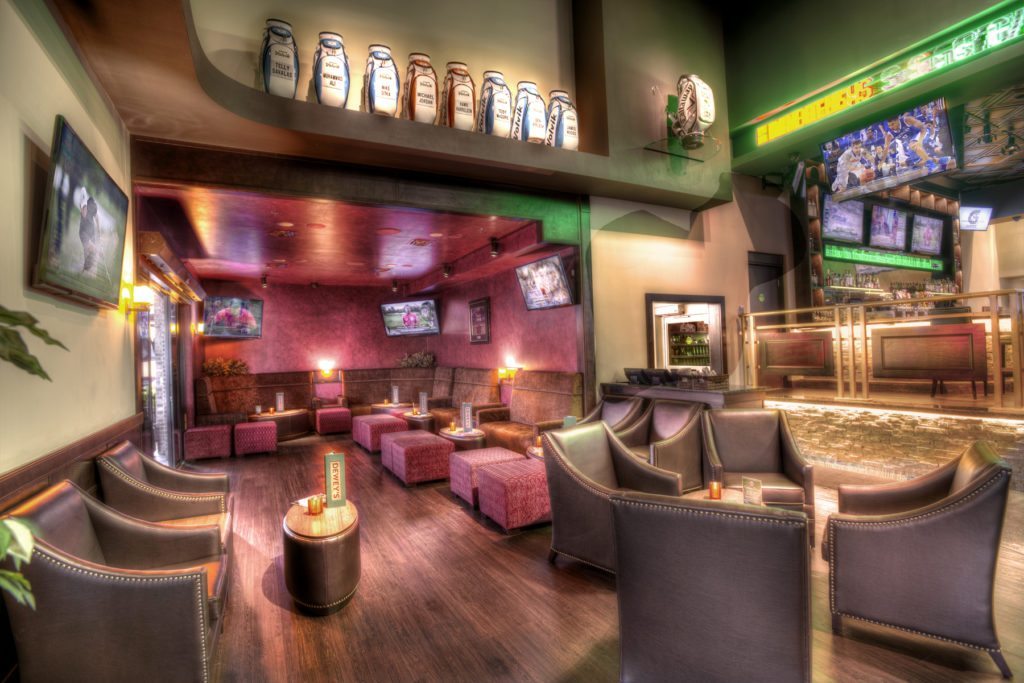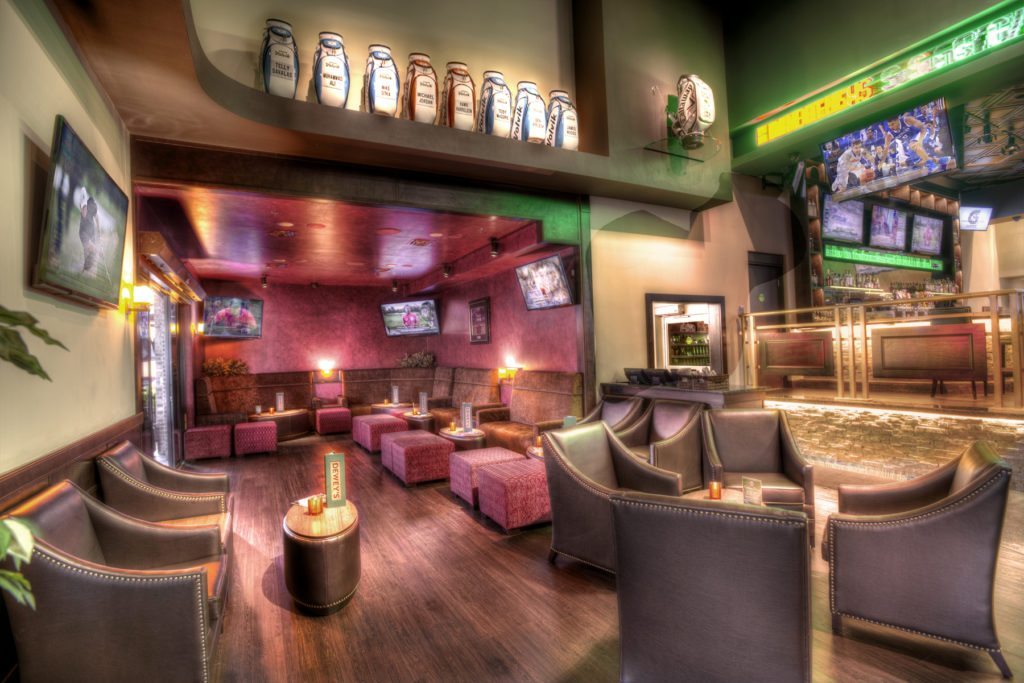 Elixir (Downtown Orlando)
This funky bar is home to the official Central Florida Gator Club watch parties. And don't miss any NFL game either because this place also has the NFL Ticket. Stay energized with Loaded Tater Tots smothered with cheese, bacon, jalapenos, sriracha and homemade ranch. Flavor touchdown!
Wreckers Sports Bar Pub (Gaylord Palms)
The resort's multi-level bar, which features a 37′ sport screen, boasts loads of game-worthy appetizers, hearty concoctions and beers on tap. This much-loved hub (and best kept secret) is a must-visit for sports fans.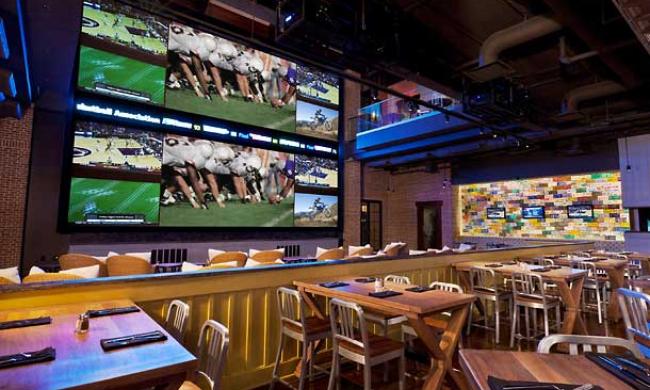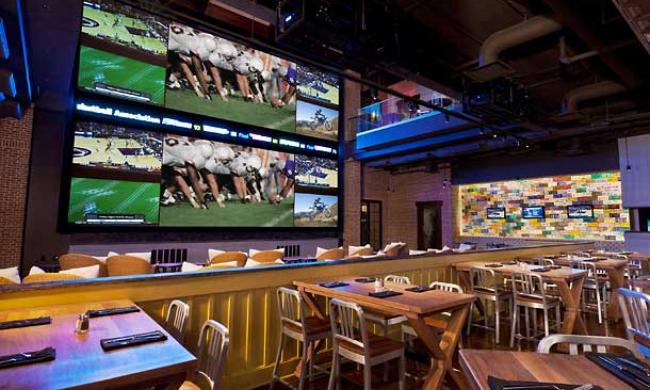 Gator's Dockside (Baldwin Park)
This large tavern offers a crowd-pleasing experience with all football essentials: huge TVs, cold beers and a diverse menu (including gluten-free). NFL viewers can enjoy the 'All You Can Eat' traditional wing night from 6-11 pm. Definitely plan to snag a seat at the bar overlooking beautiful Lake Baldwin. If Gator's gets too packed, just walk a few doors down to Caddy Shanks for more viewing options, with the added fun of interactive gaming, pool tables and more.
Harry Buffalo (Church Street Station)
With TVs lining nearly every wall, your "Herd" will have a pigskin heyday. Maximize halftime with a round at the full liquor bar. Relish a winning Monday Night Football menu with $.60 Boneless & $.60 Buffalo Wings (orders of 6). Or chow down on a bison burger served on a pretzel bun paired with a craft beer (or two or three).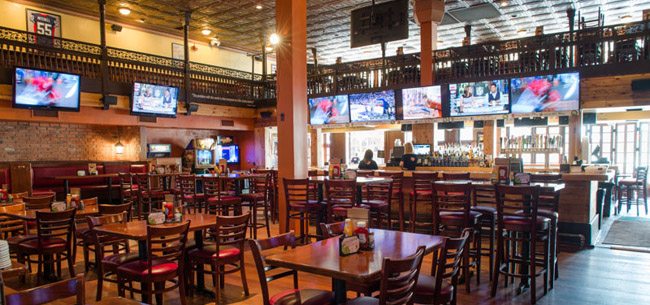 Sideshow (Wall Street Plaza)
Football fans that used to cheer on their team at One Eye'd Jacks can keep the roaring wave going at the newest addition to Wall St. Plaza. Sideshow broadcasts all the FSU Seminole and Green Bay Packer games on an 80″ hi-def TV. Hungry? Order from the Sunday Brunch menu.
Garnet & Gold Watch Parties drink specials include $2 Coors Light drafts, $12.50 buckets of Miller Lite & Coors Lite, $5 Three Olives Vodka Cocktails, $4 Garnet & Gold Shots and a FREE SHOT when the Seminoles score. And, as the Central Florida Packer Backer club declares, this is the best local place to watch the Packers play ─ second only to Lambeau Field.
Vanbarry's Public House (SODO)
This restaurant is part of the Finnhenry's (downtown Orlando) & Ollie's (College Park) family so you know it will satisfy both your food and your football cravings. Take a seat at an outside patio table to watch games on large screen TVs with a backdrop of Lake Jennie Jewel. Nibble on fun shareables, such as the Nacho Mama, Bacon Caramel Fries or Fried Pickles, as you sip cold ones amidst the crisp air.
Wing Shack Restaurant & Bar (Conway area)
Stop by this neighborhood pub ─ the proud home of the Orlando Eagles Fan Club ─ on game day to watch your favorite football teams battle it out on large projection screens and outdoor viewing options. Wing Shack was voted Best Wings three years in a row so grab your wing-man and head to Conway.
World of Beer (Downtown Orlando)
The perfect Sunday Funday in Downtown Orlando can include football! Stroll through Lake Eola farmer's market, stop to gaze at the ducks and turtles (before rooting for the Gators or Bulldogs) and, then, feast on "beerunch." Whether you're in the mood for the Hangover Skillet, Chimay Burger or Black & Blue Flatbread, this brew-tastic eatery has over 50 craft beers on tap and 500 in the cooler to salute your favorite football team.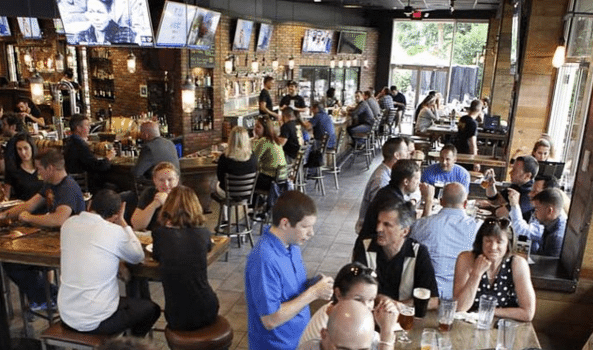 Football Date Night at Home
Huddle up on the couch with your MVP for home-based football fun with three easy plays:
1. Dress the part in team colors… jerseys or jammies (it's your call)!
2. Skip high-calorie football dishes with a "made-over game day menu."
3. Sweeten the deal with Edy's Touchdown Sundae ice cream.