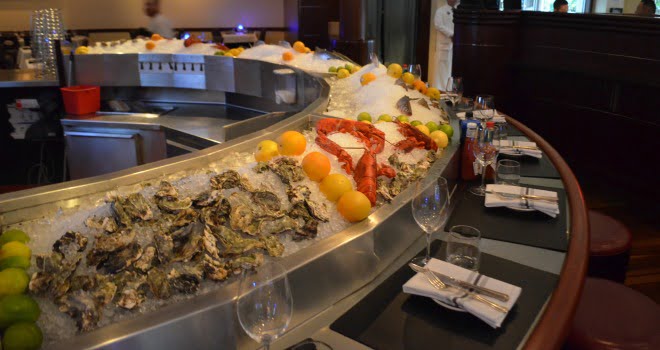 A mainstay at Pointe Orlando for over a decade, The Oceanaire Seafood Room has been a longstanding favorite for couples looking for a posh seafood restaurant in the Orlando area. White linens, doting service and an eye catching fresh seafood bar are all hallmarks of the Oceanaire experience, but so too is its daily happy hour, which is suitably renamed Admiral's Hour.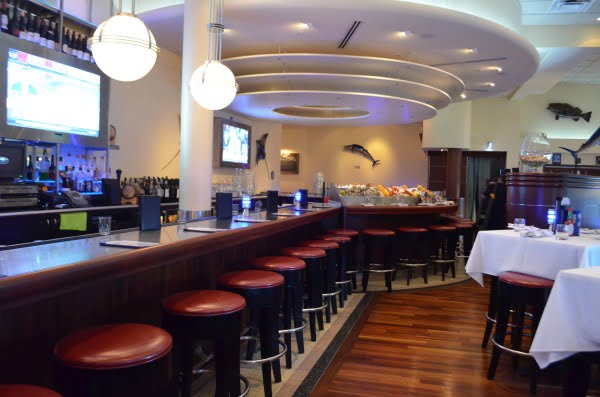 Served only in the restaurant's bar area, Admiral's Hour allows guests to savor a huge selection of small plates and libations daily from 5 – 7pm, Monday through Thursday from 9pm – close and on Sundays from 8pm to close.
DRINKS
Select from seven different specialty cocktails and martinis, all priced at $7 each. Many, including the Ketel Cosmo and the James Bond Martini, pack a boozy (albeit delicious) punch. So, if you're looking for something lighter, consider the Prosecco Sangria (made with Captain Morgan Spiced Rum and fresh strawberries and cucumbers and topped with Maschio Prosecco).
You'll also have your choice of 10 different wines by the glass ($5 each) and 4 bottled beers ($4 each).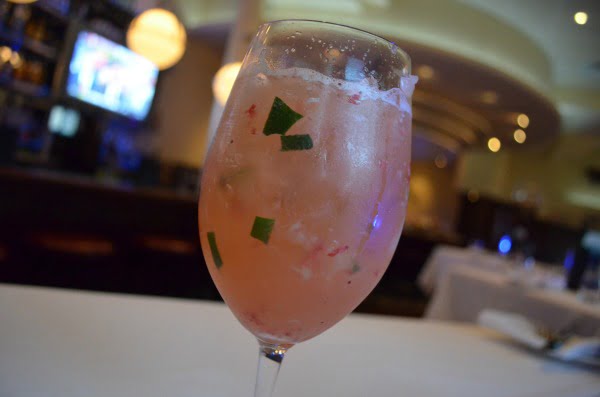 FOOD
Order a handful of small bites from the Admiral's Hour menu and you won't be leaving Oceanaire hungry. We loved the Blackened Fish Tacos ($6), which arrived in pairs and were loaded with fresh avocado and a delicious housemade slaw.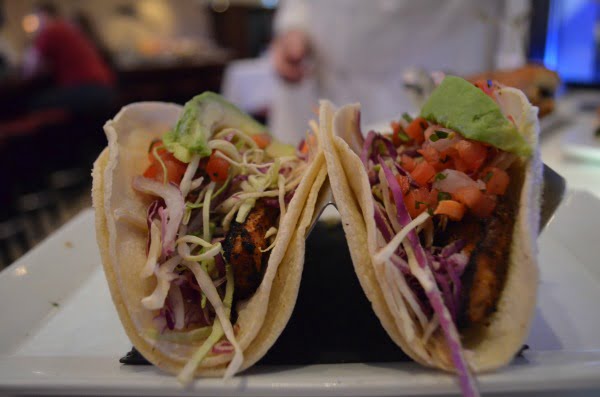 The Filet Mignon Sliders ($8) were a nice surprise for those expecting a patty. Three sliders arrived crammed with bite-sized morsels of perfectly grilled steak. These paired nicely with the wonderful ParmesanTruffle Fries ($6), a massive serving of savory shoestring fries that overflow from a metallic cone and definitely provide enough to bring home to enjoy the next day.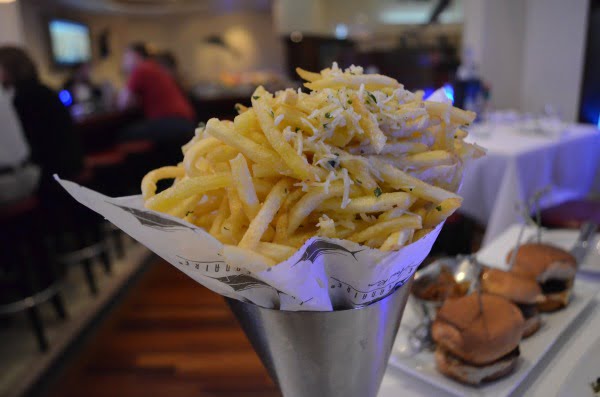 10 small bite options are offered from $6 to $8, but if you're willing to splurge for something a little more hearty, you'll find 5 more dishes, including a Char-Grilled Octopus ($12) and a Seafood Chopped Salad ($14). We enjoyed both immensely.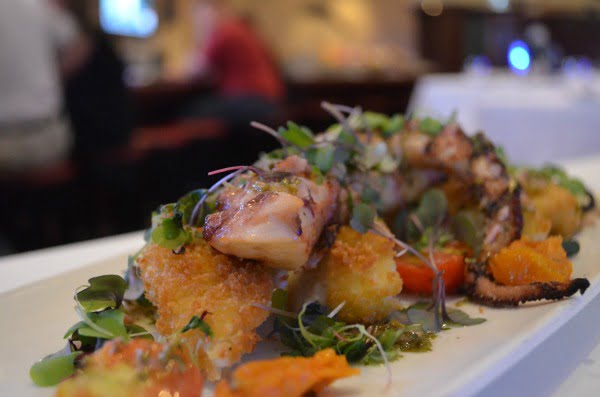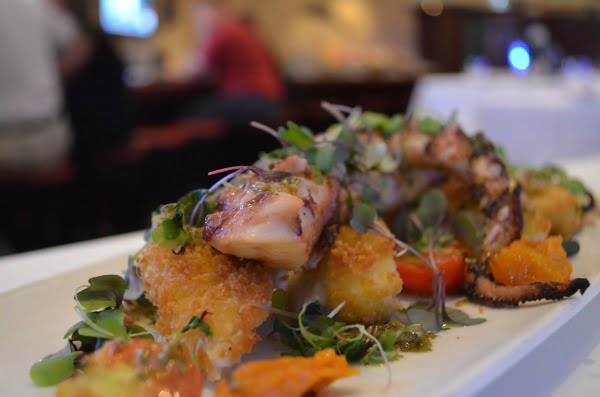 THE GRADE
While you can't order from the Admiral's Hour menu from the main dining room, you'll find lots of high tops and stools to settle into in the comfortable bar area. Once seated, you'll have many well-priced food dishes to choose from, even if you're not a seafood lover, plus a wide range of options for alcohol. Oceanaire has made sure there's something to please everyone.
Oceanaire scores an A. You'll enjoy several quality small plates and a pair of cocktails for around $40 plus valet parking (conveniently located just steps from Oceanaire's entrance) is free when you get your ticket validated by the bartender.
The Oceanaire Seafood Room
Pointe Orlando
9101 International Drive
Orlando, FL 32819
theoceanaire.com/Locations/Orlando/Locations.aspx
Admiral's Hour: Daily from 5-7pm; Monday – Thursday from 9pm – close; Sundays from 8pm to close. See the full menu here.
Want more happy hour info? Check out our Guide to Orlando Happy Hours.