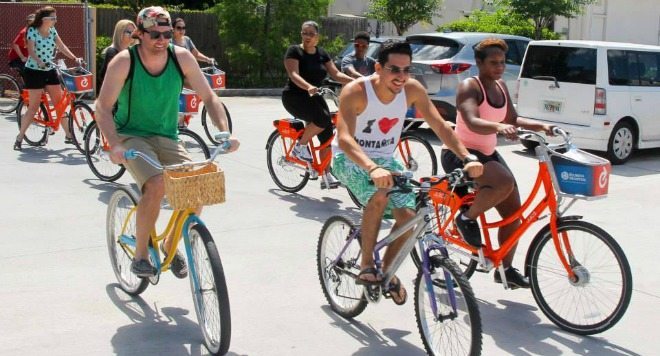 Updated May 2019
Orlando has 23 bike trail options ─ all within a 30 mile radius of downtown ─ that collectively total over 150 miles of paved, off-street biking. Bicycle tours can pave the way to adventurous dates for couples. Freshen up your standard go-to date with a two-wheeled tryst in the seasonally fresh air.
No wheels? No worries! Most bicycle tour companies offer rentals. Full speed ahead!
Orange You Gonna Share?
Orlando's Bike Share program allows leisure cyclists to easily hop on an orange bike with a simple mobile app rental reservation. Locals can opt for a monthly membership or choose a 'pay as you go' method for occasional use. On your Sunday Funday, cruise around Lake Eola, hit the farmer's market, and brunch in Thornton Park. Simply return the bike by locking it up at a convenient hub rack. Lime is another bike share option.
A Bicycle Built for 15
Limo Cycle offers a 15-passenger, pedal-powered party bus (led by a designated tour driver) to explore beautiful Downtown Sanford. It's equipped with a stereo system, personal cup holders, large ice chests, misting fans and pedal assistance (for when you get too tipsy – um, I mean tired). Choose from a variety of tour options, with add-ons like brewery tours, trivia, scavenger hunts and more.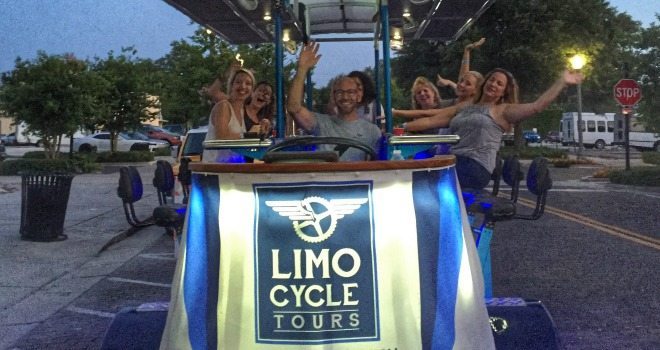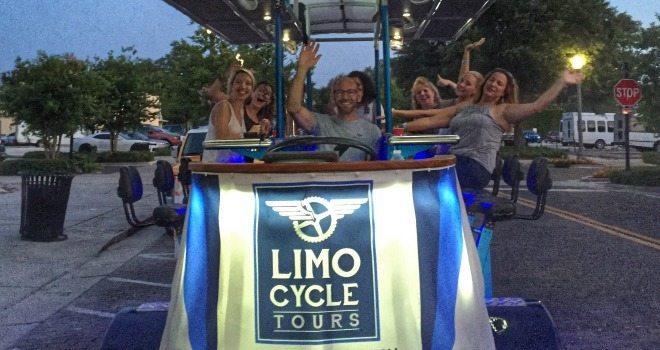 Themed Tours
Bike Cubed conducts electric bicycle tours through the City Beautiful, themed around food, sightseeing, and even manatee spotting (seasonal). Book a seat on the Taco Tour to visit three local taco joints throughout the city, see manatees up close in Volusia County on the Manatee Tour, or enjoy an epic day of sightseeing on the two or four hour City Tour. Tours range in price from $39 – $59 per person.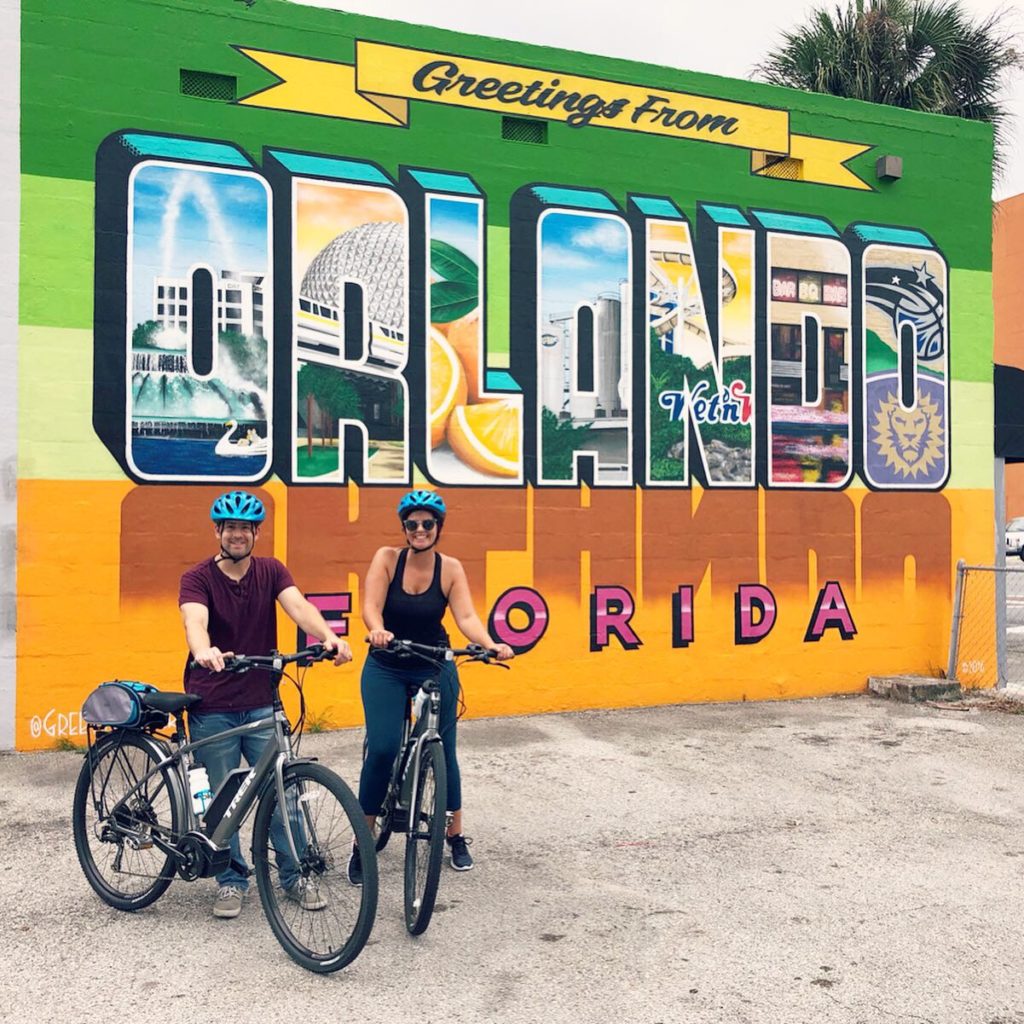 Scenic Bike Hike
Pedal on the dirt, lakeside path of the Apopka Loop Trail with Elite Road Bike Rentals. Along with the beautiful landscape views, see native wildlife including alligators, snakes, turtles, raccoon, deer and many bird species. Distances range from 10-40 miles depending on rider skill level, so expect to get sweaty and dirty on your date (no hidden meaning here).
Neighborhood Cycle
West Orange Trail Bikes & Blades offers tours of multiple trails in the area, including the 24-mile West Orange Trail, which is Orlando's longest paved rail-trail. On the trail, explore southwest Orange County as you ride past orange groves, a butterfly garden and a historic train depot. Take a pit stop on Plant Street in Winter Garden to visit charming boutiques and restaurants.
On the Celebration Tour, discover the magic of the pristine Disney-inspired town that boasts a quaint, brick-paved community center with adorable shops and eateries beside a relaxing lake. Or try the Historic Downtown Orlando Tour, where you'll take to the City Beautiful's tree-lined, brick streets alongside a Historic Preservation Board expert to get a unique inside perspective on your town.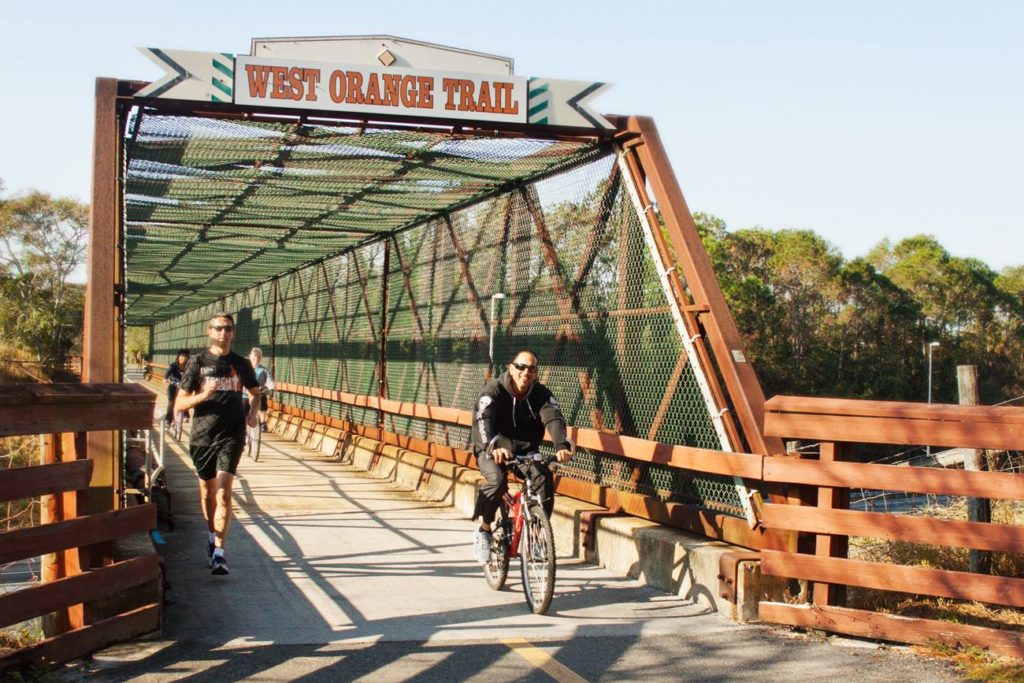 Join the Street Fleet
Orlando Critical Mass is the "world's largest monthly bike ride" that helps to promote awareness of alternative forms of transportation in the Downtown Orlando area. The gathering occurs at Loch Haven Park on the last Friday of the month at 5:30pm and aims to "promote peace and harmony between bikes and cars to share the road." This fun, casual ride helps riders gain confidence traveling with traffic and also coordinates special themed rides. After ringing the bike bell, cyclists typically ring in the night with a post-ride celebratory beverage at a local hot spot, such as The Guesthouse.
Feature image credit: Local Motive Tours