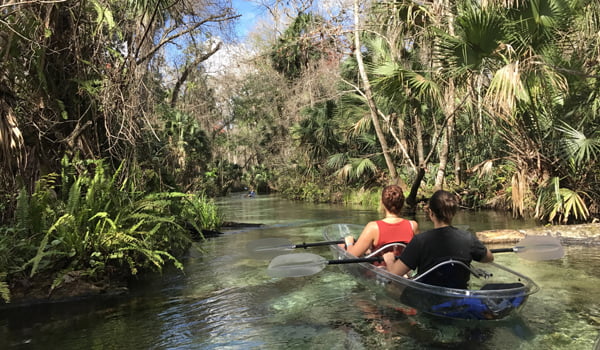 Winter weather has arrived, and for Orlandoans that means finally getting outside to play! While hikes and beach days are perfectly acceptable, why not jump on the chance to try something new this season? A paddling adventure in a clear kayak through Central Florida's waterways is the perfect opportunity to try something different while enjoying the great outdoors.
For a totally memorable and one-of-a-kind kayaking experience, Get Up and Go Kayaking is your go-to. They offer daily guided tours and own a fleet of six tandem clear kayaks. You'll be able to see what's in the water both around you and below you.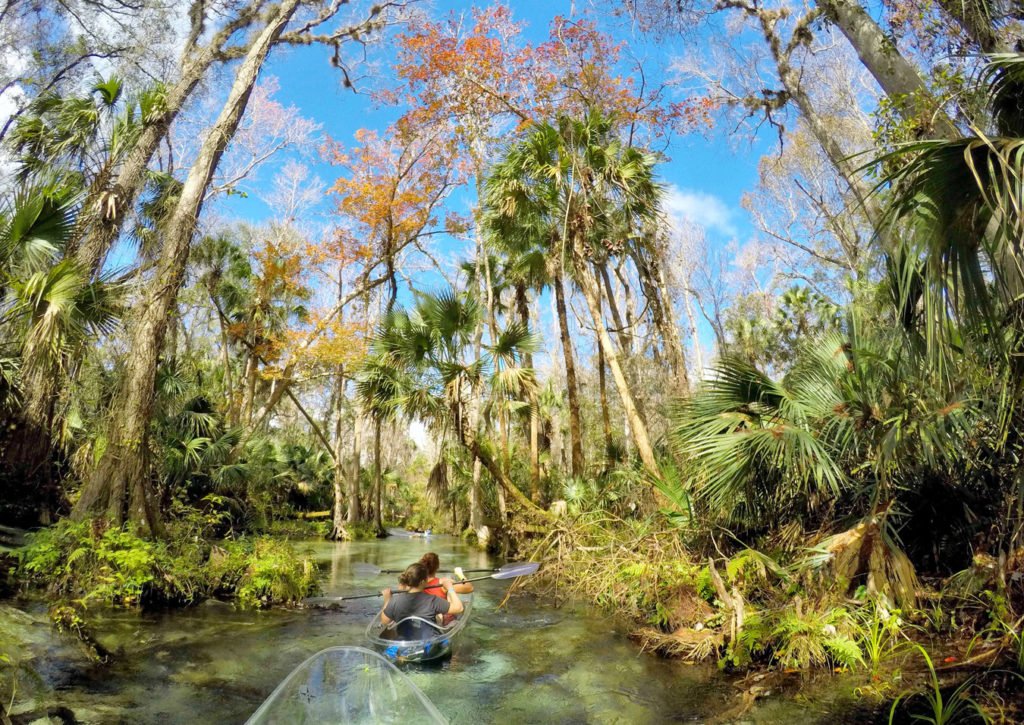 During your excursion, you'll take in the breathtaking natural beauty located right here in Central Florida while spotting wildlife and getting a workout. It's a definite date day win/win.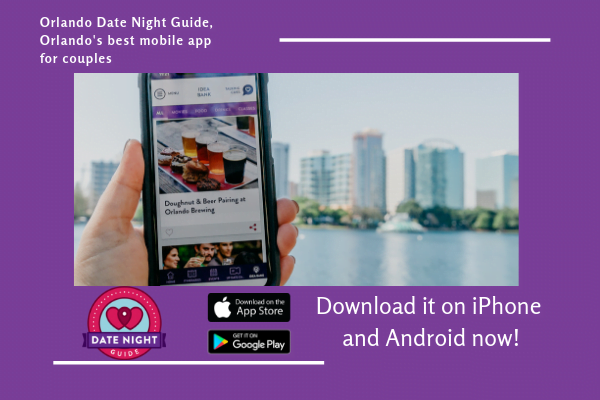 While several tours are available, we opted for the Rock Springs Run tour. It's an approximate 2-hour paddle through natural, crystal clear spring water with opportunities to spot a wide variety of wildlife.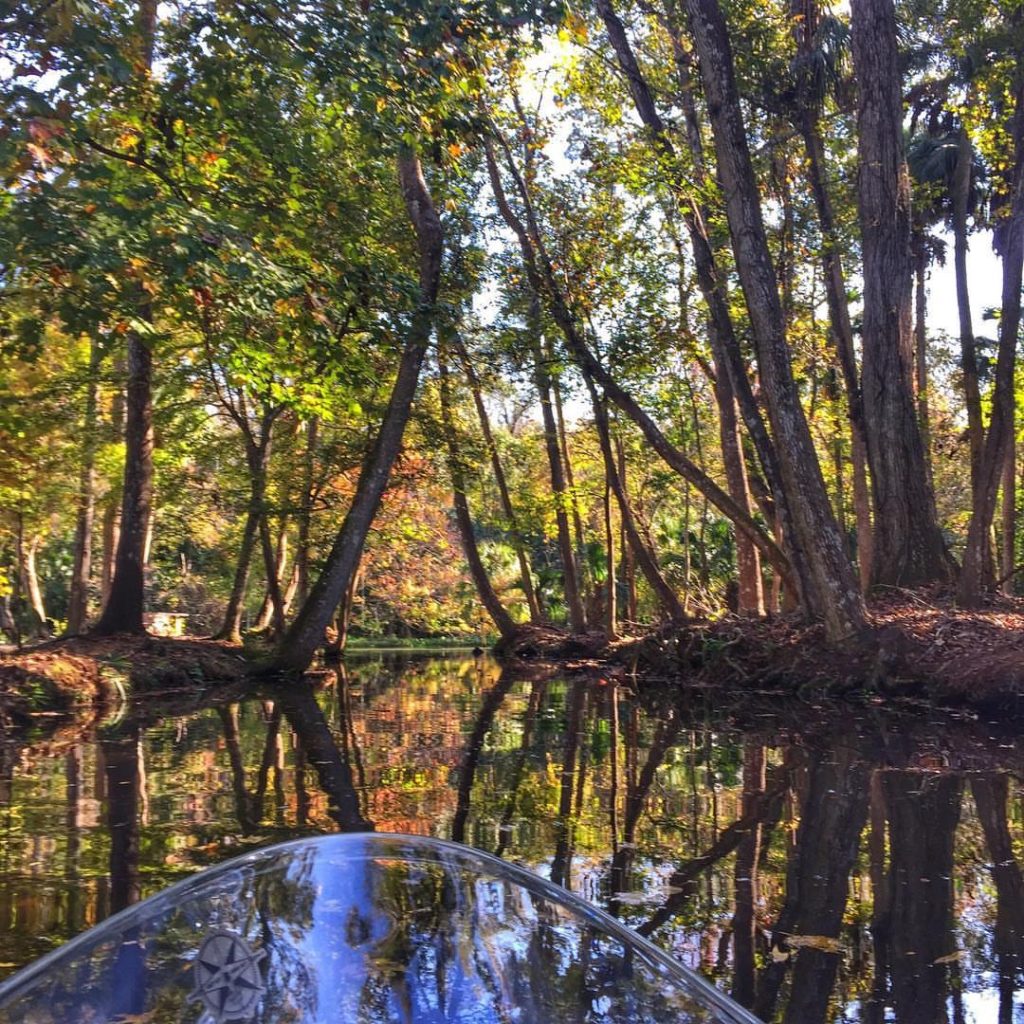 The adventure begins at King's Landing, located just outside of Kelly Park. After launching, you'll do a short paddle down a small canal until reaching the entry point to Rock Springs Run.
A tip before you go: Paddling can take a bit of getting used to at first, especially if you're a beginner. And the Rock Springs trip is vigorous, to say the least. You'll also be starting out upstream, so keep an open mind and after about 15 minutes or so you'll get in a groove! It's definitely a workout but the guides are great at assisting you if needed.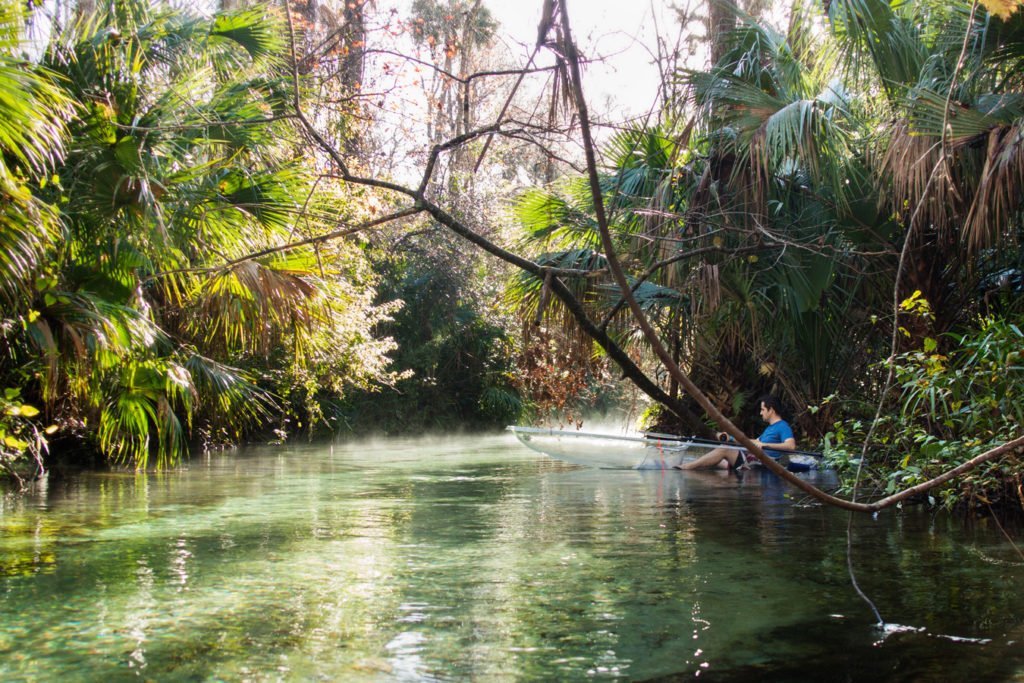 Once you've gotten the hang of things, you'll truly relax and take in the beauty of what's around you. Palm trees line the shore, mini islands appear in the middle of the river, large trees arch over the water, and the sunshine puts a spotlight on the impossibly clear water. It's amazing that places like this exist right in our own backyard.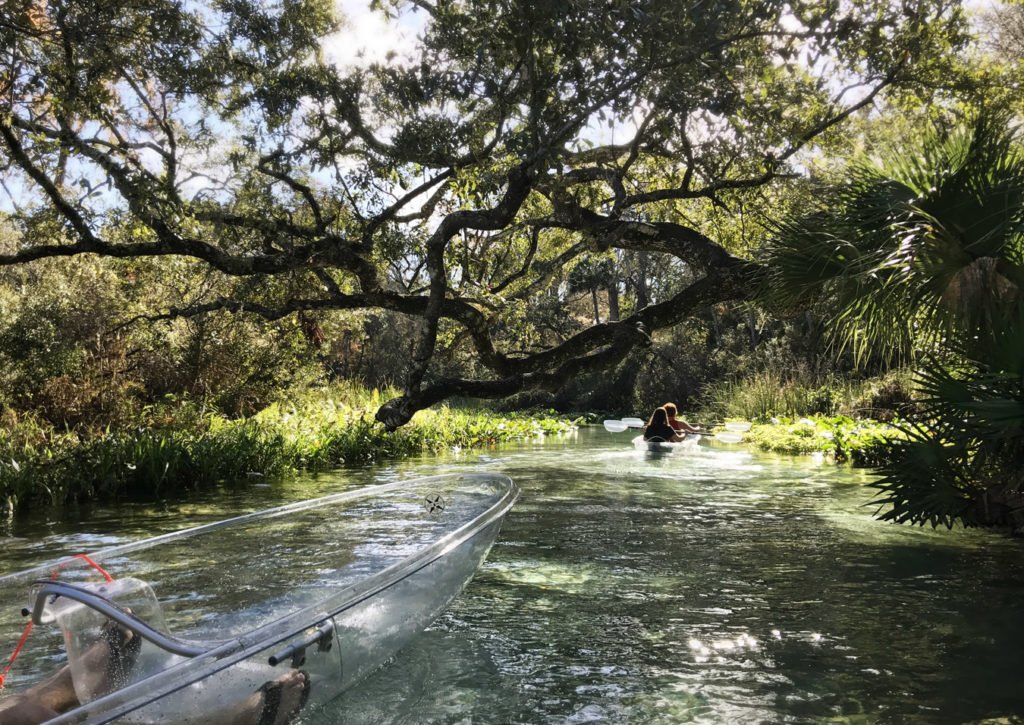 In addition to the absolutely beautiful scenery, we also spotted an otter, baby alligators, birds, turtles, and fish swimming directly underneath the kayak. The kayak acts as a magnifying glass helping you to focus on what's below you in the water.
There are also several stopping points on the tour where you'll be able to take a break, snap some photos (selfies are a must), and even get out of your kayak to wade in the refreshing water.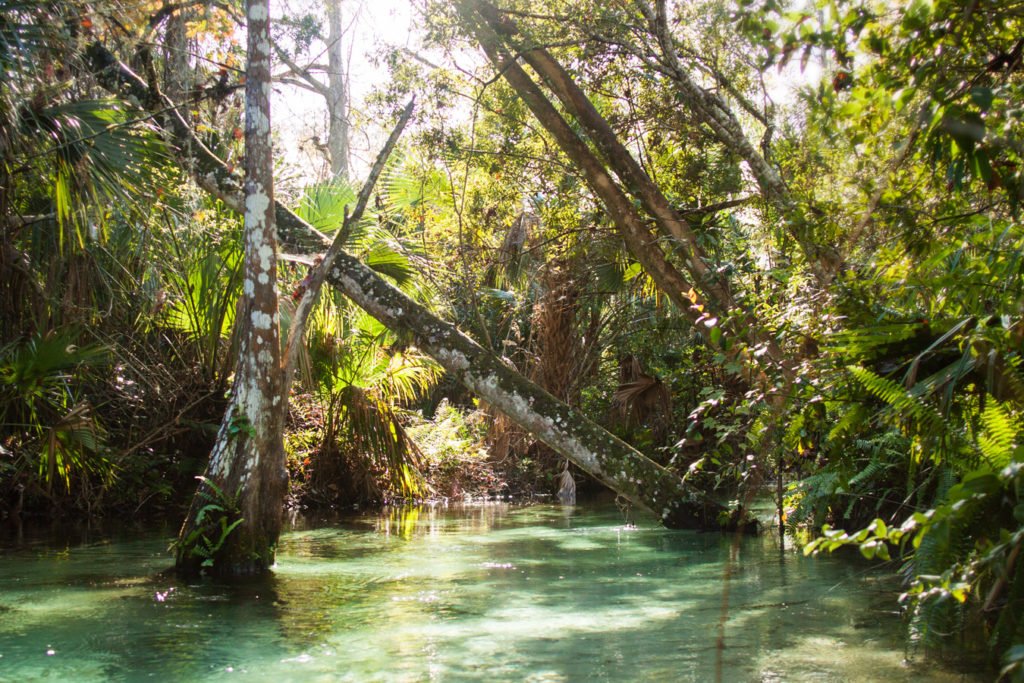 Once you reach the turnaround point, it's smooth sailing back to King's Landing as the current carries you along. The only maneuvering we had to do was a bit of back paddling to keep our kayak straight. Other than that, it was a nice break!
All in all, this is one of the best kayak tours we've been on in the area. You can't beat the amazing scenery and wildlife spotting combined with the cool-factor the clear kayaks provide. This is a date-day must do.
Know before you go:
The Rock Springs Run tour is available on a weekly basis and costs $49/person. Winter is the slower season, so go now if you want to soak up the scenery with few people in sight. Dry bags are provided for your cell phone and keys. Also make sure to bring sunscreen, water, and a dry change of clothes just in case.
Additional tours include the popular Winter Park Chain of Lakes sunset paddle. Bioluminescent kayak tours are also offered (summer months only) at Merritt Island. We can't wait to try that tour later this year! Tours can be booked online through the contact form.
All image credits: Get Up and Go Kayaking unless otherwise noted.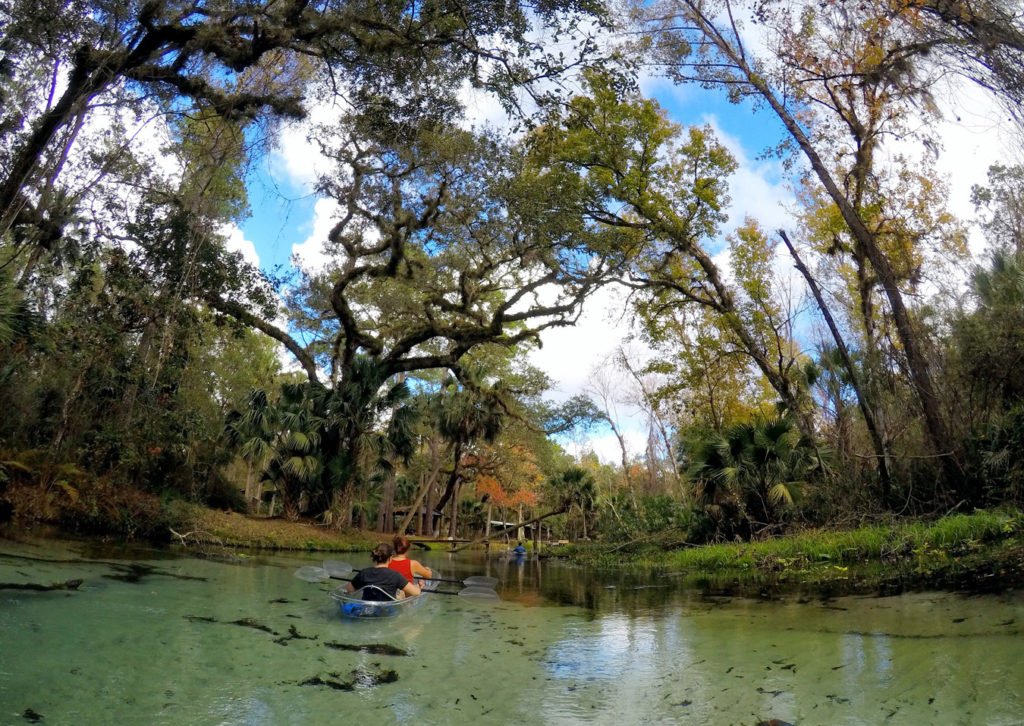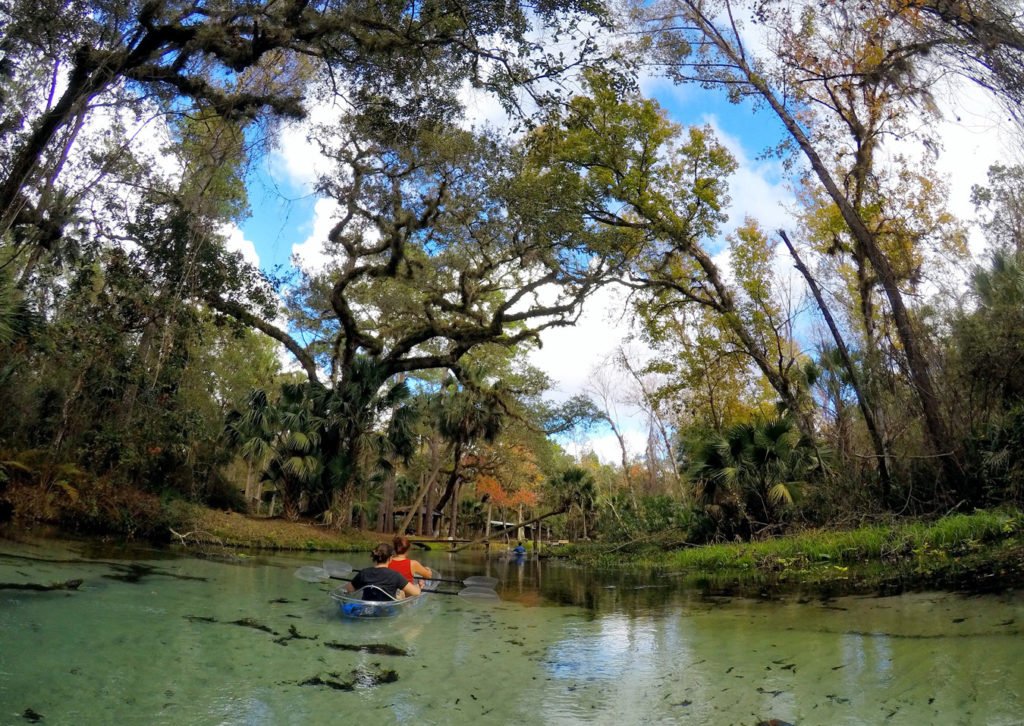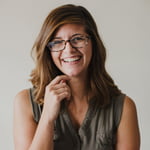 About the Author
Stephanie Patterson is the managing editor of Orlando Date Night Guide. She's a talented professional food and travel photographer and writer with a passion for creativity, the beach and great eats. When she's not taking photos or writing, you can find her exploring the state for her Florida travel blog, Travel Taste Click. Find her online at www.spattersonphotography.com and www.traveltasteclick.com.