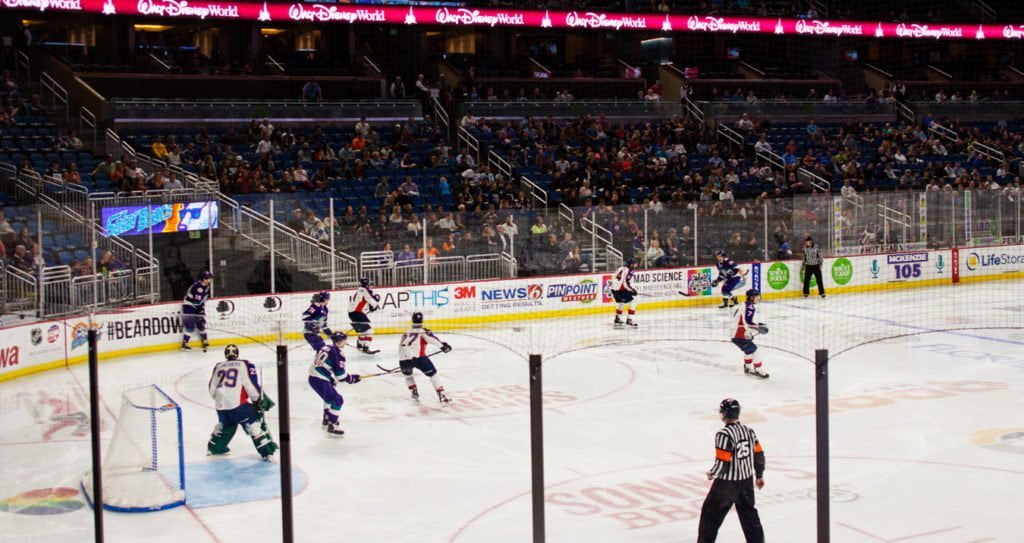 In my book, attending an ice hockey game is one of the best sporty date nights out there. The fast-paced, high energy nature of the game makes it entertaining even for non-sports fanatics, while the easy to follow rules make the game approachable, turning newbies into fans in the span of a single game. Lucky for Orlandoans, we've got our very own skilled ECHL team – The Orlando Solar Bears – offering up a great opportunity for a budget-friendly date night.
A love for hockey is reason enough for attending a hockey game, but there's so much more happening outside of the expected at each Orlando Solar Bears event. Here are our top reasons to throw on your best purple, orange, teal, and yellow, and treat your date to a sporty night out. Let's go Bears!
Updated July 2021
1. Support a local sport
Not every city is lucky enough to have a local hockey team, or much of a sports presence at all. But in Orlando, we're fortunate to have several great teams to root for, including our very own Orlando Solar Bears. With all of the local love we've got here in Orlando, why not add our resident hockey stars to the ever-growing list of things to love about our city? In addition to providing fans with affordable entertainment, the Orlando Solar Bears are also active in the community.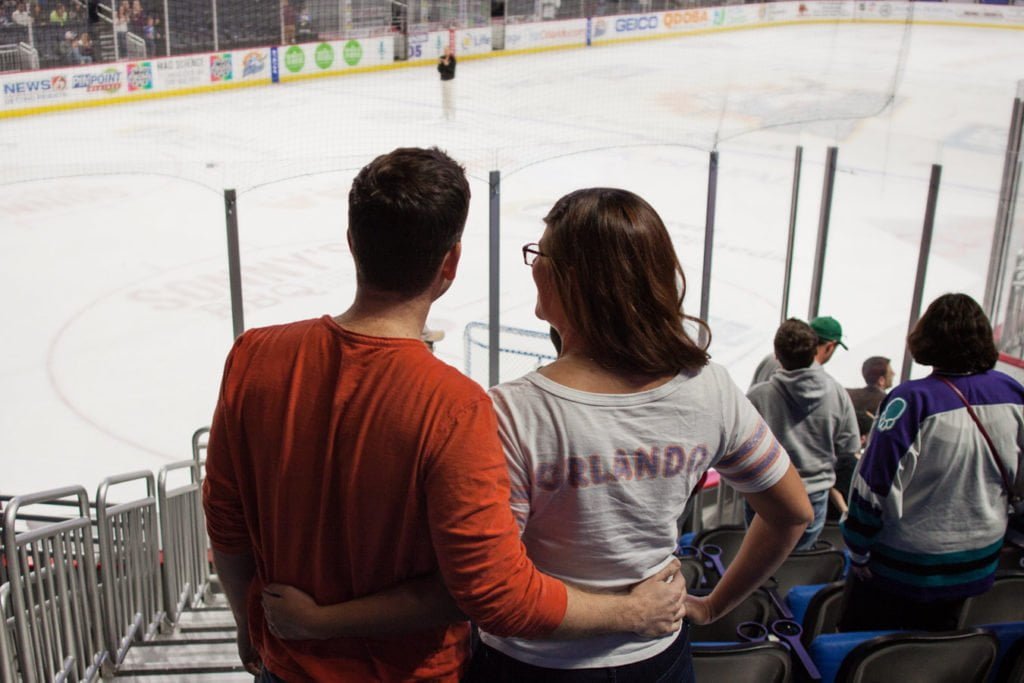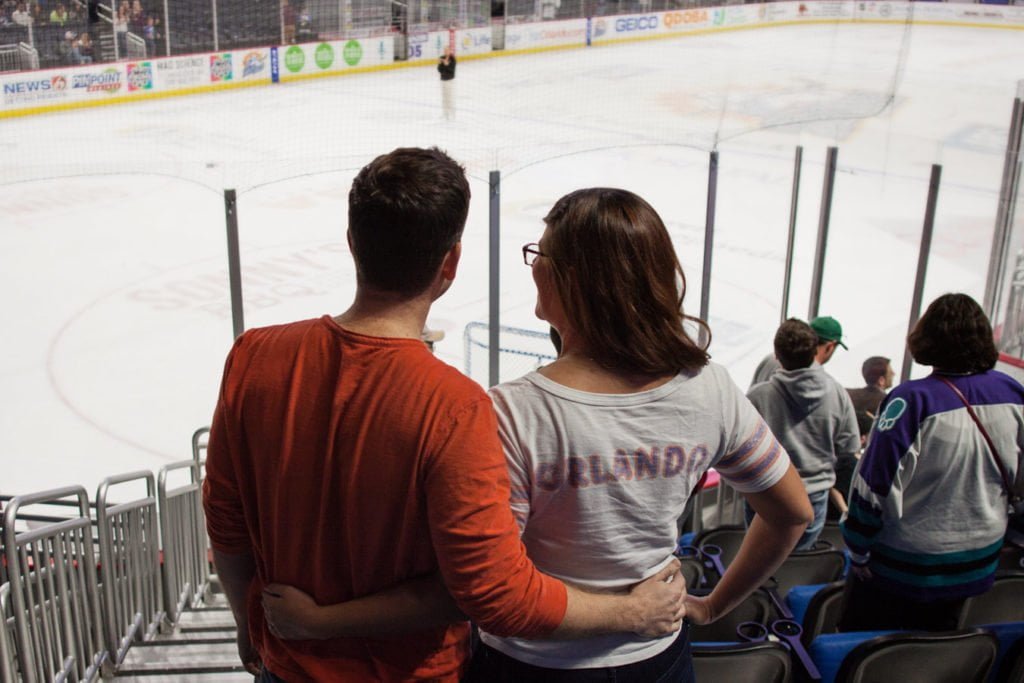 2. Budget friendly tickets
Date night under $40? Check! Tickets to an Orlando Solar Bears game will only set you back about $12/person. Even if you want to go all out with the best seats in the house, center ice tickets are typically a reasonable $45 each. After attending many games, there's really no bad seat, but my favorite spot is in section 117. Tickets are around $17 each, and you can't beat the great goal vantage point. This section is also close to the Budlight Baseline Bar, which offers up a more extensive selection of adult beverages. (Although this is a sporting event, so feel free to sip on as much Budweiser as you'd like!) You can purchase single game tickets online through Ticketmaster.
3. Location, location, location
The Orlando Solar Bears' home turf is at Amway Center, conveniently located amidst the hustle and bustle of downtown Orlando. Arrive early, park, and then get your fill at one of the several nearby eateries. Walk over to Hamburger Mary's for pre-game fuel in a lively atmosphere. There's fun to be had after the game too, where you can wander to Church Street for nightlife.
4. Tons of freebies!
Who doesn't love free stuff? The Orlando Solar Bears have several food-centric sponsors who ensure there's no shortage of freebies at each and every game. There's a free pizza toss, during which the Orlando Solar Bears dancers and Shades, the team mascot, throw Pizza Hut pizza boxes (which sadly do not contain actual pizza, but rather are redeemable for free pizza) to eager and enthusiastic fans in the crowd. And if the Solar Bears meet a certain number of goals or attempted shots on goal, everybody in the crowd wins free food. Pay for one date night and you may end up getting another for free!
5. Shades
You'll find it hard not to fall in love with the Orlando Solar Bears official Mascot, Shades, an ultra-cool ice skating polar bear who is always donning a pair of sunglasses. Shades roams around with the Orlando Solar Bears dance team, and if you're lucky you can snap a selfie with him when he makes his rounds.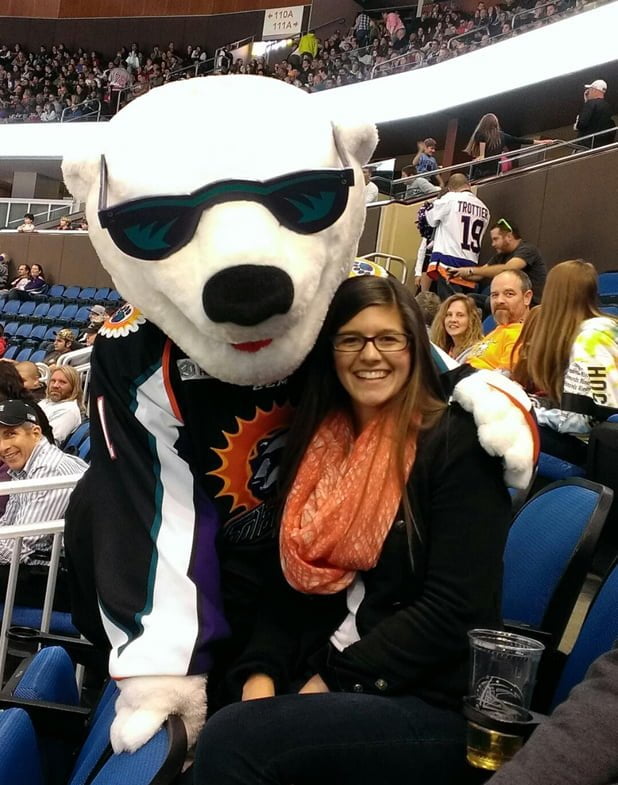 6. Endless entertainment
From the moment the game starts to well after it ends, "bored" is never an option at an Orlando Solar Bears game. The action is constant, the games are high-energy, and before you know it you'll find yourself leaping out of your chair to join your fellow comrades for a victory dance each time a goal is scored. And if the rivals score…well, join the masses in booing the opposing team until you lose your voice. Even during the breaks between periods, the entertainment rolls on. From crowd participation contests to dance performances, the occasional peewee hockey match to entertaining sing-along "Bear-aoke" on the jumbotron, there's always something to watch.
7. 'Ronas and 'Ritas
While not specific to Orlando Solar Bears games, 'Ronas and 'Ritas located on the second floor of the Amway Center is open before, during, and after events. If the weather is nice, the casual open-air lounge is the perfect place to sip a cocktail while taking in gorgeous skyline views of downtown Orlando. Even in jeans and your best Solar Bears gear, you'll feel a touch hipper in the casual yet stylish atmosphere.
Tips and tricks before you go
You may expect the rink to be frigid, but temperatures inside are comfortable. Jeans and a t-shirt (and a light jacket just in case) are warm enough most nights.
For maximum entertainment, purchase tickets when the Solar Bears are matched against the same team several nights in a row. Attend on the second night when tensions are a bit higher, and the games even more fun to watch.
For the best chance of catching one of the previously mentioned free pizzas, or snapping a selfie with Shades, sit center ice (or as near as possible to it).
For more details and to purchase tickets, visit orlandosolarbearshockey.com.
All images by Stephanie Patterson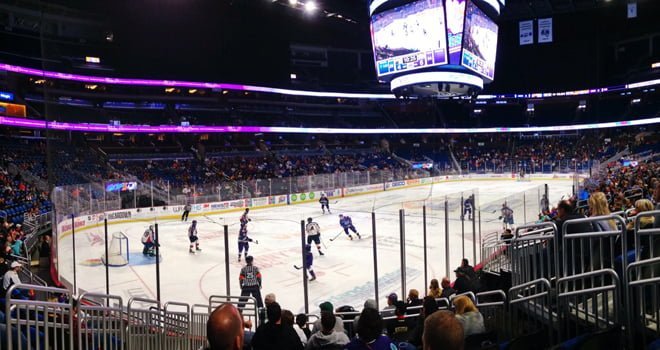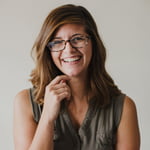 About the Author/Photographer:
Stephanie Patterson is a talented professional food and travel photographer and writer with a passion for creativity, the beach and great eats. When she's not taking photos or writing, you can find her exploring the state for her Florida travel blog, Travel Taste Click. Find her online at www.spattersonphotography.com and www.traveltasteclick.com.