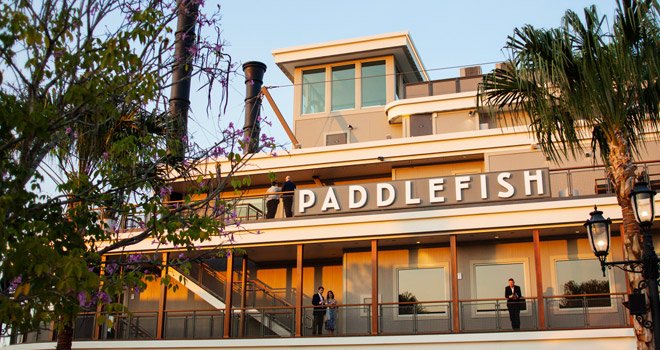 Written by Stephanie Patterson, Kristen Manieri, and Nancy DeVault
2017 is already shaping up to be a spectacular year for foodies with tons of new restaurant openings in Orlando. From high-end seafood in modern digs to farm-to-table fresh eats and budget-friendly biscuits, our editors and contributors are weighing in on the best new restaurants for your next date.
Stephanie's picks
Paddlefish – Disney Springs
1670 Buena Vista Dr, Orlando
407-934-2628; paddlefishrestaurant.com
Disney continues to establish itself as a dining destination for locals and tourists alike with the newly opened Paddlefish. The high-end seafood restaurant opened on February 4 in the infamous Disney Springs steamboat formerly home to Fulton's Crabhouse. The space has been made over into a swanky and modern multi-level restaurant. While several dishes pay homage to the Fulton's Crabhouse days – the lobster corndogs being a favorite – the menu features fresh takes that are sure to delight sea-foodies and dessert lovers. The signature lobster roll is a must-eat, along with the chocolate bourbon pecan tart, a rich dessert dish topped with candied bacon.
While the food quality is high, the real showstopper is the rooftop lounge. The deck features a special late night menu of light bites and cocktails, and boasts spectacular views of Disney Springs – especially at sunset. While you're enjoying the view, grab a Southern sangria cocktail, made with Medley Bros. bourbon, peach liqueur, Tempranillo, and seasonal fruit.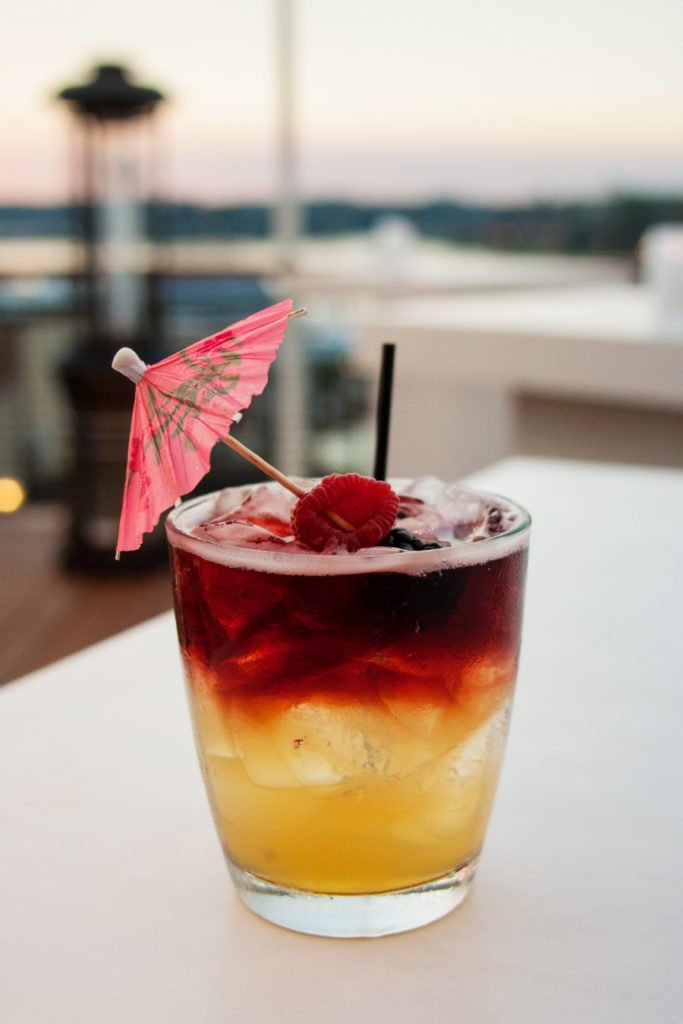 Holler & Dash – Celebration
6268 W Irlo Bronson Memorial Hwy, Celebration
321-204-1445; holleranddash.com
Orlando is already home to several Southern style eateries, but newcomer Holler & Dash in Celebration is honing in on the holy grail of Southern fare: the biscuit. The menu features a variety of biscuits, all of which should be approached with a fork and knife. Don't expect plain old biscuits and gravy; Holler & Dash and Chef Brandon Frohne have developed a special biscuit recipe that's thick enough to hold the weight of the fillings while also remaining flaky and light.
The garden goat biscuit is a flavorful combination of fried goat cheese, kale, lemon Dijon vinaigrette, and tomato jam sandwiched between two biscuits. For a treat of the non-biscuit variety, try the breakfast friendly grit bowl: grits, bacon, cheddar, fried eggs and a little hot sauce kick. Dessert options include the strawberry and dash biscuit topped with a heavenly Creole cream cheese, and beignets. This fast-casual style eatery is budget-friendly, and the impressive menu is totally worth the drive down I-4 for breakfast, brunch, or lunch.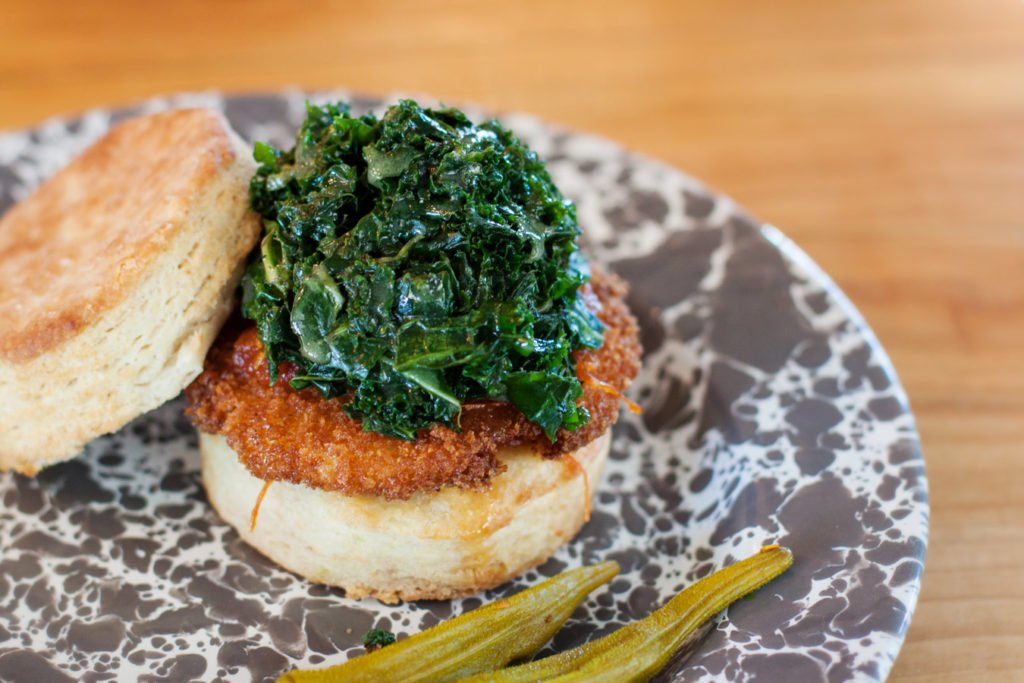 Hunger Street Tacos
2103 W Fairbanks Avenue, Winter Park
321-444-6270; hungerstreettacos.com
While locals were certainly sad to see BB Junction in Winter Park go, Hunger Street Tacos is quickly making a name for itself in the renovated space on Fairbanks Ave. The menu features fresh and authentic Mexican street food and enough taco options to thrill any taco-lover. The Campechano taco is a standout, a slightly spicy combination of seared brisket, chorizo, onion, cilantro, lime, and Hunger Street's signature avocado salsa. Each taco is so loaded with fillings that each comes served in two corn tortillas instead of one. Several vegetarian options are available, including the vegetarian tinga tostada and the hibiscus & guac taco.
It's also worth mentioning the vibrant and colorful art adorning both the inside and outside of the building. All art was designed and executed by Lapiztola, an art collective based out of Oaxaca, Mexico, along with artist Lisbeth Amaya.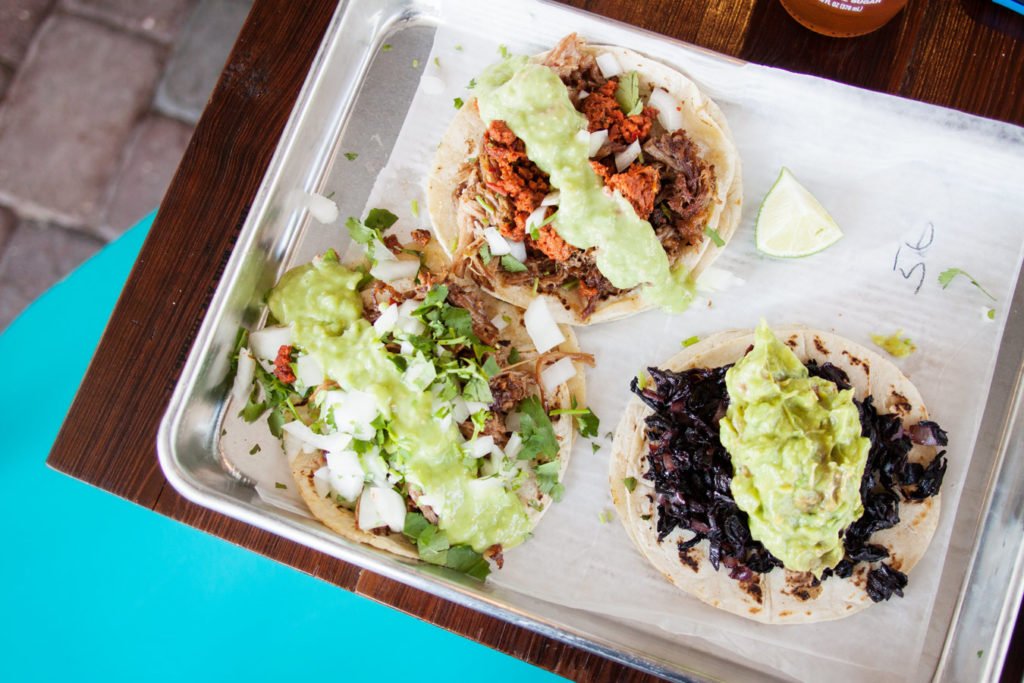 The Sanctum
715 N Ferncreek Ave, Orlando
407-757-0346; thesanctumcafe.com
During its first year in business, The Sanctum became a fast favorite amongst vegans and non-vegans alike. The plant-based restaurant, owned by Chelsie and Jamie Savage, recently celebrated that success with a grand re-opening party to reveal the restaurants expansion – both in space and in menu offerings. The restaurant added 1,000 square feet to the kitchen and dining area, and debuted new menu items. Additional breakfast items, an extended lunch and brunch menu, dinner only dishes, new small plates, fresh juice, and more smoothies are all new to the menu. There's never been a better time to visit and find out for yourself what the well-deserved buzz is all about.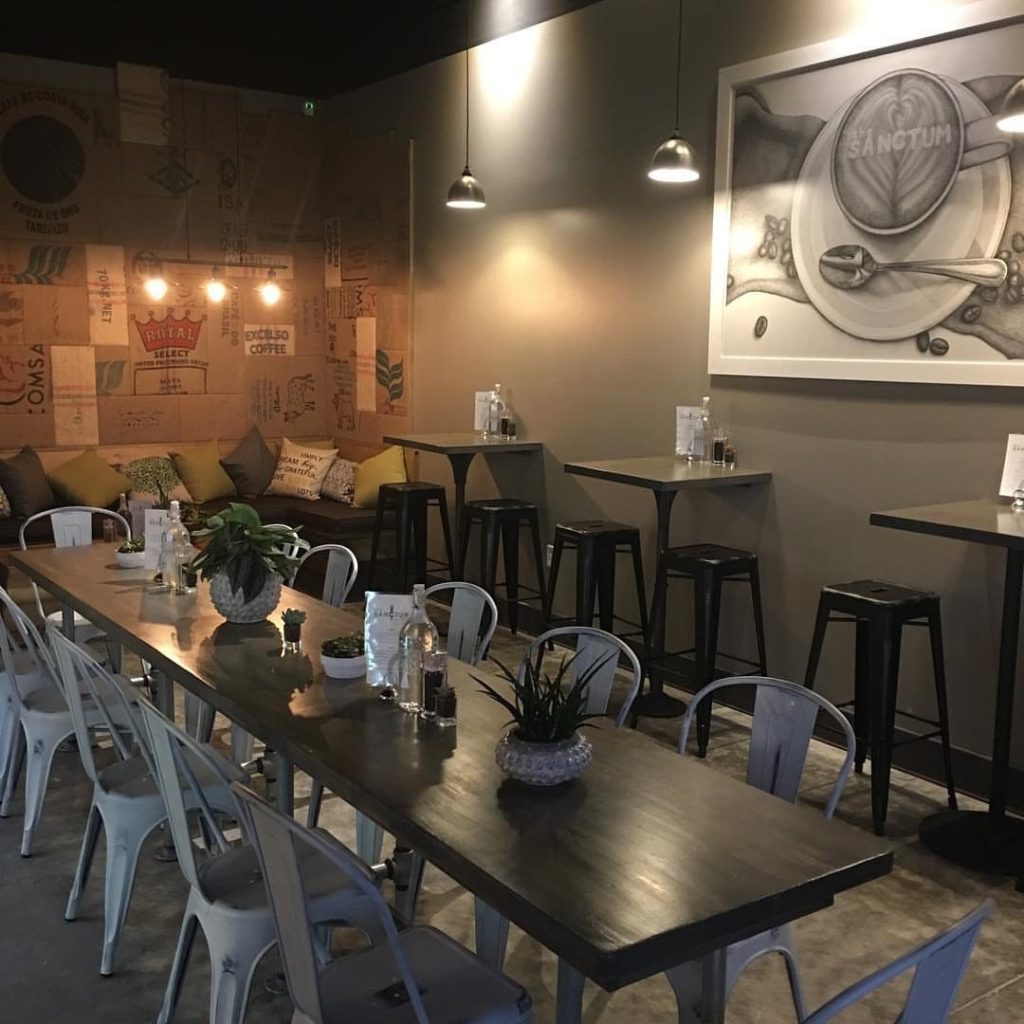 Kristen's picks
Reel Fish Coastal Kitchen + Bar – Winter Park
1234 N Orange Ave, Winter Park
407-543-3474; reelfishcoastal.com
I'm just loving how a little stretch of North Orange Avenue in Winter Park is morphing into a fantastic foodie hub. Here you'll find Foxtail Coffee, The Bear and Peacock Bar Brewstillery, Create Your Nature and Buttermilk Bakery just a short stroll away. It's no surprise that a new restaurant has decided to join the party, too. Moving into Ravenous Pig's old digs (in pretty short order, I might add), Reel Fish Coastal Kitchen adds a full-service dining experience rooted in sea fare and casual, shareable dishes.
During a recent visit, we were pleased that the restaurant excelled exactly where it should: our fish entree (a special for the night) was positively perfect. There's a formative sea-to-table effort happening in the kitchen, led by chefs Michael Zajac and Michael Huffler and focused on local, sustainable and seasonal offerings.
We loved the aesthetic updates to the space; Reel Fish is quite pretty inside. There's a huge dining room plus a large bar area, perhaps a great place to sip a cocktail and share some small plates or raw bar selections together.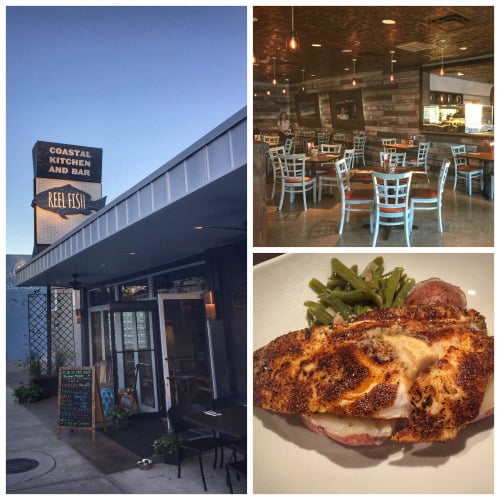 Planet Hollywood Observatory – Disney Springs
1506 East Buena Vista Drive, Orlando
407-827-7827; planethollywoodintl.com
After a year-long rehab and reimagining, Planet Hollywood reopened as Planet Hollywood Observatory a few weeks ago, ushering in yet another much anticipated dining experience at Disney Springs. Multi-million dollar renovations have transformed Planet Hollywood's iconic globe into a multi-level stargazing observatory, adding an outdoor terrace and lounge to this colossal 36,000-square-foot restaurant.
The Hollywood memorabilia has remained but a new menu and immersive theatrical dining experience are just a few additions wowing diners at this four-story party palace. In particular, a state-of-the-art 4,500-square-foot video wall featuring Trompe L'oeil 3D technology is truly the life of the party with music videos and movie scenes that are tough to pull your eyes from.
The food is over-the-top in an Instgram worthy and 'I can't believe we ate that' sort of way. Case in point: the Bacon Mac-N-Cheese Burger, one of six HUGE burgers created by Food Network star and burger aficionado Guy Fieri. The shakes are jaw-dropping too with cake and candy toppers and glasses bejeweled with candy.
Planet Hollywood Observatory isn't going to be winning a James Beard Award any time soon (and I don't think it's set out to), but if you're looking for fun food and a party atmosphere, this is your place.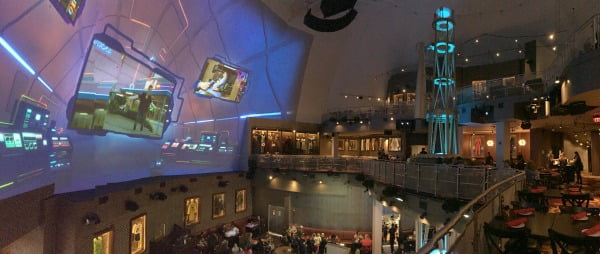 Luke's Kitchen and Bar – Maitland
640 S Orlando Ave, Maitland
407-674-2400; eatatlukes.com
We found a lot to love at Luke's Kitchen and Bar when we visited this past Saturday night for a date night dinner, our first chance to check out the new Maitland restaurant. Servers with denim aprons buzzed around like honey bees in the low ceilinged, low lit dining space that was already packed with diners by 6pm. Throughout the night, glasses were promptly filled, plates whisked away and Robert, our incredibly adept server (with an uncanny knowledge of the menu and food in general) ensured our delight after the delivery of every dish. The service was outstanding.
The food was great too, as one might expect from Chef Brandon McGlamery (also of Luma on Park and Prato), a recent James Beard nominee. As sharable starters we enjoyed the deviled eggs, red snapper ceviche and smoked oysters, all of which had us clambering for each bite. Our entrees weren't quite as wow-worthy–rotisserie chicken and mussels (which needs to be served more like a hearty stew or placed back on the appetizer menu)–but overall we weren't disappointed.
For dessert, dinner at Luke's simply wouldn't be complete without ordering the skillet cookie, an ooey gooey delight served piping hot and dripping with melting vanilla ice cream.
The word is definitely out that Luke's is the area's newest hot spot. An immediate success, I'd say, and certainly a restaurant to add to your date night list on the double.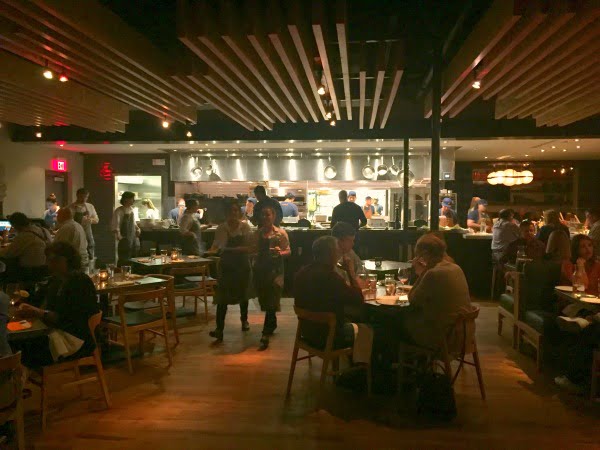 Nancy's pick
Market to Table – Winter Garden
146 W Plant St, Winter Garden
407-395-9871; market2table.com
Thanks to a loyal farmer's market following over the past two years, Orlando-native Chef Ryan Freelove has traded in his booth for a permanent restaurant space. Recently opened in Historic Downtown Winter Garden, Market to Table Cuisine features seasonally-driven, modern American dishes. "Our menu is ever-changing focusing on fresh, seasonal ingredients. Guests will not get bored with the menu because of the variety," said Freelove, who stocks the kitchen with produce from the restaurant's rooftop greenhouse (in partnership with Valencia Community College) and local growers like Ocoee-based Bekemeyer Family Farm.
As homage to its roots, pop in for a patio lunch on Saturday following a farmer's market stroll. Start with oysters, soups and salads, or light bites such as the Honey, Pecan & Feta Crostini drizzled with local honey blossom nectar. The Lunch Box is your best bet ─ a "bento style" sampling of your protein choice (such as grilled beef brochettes, citrus chicken, herb-marinated grilled shrimp, or seared salmon), two sides, and lavash bread. Or satisfy your handheld cravings with sandwiches like the Market Muffaletta, loaded with mortadella, soppressata, prosciutto, mozzarella, olive, cauliflower, and broccoli salad. Sweeten the experience with a huge Raspberry Macaroon topped with Chantilly cream!