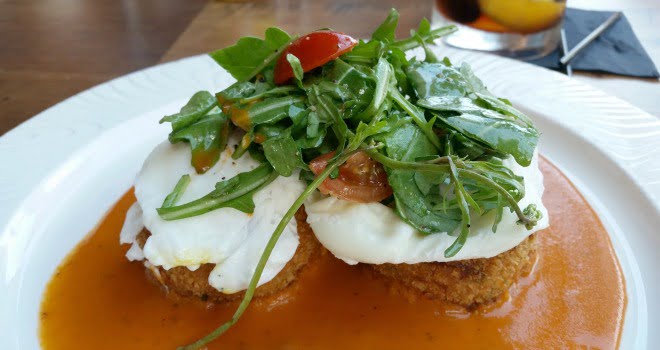 Researchers say we should all eat breakfast like a king and I could not agree more. I love a lavish morning meal. So, too, does my friend Faiyaz Kara, food critic for Orlando Weekly and the author of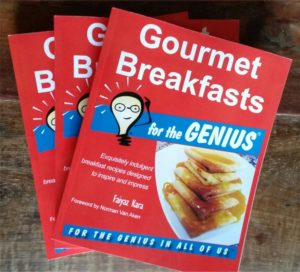 Gourmet Breakfasts for the GENIUS, a new cookbook designed to inspire some amazing DIY breakfast eats all the while challenging your culinary savvy and skills. It's such a smart, entertaining and useful cookbook. Kudos to Kara for crafting such a winner and for featuring so many stellar Orlando chefs between the pages!
While I highly recommend you pick up a copy of Gourmet Breakfasts for the GENIUS, I'm sure you'll still be dining around Orlando in search of a good breakfast to order. For you, Kara offers this list of his favorite Orlando gourmet breakfast dishes.
Soco Thornton Park
Order: Crispy duck confit potato cakes topped with poached eggs and heirloom tomato gravy.
Chef Greg Richie came up with this recipe specifically for the book (it's on p. 202). The chapter in which it appears is titled "The Morning After" which focuses on post-coital and apres-tippling recipes. This recipe is the chapter's "money shot." After coming up with the recipe for the book, he served it to Soco's patrons who liked it so much, he made it a permanent fixture on their brunch menu. Shown in feature image.
Tapa Toro
Order: Pan-fried chicken Milanese on two buttery vanilla pancakes topped with a fried egg and a maple-peppercorn glaze.
DOMU
Order: Richie Rich ramen with chashu, ajitama brulee, kikurage, scallion, fried garlic, burnt garlic oil.
Se7en Bites
Order: The "Breakfast Club" comprising three thick cuts of brioche french toast layered with two over medium eggs and four slices of applewood smoked bacon.
About Gourmet Breakfasts for the GENIUS
Gourmet Breakfasts for the GENIUS serves up recipes woven around a descriptive and enlightening narrative. More than just a list of ingredients and step-by-step instructions, they include helpful tips, charts, and definitions to assist you in fashioning the ideal gourmet breakfast.
Author Faiyaz Kara, a food critic for the Orlando Weekly, employs the recipes from a who's who of culinary giants—experts and respected culinarians whose intelligence is only matched by their artistry. They've won James Beard Foundation Awards, cooked for movie stars, royalty, and presidents, and have appeared on numerous television shows.
Each has contributed unique and original recipes for this book, so if you want that "most important meal of the day" to wow, amaze, and dazzle, pick up a copy and let a bit of its genius wear off on your cooking skills. More info at gourmetbreakfasts.com.