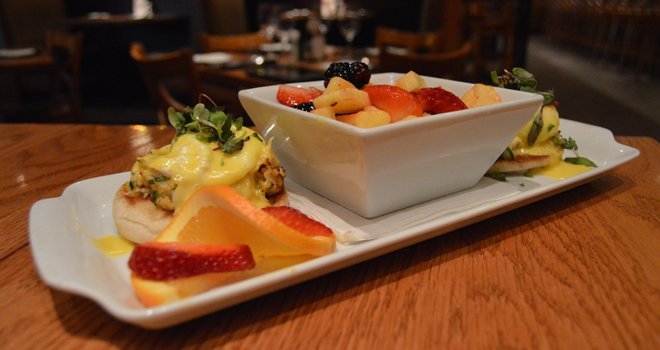 CLOSED
With so many options for brunch in Orlando, it can be hard to choose a place to go. But when Carmel Kitchen & Wine Bar is the restaurant of choice, it isn't a hard decision — it's a must.
Located in Winter Park on Orlando Avenue, brunch at Carmel Kitchen & Wine Bar is a relaxed affair. The low lighting, classy earth-toned décor, and brunch menu full of modern favorites with delicious and exciting twists contribute to a comfortable, intimate, and filling brunch experience.
The full-liquor bar opens at 11am. On Sundays for brunch, choose from unlimited mimosas for $12, a variety of brunch cocktails, beer, wine, and mixed drinks.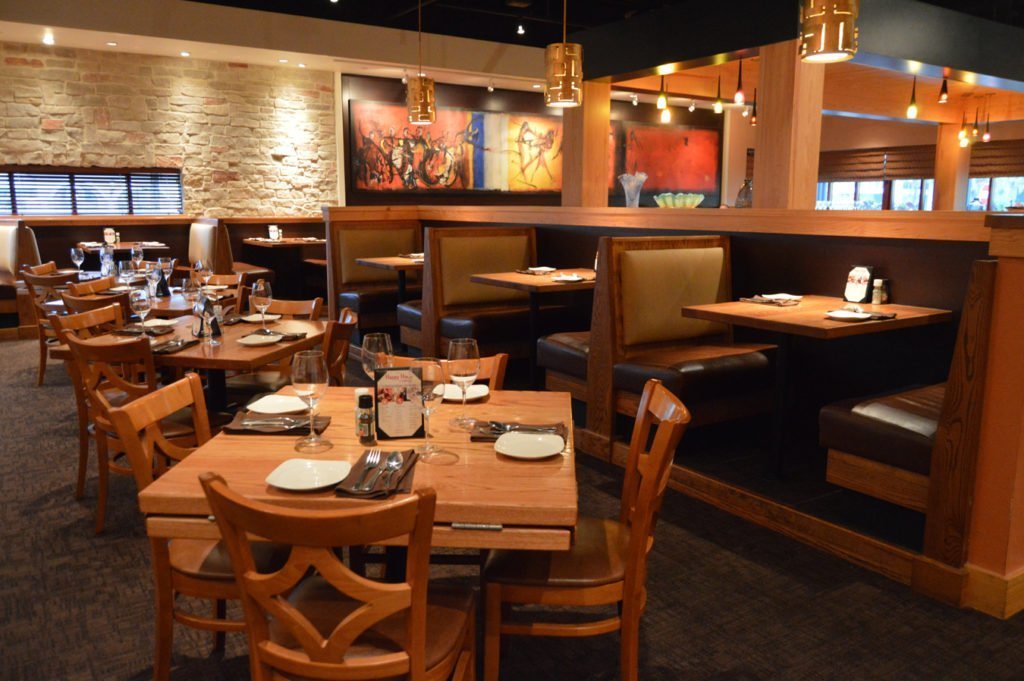 Every brunch experience starts off with complimentary house-made mini muffins for the table. They were very light and a great to nibble on while perusing the menu.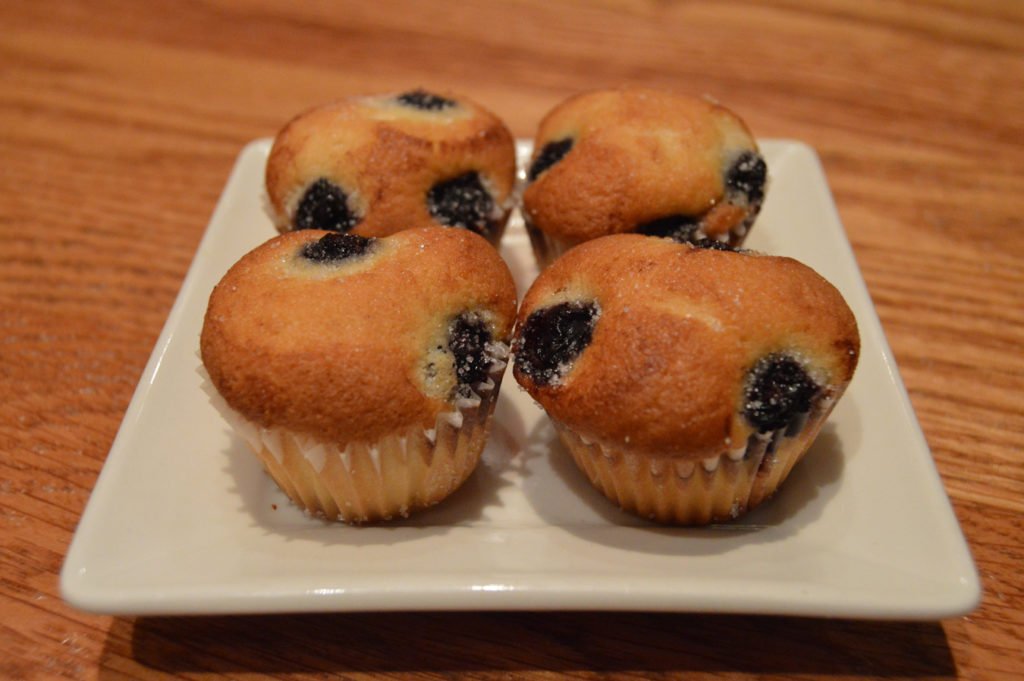 Of the many drink options, make sure to try one of their brunch cocktails, which can only be ordered on Sundays. Listed under "Hair of the Dogs", I tried their Classic Bloody Mary and Brandy Milk Punch.
The Classic Bloody Mary had a nice kick to it and contains tomato juice, lime, horseradish, vodka, and a blend of spices. The glass is rimmed with spices and garnished beautifully with a lime, olive, piece of celery, a shrimp, and candied bacon. Carmel Kitchen infuses the vodka in house with jalapeños and spices to give it that extra special taste.
The Brandy Milk Punch is a classic New Orleans cocktail. Carmel Kitchen's version is served in a mason jar over ice. It is made up of brandy, Madagascar vanilla, and cream, then topped with whipped cream, a dusting of nutmeg, and garnished with a cinnamon stick. It was sweet and very rich.
For food items, I tried the Crab & Eggs Benedict, Soulful Fried Chicken & Waffles, and the Shrimp & Grits — all of which were phenomenal!
The Crab & Eggs Benedict was a tasty twist on the traditional eggs benedict. The crab was fresh, and served on top of an English muffin and poached eggs. It all was topped with hollandaise–made in house daily–and garnished with microgreens. From the available side choices of fruit, grits or hash browns, I chose fruit, which is provided from local produce vendor Harvill's Produce.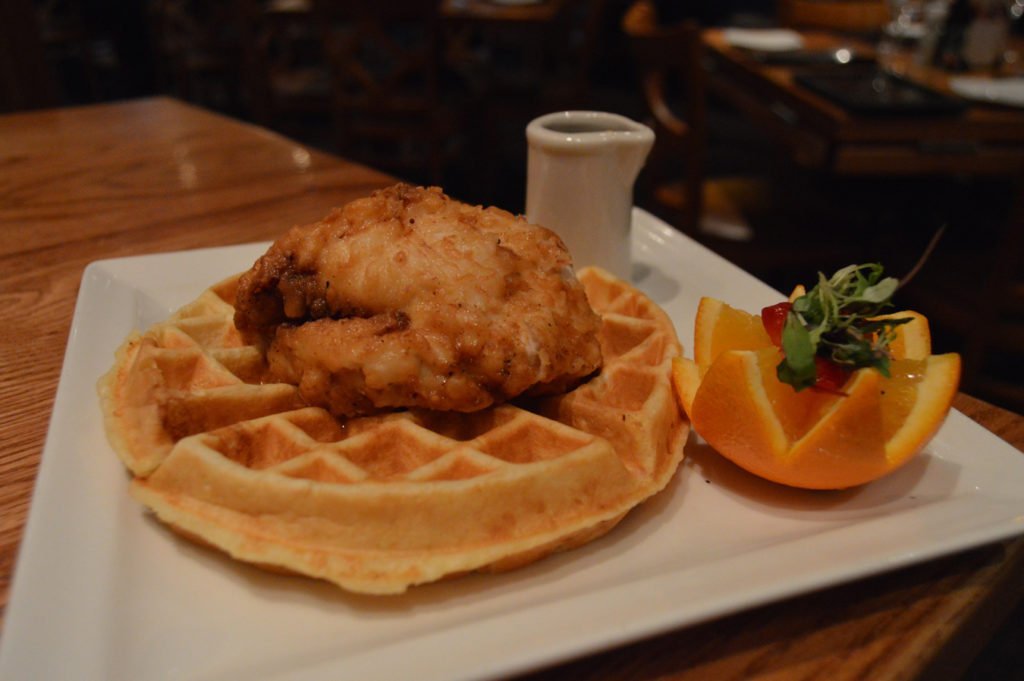 The Soulful Chicken & Waffles might be one of the best chicken and waffles I've tasted. The batter for both the chicken and waffles is made in house, along with the syrup served with the dish. Chicken and waffle dishes can sometimes be dense or heavy on the stomach, but not at Carmel Kitchen & Wine Bar. The chicken was very tender and moist, and the breading was light and crispy. The waffles followed suit and were light and fluffy. The syrup was not too thick that it drenched and weighed down everything, but provided a nice sweet drizzled coat to the meal. It was comfort food as its finest!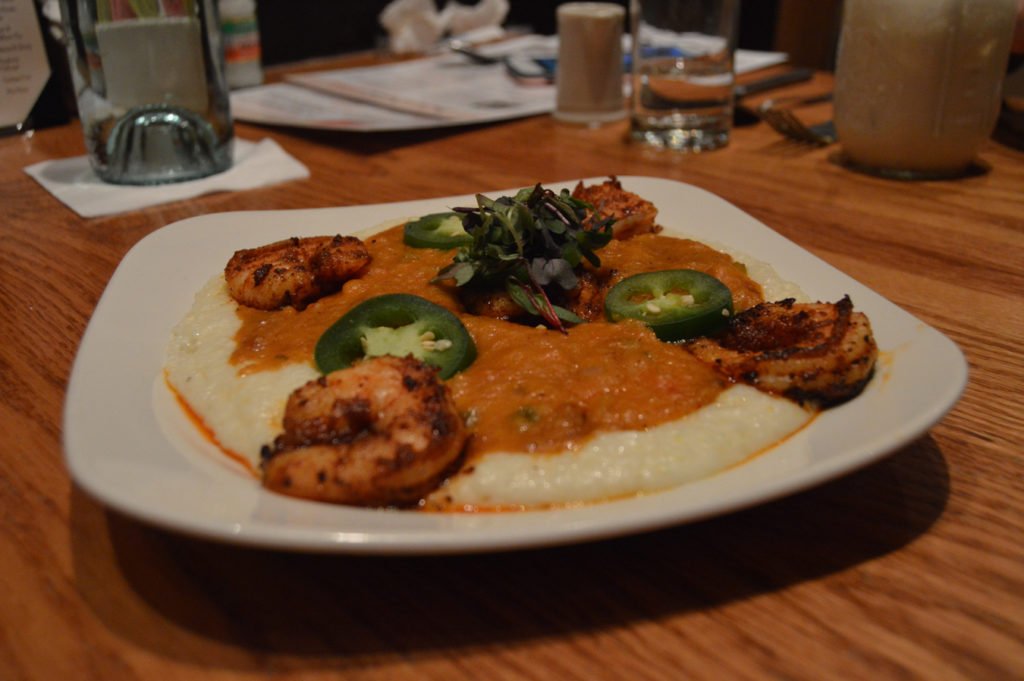 I love shrimp and grits, so when I saw it on the menu, I knew I had to try it to see how it measured up. Many local brunch restaurants serve this dish as a part of their brunch menu, but Carmel Kitchen's version shows off how the restaurant infuses Mediterranean and modern influences within its menu items. The shrimp is cooked with Moroccan seasonings and placed on a bed of fresh grits, then drizzled with a house made sauce comprised of chicken stock, tomato, and herbs, among a few other things. The grits were so creamy and soft, absorbing all of the flavor.
DETAILS
Brunch is served every Sunday from 10am-2pm. There is a parking lot behind the restaurant for guests. To make a reservation, call 407-513-4912, or visit their website to reserve a spot for brunch using OpenTable. A new brunch menu rollout is coming in March 2017. View the full brunch menu here.
All images by Samantha Rosenthal